The regional traffic signal retiming program provides for the evaluation of existing signals along an identified corridor, with the goal of improving traffic operations via revised signal timing plans. The Federal Highway Administration (FHWA) recommends that "traffic signal retiming should be reviewed every three to five years and more often if there are significant changes in traffic volumes or roadways conditions." DVRPC works with New Jersey DOT, Pennsylvania DOT, county and municipal partners, and consultant teams to prioritize, evaluate, and retime key corridors. The key corridors assessed as part of the project have been selected due to increased development and demand, changing land use patterns, and/or signal delay across the intersection or at the corridor level. The objectives of the program are to provide an innovative and cost effective way to reduce travel times on arterials, while also minimizing stops and delay and maximizing safety. The program has successfully retimed several corridors in the DVRPC region.
Six-Step Signal Retiming Process
The Six-Step Signal Retiming Process allows the team to efficiently and effectively retime corridors. Following the process provides the team a repeatable and scalable method that can be used on any corridor in the region, and provides our partners with a consistent plan that allows them to understand the key steps to complete a signal retiming.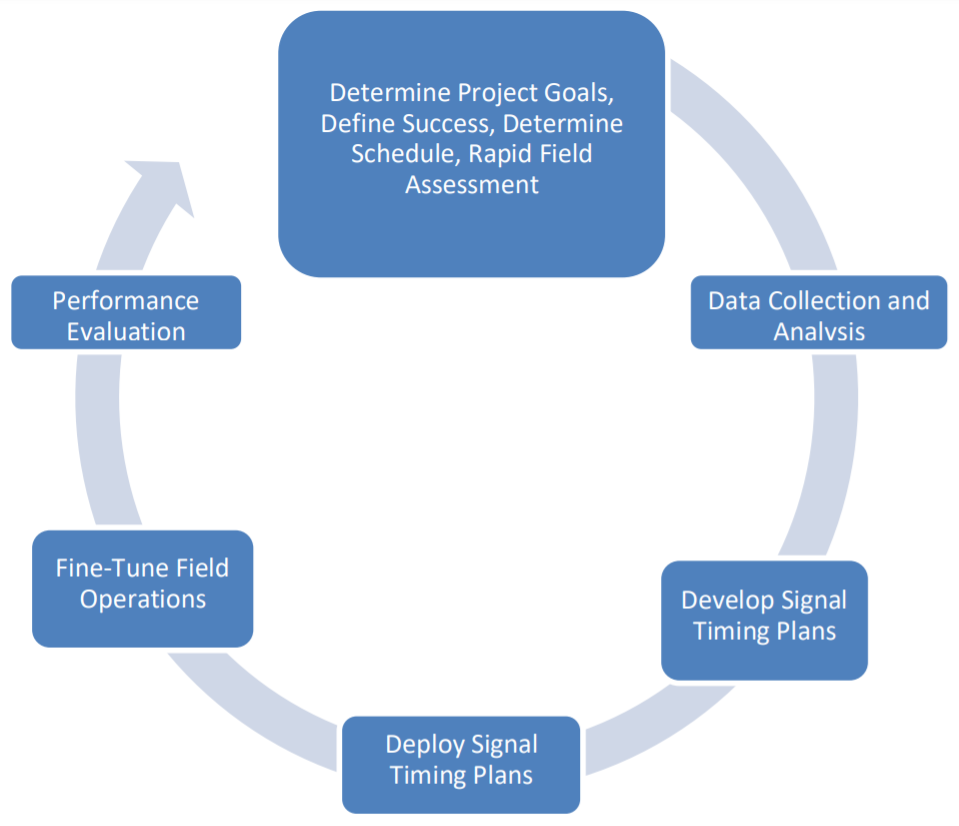 Completed Corridor Fact Sheets
The below fact sheets provide a snapshot of the measures of effectiveness of the completed corridors in the DVRPC region.