Regional ITS Architecture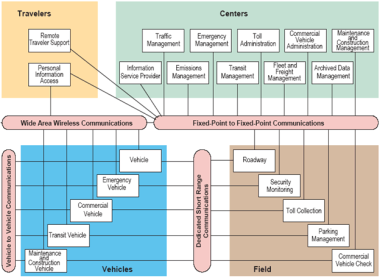 Regional ITS Architecture Diagram
The National ITS Architecture provides a common structure for the design of ITS. It is the framework around which regional, agency or project architectures can be developed, each one specifically tailored to meet the needs of the user, while maintaining the benefits of a common architecture. In this manner, projects implemented by different agencies in the region, or different regions throughout the county, share a common framework, helping to ensure interoperability.
One of the most recognized architecture representations is a Sausage Diagram that shows the systems and primary interconnects in the region and illustrates the National Architecture's view of all the possible interactions between ITS elements. It identifies the physical entities or subsystems where these functions reside, such as centers, travelers, vehicles and field elements. The "sausages" in the diagram describe communications technologies and how subsystems in the architecture are connected.
ITS Architecture then identifies the interfaces/information flows between the physical subsystems, for example the type of information flowing from a traffic operations center to a 911 call center. In addition, the architecture identifies applicable national ITS standards used by designers and equipment manufactures to implement architecture information flows in a uniform manner.
DVRPC Regional ITS Architecture
USDOT's ITS conformity regulations require development of a regional ITS architecture to serve as the basis of regional ITS integration. In March 2001 DVRPC issued the Regional ITS Architecture for the Delaware Valley. It was the accumulation of an extensive outreach process, with a wide array of stakeholders. This effort was guided by the ITS Technical Task Force and conducted in accordance with guidance set forth by US DOT in the National ITS Architecture. An updated version of the architecture is in preparation.