Pennsylvania's Delaware Estuary Coastal Zone extends for 57 miles along the Delaware River from Marcus Hook in Delaware County to Morrisville in Bucks County. With funding from the National Oceanic and Atmospheric Administration (NOAA), PADEP's Coastal Resources Management Program (CRM) provides grants to governments, nonprofit organizations, and educational institutions for projects that improve water quality, enhance public enjoyment of and access to coastal resources, and mitigate the adverse impacts of stormwater runoff and nonpoint source pollution. DVRPC assists PADEP with administration of the CRM program within the Delaware Estuary Coastal Zone (Please visit PADEP's website for topographic maps of the Delaware Estuary Coastal Zone). Eligible projects are reviewed by PADEP program staff, the Delaware Estuary Coastal Zone Advisory Committee, and the State Coastal Zone Advisory Committee. Applications are evaluated based on criteria outlined in the Grant Application Instruction Guide. More information about the grant program can be found below.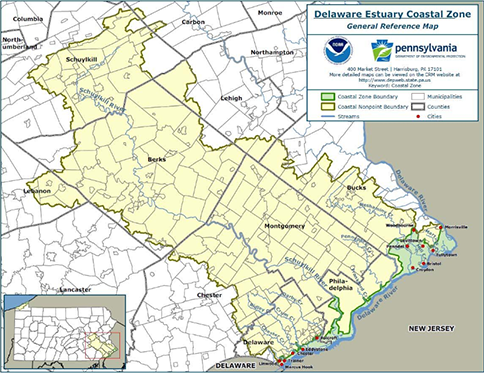 Coastal Zone Focus Areas
Primary Focus Areas:
Coastal hazard areas
Wetlands protection, enhancement and creation
Water quality
Public access for recreation
Intergovernmental coordination
Ocean resources/biodiversity
Additional Focus Areas:
Public involvement in coastal issues
Port activities and infrastructure
Fisheries management
Historic sites and structures
Project Elibigility
Who is Eligible?
Local governments – counties and municipalities.
Area-wide agencies – county and regional planning agencies.
State agencies.
Educational institutions – school districts, colleges, universities and other institutions of higher learning.
Conservation districts, port authorities, and public authorities.
Incorporated nonprofit, including 501(c)(3), organizations that are eligible to receive federal grants.
Where can eligible projects be located?
All projects must be located within the Coastal Nonpoint Pollution Boundary.
All projects associated with earth disturbance must be located within the 306A boundary (See map above).
What activities are eligible?
Research
Acquisition and easements
Design
Construction
Education
Note: Project design and construction are not funded in the same grant cycle.
Previous Grant Information
The application period for Federal Fiscal Year 2019 Coastal Zone grants opened on Monday, August 13, 2018. Applications must be received no later than 4PM on Monday, October 15, 2018.
All applications for Coastal Resources Management Program grants must be submitted electronically through Pennsylvania's eGrants system. To access an online application go to https://www.esa.dced.state.pa.us/Login.aspx and register yourself as a user by clicking the Log In/Register link. eGrants will guide you through the process of starting your electronic grant application.
More information on the CRM grant program, including information on the application process, can be found in the presentation.
Previously Funded Projects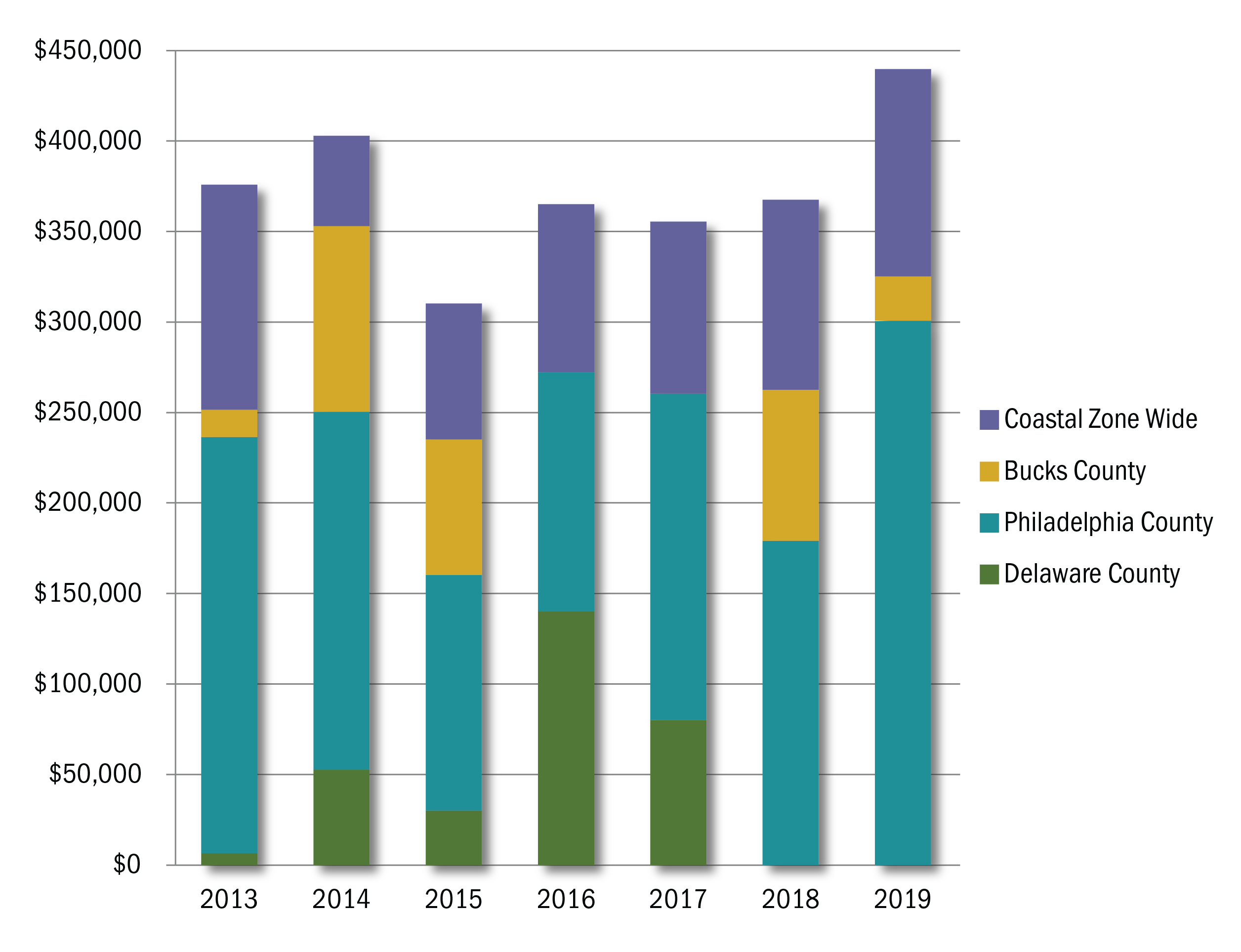 To obtain more information concerning Coastal Zone grants, visit the Coastal Resources Management Program website, contact Amy Verbofsky at DVRPC at averbofsky@dvrpc.org, or contact the PA Department of Environmental Protection at 717.772.4785.
Other Related Resources
DVRPC delivered the following presentation at the Union of Concerned Scientists forum, Sea Level Rise - Looking forward and Planning Now: Impacts and Solutions for the Delaware Estuary, January 13, 2010:
DVRPC has also published the following documents on that address sea level rise in the Delaware Estuary Coastal Zone:
The Urban Waterfront Action Group (UWAG) is a forum of regulatory and resource agencies that meets every other month to provide guidance on waterfront development projects. Access this page to obtain more details on the UWAG program, a list of participating regulatory agencies, as well as agendas and minutes from previous meetings. Upcoming UWAG meeting dates are posted on the DVRPC calendar.
For more information on UWAG, contact Sean Greene at DVRPC at sgreene@dvrpc.org