Volume 45, Issue 1
DVRPC Board Elects Officers for FY24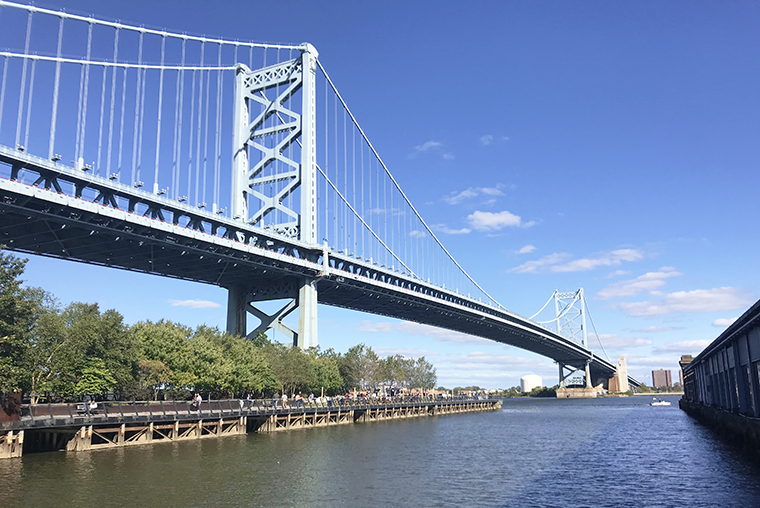 At the June DVRPC Board meeting, new Board officers were elected for Fiscal Year 2024. They include:
Chair: Diane Gutierrez-Scaccetti, NJDOT Commissioner
Vice Chair: Michael Carroll, PennDOT Secretary
Secretary: Jonathan L. Young, Sr., Camden County Commissioner
Treasurer: Josh Maxwell, Chester County Commissioner
DVRPC welcomes the new Board officers and looks forward to their leadership and guidance for this fiscal year. View the full Board list.
DVRPC Board Approves $600,000 for TCDI Projects in New Jersey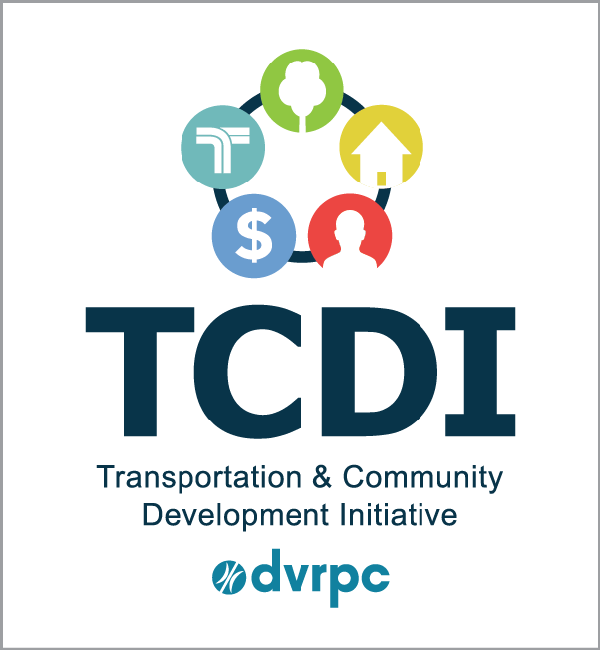 At its June meeting, the DVRPC Board approved $600,000 in funding toward six projects across DVRPC's four New Jersey counties through the Transportation and Community Development Initiative (TCDI) grant program. The federally funded TCDI grants support planning initiatives that further the goals of Connections 2050: Plan for Greater Philadelphia and enhance the multimodal transportation network. Now in its 21st year, the TCDI program has invested over $22 million and leveraged over $250 million in the region since it began in 2002.
Awarded projects this year assess opportunities to expand access to trails, bicycle networks, and transit-oriented development. Half of the projects include multiple municipalities. View the complete list of selected projects on the TCDI webpage. The next Pennsylvania TCDI program will be offered in early 2024.
I-95 Closure Disrupts Commutes & Freight Travel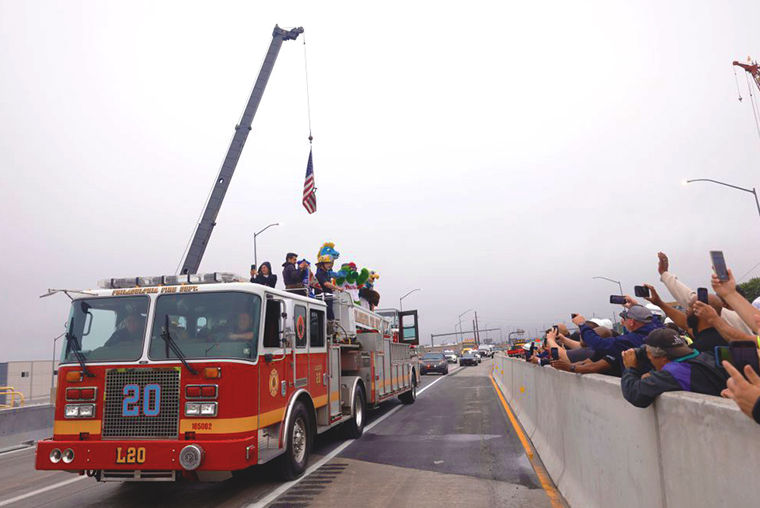 The shutdown of I-95 in North Philadelphia on June 11, 2023, emphasized just how critical the roadway is for commuters and freight traffic. DVRPC estimates that 150,000 vehicles travel each day on that section of I-95 where the collapse occurred, and 14,000 (or 9%) of those are trucks. 
While the temporary roadway reopened less than two weeks after the collapse, there is still a lot of construction ahead. Commuters are encouraged to continue to take SEPTA during this time. Additional capacity has been added to four Regional Rail lines that serve the I-95 corridor. SEPTA estimates that ridership on those Regional Rail lines is up by about 15% during the closure. Visit SEPTA's website for up-to-date information on schedules.
Another option for commuters is DVRPC's Share-A-Ride program. It matches people to others making similar trips and helps to reduce the number of vehicles on the road. As a bonus, participants earn points and rewards for not driving alone. 
DVRPC staff will continue to monitor and analyze travel across all modes, as reconstruction is underway. Stay tuned for updates in future newsletters. For up-to-date information on I-95 reconstruction, visit www.pa.gov/i95updates. Employees and employers in the region can also look to the network of Transportation Management Associations in our region for additional commuting support.
Summer Brings Air Quality Action Days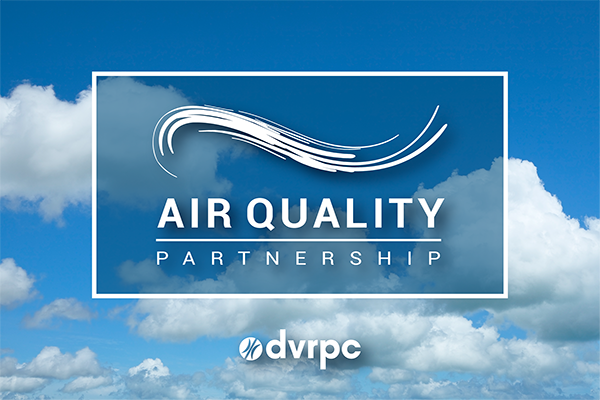 The hot summer weather brings vacations, days at the pool, and… air pollution alerts! Each year the Air Quality Partnership (AQP) works with DVRPC staff to develop materials and a schedule to disseminate information to the public about the harmful effects of the most common air quality threat this time of year - ground-level ozone. This pollutant forms when exhaust from vehicles "bakes" in the heat on still days. When it's inhaled, it is harmful for those with existing respiratory problems, and even, at times, healthy people. The AQP shares the daily air quality forecast from the Pennsylvania Department of Environmental Protection (PA DEP) so that residents and visitors can plan outdoor activities accordingly. 
In June, our region experienced an exceptional air quality issue when smoke from wildfires in eastern Canada flowed south. Equally dangerous, this pollution is called particle pollution, or PM2.5. While ozone pollution is mostly invisible, this episode of high particle pollution could be seen because the minute ashes from the burning material filled the air; this is what caused the severe haze in the mid-Atlantic region. The PA DEP daily air quality forecast includes alerts for poor air quality as a result of either pollutant and suggests voluntary actions each of us can take to help reduce the pollution and protect each other.
Find the daily air quality forecast and other air quality information, and sign up for alerts at www.airqualitypartnership.org.
Travel Options Program Opens Next Round of Funding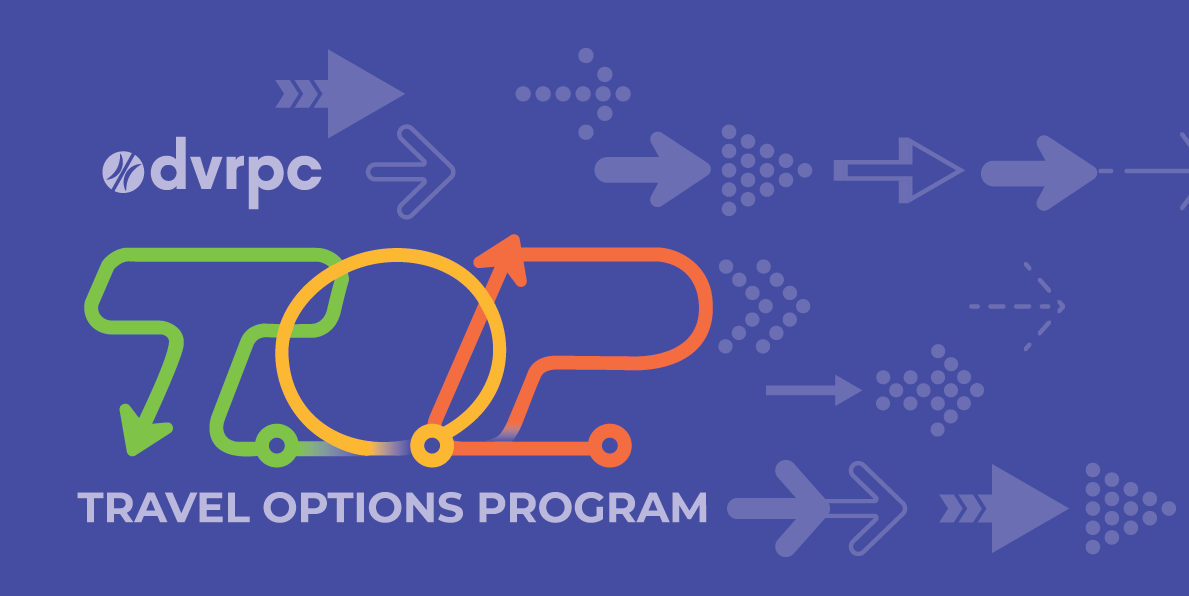 On July 5, 2023, the Travel Options Program (TOP) opened the Expression of Interest (EOI) period for the next round of funding. This is the first submission required in a two-step application process. 
TOP funds creative and innovative projects that will decrease the amount of single occupancy vehicles on the region's roadways - a concept known as Transportation Demand Management (TDM). TOP funds planning and implementation projects that aid the goals created in A New Route to Better Travel for All: The Regional TDM Plan. Projects must address a TDM issue and solution, with some form of measurable results. 
To be eligible for EOI submission, applicants must attend a mandatory information session:
Thursday, July 20, 10:00 - 11:00 am
Register to join online
Tuesday, July 25, 1:30 - 2:30 pm at DVRPC or online
Register to join in-person or online
EOIs are due on September 15, 2023 at 5 pm. This program is competitive and a select number of applicants will be invited to submit a full application, due on January 8, 2024. If you have any questions, please contact Stacy Bartels at sbartels@dvrpc.org or Amy Bernknopf at abernknopf@dvrpc.org. 
Application Round Opens for PA Transportation Alternatives Set-Aside Program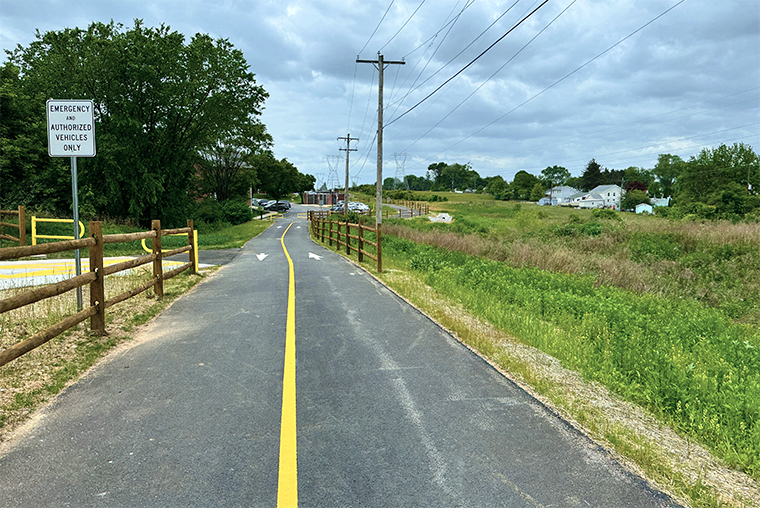 Applications are now being accepted for the 2023 Pennsylvania Transportation Alternatives Set-Aside (TA Set-Aside) Program. The program is administered by the Pennsylvania Department of Transportation (PennDOT), in partnership with DVRPC. At least $28 million statewide and approximately $16 million regionally will be available during the 2023 TA Set-Aside round.
This program provides federal funds for community-based "non-traditional" forms of surface transportation such as walking and biking. Examples of eligible projects include bicycle or pedestrian facilities, conversion of abandoned railway corridors to trails, overlooks and viewing areas, historic preservation and rehabilitation of historic transportation facilities, vegetation management, and wildlife mortality mitigation projects, among others. Local governments, regional transportation authorities, transit agencies, natural resource or public land agencies, school districts, local education agencies, schools, and tribal governments are eligible to apply for the competitive funds.
Project sponsors must now submit a pre-application and meet with their PennDOT District and planning partner before completing and submitting a final application. Pre-applications are due July 17, 2023, and final applications are due September 15, 2023. View program guidance, application system, and other resources on PennDOT's website. Use the Regional Program Interest Form to let DVRPC know you are interested in the TA Set-Aside Program, so we can learn about your project and help where needed. If you have questions about this program, contact Joe Banks at jbanks@dvrpc.org or Joe Natale at jnatale@dvrpc.org. 
DVRPC to Open Public Comment Period on July 17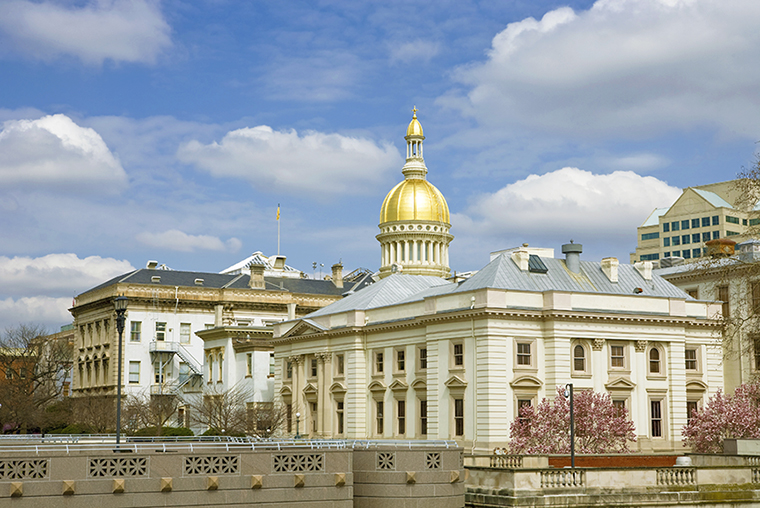 On Monday, July 17, DVRPC is opening a 30-day public comment period on the Draft Federal Fiscal Year (FY) Transportation Improvement Program (TIP) for New Jersey and the State of New Jersey's Draft FY2024 Statewide Transportation Improvement Program (STIP) for the New Jersey Department of Transportation (NJDOT) and New Jersey Transit Corporation (NJ TRANSIT). This public comment period also includes the Draft Amendment 2 to Connections 2050 Plan and the Major Amendment to the FY2023 TIP for Pennsylvania. DVRPC will accept comments on all three draft documents from July 17, 2023 until August 18, 2023 at 5:00 PM local time. Another public comment period will open on July 24, 2023 for the Draft Transportation Conformity Determination. 
In addition to submitting comments online or through the mail, people will have the opportunity to make comments at two public meetings:
Monday, July 31, 2023, 6:00 - 7:00 pm
In-person at Camden County Library System, Riletta L. Cream Ferry Ave Branch, 852 Ferry Ave, Camden, NJ
Thursday, August 10, 2023, 7:00 -  8:00 pm
Online 
Register to attend this online meeting.
Check the public notices webpage or DVRPC calendar for when these documents become available. For more details, contact Alison Hastings, Associate Director, Communications and Engagement, at 215-238-2929 or ahastings@dvrpc.org.
TOP Project Getting to Green: Routes to Roots Launches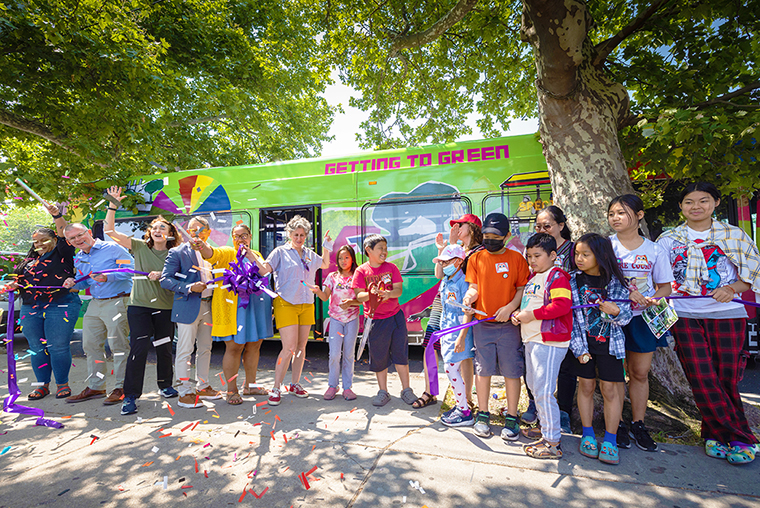 Mural Arts Philadelphia and SEPTA recently launched Getting to Green: Routes to Roots, a groundbreaking multi-disciplinary public art project led by artists Shira Walinsky and Laura Deutch. Supported by a grant from DVRPC's Travel Options Program (TOP), Getting to Green aims to promote the use of public transit for exploring Philadelphia's parks and natural landscapes.

"Through the Travel Options Program, DVRPC looks for new and innovative projects that enhance accessibility to the many travel options in our region and help make those options more attractive and welcoming to everyone," said DVRPC Executive Director Ariella Maron. "By incorporating art into our region's public transportation system, Mural Arts Philadelphia's 'Getting to Green' project aims to connect SEPTA riders to parks and other outdoor amenities while encouraging exploration of the diverse cultures and communities that make up Philadelphia."

Getting to Green kicked-off on Saturday, June 10, 2023 with an exciting public launch event at the corner of 4th and Oregon Streets in South Philadelphia that featured the much-anticipated unveiling of the captivating "Route 7 bus wrap" artwork. Learn more about the project at Mural Arts Philadelphia and in The Philadelphia Inquirer.
Upcoming LTAP Classes in PA and NJ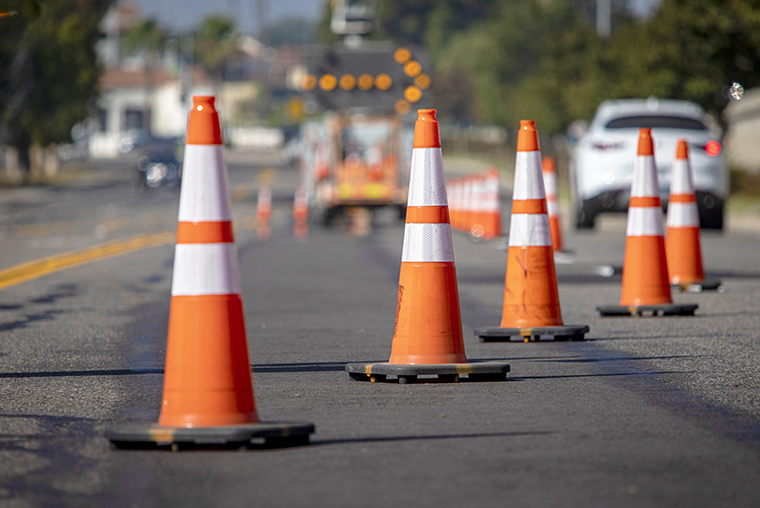 The Local Technical Assistance Program (LTAP) provides technical information and expertise to help municipal governments use transportation funds more effectively, improve road maintenance, and increase roadway safety. Classes are offered through Pennsylvania and New Jersey LTAP programs, but are open to any municipality.
Upcoming classes:
Public Works Safety
Chester County
July 31, 2023 (8:00 am - 12:00 pm)
NJTR-1 Crash Form Refresher
Virtual
September 7, 2023 (8:30 am - 4:30 pm)
Visit Rutgers Center for Advanced Infrastructure and Transportation to see the 2023 schedule of LTAP courses in New Jersey and PennDOT's LTAP website to view courses in Pennsylvania. For any questions, contact Najah Jackson at njackson@dvrpc.org or 215-238-2836.
Staff Profile: John Coscia, Jr., Manager, Office of Transportation Services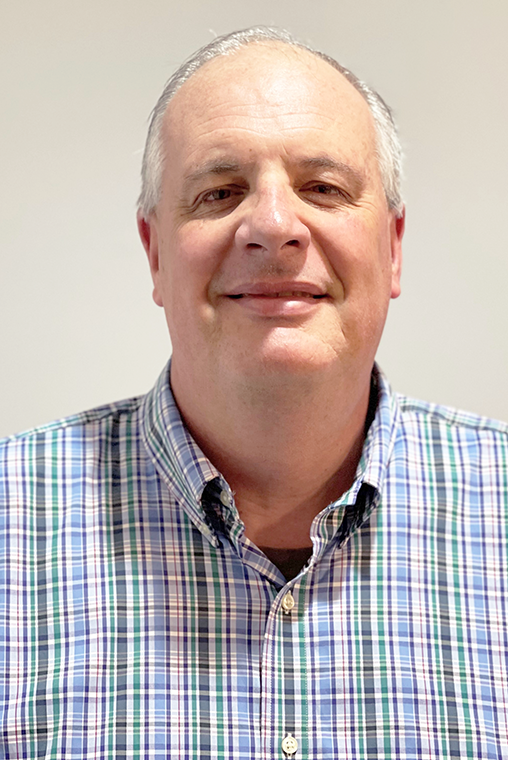 What did you want to be growing up? I have been extremely tall all of my life, so when I was younger I really wanted to play in the NBA. When I realized that was not going to happen, I decided engineering was the way to go.
What was your first job? My first job was as a caddy at the Philadelphia Country Club. It was a great way to earn money, enjoy the outdoors, get exercise, and have access to play one of the nicest golf courses in the area.
What did you study in college? I studied Civil Engineering at Villanova University.
What is your favorite part of working at DVRPC? My favorite part of working at DVRPC is the fact that we are able to not only help guide the entire region, but we also work hard to help individual municipalities with improvements that have significant impacts. 
What 3 words best describe you? I would say the three words that best describe me are loyal, responsible, and dependable.
What is something colleagues don't know about you? I am an only child!
What is your favorite leisure activity? My favorite leisure activity is spending a day at the beach with my family. Swimming in the ocean, playing various beach games, and then listening to an afternoon Phillies game on the radio.
What are your Top 3 places you want to travel to? My top 3 are Italy, Ireland, and Hawaii.
Are you a cat or dog person? I'm a dog person.
What is a recent gift you've given or received? I was able to take most of my family to Game 3 of the World Series at Citizen Bank Park. Unfortunately it was the only game the Phillies won at home, but it was an extremely exciting night.
What is the most meaningful item in your house? We have a framed picture of my family at the beach that includes my mother and father.