Freight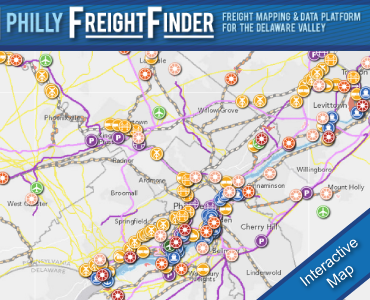 PhillyFreightFinder
Since 1992, the Delaware Valley Regional Planning Commission (DVRPC) has been conducting freight planning on a continuing, comprehensive, and coordinated basis. Freight is a specified planning consideration required by federal transportation legislation and an area of increasing attention by Metropolitan Planning Organizations (MPOs).
The DVRPC freight planning program seeks to fully incorporate freight into the transportation planning process through technical studies and public education.
The Delaware Valley is a premier freight transportation gateway and is made up of a multi-faceted, inter-connected freight network.
DVRPC's freight advisory committee, the Delaware Valley Goods Movement Task Force, allows the local freight community to participate in formulating regional policies, plans, and programs. This joint public-private sector initiative brings together executives from Class I and shortline railroads, trucking and air freight firms to meet with federal, state, and local agency leaders, toll authorities and national advocacy groups.
In conjunction with DVRPC's Long-Range Plan, DVRPC has prepared a Long-Range Vision for Freight. The vision identifies a comprehensive list of policies, projects, and studies, which are intended to foster goods movement strategies that will facilitate the flow of freight and minimize adverse impacts on local communities.
A primary objective of the DVRPC freight program is to identify, fund, and implement projects that facilitate freight movement.