Connections 2045 Long-Range Plan for Greater Philadelphia
The DVRPC Board adopted the Connections 2045 update to Greater Philadelphia's long-range plan on October 26, 2017. The Connections 2045 Plan:
Identifies Greater Philadelphia's vision for land use, the environment, economic development, equity, and transportation.
Develops strategies to achieve regional goals.
Contains a fiscally-constrained list of region transportation investments.
Uses Performance-based planning to ensure efficient use of resources.
---
Connections 2045 Plan - REVIEW COPY
(final version forthcoming)
[59 MB .PDF]
---
Public Comments
Prior to adopting the Plan, DVRPC held a comment period for the Connections 2045 Plan from September 1, 2017 to October 4, 2017 at 5 PM. There were also two public information sessions during the public comment period held in Philadelphia, PA and Collingswood, NJ.
The Vision
DVRPC worked with the public and stakeholders to develop a shared vision for the region. During a series of visioning workshops in the fall of 2016, the following themes were heard most often.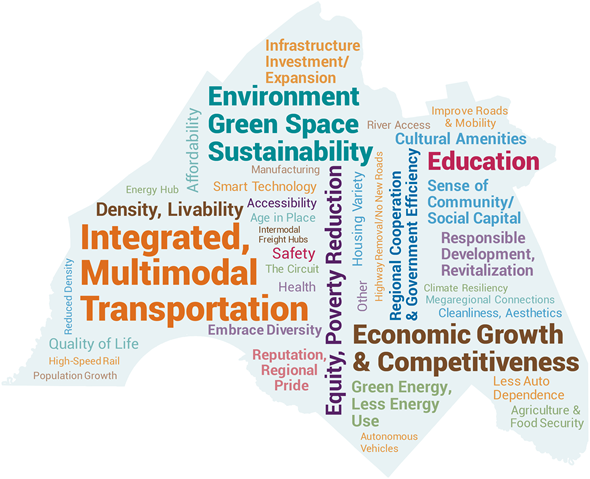 These themes were used to develop the vision statement for Connections 2045.
Between now and 2045, Greater Philadelphia will:
Two other areas that stand out in the vision discussions were the need to increase regional cooperation and government efficiency. These are seen as key strategies to achieving the vision.
Major Regional Projects
Connections 2045 contains an aspirational vision plan for investments the region would like to make in transportation infrastructure, and a fiscally constrained funded plan for what can be afforded given the reasonably anticipated revenue forecast. For a summary of the financial plan, and major regional projects included in either the vision plan or the funded plan, explore the tool below.
Background Reports
Several background reports help to lay the groundwork for the Connections 2045 Long-Range Plan update.
---
Connections 2045: Greater Philadelphia Future Forces:
Recognizes the future is increasingly uncertain due to a variety of emerging social, technological, economic, environmental and political trends.
Worked with a multidisciplinary external stakeholder expert group to determine the most critical Future Forces in Greater Philadelphia, and analyzed how they may reshape the region.
Identifies actions the region can take now to better prepare for a fast changing future.

Contingent actions are specific to each Future Force.
Universal actions are beneficial regardless of what the future brings.
Greater Philadelphia's transportation network could reduce greenhouse gas emissions and increase community livability through:
Individual and governmental decision making and actions.
More efficient use of space.
Applying technology, pricing, and design.
Networking Transportation explores how to more seamlessly connect the region's transportation, which will provide more options in how to get around, reduce costs, and more safely and efficiently move people and goods within existing infrastructure. It analyzes:
emerging digital transportation technologies and private digital transportation providers.
four scenarios for the future of shared mobility.
infrastructure, institutional, and regulatory actions to achieve the vision of an integrated, multimodal transportation network.