A brownfield is a property that is abandoned or underutilized because of either real or perceived contamination. Definitions from relevant agencies include:  
United States Environmental Protection Agency (U.S. EPA)  Brownfields are real property, the expansion, redevelopment, or reuse of which may be complicated by the presence or potential presence of a hazardous substance, pollutant, or contaminant.   
State of New Jersey: A brownfield is defined under New Jersey state law (N.J.S.A. 58:10B-23.d) as "any former or current commercial or industrial site that is currently vacant or underutilized and on which there has been, or there is suspected to have been, a discharge of a contaminant."  
Commonwealth of Pennsylvania: The main Pennsylvania program that administers brownfields programs is called the Pennsylvania Land Recycling Program or Act 2.. The Land Recycling program allows for  the cleanup and reuse of contaminated industrial and commercial properties. The Land Recycling Program allows contaminated properties to be redeveloped for new purposes. 
DVRPC's long range plan prioritizes the reuse and cleanup of underutilized land in the region's older suburbs and communities. Brownfields and greyfields offer communities the opportunity to diversify their economy and housing options.
Are There Brownfields in Your Community?
Abandoned industrial sites are easily recognized as brownfields. However, communities should also be aware of the less-apparent brownfield sites that, if reused, present community and economic development opportunities.   Examples of sometimes-overlooked brownfields include:  
Abandoned or underutilized gas stations  
Former automobile service facilities  
Vacant lumber yards  
Former transportation depots or transfer facilities 
Abandoned storage sites
Is this property a Brownfield or a Greyfield?
Brownfields should be distinguished from greyfields. Greyfield is a term used to describe formerly-viable retail and commercial shopping sites (such as malls and shopping centers) that have been abandoned as newer commercial developments draw shoppers away. Usually, there is very little commercial activity at a greyfield site, or all tenants have vacated the premises, leaving only empty buildings behind. Greyfields take their name from the vast asphalt parking lots that typically dominate these abandoned sites. The main difference between a brownfield and a greyfield is that a brownfield is (or is perceived to be) contaminated, whereas a greyfield is underutilized only due to disinvestment.
Where are Greater Philadelphia's Greyfields? 
The 2019 and 2021 vacancy rates for all shopping centers across Greater Philadelphia with less than 500,000 sf of gross leasable area were analyzed to identify the location of the region's greyfields. Three different greyfield typologies were identified and mapped based on their vacancy rates:
Underperforming: Vacancy rate between 25% and 49%
Threatened: Vacancy rate between 50% and 74%
Ghost Town: Vacancy rate of 75% or more.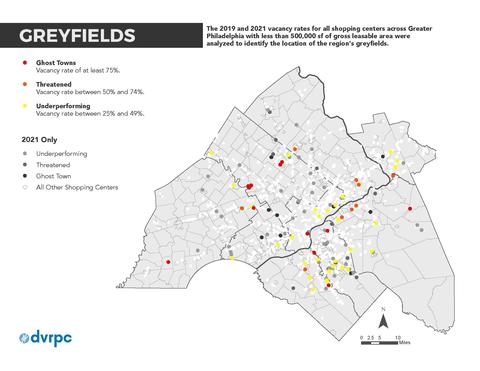 Brownfields and the Infrastructure Investment & Jobs Act (IIJA)
The Infrastructure Investment & Jobs Act (IIJA) has allocated $1.5 billion to increase community brownfields revitalization efforts.  Abandoned, contaminated sites across all parts of the country can be assessed, cleaned, and made available for reuse. Learn more about programs available from the U.S. EPA. 
The Comprehensive Environmental Response, Compensation, and Liability Act (CERCLA) Brownfields Amendments authorize EPA to provide training and technical assistance to communities. Additional information regarding brownfields and the IIJA is provided on DVRPC's IIJA webpage.