DVRPC News: November 2019
Volume 41, Issue 5 | November 2019
Tactical Urbanism in Greater Philadelphia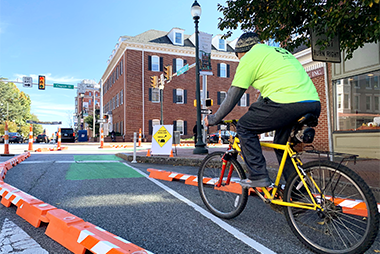 Photo by Betsy Mastaglio, DVRPC
Tactical urbanism projects are flexible, short-term projects that provide for on-the-ground testing of long-term improvements usually related to street safety and public spaces. These types of projects aim to improve safety, rebalance modes, and advance community placemaking.
Last month, DVRPC staff collaborated with the Transportation Management Association of Chester County (TMACC) to create a pop-up (i.e. temporary) parking-protected bicycle lane on Market Street in downtown West Chester (pictured here). Check out this video for a full recap of the event!
We want to know your ideas for more projects like this! If you or someone at your organization/community is interested in testing a small transportation project to see how it would work, and would like to brainstorm ideas, please contact Betsy Mastaglio at bmastaglio@dvrpc.org or 215-238-2812.
Over $25 Million Awarded for Congestion Mitigation and Air Quality Improvement Program Projects in PA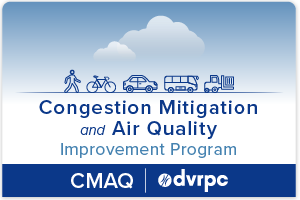 At the October DVRPC Board Meeting, over $25 million in Congestion Mitigation and Air Quality Improvement Program (CMAQ) funds were awarded for 13 projects in Southeastern Pennsylvania. Some of the projects include: replacing three of SEPTA's work trains with U.S. Environmental Protection Agency (EPA) Tier 4 compliant locomotives, new Indego bikes and stations in Philadelphia, as well as traffic flow and congestion reduction improvements for roads, ramps, and intersections in Bucks, Chester, Delaware, Montgomery, and Philadelphia counties.
CMAQ is a source of federal funds available for transportation projects that will improve air quality and reduce congestion in areas that do not currently meet federal air quality standards.
Learn more about projects that will improve air quality and reduce traffic congestion in the DVRPC region.
Various DVRPC Programs Honored by APA-PA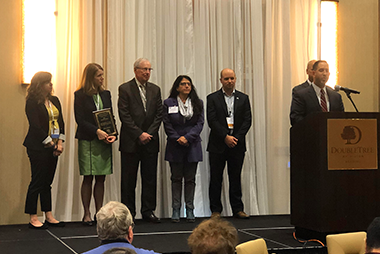 Bike Montco: The Bicycle Plan for Montgomery County received a "Best Plan" award from the Pennsylvania Chapter of the American Planning Association at its annual conference last month. DVRPC provided the bicycle level of traffic stress and connectivity analysis, which was instrumental to the plan. Bike Montco was funded by DVRPC's Transportation and Community Development Initiative. Sarah Moran, Manager of Corridor Planning Programs (pictured on the left), represented DVRPC at the award ceremony, and also presented her work during a conference session. Learn more about Bike Montco here.
Also at the APA-PA conference, Rob Graff, Manager, Office of Energy and Climate Change Initiatives, led a panel session on municipal planning for climate change. From the Office of Smart Growth, Associate Manager Andrew Svekla and Planner Derek Lombardi led a discussion on the suburban apartment boom and the opportunities and implications of multifamily housing growth.
Engage in the Regional Planning Process; Apply to Join the Public Participation Task Force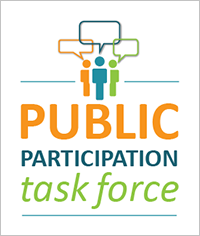 DVRPC is looking for members of the public interested in transportation planning and engaging in regional decision-making to apply to become a member of the Public Participation Task Force (PPTF)!
The mission of the PPTF is to provide a forum to discuss planning topics, learn about timely regional concerns, assist the Commission in implementing public outreach strategies, and empower citizens to be a part of planning processes at all levels of government. The PPTF is a sounding board for a variety of topics; staff often involve PPTF members in testing public engagement activities; and some PPTF members serve on grant review committees and project steering committees.
Applications for the 2020 cohort are open until December 22, 2019. If you have any questions, please contact Shoshana Akins, Public Participation Planner, at 215-238-2817 or sakins@dvrpc.org.
National Traffic Incident Response Awareness Week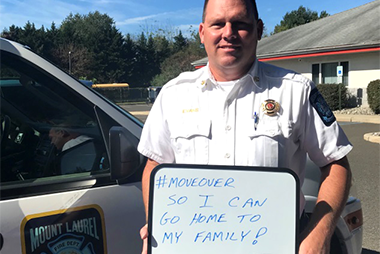 DVRPC is partnering with the Traffic Incident Management Network for National Traffic Incident Response Awareness Week from November 10 to 16. Every year, hundreds of emergency responders from fire, law enforcement, emergency medical services, as well as towing and transportation agencies, are struck while responding to incidents, and can be injured or killed.
DVRPC and the eight Incident Management Task Forces from across the region are working together to raise awareness of the dangers emergency responders face at traffic incidents. Motorists can help save lives by moving over a lane and slowing down to provide more space for emergency responders and their work.
Learn more about Traffic Incident Management in the DVRPC region.
A Discussion about Unmanned Aircraft Systems (Drones)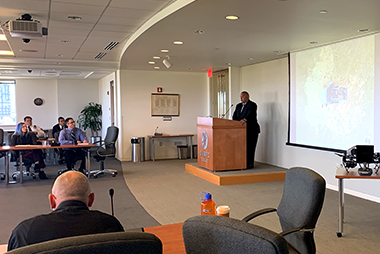 On October 17th, DVRPC's Transportation Operations Task Force (TOTF) met to discuss Unmanned Aircraft Systems (UAS) as a tool to enhance transportation operations activities and emergency response operations. TOTF meets quarterly to share information and coordinate transportation operations and intelligent transportation systems activities underway in the region. The Pennsylvania Turnpike Commission, New Jersey Department of Transportation (NJDOT), and Gloucester County Office of Emergency Management representatives gave presentations on how they have implemented UAS within their agencies.
UAS can be used to perform bridge inspections, crime scene and crash investigations, aerial mapping, pre-event planning and other operations. One of the Pennsylvania Turnpike's future endeavors is to coordinate with the Pennsylvania State Police to explore UAS use for crash reconstruction. Using UAS has been shown to reduce the mapping time of a scene by at least 75%. Other agencies use UAS for wildlife surveys, traffic congestion mitigation, structural inspections, emergency management, search and rescue, and hazardous material mitigation.
Recent Publications and Products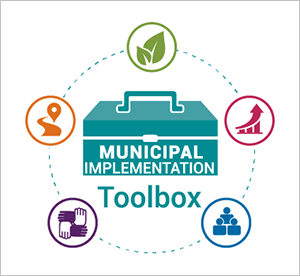 Municipal Implementation
Toolbox: DVRPC has designed an online Toolbox as a resource to assist municipal efforts to implement the goals of Connections 2045, the region's Long-Range Plan. The Toolbox takes the five principles of the long-range plan, identifies a variety of recommended tools for municipalities, and shares case studies, resources and sample ordinances. This hardcopy publication highlights some of what the viewer can find online.
Transportation Conformity Determination Connections 2045 Long-Range Plan, FY 2019 Pennsylvania TIP, and DRAFT FY 2020 New Jersey TIP: DVRPC demonstrates transportation conformity of its Connections 2045 Long-Range Plan, Fiscal Year (FY) 2019 Pennsylvania Transportation Improvement Program (TIP), and Draft FY2020 New Jersey TIP.
Marcus Hook Grade Crossing Study: This study examines three highway-railroad grade crossings in Marcus Hook Borough, Delaware County, Pennsylvania and documents existing conditions at the grade crossings and provides recommendations on possible grade crossing improvements.
2017 Aircraft Counting Operations Program: This technical report presents aircraft operations estimates for five non-towered airports in the Delaware Valley aviation planning area. Results are used by multiple sources to monitor aircraft activity levels in the Delaware Valley and as a base for planning and forecasting documents.
DVRPC's Limited English Proficiency Plan: To better identify LEP populations, thoroughly evaluate the Commission's efforts to provide meaningful access, and provide more language access measures, DVRPC has produced this Limited English Proficiency Plan.
Staff Profile: Brett Brown, Associate Planner, DVRPC Fellowship Program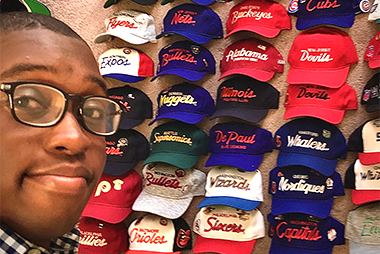 What did you want to be growing up?
An architect. I'm originally from Chicago, and I used to go downtown with my mom and was fascinated by the skyscrapers. I wanted to be able to design one!
What was your first job?
At 17, I wanted a job, and I eventually found one at Abercrombie and Fitch. It was at a nearby mall. I was excited about starting my first job but it turned out to be an awful experience.
How did you come to planning?
At Cleveland State, there was no architecture program, but my advisor recommended I try urban planning. I hadn't heard of it before, but it turned out to be what I wanted to study all along, I just didn't know there was a name for it. While there, I interned with the director of Cleveland's City Planning Department for a year and a half, focusing on revitalization plans. We tried to fix neighborhoods suffering from disinvestment, without creating displacement.
That's a common theme in Philadelphia, too. Have you come across models that worked well?
Good examples are rare, but I think Hyde Park, Chicago, is one. The neighborhood benefitted from its diversity and for hosting the University of Chicago, and in the 1950s they razed a portion of the old housing and rebuilt garden style apartments. Today, the neighborhood actually benefits from its diversity of housing types and people, it has a high homeownership rate, and it's stable and cohesive.
This is the second year of DVRPC's Fellowship Program, intended to help support the development of a pipeline of talented people from historically underrepresented communities into the urban and regional planning profession. The program provides a year-long, paid, full-time training program for a recent college graduate interested in planning, and promotes and supports that individual to gain skills, contacts, and experience to help them excel in their career. What drew you to the position?
After graduating college, I knew I wanted a career in planning and was looking into schools located in diverse, urban areas. I'm now enrolled in Temple's City and Regional Planning program. I also knew I wanted work experience while in grad school, so finding this opportunity was perfect. I was familiar with the Cleveland area MPO from my internship there, and really liked the regional planning process, which seemed less political and bureaucratic than I observed at the city level.
What projects are you working on here?
I've got a lot of projects going on: I'm helping develop a multimodal level of service (LOS) scoring system that will let us move beyond just measuring the LOS of motor vehicles; I'm helping update the Equity through Access project; and I'm researching best practices for our Residential Parking Policy Analysis.
What three words best describe you?
Quiet, old-school, and creative.
What is something that your colleagues may not know about you?
I'm a published author. In middle school, I wrote a children's book about a girl who saved the world from aliens. It's called Haley's Comet. Also, I collect sports caps – rare, vintage, and collectors' items, and a little over 40 of them. Regretfully, I recently sold over half my collection, but am building it back up again. My most recent acquisitions are two versions of NJ Nets caps.
What's the best advice you ever received?
Go to school. My parents said it a million times and I listened. A lot of the kids I grew up with didn't.
Where would we find you when you're not at work or in school?
Walking around, exploring Philadelphia and other cities. I travel to NYC, DC and Boston whenever I can. As well as drawing, writing, and attending football, basketball, hockey, and baseball games.
Upcoming LTAP Classes in PA and NJ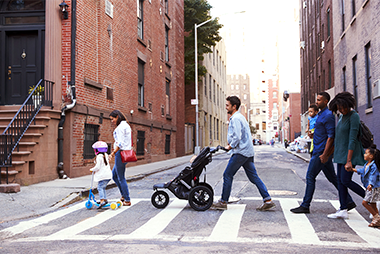 The Local Technical Assistance Program (LTAP) provides technical information and expertise to help municipal governments use transportation funds more effectively, improve road maintenance, and increase roadway safety.
Upcoming PennDOT classes in Pennsylvania include:
Risk Management Strategies
Gilbertsville, PA
November 6, 2019 (8:00 AM – 12:00 PM)
Stop Signs and Intersection Traffic Control
Gilbertsville, PA
December 18, 2019 (8:00 AM – 12:00 PM)
Visit PennDOT's LTAP website to view the course descriptions and register. For any questions, contact Linda McNeffer at lmcneffer@dvrpc.org or 215-238-2872.
There are two upcoming New Jersey LTAP courses:
NJLTAP – Design of ADA Curb Ramps and Pedestrian Access Routes
Runnemede, NJ
November 22, 2019 (8:30 AM – 4:00 PM)
NJLTAP – Slide-in Bridge Construction
Ewing, NJ
December 6, 2019 (8:30 AM – 12:30 PM)
Visit Rutgers' CAIT website for a list of all New Jersey workshops and to register.