Public Participation Task Force Application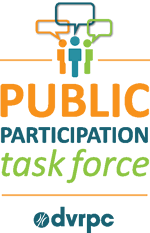 The purpose of this application is to help DVRPC create a diverse, engaged body to address regional planning and public participation practices in the nine-county DVRPC region. Share with us your personal experience living in the region and with planning projects; you are an expert of your own community and we want to hear from you!
Elected officials are not eligible to serve as at-large members of the Task Force because we are striving to engage citizens who do not already play a role in the planning process. As an elected official, you may actively participate in other DVRPC plans and programs, and we constantly endeavor to engage the region's municipal and county governments through a variety of specific programs.
All information contained in the applications received will be kept confidential.
Having trouble with the online application portal?
Download the application [0.2 mb PDF] and email to Shoshana Akins at sakins@dvrpc.org or mail to DVRPC, 190 N Independence Mall West, 9th floor, Philadelphia, PA 19106.
---