DVRPC News: September 2018
Volume 40, Issue 3 | September 2018
Board Members Brainstorm Future Work Programs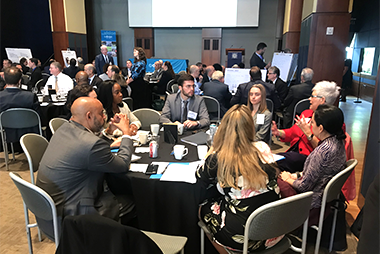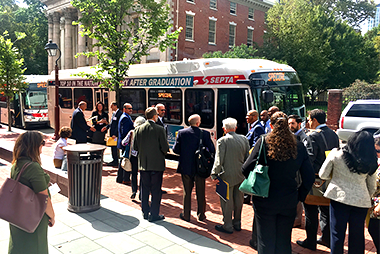 The 2018 DVRPC Board Retreat was held on September 27 at the Science History Institute in Philadelphia. Following the Board meeting, Board members, member government staff, and planning partners participated in a retreat that included guest speakers from the U.S. Economic Development Administration and the Philadelphia Industrial Development Corporation. Their presentations set the stage for a brainstorm activity where participants completed a Strengths / Weaknesses / Opportunities / Threats (SWOT) analysis for the region.
Board members then identified priorities for future work program projects. Discussions this year were based on the five Principles of the Connections 2045 Long-Range Plan. The Draft FY 2020 DVRPC Planning Work Program will be available for public comment later this calendar year. Following the workshop, attendees participated in a bus tour of several transportation and public space projects along or near I-95 in Philadelphia.
Join a Discussion on Trends in Globalization on Oct. 3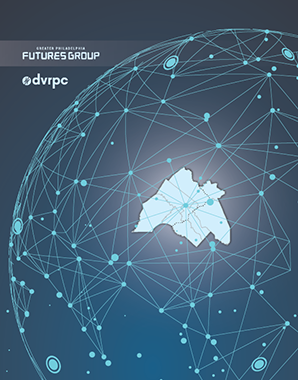 Are you interested in learning how a global economy will shape the future of our region? Join DVRPC's Futures Group for a panel discussion on Wednesday, October 3 from 9-11 am. The meeting, moderated by Stephen Mullin of Econsult Solutions, Inc., will explore the implications of trends in globalization on the Greater Philadelphia region. Topics will range from innovation and trade to foreign investments.
Panelists include Dr. Ram Mudambi, Professor of Strategy at Temple University Fox School of Business; Linda Conlin, President of World Trade Center Greater Philadelphia; and Lauren Swartz, Senior Director of the City of Philadelphia's International Business Department of Commerce. The panel is a part of a series on trends that inform the region's long-range planning hosted by the Futures Group.
Registration for the event here
; space is limited.
Last Chance to Apply for Safe Routes to Transit Technical Assistance Program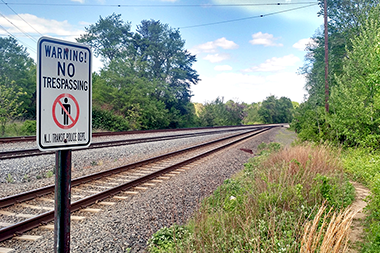 Next week is the last chance to apply for this year's Safe Routes to Transit (SRTT) technical assistance program. Selected municipalities will work with DVRPC's subject matter experts on conceptual designs that improve a transit station's bicycle and pedestrian connections with the surrounding area. Resolving early design issues may strengthen a municipality's application to competitive funding programs for infrastructure improvements.
DVRPC's technical assistance will be tailored to the particular project's needs, but may include tasks like analyzing existing conditions or estimating project costs. Project proposals that show a municipality's commitment to pursue final design and construction funding after the Safe Routes to Transit technical assistance are favored. Other factors considered in the selection process include the severity of the problem, the potential positive impact on large groups of people, and the project's consistency with DVRPC, county and municipal plans.
Applications for Safe Routes to Transit will be accepted until October 5, and applicants will be notified of the status of their submittals by DVRPC in mid-October.
Help DVRPC Update Greater Philadelphia's Comprehensive Economic Development Strategy (CEDS)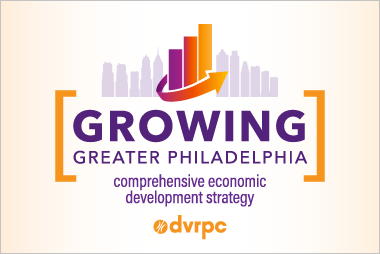 Join us on Thursday, October 18 as we kickoff the update to Greater Philadelphia's Comprehensive Economic Development Strategy (CEDS). This interactive meeting will focus on identifying the region's Strengths, Weaknesses, Opportunities, Threats.
The CEDS is a result of a regionally-owned planning process designed to guide the economic prosperity and resiliency for the region. A strong regional economic development strategy relies on input, participation, and leadership from elected officials, employers, workforce and education leaders, nonprofit executives, economic development professionals, and interested citizens. Attend this first meeting to be a part of the conversation and contribute to the region's economic development plan.
Learn more about the CEDS planning process and register.
DVRPC Honored for Sustainability Efforts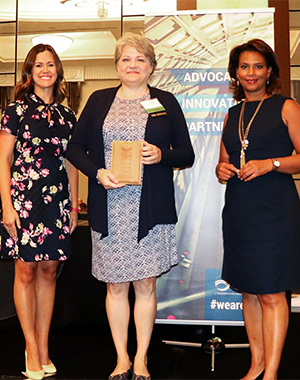 On September 10, DVRPC received the highest-level Transportation Demand Management Award by the Greater Valley Forge Transportation Management Association (GVF). The Diamond Sustainability Award recognizes the Commission's commitment to fostering commuting strategies that improve air quality and reduce traffic congestion for its employees and the entire community. DVRPC earned this recognition because of its employee transit benefit, sustainability plans, and trip reduction initiatives, among other internal practices.
The award also honors DVRPC's programs that support other companies in their efforts to achieve sustainability goals. Examples include RideECO, which provides tax breaks to businesses for transit ridership, and the Mobility Alternatives Program, which offers services like Share-A-Ride to help organizations empower employees to make "greener" commuting choices.
Regional Trails Program Grant Awarded in Mercer County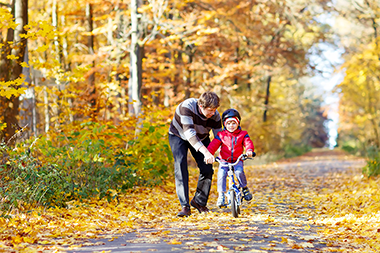 At this month's Board Meeting, a grant of $300,000 was approved to restore and resurface 6.2 miles of the D&R Canal Trail as part of DVRPC's Regional Trails Program. The grant will allow NJDEP's Division of Forestry and Parks to improve substantially-degraded portions of the trail in Mercer County. Specific activities include improving water drainage and correcting trail widths in Ewing, Trenton, and Princeton.
The D&R Canal Trail is a designated National Recreation Trail and portions are also part of the East Coast Greenway and September 11th National Memorial Trail. This project is funded by capital grants that the William Penn Foundation has made to DVRPC in support of the Regional Trails Program and Circuit Trails.
The Intersection of Crashes, Equity, and Health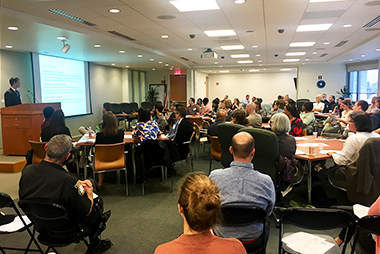 Two of DVRPC's standing committees, the Healthy Communities Task Force and the Regional Safety Task Force, joined together for September's meeting, Just Streets: The Intersection of Crashes, Equity, and Health. The meeting provided a unique opportunity to bring together planning, public health, and transportation professionals. During the meeting, panelists and breakout discussions explored the relationship between crashes, equity, and health.
DVRPC Transportation Planner, Marco Gorini, presented on Crashes and Communities of Concern, a soon-to-be-released report that examines the connections between areas with high crash rates and areas with greater concentrations of low-income and minority populations. The panel consisted of local practitioners and researchers working to reduce traffic fatalities and increase safe and healthy mobility options.
Upcoming LTAP Classes in PA and NJ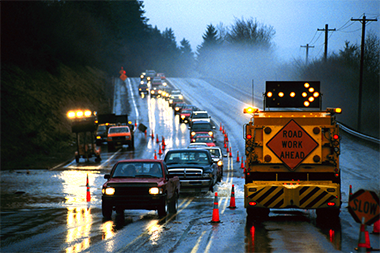 The Local Technical Assistance Program (LTAP) provides technical information and expertise to help municipal governments use transportation funds more effectively, improve road maintenance, and increase roadway safety.
Upcoming PennDOT classes in Pennsylvania include:
Drainage: The Key To Roads That Last
Langhorne, PA
October 24, 2018 (8:00 AM – 3:00 PM)
Stormwater Facility Operation and Maintenance
Phoenixville, PA
November 12, 2018 (8:00 AM – 12:00 PM)
Visit PennDOT's LTAP website to view the course descriptions and register. For any questions, contact Linda McNeffer at lmcneffer@dvrpc.org or 215-238-2872.
There are two upcoming New Jersey LTAP courses:
Federal-aid Responsible Charge Training
Runnemede, NJ
October 11, 2018 (8:30 AM – 3:30 PM)
Highway Inspection Procedures for Federal-aid Projects
Piscataway, NJ
October 23, 2018 (8:30 AM – 1:30 AM)
Visit cait.rutgers.edu/cait/training for a list of all New Jersey workshops and to register.