Regional Trails Program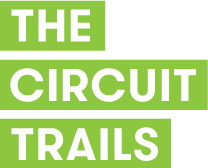 DVRPC's Regional Trails Program provides planning assistance and financial support to trail developers, counties, municipalities and nonprofit organizations to complete the Circuit, Greater Philadelphia's 750-mile network of multi-use trails. With financial support from the William Penn Foundation, the Regional Trails Program has provided over $11 million in funding to 55 trail planning, design, and construction projects.
In December 2014, DVRPC and the William Penn Foundation announced a renewed commitment to invest $7 million in the Circuit. These funds will be used for targeted investment in the planning, design, and construction of multi-use trails across Greater Philadelphia. This award built upon the success of the William Penn Foundation's December 2010 grant of $10 million to DVRPC for the development of regional trails.
The Circuit Trails
The Circuit Trail system takes advantage of the many opportunities to build and connect trails across the region that is a product of the area's success in re-purposing unused rail corridors and developing linear parks along the region's waterways. Indeed, one of the major goals of the Circuit is to provide access to the region's rivers, creeks and streams. Just as importantly, the Circuit will also serve as the backbone for a network of "bicycling highways" that will allow safe and efficient travel by bicycle between homes, businesses, parks, schools and institutions free from motorized traffic.
DVRPC's efforts to build, improve and expand the Circuit would not be possible without the work of our local government partners, state and federal funding sources, and the efforts of countless non-profit groups. The following are lists of grants made by the Regional Trails Program since 2011 to support the work of our many partners.
Phase I Grants
In July and October of 2011, eighteen projects were awarded a total of $5.2 million through Phase I of the Regional Trails Program to design and construct trails in New Jersey and Pennsylvania.
Phase II Grants
Phase II grants were awarded in April 2012. Eleven projects received a total of $496,000 in funding to support planning and feasibility studies. This work laid the foundation for future design and construction projects to fill important "gaps" in the Circuit.
Phase III Grants
Phase III grants were awarded in September 2013. Thirteen trail design and construction projects received a total of almost $4 million in funding. When complete, Phase III projects will add 18 miles of trail to the Circuit.
Phase IV Grants
Phase IV grants were awarded by the Regional Trails Program beginning in June 2015. Ten projects were awarded a total of $1.33 million in June 2015, two projects were awarded $709,000 in May 2016 and six projects were awarded $1,250,000 in June 2016. Recipients will use this funding to design and construct multi-use trails throughout Greater Philadelphia. Collectively, these projects will close gaps in the Circuit Trails network, thereby bringing trails and the connectivity they provide to new communities and neighborhoods.
Six of the ten projects awarded in June 2015 were included in a "Circuit TIP line item" that was established as part of the Phase IV awards. As a result, these projects will be eligible to receive Congestion Mitigation and Air Quality (CMAQ) funding for construction after they have completed engineering and received all necessary approvals.
Phase V Grants
Phase V grants were awarded by the Regional Trails Program in June and July 2017. Twelve projects throughout southeastern Pennsylvania received a total of over $1.8 million. Six projects in New Jersey received a combined $480,143. This phase includes a mix of planning, design, and construction projects.
Other Resources