DVRPC News: November 2018
Volume 40, Issue 5 | November 2018
DVRPC Work Program Public Comment Period Begins December 6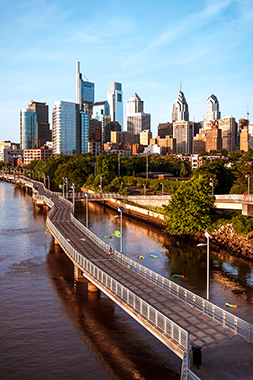 DVRPC will hold a 30+ day public comment period from December 6, 2018 to January 7, 2019 for the Draft FY 2020 Planning Work Program. This document outlines all of the federally funded planning projects for the nine-county region from July 1, 2019 to June 30, 2020. The Work Program is developed annually by the DVRPC Board with its planning partners to reflect the region's short-range planning needs.
In addition, the Draft Transportation Conformity Reaffirmation will be available for comment during the same time. In August 2018, the region was designated as a nonattainment area for the 2015 Ozone National Ambient Air Quality Standard by the U.S. Environmental Protection Agency. The Clean Air Act requires that nonattainment areas must demonstrate transportation conformity to a newly enacted air quality standard. DVRPC intends to meet this requirement by reaffirming the previous conformity analyses of the Connections 2045 Long-Range Plan and TIPs for New Jersey and Pennsylvania.
Electronic versions of these two documents will be available on the DVRPC website by 5 p.m. on December 6. Hardcopies will also be available in the DVRPC Resource Center and in a number of regional libraries. For information about submitting a comment, and to view the public notice, visit www.dvrpc.org.
Join the Next Futures Group Meeting on Goods Movement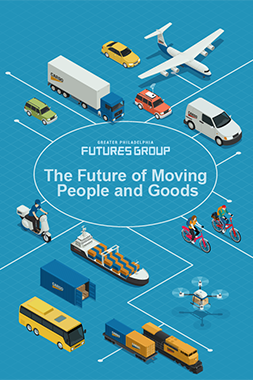 Are you interested in learning how technology will change the way that people and goods are moved in the future? Join DVRPC's Futures Group on Tuesday, December 11 from 8:30 to 11:00 a.m. for the next panel discussion in a series on key topical issues. Presentations and discussion will focus on smart cities and smart transportation technologies, infrastructure design and microtransit, and the changing nature of production in a digitizing world
Panelists include: Dr. Steve Viscelli, Professor of Sociology at the University of Pennsylvania; Dr. Daniel Miles, Chief Economist at ESI ThoughtLab; and Dr. Mimi Sheller, Director of the Center for Mobilities Research and Policy at Drexel University. There will also be a call for volunteers, to work with DVRPC on the next scenario planning exercise in a series of working meetings over the first half of 2019.
Coffee and networking begins at 8:30 a.m. Presentations will start promptly at 9:00 a.m. Registration for the event is now open and space is limited.
Attend Regional Safety Task Force Meeting on Safe Senior Mobility on 12/13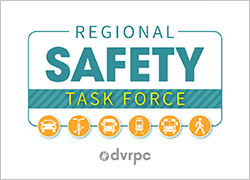 The next Regional Safety Task Force meeting on December 13 will focus on strategies for safe senior mobility.
The event will feature two guest speakers: Dr. Anne Mitchell of Jefferson University, who will discuss safe senior walkability research; and Tim Evans of New Jersey Future, who will discuss the "age-friendliness" of towns' land-use patterns. Following the presentations, attendees will participate in breakout sessions to develop action items related to improving safe senior mobility in the region.
Register for the December meeting of the Regional Safety Task Force. Lunch will be provided for all attendees.
Public Participation Task Force is Seeking Applications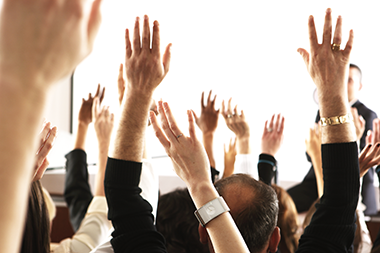 DVRPC is looking for members of the public interested in representing their community and engaging in the regional decision-making process. Apply to become a member of DVRPC's Public Participation Task Force (PPTF) today!
The mission of the PPTF is to provide a forum to discuss and learn about timely topics in planning, assist the Commission in implementing public outreach strategies, and empower citizens to be a part of the regional planning process. Applications for the 2019 cohort are open until December 21, 2018. If you have any questions, please contact Shoshana Akins, Public Participation Planner, at 215-238-2817 or sakins@dvrpc.org.
Interested citizens are also invited to attend the next PPTF meeting on December 13 from 6:00 to 7:30 p.m. to network with current members and learn more how the PPTF works. Dinner for all attendees will be served at 5:30 p.m. To RSVP, please email public_affairs@dvrpc.org by December 12.
Trenton Wellness Loop Officially Opens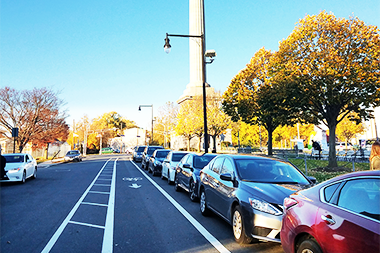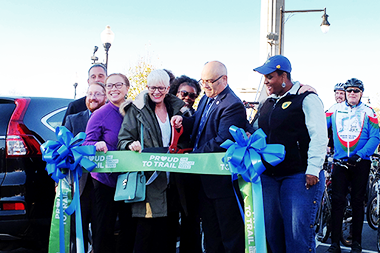 Photo courtesy of D&R Greenway Land Trust
With help from DVRPC, the Trenton Wellness Loop, a new 1.5-mile bicycle lane in downtown Trenton, is now officially open to the public. The City of Trenton and the D&R Greenway Land Trust cut the ribbon on this new segment of the Circuit Trails on November 8. The Loop features on-street bicycle striping, signage, and wayfinding through downtown Trenton and was funded by a DVRPC Regional Trails Program grant.
The Trenton Wellness Loop begins at mile marker zero on the D&R Canal Towpath Trail. The Loop will eventually connect to a larger trail segment (which is currently in design). Once that segment is completed, the D&R Canal Towpath will be connected to the D&R Canal in nearby Hamilton Township through the streets of Trenton.
The Loop is an important connection in the region's Circuit Trail system. During planning and design, DVRPC staff assisted the City of Trenton, D&R Greenway Land Trust, and other partners to prepare the project for construction. The project was also featured in DVRPC's Downtown Trenton Bicycle and Pedestrian Plan, which was incorporated into the Trenton250 Master Plan. Learn more about DVRPC's trail work at www.dvrpc.org/Trails.
New Publications and Products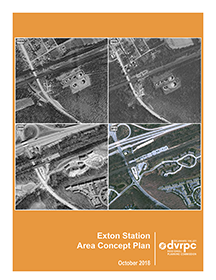 Several new products have been released in the past month. They include:
Exton Station Concept Plan
This study evaluates both existing and ongoing projects at and surrounding the Exton Station in West Whiteland Township, PA. The report uses input from local stakeholders to suggest improvements that can be made as funding becomes available, such as safe bus stops and expanded parking.
West Deptford Environmental Resource Inventories: West Deptford, New Jersey
This document describes the natural and community resources of West Deptford Township in Gloucester County, NJ. Topics addressed in the natural resources section include descriptions and maps of land use, known contaminated sites, and surface water quality. The community resources section includes descriptions of protected open space, recreation facilities, and the community's history.
Municipal Implementation Tool #032: Speeding & Traffic Safety
This brochure describes the relationship between speeding and crash frequency/severity. Local roadway owners and stakeholders will find the description of regional speeding-related crash trends, examination of contributing circumstances, and speed reduction strategies useful.
Staff Profile: Theresa Southerland, Publishing Manager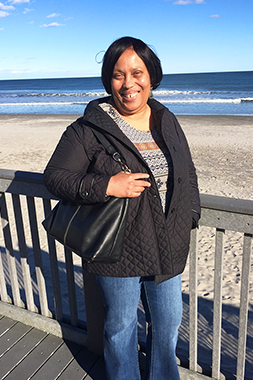 What did you want to be when growing up?
An airline stewardess. I thought it would be fun to travel around for my job.
What was your first job?
I worked in a grocery store as the cashier, sometimes keeping stock.
How did you end up at DVRPC?
Back in 1987, I didn't know about DVRPC, but I went to a job fair on building interviewing skills. They matched me up with an interview at DVRPC, and I got the job!
What positions have you held over the years?
I've served as receptionist, and worked in map sales, the resource center and, more recently, the print shop as the Publishing Manager.
What's changed over the years?
Technology has changed the most. When I started, there were no personal computers, no email, no internet. We made a lot more copies, of everything.
What three words best describe you?
Reliable, accommodating, introverted.
What is something your colleagues don't know about you?
I like to dance and I love music. Also, they may not know that I became a vegetarian about a year ago.
Who would you most like to meet in the world?
Anna Kujawa and Earl Purdy. They are two spiritual leaders from "A Course in Miracles," a self- study spiritual thought system. Among other things, this thought system teaches how to systematically train your mind to have a different perception of everyone and everything in the world.
What's your life philosophy?
Try not to judge others, instead have a clear mind and focus on what keeps you happy.
If you could be Queen of the Delaware Valley for a day, what would you declare?
I'd have people acknowledge the heartbreaking abuse that so many animals suffer, and in turn, make more compassionate choices to create a kinder, better world for animals.
How do you see the future of the region?
I see the cost of living going up. In my neighborhood, I see a lot more abandoned houses getting bought and fixed up, which is good, but at the same time, the prices are too high for people living in the neighborhood to afford.
You are retiring at the end of 2018, after nearly 32 years of service at DVRPC. What are your plans?
I want to learn better how to cook plant-based meals, work on my health, and spend more time visiting family and friends. I also recently started traveling, and have a trip to Hawaii planned!
Upcoming LTAP Classes in PA and NJ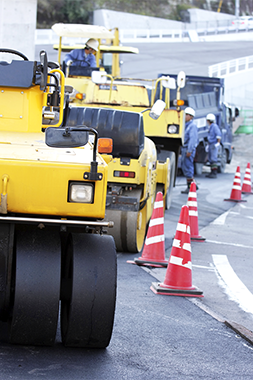 The Local Technical Assistance Program (LTAP) provides technical information and expertise to help municipal governments use transportation funds more effectively, improve road maintenance, and increase roadway safety.
Upcoming PennDOT classes in Pennsylvania include:
Road Surface Management Class
East Norriton, PA
December 10, 2018 (8:00 AM – 3:00 PM)
Equipment and Worker Safety Class
Thorndale, PA
December 18, 2018 (8:00 AM – 12:00 PM)
Visit PennDOT's LTAP website to view the course descriptions and register. For any questions, contact Linda McNeffer at lmcneffer@dvrpc.org or 215-238-2872.
There are two upcoming New Jersey LTAP courses:
Construction and Project Cost Estimating for Public Works Projects
Piscataway, NJ
December 10, 2018 (8:30 AM – 3:30 PM)
Design of ADA Curb Ramps and Pedestrian Access Routes
Piscataway, NJ
December 18, 2018 (8:30 AM – 4:00 PM)
Visit cait.rutgers.edu/cait/training for a list of all New Jersey workshops and to register.