DVRPC News: November 2016
Volume 38, Issue 4 | November 2016
Workshop Highlights Benefits of Investing in Centers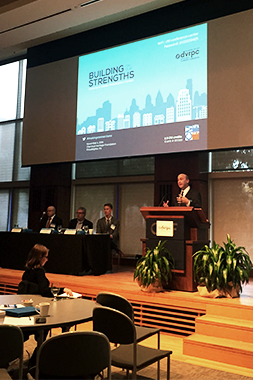 On November 4, planners, developers, and local officials gathered at the Chemical Heritage Foundation in Philadelphia for a workshop on transit-oriented development (TOD) and the benefits of investing in our region's centers.
Building on our Strengths: Investing in Greater Philadelphia's Centers began with Community Displays during which different municipalities showcased their downtowns and development opportunities. Next, a panel of experts discussed the role that transit plays in new development throughout Greater Philadelphia. Andrew Svekla, Senior Design Analyst in DVRPC's Office of Smart Growth, moderated the panel and showcased a new, interactive, online mapping tool that identifies TOD opportunities in Greater Philadelphia. Also participating in the panel was John Ernst, Borough Manager at Lansdale Borough, and Greg Rogerson, Principal, at J.G. Petrucci, Co., Inc. Finally, attendees participated in a workshop that asked them to identify challenges and potential solutions for redeveloping in several hypothetical communities.
Seeking Civic-Minded Citizens for Public Participation Task Force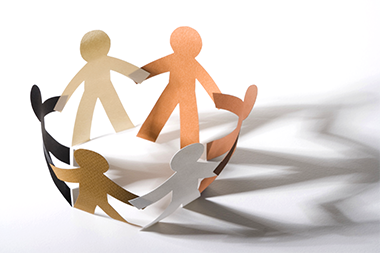 Want to represent your community and get involved in the regional planning and decision-making process? Apply to be a member of DVRPC's Public Participation Task Force (PPTF) today!
The PPTF is integral to DVRPC's public outreach plan strategy. Members will learn about the regional planning process, review timely issues, and serve as intermediaries, sharing DVRPC information with other organizations and local communities across the region. For more details about the PPTF, visit www.dvrpc.org/Committees/PPTF.
Applications will be open through December 11 and selected members will be notified shortly thereafter. The application is available online at www.dvrpc.org/GetInvolved/PPTFApplication. If you have any questions, please contact Shoshana Akins, Public Participation Planner, at 215-238-2817 or sakins@dvrpc.org.
Curious and want to know more? Interested citizens are invited to attend the PPTF meeting on the evening of December 1 starting with dinner at 5:30 PM. Come network with current members and learn more! To RSVP, please email public_affairs@dvrpc.org by November 30.
Data Journal: Employment to Increase by Almost 12% by 2045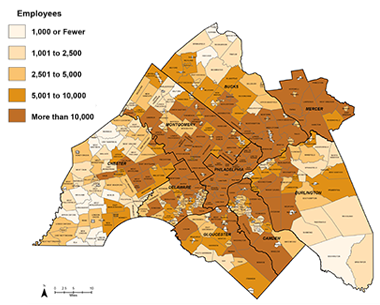 Greater Philadelphia is forecast to gain almost 373,000 jobs between 2015 and 2045 – that's an increase of almost 12%! Much of the growth is expected in the suburbs, with the largest percent increases in Chester County in Pennsylvania, and Gloucester County in New Jersey. The map to the right illustrates the 2045 municipal employment forecasts. To explore the forecasts on a county- or municipal-level, check out the interactive webmap. The Analytical Data Report is also available as a PDF at www.dvrpc.org/Products/ADR023.
New DVRPC Publications: Darby Transportation Center, Right-Sizing Facilities, CEDS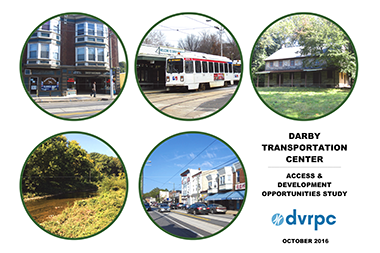 DVRPC has released several new publications. The Darby Transportation Center study provides an analysis of access issues and development opportunities in the area surrounding the Transportation Center. The project team looked at "transit-oriented development readiness" factors and existing conditions, market conditions, circulation and access issues, and developable sites in order to make recommendations for future development. View the whole document at www.dvrpc.org/Products/16031.
The Rightsizing Police and Fire Facilities study describes lessons learned from five cities about their aging police and fire facilities. These lessons will be helpful background information for Philadelphia's forthcoming Public Safety Facilities Master Plan. The full report is available at www.dvrpc.org/Products/WP16033.
The Comprehensive Economic Development Strategy (CEDS) webpage is a new online resource that outlines the findings of the most recent CEDS report, Investing in People & Places: Greater Philadelphia's Economic Development Strategy. The webpage lists indicators and performance measures, and contains a searchable database of key regional economic development projects designed to advance the regional CEDS' goals and objectives. To explore the webpage, visit www.dvrpc.org/Economic/CEDS.
You can stay up-to-date on new resources by visiting www.dvrpc.org/Products/Recent.
DVRPC Staff Present at APA-PA Annual Conference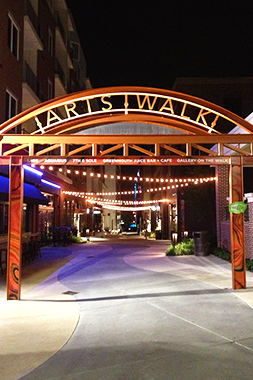 Several DVRPC staff members presented on important topics or recent projects at the American Planning Association Pennsylvania Chapter's Annual Conference earlier in October. Andrew Svekla, Senior Planning and Design Analyst, presented on Enhanced Bus Service in and around Philadelphia. The Manager of the Office of Environmental Planning, Chris Linn, presented on creating a constituency of users, decision-makers and funders for The Circuit, Greater Philadelphia's 750-mile multiuse trail network. Rob Graff, of the Office of Energy and Climate Change Initiatives spoke about a recent project DVRPC undertook with the US Federal Emergency Management Agency about integrating Hazard Mitigation Planning and comprehensive planning. The conference, held in Allentown, PA, attracted nearly 400 planners from throughout the state, and provides educational opportunities for planners in the private and public sectors, planning officials, and citizen planners.
DVRPC Employees Honored by Professional Associations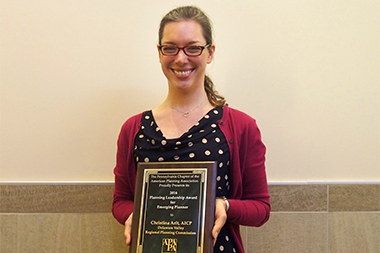 Christina Arlt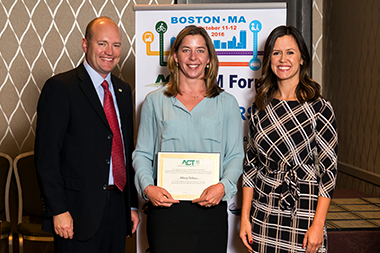 Erin Burke (center)
Photo courtesy of ACT
Two DVRPC employees were honored by esteemed professional organizations. Christina Arlt received the Emerging Planner Award by the Pennsylvania Chapter of the American Planning Association (APA-PA). Erin Burke was named one of the Associations for Commuter Transportation's (ACT's) 40 under 40. The APA-PA Emerging Planner Award is given to an individual who has been active in the planning field for less than 10 years, has been involved with the community, and who has demonstrated efforts to advance and innovate planning. Christina embodies these traits in multiple respects, whether in coordinating DVRPC programs that provide information and technical assistance to planners, volunteering as the head of the events committee for APA-PA Southeast Section, or serving as an adjunct professor at the University of Pennsylvania's School of Design.
ACT's 40 Under 40 Award is given to leaders in the transportation demand management industry who make transit options more accessible, and are most effectively increasing the use of commuter benefits and rideshare across the country. Erin is recognized as the in-house expert on all things transit benefit-related at DVRPC and manages the region's commuter benefit program, RideECO which provides 500+ employers and 15,000+ employees with commuter benefits. She also serves on her borough's policy committee and provides input on the town's comprehensive plan.
Upcoming LTAP Classes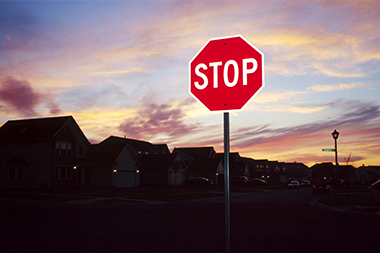 The PennDOT Local Technical Assistance Program (LTAP) provides technical information and expertise to help municipal governments use transportation funds more effectively, improve road maintenance, and increase roadway safety. Upcoming classes include:
Conducting Sign Retroreflectivity Inspections (Chester County)
London Grove Township Building
372 Rose Hill Road, Suite 100, West Grove, PA 19390
November 22, 2016 (8:00 AM – 12:00 PM)
The FHWA has established new rules about traffic sign maintenance, asset management, and retroreflectivity standards. This course will instruct municipal staff on these requirements, reinforce the value of a useful traffic sign asset management system, and demonstrate the tools and techniques available for measuring traffic sign retroreflectivity.
Engineering and Traffic Studies (Chester County)
East Brandywine Township Building
1214 Horseshoe Pike, Downingtown, PA 19335
December 7, 2016 (8:00 AM – 3:00 PM)
This course will cover how to conduct basic engineering and traffic studies for establishment of regulatory signs on municipal roads. It will review applicable laws, ordinances, and regulations, as well as required study procedures.
To register for courses, please visit www.dot7.state.pa.us/LTAP.
Staff Profile: Kwan Hui, Senior Capital Program Coordinator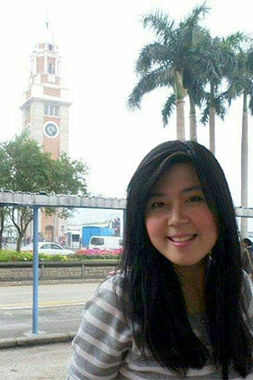 Tell me about your background.
My parents immigrated to Philadelphia from Hong Kong when I was five years old. Since Hong Kong is very dense, walkable, and transit-oriented, they never had to drive, and the need for a car was a bit of a culture shock. We lived in various North and South Philadelphia neighborhoods where we could also get around by transit, and then later moved to a developing suburb in Monroe Township, Gloucester County. Monroe has very few transit options and sidewalks that can make it dangerous and difficult to get from Point A to Point B without a car, especially as a teenager. As a result, I became extra aware of mobility and accessibility issues in different communities. This experience heavily influenced my interest to improve the built environment with transportation.
How did you get into planning and come to work at DVRPC?
I wanted to become an architect or engineer, so was enrolled in my high school's engineering program. But I found my engineering classes too dry, and my college classes in political science and urban studies were a much better match for my growing interest to improve communities and make them more accessible. My first internship was with Cooper's Ferry Partnership, and then I learned about DVRPC from a classmate. As a senior, I interned with Dave Anderson in the Office of Transportation and Corridor Studies and worked on plans for PATCO's Lindenwold Station and the PA Route 611 Corridor. Those experiences, especially at DVRPC, opened and drew me in to the field of planning!
Is it true that you have three Masters Degrees?
I never set out to achieve three Master degrees, but it happened! I was enrolled in a joint BA/MPA program at Rutgers-Camden. Thanks to the Camden Rotary Club, I was able to study at The University of Hong Kong's Transport Policy and Planning graduate program for a year. When I returned to the states, I realized that I was only a year away from completing the City and Regional Planning degree at Rutgers' Bloustein School of Planning and Public Policy, so I took more planning courses, particularly those that could hone technical skills.
How did you end up back at DVRPC?
I was finishing my internship with NJ TRANSIT where I developed Access skills. Knowing Access and having a planning background made me a good fit for DVRPC's Office of Capital Programs, who was seeking someone with that expertise in 2012. That was still during the recession, so I feel lucky to have landed back at DVRPC. I didn't become an engineer, and I am not practicing planning in the way that most planners are, but I do get to use elements from my background with both my project development and TIP coordination work. I also feel that a job facilitating transportation improvements with funding allows me to fulfill my desire to help improve communities.
What's your favorite place in the region?
Believe it or not, the Chemical Heritage Foundation. I love going to their First Friday lectures. Some recent lectures were on the history of sushi, alchemy, and the challenges of preserving old astronaut suits. Their museum and exhibits are also excellent and make me appreciate the amazing accomplishments from chemistry.
What's the last book you read?
The Map Thief by Michael Blanding. It's based on a true story about a map dealer who stole valuable old maps, but he was caught!
If you could be Queen of the Delaware Valley for a day, what would you do?
I would probably enjoy afternoon tea first. Then if there is DVRPC Board's blessing, create a holiday for people in our region to have a day off to enjoy the region's outdoors.