DVRPC News: January 2017
Volume 38, Issue 6 | January 2017
Discuss Climate Change and Public Health on February 7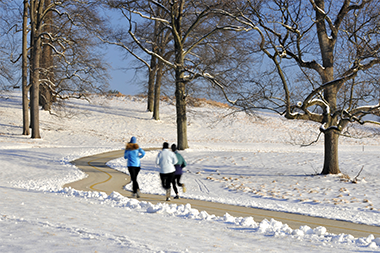 Please join us for the Healthy Communities Task Force on Tuesday, February 7, 2017 at 9:00 AM. The meeting will focus on climate change and public health, as the American Public Health Association has designated 2017 the "Year of Climate Change and Health." Guest speakers include Jessica Caum from the Philadelphia Department of Public Health; Dr. Clifford S. Mitchell from the Maryland Department of Health and Mental Hygiene; and Kevin McNally, President of the New Jersey Public Health Association and member/partner of the New Jersey Climate and Health Working Group.
To register, visit our Ticketleap page. See DVRPC's website for more information about the Climate Change Adaptation Community of Practice and healthy communities planning.
Data Journal: Millennials Now the Largest Generation in the U.S.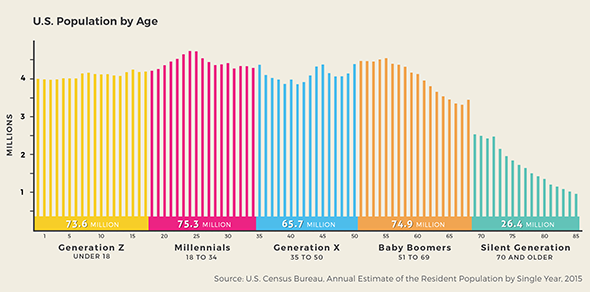 In 2015, millennials surpassed baby boomers in the U.S. to become the largest generation, according to the U.S. Census Bureau. For several years, millennials have fascinated demographers, planners, and advertisers. Many have wondered how today's young adults are similar to and different from other generations. DVRPC's recent report, Millennials in the Delaware Valley, is designed to help our planning partners prepare for the future by analyzing the evidence and sifting through the speculation that surrounds this generation. This report focuses on the transportation, career, and housing preferences of young adults and how their attitudes may influence the built environment in the coming years.
New Members Join the PPTF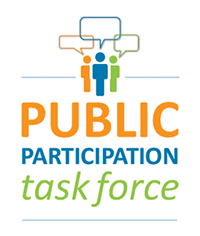 The Public Participation Task Force (PPTF) took on 12 new members for 2017, rounding out regional representation from each county for DVRPC's citizen group. If you are interested in learning more about the task force and staying informed on our planning efforts, please come to the next meeting on February 28 at 5:30 PM to discuss the Connections Long-Range Plan. Please RSVP to public_affairs@dvrpc.org. And remember, PPTF applications are open year round so apply today!
New Products and Publications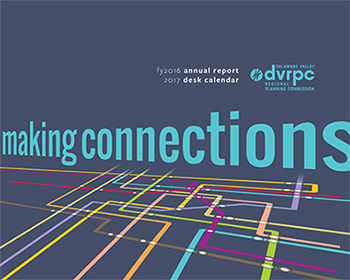 The Fiscal Year 2016 Annual Report / 2017 desktop calendar is here! If you did not receive a copy and would like one mailed to you, please contact Elise Turner at eturner@dvrpc.org. Copies will also be available at upcoming committee meetings.
DVRPC has released several new products. A new webmap from the Office of Energy and Climate Change Initiatives showcases projects that reduce energy use and greenhouse gas emissions in the region. Projects are broken into four categories: solar power generation, green building practices, ENERGY STAR buildings, and energy technology. DVRPC is seeking additions to this map. Please contact Adam Beam at abeam@dvrpc.org for more information.
Trail Access to Wawa Station investigates opportunities for improved connections between the planned Wawa Regional Rail station and the region's trail system. This study catalogs existing site conditions, and documents SEPTA's construction plans.
There is also a new Local and County Road Safety Newsletter on work zone safety. It provides safety ideas, information, and resources for municipal and county staff who are involved in supervising, setting up, or working within roadway work zones.
Tips to Reduce Air Pollution and Health Impacts from Wood Smoke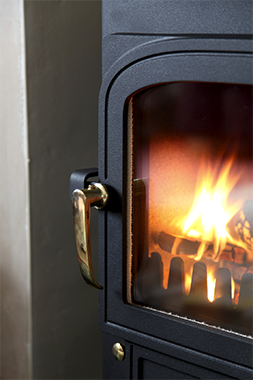 Wintertime Air Quality Standard exceedances for fine particulate matter (PM2.5) are becoming more common in Greater Philadelphia. As the weather gets colder, many people burn wood for heat in fireplaces, stoves, or outdoor boilers. The Environmental Protection Agency (EPA) recommends following these guidelines for burning wood at home in order to minimize the impact on air quality:
Allow wood to season (sit outdoors for at least six months) before burning it.
Use a wood moisture meter to test the moisture content. Wood burns most efficiently when its moisture content is below 20 percent.
Keep wood stacked off the ground and covered to protect it from rain and snow.
Start fires with newspaper and dry kindling. Keep fires hot.
Remove ashes to ensure proper air flow.
Never burn garbage, cardboard, plastics, wrapping materials, painted materials, or pressure-treated wood in your stove or fireplace.
Keep flammable items away from wood-burning appliances and have a fire extinguisher nearby.
Consider using an indoor air HEPA filter in the same room as a stove or fireplace.
To reduce exposure to fine particles from wood smoke, upgrading to an EPA-certified wood stove or fireplace inset is recommend. More tips are available on EPA's Burnwise website. Visit DVRPC's Air Quality Partnership website to receive alerts when air quality is forecast to be unhealthy.
Upcoming LTAP Classes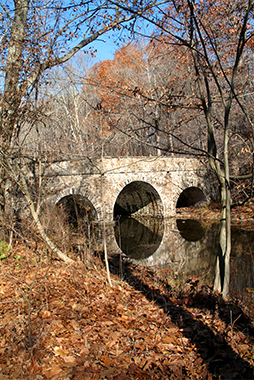 The PennDOT Local Technical Assistance Program (LTAP) provides technical information and expertise to help municipal governments use transportation funds more effectively, improve road maintenance, and increase roadway safety. Upcoming classes include:
Project Estimating Using Mathematical Principles (Bucks County)
March 3, 2017, 8:00 AM – 3:00 PM
Richboro, PA
Risk Management Strategies (Bucks County)
March 15, 2017, 8:00 AM – 12:00 PM
Doylestown, PA
Stormwater Facility Operation and Maintenance (Chester County)
March 16, 2017, 8:00 AM – 12:00 PM
Downingtown, PA
Signs and Safety Features for Bridges/Culverts (Chester County)
March 23, 2017, 8:00 AM – 12:00 PM
Downingtown, PA
Pavement Markings: Applications and Maintenance (Delaware County)
March 24, 2017, 8:00 AM – 12:00 PM
Wayne, PA
Engineering and Traffic Studies (Chester County)
March 20, 2017, 8:00 AM – 3:00 PM
West Grove, PA
Visit PennDOT's LTAP website to view course descriptions and register.