DVRPC News: August 2020
Volume 42, Issue 2 | August 2020
Board Approves $5.4 Billion in Transportation Projects for Pennsylvania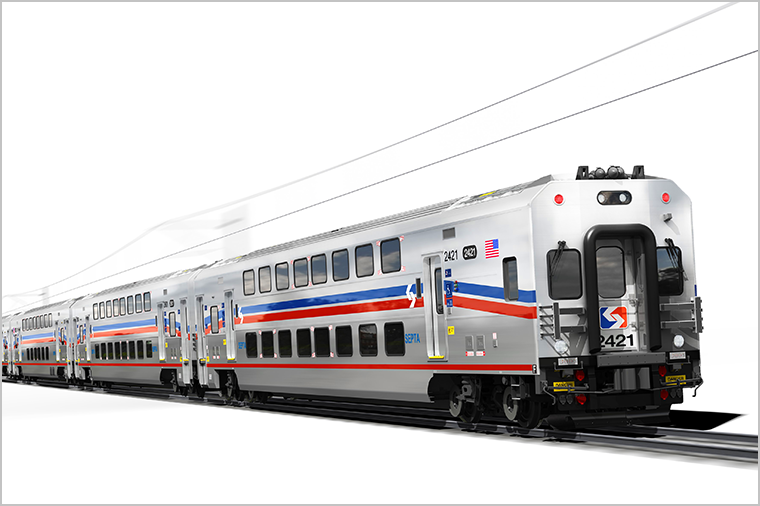 Credit: SEPTA
The DVRPC Board adopted the FY2021 Transportation Improvement Program for Pennsylvania (known as the PA TIP) at its July meeting. The TIP is the agreed-upon list of priority transportation projects for Bucks, Chester, Delaware, Montgomery, and Philadelphia. The PA TIP includes more than 380 highway and transit projects (including the Interstate Management Program), totaling over $5.4 billion for phases to be advanced over the next four years (FY21–FY24) for transportation infrastructure investment. During its 30+ day public comment period, DVRPC received over 500 comments on projects in the program across the five PA counties.
To view locations or search projects by county or type, visit www.dvrpc.org/TIP.
The adopted PA TIP also includes changes in funding distributions between the Pennsylvania Interstate Highway Program and the DVRPC Regional Highway Program. The shifts in regional formula funds triggered an amendment to DVRPC's Connections 2045 Long-Range Plan. The amendment was also adopted at the July Board meeting.
A new Conformity Determination, which documents impacts and analysis on air quality was required due to the amendments of regionally significant projects in the Long Range Plan, FY2020 TIP for New Jersey, and the new FY2021 TIP for Pennsylvania.
The Public Participation Task Force Invites You to a Brainstorming Workshop on DVRPC's Work Program on Aug 6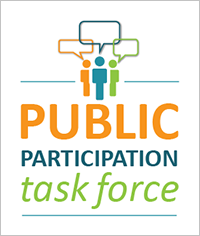 Even though the 2021 Fiscal Year (FY) just started, DVRPC is already thinking about what we'll be working on in FY 2022. DVRPC's Planning Work Program is updated annually and identifies plans, studies, and projects to be undertaken by DVRPC staff to address the region's changing transportation and planning needs. This FY 2022 Work Program will look to specifically incorporate responses to both COVID-19 and the dismantling of institutional racism.
To tackle these two important issues in the region and in DVRPC's work, PPTF is hosting an online brainstorming workshop. Come ready to learn, engage, and discuss your ideas about what planning projects and studies we should consider today in order to build the region we want and need in the future.
Register to attend the PPTF meeting on August 6th and participate in this online workshop. Before the meeting please complete this short survey.
New Survey for Pottstown Area's High Street Corridor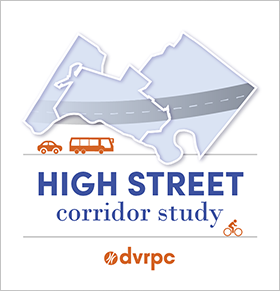 DVRPC is partnering with the Montgomery County Planning Commission and the Pottstown Metropolitan Regional Planning Committee (PMRPC) to collect input from the Pottstown Area for the High Street Corridor Study. The High Street commercial corridor is the area's primary main street that serves many different users and modes of transportation.
Due to current restrictions on public gatherings and indoor meetings, DVRPC is conducting a Community Survey to help identify multimodal design opportunities along the corridor that are important to the livability and economic vitality of High Street.
Do you know this area? Take the survey to share your thoughts on the High Street Corridor.
Lower Merion Township Adopts Region's First TDM Policy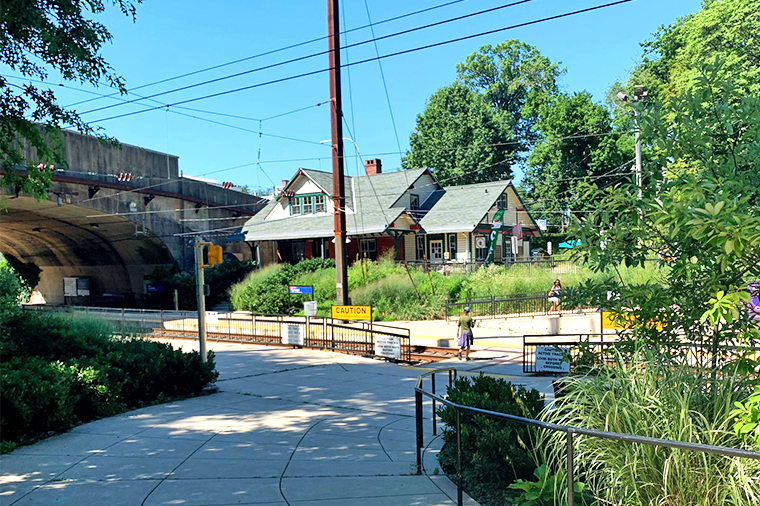 Photo by Betsy Mastaglio, DVRPC
Lower Merion Township in Montgomery County adopted the region's first Transportation Demand Management (TDM) policy at its Board of Commissioners meeting on June 17, 2020. TDM encourages people to change their travel behavior in order to reduce traffic congestion. This may include using a different mode other than your personal vehicle, traveling at a different time of day, and making shorter or less frequent trips.
The TDM policy was developed with the help of GVF, and was funded with a grant from DVRPC's Transportation and Community Development Initiative (TCDI). According to a press release by GVF, close to 39,000 people commute into Lower Merion Township each day. Local officials recognized the need to implement additional measures to alleviate congestion by educating and offering mobility alternatives to driving alone. The TDM policy aims to reduce AM and PM peak period trips at key intersections, increase the amount of "saved" vehicle miles traveled (VMT), expand bicycle and pedestrian infrastructure, and more.
Travel in the DVRPC region has been significantly impacted by COVID-19. Traffic has declined and the region's trails have sustained a significant increase in use. Many nonessential employees are telecommuting and reconsidering their travel behavior, making this a good time to implement TDM strategies. Lower Merion's policy will serve as a model for other suburban communities in the region. Learn more about the policy and goals on the Lower Merion Township website.
Application Deadline for New Jersey CMAQ Funding Closes Soon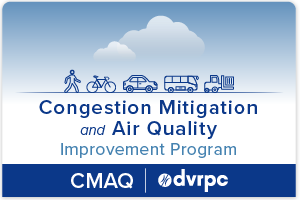 The application deadline for DVRPC's FY2020 Congestion Mitigation and Air Quality Improvement Competitive Program (CMAQ) for New Jersey is Friday, August 21, 2020 at 5:00 PM. Please schedule a call with DVRPC staff to discuss your application before the deadline.
The CMAQ program is a funding opportunity for transportation projects in NJ counties that will improve air quality and/or reduce traffic congestion. $5 million is available for new projects over federal fiscal years 2022 to 2024 in Burlington, Camden, Gloucester, and Mercer counties.. $1 million of the total amount is dedicated to construction-ready Circuit trail projects. Other examples of eligible projects include but are not limited to pedestrian and bicycle projects, transit improvement programs, congestion reduction and traffic flow improvements, and funding of transportation demand management programs.
All public agencies or nonprofit entities, including municipalities, Transportation Management Associations (TMAs), and transportation system operators are eligible to apply.
To learn more, visit www.dvrpc.org/CMAQ.
Staff Profile: Diane Murphy-Atkins, Purchasing Agent

You're retiring after 30 years with DVRPC. How did you come to work for the agency, and what were your various positions?
I responded to a newspaper ad in 1990, and was hired by Phyllis Robinson as a secretary for Jerry Gray in Contracts. As the years passed by, I worked with Linda White, Mike Gatti, and Art Bailey, all under Bill Green. When we moved to the ACP Building and Bill retired, I started working for Tom McGovern. For the last 5-10 years, I've been doing purchasing.
What was your favorite part of working at DVRPC?
Although growing up, I always wanted to be a secretary (I was even looking at my yearbook the other day and saw that's what I put there), I actually liked the purchasing job best. I enjoyed interacting with all staff, finding out what they needed, and then purchasing it for them. There was something different everyday - name tags, folders, plaques, all kinds of things.
What is your life or work philosophy?
Go in, do what you have to do, and leave with your head up high. People will respect you as you respect them.
If you had to drive across the country, who would you want as your fellow passenger?
My husband, Andrew Atkins.
What three words best describe you?
Independent, exciting, happy
If you could be Queen of the Valley for a day, what would you declare?
Everyone must be happy.
What are your plans in retirement?
Sit back and relax, and be happy! Beyond that, nothing major, maybe travel a little bit, and spend more time with my family.
What is a big, lasting memory of working at DVRPC?
Being at the "Valley" all those years, I think of all the people I met and worked with, and it makes me happy.
I sense a "happy" theme here! Given that many of us still have some years of work left, what advice can you give us?
Be happy! It's more important than anything else. Don't carry negativity. Work is what you make it, might as well make it all good and be happy!
Upcoming LTAP Classes in PA and NJ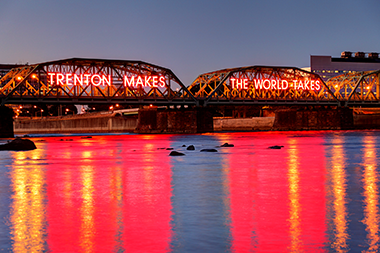 The Local Technical Assistance Program (LTAP) provides technical information and expertise to help municipal governments use transportation funds more effectively, improve road maintenance, and increase roadway safety.
There is one upcoming online class for NJLTAP:
Highway Inspection Procedures for Federal-aid Projects Training - webinar
August 4, 2020 (9:00 AM – 12:00 PM)
Visit Rutgers Center for Advanced Infrastructure and Transportation to see the 2020 schedule of LTAP courses in New Jersey.
Visit PennDOT's LTAP website to view the course descriptions and register. For any questions, contact Linda McNeffer at lmcneffer@dvrpc.org or 215-238-2872.