DVRPC News: August 2019
Volume 41, Issue 2 | August 2019
Public Comment Period for the Draft DVRPC FY2020 Transportation Improvement Program for New Jersey Closing Soon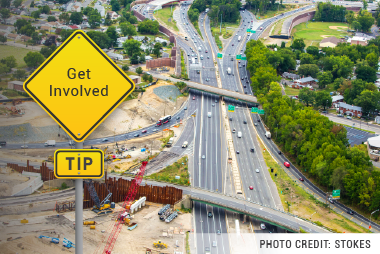 DVRPC is currently seeking public input on the Draft Federal Fiscal Year (FY) 2020 Transportation Improvement Program (TIP) for New Jersey and the Draft FY2020 Statewide TIP (STIP) for the entire state. Both documents are available for public comment until August 9th, 2019 at 5:00 PM. To read the Draft TIP for NJ, electronic copies are available on DVRPC's website.
The TIP outlines the region's federally funded transportation improvement priorities as well as many state funded initiatives and is required for the region to receive and spend federal transportation funds. The Draft TIP shows a program of priority transportation projects in the counties of Burlington, Camden, Gloucester, and Mercer, including the cities of Camden and Trenton. Nearly $1.7 billion is programmed for 123 projects to advance phases over the next four years (FY20–FY24). This Draft TIP was developed in cooperation with NJDOT, NJ TRANSIT, DRPA/PATCO and DVRPC's member counties and cities.
The Draft TIP, public comment online tool, and more information are available at: www.dvrpc.org/TIP/Draft.
Public Comment Period for the Draft Transportation Conformity Demonstration Document is Now Open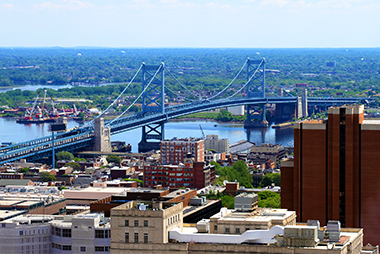 On July 23, DVRPC opened up the Draft Transportation Conformity Determination for public comment. The document addresses DVRPC's Draft FY2020 TIP for New Jersey, FY2019 TIP for Pennsylvania, and the Connections 2045 Long-Range Plan. A conformity determination is required to demonstrate that these proposed plans and projects conform to the federal Clean Air Act and that they will not negatively impact the region's ability to meet or maintain federal air quality standards.
The Draft Conformity Determination is available for public comment until August 23, 2019 at 5 PM. Comments can be made online or through email at airconformity@dvrpc.org. Public meetings were held on July 29 in Mercer County, NJ and on July 30 at DVRPC's office in Philadelphia, PA.
More information about the document is available here: www.dvrpc.org/AirQuality/Conformity.
Public Comment Open for Comprehensive Economic Development Strategy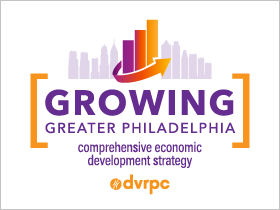 DVRPC is seeking the region's input during a public comment period for the draft regional Comprehensive Economic Development Strategy (CEDS) Five-Year Update, Growing Greater Philadelphia - Comprehensive Economic Development Strategy. Comments will be accepted from August 1 until September 3 at 5:00 PM.
U.S. Economic Development Administration (EDA) requires that regions maintain a regional CEDS. Growing Greater Philadelphia includes demographic, economic, and land use data and identifies regional strengths, weaknesses, opportunities, and threats. The document then outlines economic development goals and objectives and potential performance measures to track progress. The CEDS was created under the guidance of a committee from the nine- county DVRPC region including planning and economic development partners from the public, private, and nonprofit sectors.
An electronic version of DVRPC's Draft Regional CEDS and online comment form is available at www.dvrpc.org/Economic/CEDS.
Regional Trails Program Grants Awarded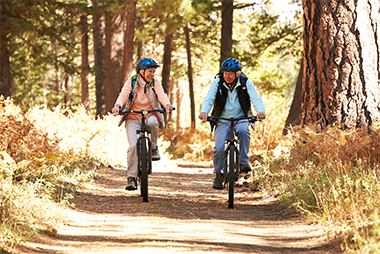 At July's Board Meeting, funds totaling $51,200 were approved as part of Regional Trails Program Phase VII grants. Projects include:
$26,300 for temporary and permanent easements needed to close the gap in the D&L Trail at Bridge Street in Morrisville, PA.
$25,000 for the Lower Poquessing Creek Trail Feasibility Study to be led by the Philadelphia City Planning Commission.
Projects are funded by capital grants that the William Penn Foundation has made to DVRPC in support of the Regional Trails Program and Circuit Trails.
New Products and Publications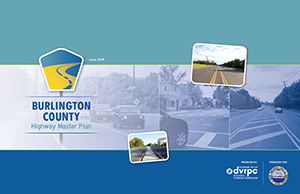 Burlington County Highway Master Plan
This plan provides a framework for the county highway network that can complement long-term county growth patterns. The document accompanies a webmap, which provides traffic management strategies for areas that are transportation deficient. The webmap is available online at: www.dvrpc.org/webmaps/BCHMP.
Improving Safety and Stormwater along Cobbs Creek Parkway: 60th Street to 70th Street
This study examines Cobbs Creek Parkway intersections in Lower Southwest Philadelphia neighborhoods that are complex and experience speeding traffic near vulnerable populations. The report focuses on traffic calming and pedestrian safety measures, transit connections, and green stormwater infrastructure to create a coordinated strategy to reduce traffic conflicts.
Route 15 Trolley Modernization: Operations Analysis for Eastern Girard Avenue
This project tests the effects that new trolleys along Route 15 would have on travel time. It finds that modern trolleys can significantly reduce travel time within the study area, with even greater benefits if a dedicated right-of-way is created.
Woolwich Environmental Resource Inventory
This publication documents the natural and community resources of Woolwich Township in New Jersey. It presents descriptions, tables, and maps of the various environmental resources.
East Whiteland Train Station Feasibility Study
This study provides an assessment of existing conditions to identify potential locations for a new Regional Rail station in East Whiteland Township, PA. Various factors such as railroad requirements, station program elements, and train service were considered, and two viable train station sites were identified for further evaluation: Immaculata Station Site and Three Tun Station Site.
Stacy Bartels Honored by Partnership TMA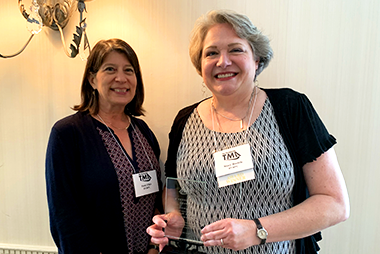 Last month, Stacy Bartels received the President's Award from the Partnership Transportation Management Association of Montgomery County (PTMA) at its annual meeting. Bartels is the Manager of the Office of Marketing and Commuter Services at DVRPC, and was honored by the PTMA President for her commitment to the organization for over 20 years. Each year, PTMA honors individuals, organizations, and local governments that have improved our transportation system, mobility for all individuals, and alternative forms of transportation such as biking and walking.
Get to Know Our Summer Interns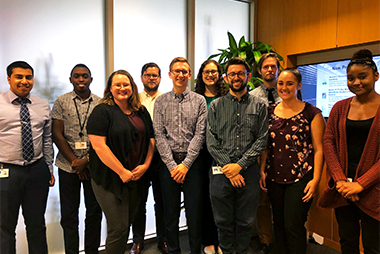 This summer, eleven interns worked alongside DVRPC staff across the Commission's different departments. Communications Intern, Ann Riddle, interviewed them to learn about their experiences at DVRPC this summer. Selected responses are below:
Which school/program are you currently or were you most recently enrolled in?
Alyssa Levy (Contracts Intern): I am a rising senior at the University of Pennsylvania concentrating in finance and legal studies.
Ann Riddle (Communications Intern): Master of Public Administration with a Certificate in City Management at Villanova University.
What do you like to do for fun?
Alyssa: I enjoy watching chiropractic videos, petting dogs, playing tennis and exploring restaurants.
Caitlin Tamase (Accounting Intern): I love to go to concerts, the beach and to read.
Why did you apply for an internship at DVRPC?
Eliana Ginis (Planning Intern): I wanted to gain practical experience in the urban planning field. I was intrigued by all the sectors that DVRPC is involved in and I thought DVRPC could help expose me to a lot of what urban planning has to offer (and so far it has).
Chris Miller (Marketing Intern): I applied for this position due to my interests in sustainability, socioeconomic issues, and transportation as a vehicle for sustainable and equitable change. I admire DVRPC's values as they align closely with my own.
What is your favorite part about interning at DVRPC?
Caitlin: Being able to apply what I learned in school to my work.
Josh Rotbert (Equity Policy Intern): I really enjoy the collaboration that occurs between DVRPC staff, and the fact that I have been involved with such a diverse set of projects, each with their own sets of issues, contexts, and solutions. This has allowed me to explore different areas, and broaden my understanding of how planning is implemented.
What is the most important thing you have learned from interning at the DVRPC?
Kevin Anderson (Long Range Planning Intern): Understanding how interrelated almost every issue in planning is. Even a really narrow project can have an impact in lots of other areas that need to be considered. But it's also important to know when to stop, because once you start moving into related issues, any analysis can spiral out forever and nothing can ever move forward.
Heike Jacob (Associate Planner in the Office of Safe Streets): The importance of regional planning. DVRPC serves to unite stakeholders around common goals, with a long-range vision in mind. Without a regional planning agency, there would be no one to facilitate such a partnership.
What is your dream job and why?
Mohammad Khan (Transportation Planning Intern for the Office of Corridor Planning): Transportation Planning. I have also always wanted to be an urban planner around the world, first going back to the UK where I am from and venturing off eventually in my career to Australia or New Zealand.
Ian Hester (Transportation Planning Intern for Transit, Bicycle, and Pedestrian Planning): Not exactly sure yet, but it is important to me to help people and make a positive impact upon the world.
Upcoming LTAP Classes in PA and NJ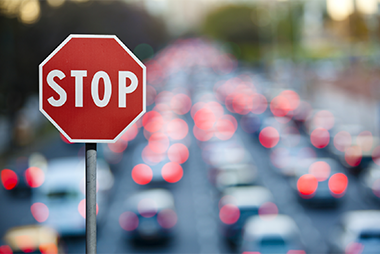 The Local Technical Assistance Program (LTAP) provides technical information and expertise to help municipal governments use transportation funds more effectively, improve road maintenance, and increase roadway safety.
Upcoming PennDOT classes in Pennsylvania include:
Asphalt Roads Common Maintenance Problems
Horsham, PA
September 11, 2019 (8:00 AM – 12:00 PM)
Drainage: The Key to Roads that Last
Horsham, PA
September 25, 2019 (8:00 AM – 3:00 PM)
Visit PennDOT's LTAP website to view the course descriptions and register. For any questions, contact Linda McNeffer at lmcneffer@dvrpc.org or 215-238-2872.
There are two upcoming New Jersey LTAP courses:
NJLTAP – Asphalt Roads: Common Maintenance Problems
Piscataway, NJ
August 12, 2019 (8:30 AM – 12:30 PM)
NJLTAP – Federal-Aid Responsible Charge Training
Moorestown, NJ
August 16, 2019 (8:30 AM – 4:00 PM)
Visit Rutgers' CAIT website for a list of all New Jersey workshops and to register.