DVRPC News: March 2018
Volume 39, Issue 9 | March 2018
Over 300 Attend Breaking Ground 2018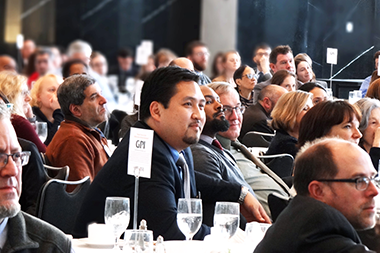 On March 22, over 300 community planners, local government officials, and economic development professionals attended the 2018 Breaking Ground Conference at the Loews Hotel Philadelphia. The all-day event highlighted innovative practices and identified trends in local government and community building. At the Sunrise Session, attendees heard about how the City of Philadelphia is taking new approaches to improve its relationship with "customers" (residents). Breakout sessions provided participants with tools needed to advance the vision and goals of the Connections 2045 Long-Range Plan. Topics ranged from age-friendly communities to workforce development, and from stormwater management to managing downtown deliveries. During the keynote, Brian Elms, formerly with Denver's Peak Academy and author of Peak Performance, challenged attendees to focus on the small, incremental changes at their organizations that they are in control of. Throughout the day, attendees visited the Learning Lounge which featured service providers and consultants that are using technology to improve municipal government and planning.
See the full agenda here, and view photos from the event on DVRPC's Flickr page.
April 7 is Opening Day for Trails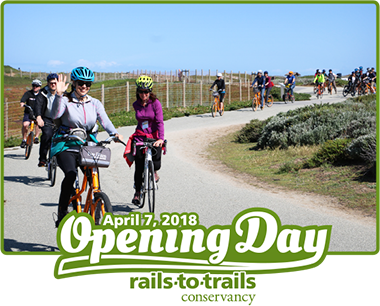 National Opening Day for Trails is on Saturday, April 7, 2018. Celebrate by visiting your favorite trail for a walk, run, ride or special event. DVRPC has an important role in developing the Circuit Trails, the region's 800+ mile multi-use trail network. DVRPC awards funding,manages some projects for local governments, and provides technical assistance. See you on a trail on April 7!
Visit Rails to Trails to find events near you or learn the 12 ways you can celebrate!
Learn About Reviving Vine on April 12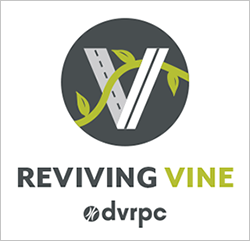 The Reviving Vine project aims to increase neighborhood connections through multimodal, inclusive mobility improvements in and along the Vine Street Local corridor from 8th Street to Broad Street. DVRPC invites residents, visitors, employers, and workers in zip code 19107 to shape the future of the Vine Street Local on Thursday, April 12 from 6:00 to 8:00 PM at Holy Redeemer School, Theresa Hu Center, 915 Vine Street, Philadelphia. This meeting is an Open House format, so participants can stop by anytime between 6:00 and 8:00 PM to learn about the project and share their opinions. Presentations will be offered at 6:15 PM and 7:15 PM. Chinese and Spanish interpretation will be available.
RSVP online, email public_affairs@dvrpc.org, or call (215)592-1800. Visit www.dvrpc.org/Corridors/Vine to learn more.
Attend the Upcoming Strategies for Older Suburbs Roundtable: Transportation and Tourism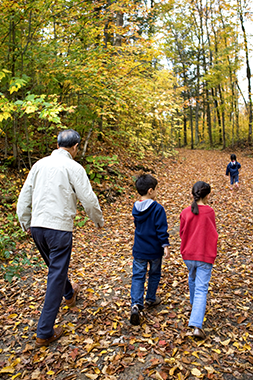 Join us on Friday, April 20, 2018, for a discussion on Transportation and Tourism in the region. The event is from 9:00 a.m. to 11:00 a.m. and will be held at DVRPC's offices in Center City Philadelphia. Many older communities and neighborhoods are home to tourist destinations, like museums, historic sites, cultural venues, and parks and trails, among others. Visiting these sites—whether by car, bus, transit, foot, or bicycle—can often present challenges.
This event will feature speakers familiar with transportation, tourism, and community and economic development. Speakers include Maud Lyon of Greater Philadelphia Cultural Alliance, Mark Cassel of SEPTA, and Shelley Bernstein from the Barnes Foundation. The roundtable discussion portion is when participants can ask questions about transportation and tourism to their peers as well as the expert panelists, and offer advice based on their own experiences
To view the agenda and register visit DVRPC's ticketleap page. AICP CM credits are pending.
Region's First Responders Attending DVRPC's Upcoming Traffic Incident Management Conference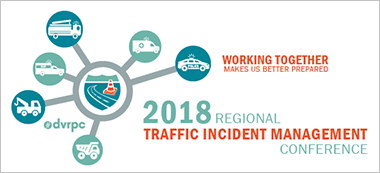 On May 16, 2018, DVRPC will host a Regional Traffic Incident Management Conference in Philadelphia, PA at Citizens Bank Ballpark. The theme this year will be Working Together Makes Us Better Prepared. This unique conference brings together traffic incident management emergency responders from a wide variety of disciplines. Local and state police, fire, EMS, DOT, Turnpike authorities, towing, and other key personnel responsible for managing incidents on highways and arterials will be represented at the conference. Participants will discuss ways to safely, effectively, and efficiently clear incidents from regional roadways.
The keynote speaker is retired Pennsylvania State Police Sergeant Robert Bemis. He is the author of Forged in Scars & Stripes: A Trooper's Victory over Critical Injury. He will share his story of recovery, living with a spinal injury, and his return to his role as a Trooper after being struck by a passing vehicle on an interstate highway while helping a motorist whose vehicle caught on fire.
For additional information on the conference, visit DVRPC's ticketleap page.
New Publications and Products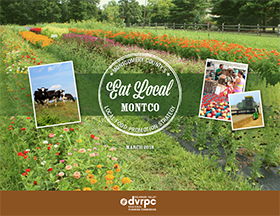 West Chester Pike at Paoli Pike Multimodal Traffic and Circulation Study
This study identifies and quantitatively evaluates circulation and capacity changes to two major east-west arterials. The study focuses in West Goshen Township and the Borough of West Chester in Chester County: Paoli Pike/Gay Street and Market Street/West Chester Pike (PA Route 3).
Highlights for the DVRPC FY2018 TIP for New Jersey (FY2018-2021)
The Highlights for the DVRPC FY2018 Transportation Improvement Program (TIP) for New Jersey briefly describe the region's TIP as a federally required, multi-modal, four-year constrained program of planned transportation infrastructure investment. It also contains a summary listing of all transit, highway, bridge, bicycle, pedestrian, and freight related projects in DVRPC's New Jersey region which will seek federal funding in fiscal years from 2018 to 2021.
Investing in People and Places: Greater Philadelphia's Comprehensive Economic Development Strategy 2017 Annual Review and Update
The report identifies regional strengths, weaknesses, opportunities, and threats while identifying regional economic development goals and objectives. The report also looks for key projects and activities designed to advance the CEDS goals and objectives. It then identifies performance measures that will be tracked in future years to measure progress made toward achieving the regional goals.
DVRPC FY2018 Transportation Improvement Program (TIP) for New Jersey (FY2018-2021) Addendum
This volume contains the following two appendices. Part one is the Summary of the TIP Public Involvement Process, Summary of Public Comments, Original Public Comments, Agency Responses, Public Comment Outreach Documentation, and List of Recommended Technical Changes. The second part is the Unfunded Projects, which includes projects that are not programmed in the TIP.
Eat Local Montco Montgomery County's Local Food Promotion Strategy
Eat Local Montco: Montgomery County's Local Food Promotion Strategy analyzes the county's agricultural resources and provides recommendations for ways the county can support local farmers and food producers.
Eat Local Montco: Montgomery County's Local Food Promotion Strategy Summary
This is the summary of the larger publication that seeks to strengthen county farms, bolster the health and quality of life of county residents, by promoting local food to county residents, institutions, and businesses.
Focus 352: Funding Available to Help Municipalities With Planning Projects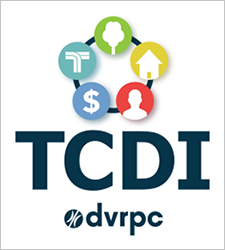 Does your municipality have a project that it wants to accomplish? DVRPC's Transportation and Community Development Initiative (TCDI) program awards communities funds to create plans that implement the region's Long-Range Plan, Connections 2045. Some eligible projects include updating a zoning ordinance, writing a Complete Streets ordinance, creating an official map, and creating a Form Based Code. Applications are due on April 20, 2018. For more information, visit www.dvrpc.org/TCDI.
PennDOT Connects Workshop for Municipalities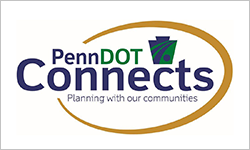 Attend a session in your area to learn how PennDOT Connects will can benefit you! PennDOT Connects strives to build better communities through collaboration and coordination of resources and planning during transportation project development. It's a new initiative to better incorporate community considerations and local priorities into the transportation planning process. The next workshop will be held at the following time and location:
April 3, 2018
Media Borough
301 N. Jackson Street
Media, PA 19063
9:00 – 11:00 AM
Please encourage your municipal administrator, planner, engineer, or public works director to attend. For more details and to register, visit the PennDOT Connects webpage. For further information please email PAConnects@pa.gov or call 717-710-2090.
Upcoming LTAP Courses in PA and NJ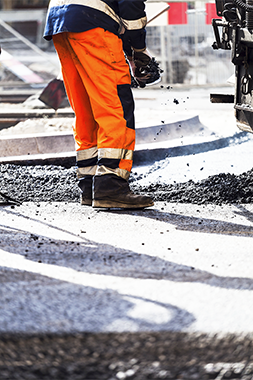 The Local Technical Assistance Program (LTAP) provides technical information and expertise to help municipal governments use transportation funds more effectively, improve road maintenance, and increase roadway safety.
Upcoming PennDOT classes in Pennsylvania include:
Stormwater Facility Operation and Management
Chester County
April 4, 2018 (8:00 AM – 12:00 PM)
Managing Utility Cuts
Bucks County
April 25, 2018 (8:00 AM – 3:00 PM)
Visit PennDOT's LTAP website to view the course descriptions and register.
There are two upcoming New Jersey LTAP courses at NJTPA in Newark, NJ:
Design of ADA Curb Ramps and Pedestrian Access Routes
April 10, 2018 (8:30 AM – 4:00 PM)
Federal-aid Responsible Charge Training
May 3, 2018 (8:30 AM – 12:30 PM)
Visit cait.rutgers.edu/cait/training for a list of all New Jersey workshops and to register.