A planning assistance series for municipal and regional partners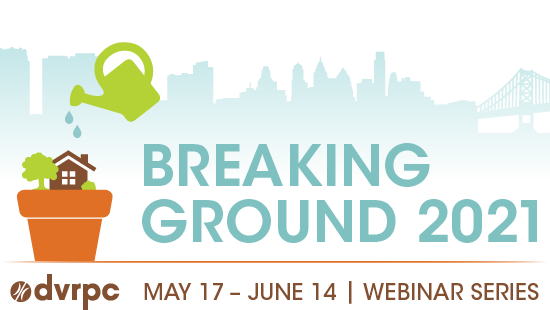 The Breaking Ground conference series highlights implementation of the region's long-range plan, Connections. As a region with over 350 local governments, we are better-positioned and more economically competitive when we work together. This year's conference is being held as a webinar series and will focus on strategies for equitable regional recovery featuring expert panelists and successful best practice projects.
When?
The Breaking Ground technical assistance series will take place from May 17 to June 14, 2021, and offered through the Zoom platform. Registration links for each webinar are provided below.
Who Should Attend?
Webinars are geared toward local government staff and officials, planning practitioners, community and economic development professionals, civil engineers, architects, and other professionals who work in or with different levels of government.
9.0 AICP CM CREDITS approved
Follow us on Social
#BG2021
AGENDA
Helping Distressed Communities Recover

May 17, 2021 - 10:00 am -11:30 am

1.5 AICP CM Credits Event # 9213208

Recording (5/17/2021)

Local governments have yet to face the financial impact of the COVID-19 pandemic. With the loss of revenue from businesses and residents, municipalities will be faced with new challenges while trying to maintain a certain level of service. Can merging municipalities be the answer? Panelists will discuss options for distressed communities, where and when municipal mergers can be the right fit, and hear about the process from a successful municipal merger in New Jersey.

Moderator:

Mr. Sean Thompson, Director, Local Planning Services, NJ Department of Community Affairs, & and member of DVRPC Board

Panelists:

Ms. Karen P. Cilurso, AICP/PP, Manager, Office of Community and Economic Development, DVRPC
Mr. Richard Vilello, Deputy Secretary for Community Affairs and Development, Pennsylvania Department of Community and Economic Development, Harrisburg, PA
Mr. Paul Janssen, Director, Center for Excellence in Local Government at Albright College, Reading, PA
Mr. Joseph Myers, Vice President and COO, Cooper's Ferry Partnership, Camden, NJ
Rethinking Streets for Everyone

May 24, 2021 -- 10:00 am – 11:30 am

1.5 AICP CM Credits Event # 9213210

Recording (5/24/2021)

Pop up projects have become increasingly common in communities across the United States but when the COVID-19 pandemic struck, they took on even more importance. These lighter, quicker, and cheaper projects adapt our streets so we can experiment with bicycle lanes, expanded outdoor dining areas and public art installations on a temporary commitment. This session brings together panelists to discuss the quick, innovative projects they have been implemented and share lessons learned.

Moderator:

Mr. Michael Carroll, P.E., Deputy Managing Director for Transportation, Infrastructure, and Sustainability, City of Philadelphia, & alternate member on DVRPC Board

Panelists:

Ms. Betsy Mastaglio, RLA, Manager, Office of Transit, Bicycle, and Pedestrian Planning, DVRPC
Ms. Katherine Fichter, Assistant Secretary for Policy Coordination, Massachusetts Department of Transportation (MassDOT), Boston, MA
Mr. Richard Montanez, Deputy Commissioner of Transportation, Office of Transportation, Infrastructure and Sustainability, Philadelphia, PA
Mr. P. Timothy Phelps, Executive Director, Transportation Management Association of Chester County, Malvern, PA
Keeping Vulnerable Populations Cool in Extreme Heat

June 1, 2021 -- 9:30 am - 11:00 am (EST)

1.5 AICP CM Credits Event # 9213211

Recording (6/1/2021)

The region's high percentage of impervious coverage has resulted in unbearable heat impacting the quality of life particularly in areas where vulnerable populations—persons with disabilities, elderly, racial and ethnic minorities, and underprivileged—have borne the brunt of the ill effects. Panelists will discuss local government strategies to identify their most heat vulnerable residents, respond to extreme heat events, and what actions they can take to reduce extreme heat in these vulnerable areas.

Moderator:

The Honorable Valerie Arkoosh, MD, MPH, Chair, Montgomery County Commissioners, & member of DVRPC Board

Panelists:

Mr. Adam Beam, AICP, Senior Research Analyst, Office of Energy and Climate Change Initiatives, DVRPC
Ms. Alexandra Skula, Community Preparedness Manager, Philadelphia Department of Public Health, Philadelphia, PA
Mr. Jon Lesher, Principal Environmental Planner, Montgomery County Planning Commission, Norristown, PA
Mr. Saleem Chapman, Chief Resilience Officer, Philadelphia Office of Sustainability, Philadelphia, PA
Diversifying Downtown Retail

June 7, 2021 -- 1:00 pm -2:30 pm (EST)

1.5 AICP CM Credits Event # 9213213

Recording (6/7/2021)

While the impacts related to the COVID-19 pandemic are most acute in the retail and service industries, not all of Greater Philadelphia's retail districts and downtowns were equally impacted. Diverse and walkable downtowns that actively supported the business community through innovative policies and programs were better able to rebound as the economy reopened. Panelists will discuss strategies to ensure that the region's downtowns are more resilient to future economic upsets by working to grow and diversify, build upon lessons learned, and understand how to capitalize upon rising trends.

Moderator:

The Honorable Marian Moskowitz, Chair, Chester County Commissioners, & member of DVRPC Board

Panelists:

Mr. Spencer Gober, AICP, Senior Planner, Office of Community & Economic Development, DVRPC
Mr. Brian Demers, Senior Spatial Analyst, Buxton Company, Dallas, TX
Mr. Michael Berne, Founder and President, MJB Consulting, Berkeley, CA
Mr. Jesse Blitzstein, Director of Community and Economic Development, The Enterprise Center, Philadelphia, PA
Ensuring Equitable and Engaging Meetings

June 9, 2021 -- 10:00 am - 11:30 am (EST)

1.5 AICP CM Credits Event #9214092

Recording (6/9/2021)

Local governments and organizations were forced to transition in-person meetings to online, seemingly overnight, due COVID-19 restrictions and stay-at-home orders. Many people learned new tools and technologies in order to continue to work and support their constituents. Panelists will discuss what they have learned this past year, including strategies for making meetings more equitable and engaging for their audiences. They will also discuss the future of meetings, and whether hybrid meetings (offering both in-person and online options) will be the new norm.

Moderator:

Ms. Elise Turner, MPA, Associate Manager, Office of Communications and Engagement, Delaware Valley Regional Planning Commission (DVRPC)

Panelists:

Ms. Shoshana Akins, MPH, Senior Public Participation Planner, DVRPC
Ms. Jennifer Rodriguez, President and CEO, Greater Philadelphia Hispanic Chamber of Commerce
Mr. Nick Valla, MPA, Assistant Township Manager, Middletown Township, Bucks County, PA
Ensuring Equitable Broadband Access

June 14, 2021 -- 2:00 pm -3:30 pm (EST)

1.5 AICP CM Credits Event # 9213214

Recording (6/14/2021)

The COVID-19 pandemic greatly accelerated the rise of the digital economy, as well as growing trends and technological advances enabled by broadband. Unfortunately, the pandemic also exacerbated the region's digital divide. Panelists will discuss how broadband plays a pivotal role in the region's economic recovery, how regional partners must work together to ensure equitable access, and build capacity across all populations to leverage broadband tools and technologies.

Moderator:

The Honorable Mark Squilla, Councilmember, City of Philadelphia, & Chair of the DVRPC Board

Panelists:

Mr. Spencer Gober, AICP, Senior Planner, Office of Community & Economic Development, DVRPC
Mr. Ralph Bingham, Director, Gloucester County Library System, NJ
Mr. David Zipf, Community Planner, Bucks County Planning Commission, Doylestown, PA
Ms. Whitney Hoffman, Vice-Chair, Board of Supervisors, Kennett Township, PA
Previous Conferences