DVRPC News: January 2018
Volume 39, Issue 7 | January 2018
DVRPC Releases Modern Trolley Station Design Guide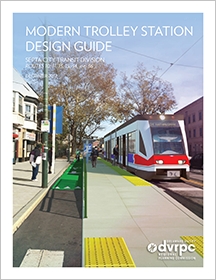 SEPTA's trolley system serves almost 100,000 people on weekdays and is one of the longest operating streetcar systems in North America. The system's aging vehicles are reaching the end of their useful life and will be replaced with a modern vehicle fleet. However, a modern fleet requires changes in policy, operations, facilities, and boarding procedures in order to fit SEPTA's existing system. Modern stations will be needed to make the trolley system ADA-accessible.
DVRPC recently completed the Modern Trolley Station Design Guide which outlines the design parameters for modern stations. The Guide describes the assumptions we can make about the future fleet and the impact it has on the design of boarding and alighting at stations. The station designs included for each type of trolley corridor cross-section are options to be considered as each corridor and station is designed and engineered at a later date. Station designs balance ADA requirements for boarding with the safety and mobility needs of all people traveling on trolley corridors: pedestrians, bicyclists, drivers, and trolley customers. Station designs are grouped according to the type of street on which they apply, and fit within three generalized station types: Curb Extension, Trolley and Bicycle, and Multi-Lane station designs. A fourth category, Next Level, includes station types that cannot easily be constructed on today's trolley streets without moving track or changing lane configurations.
Breaking Ground Early Bird Registration Ends 2/22

Register today for Breaking Ground 2018, an all day conference that celebrates regional cooperation and government efficiency. This is an opportunity for government officials to engage and learn from each other. Sessions are designed to be applicable to elected officials, professional staff, planning practitioners, community and economic development professionals, engineers, architects, and other professionals who work at various levels of government. New this year, a Learning Lounge will be open throughout the day showcasing different organizations and services. Visit the space to discover trends that are changing how local government can save money and better serve its citizens.
This conference will focus on how local governments can prepare for a rapidly changing future by implementing the principles and goals of Connections 2045 – the Long-Range Plan for Greater Philadelphia. For details visit, www.dvrpc.org/BreakingGround. Early bird ticket sales end on February 22, 2018.
New Year, New Vision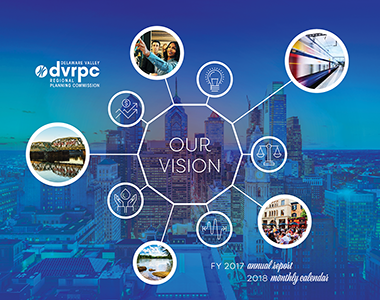 At the end of 2017, DVRPC worked with staff, partners, the Regional Technical Committee, and Board to update our mission and create a vision for the organization and the region. DVRPC's new vision complements the shared vision for the region outlined in the Connections 2045 Long-Range Plan, with a focus on transportation, the economy, the environment, communities, and equity. DVRPC's new mission is simple and clear, and reflects what we have been doing, and what we want to do more of in the future.
DVRPC's vision for the Greater Philadelphia Region is a prosperous, innovative, equitable, resilient, and sustainable region that increases mobility choices by investing in a safe and modern transportation system; that protects and preserves our natural resources while creating healthy communities; and that fosters greater opportunities for all.
DVRPC's mission is to achieve this vision by convening the widest array of partners to inform and facilitate data-driven decision-making. We are engaged across the region, and strive to be leaders and innovators, exploring new ideas and creating best practices.
The new vision and mission also shaped the FY 2017 Annual Report and 2018 Calendar, Our Vision. Each month highlights a word or theme found in our new vision and mission statement.
DVRPC Approves $12 million for Bicycle and Pedestrian Projects in PA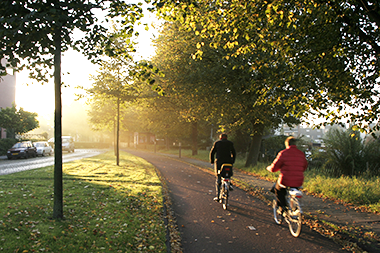 DVRPC has awarded $7.9 million to ten local projects in Southeastern Pennsylvania through the Transportation Alternatives Set-Aside Program (also known as TA Set-Aside). Additionally, $4 million will be dedicated to future projects over the next three years. In this round, selected projects include trail, sidewalk, transit station, and on-road bicycle improvements. Each project focuses on community-based "non-traditional" work that aims to improve the cultural, aesthetic, and environmental aspects of Pennsylvania's transportation systems.
Visit the DVRPC webpage to learn more about the projects and funding details.
Focus 352: Planning Assistance Center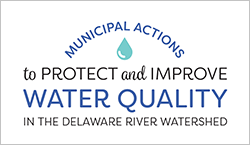 Municipalities Can Take Action to Improve Water Quality
DVRPC recently completed a stakeholder-based research project: Municipal Actions to Improve Water Quality in the Delaware River Watershed.
DVRPC staff interviewed water quality experts and municipalities located in the Delaware River Watershed, and from their responses developed a set of prioritized recommendations and an action plan for how municipalities and their allies - residents, non-profit organizations, county governments, state agencies, and others - can protect local water quality.
The Delaware River Watershed includes over 800 municipalities in parts of four states. It provides drinking water for over 16 million people. In Pennsylvania and New Jersey, municipalities are responsible for land use decisions that affect water quality. Many are also responsible for providing drinking water and/or managing and treating polluted stormwater runoff. Together, residents, elected officials, engineers, planners, and other professionals have the ability to improve the health of rivers, streams, and underground aquifers, and protect the water resources we all rely on.
This research project was funded in large part by the William Penn Foundation, through the Delaware River Watershed Initiative. Visit the webpage to see the entire project, which includes case studies from 15 municipalities, prioritized recommendations, and action plans.
New Products and Publications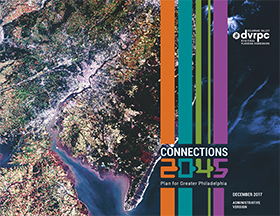 Connections 2045 Plan for Greater Philadelphia Administrative Version: Connections 2045 Plan is the Long-Range Plan for the Greater Philadelphia region. This publication is the longer administrative version that will help guide the region's investment priorities and assesses regional trends and forecasts.The Plan is organized around five core principles and includes goals and strategies within each of the principles.
Philadelphia Crash Analysis Standards and Recommendations: The City of Philadelphia engaged DVRPC to investigate ways to evolve the analysis and management of crash data by City departments. In this report, DVRPC made recommendations for using crash data to develop a High Injury Network to inform the City's Vision Zero plan and for adapting the City's crash data management.
East Callowhill Traffic Calming Study: This study assessed Callowhill Street between 2nd and 6th Streets. Design recommendations were made to calm traffic, reduce speeds, and improve safety, accessibility, and aesthetics.
DVRPC FY 2017 Annual Report and 2018 Calendar: Each fiscal year, DVRPC creates an Annual Report that summarizes the programs and projects that comprise the annual planning work program. This Annual Report features highlights of the Commission's many programs, a message from the Executive Director and Board Chair, a listing of Board members and committees, and a financial summary.
Radnor Station Connectivity: This project evaluated the feasibility and benefits of consolidating two rail stations to improve the connection between the Paoli/Thorndale Regional Rail Line and the Norristown High Speed Line (NHSL) in Radnor Township, Delaware County.
Hospitality & Tourism Data Snapshots Series 2: The goal of this snapshot is to provide basic background information on hospitality and tourism in Greater Philadelphia, including the overall impact of the industry on the region's economy, locations, and employment.
DVRPC Staff Awarded at TRB's 2018 Annual Meeting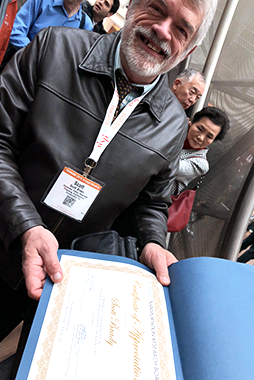 The Transportation Research Board (TRB) annual meeting held each year in Washington D.C. brings thousands of transportation practitioners, researchers, and public officials from around the world to discuss innovative transportation solutions. While attending TRB, Scott Brady, DVRPC's Manager of Office of Travel Monitoring was honored with a Certificate of Outstanding Service for his continued leadership with the bicycle and pedestrian data subcommittee. Scott was also awarded a Certificate of Outstanding Achievement from the Federal Highway Administration for being the first agency to submit non-motorized data to FHWA.
Each year, a number of DVRPC staff members present on important topics or recent projects. This year's presentations included:
Transportation Planner, Sarah Moran, presented on the Bicycle LTS and connectivity analysis.
Senior Transportation Planner, Mike Ruane, and Scott Brady presented state and local safety data integration and tailoring highway traffic monitoring data to serve the needs of freight planners.
Transportation Planner, Logan Axelson, presented recently released Modern Trolley Station Design Guide.
Rob Graff, Manager of Office of Energy and Climate Change Initiatives, presided over a poster session focused on decarbonization and greenhouse gas reduction and moderated a session discussing climate change adaptation.
PennDOT Connects Workshops for Municipalities in Pennsylvania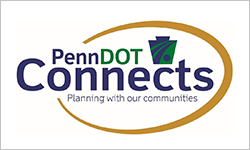 Attend a session in your area to learn about how PennDOT Connects will affect you! PennDOT Connects strives to build better communities through collaboration and coordination of resources and planning during project development. It is a new initiative to better incorporate community considerations and local priorities into the transportation planning process. Learn how PennDOT Connects will be implemented, including its benefits, expectations, and roles of all players. At these workshops, participants will have the opportunity to meet with PennDOT, DVRPC, and County representatives who are engaged in this process.
Date: February 27, 2018
Location: Bucks County
1260 Almshouse Road
Doylestown, PA 18901
Time: 9-11 am
Date: February 28, 2018
Location: Chester County
601 Westtown Road, Suite 270
West Chester, PA 19380-0990
Time: 9-11 am
Date: March 13, 2018
Location: PennDOT District 6-0
7000 Geerdes Boulevard
King of Prussia, PA 19406-1525
Time: 1-3 pm
For details and registration visit the PennDot Connects page. For further information please email PAConnects@pa.gov or call 717.710.2090.
Staff Profile: Betsy Mastaglio, Manager, Office of Transit, Bicycle and Pedestrian Planning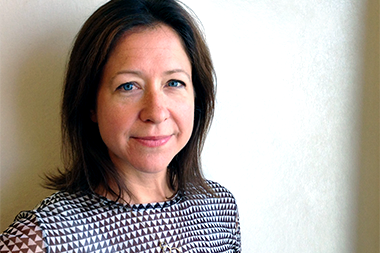 What did you want to be growing up?
I thought it'd be fun to own my own coffee shop, where I could be the boss, bake and set the vibe. Of course it would have been ill-advised!
What did you study in school?
As an undergrad, I majored in Sociology and minored in French, and then wondered what I would do when I graduated. But I knew I wanted to blend science and art. I was aware of planning, engineering and architecture, but after talking to a lot of people I discovered landscape architecture.
How did you get into planning?
I went back for a Masters in Landscape Architecture, and got an internship working on the new light rail system in Denver. I loved applying design, collaborating with others, and effecting change in the real world with a tangible outcome. Being a part of this project made me want to continue to be involved with transportation planning.
How did you end up at DVRPC?
I was at a consulting firm in the Philadelphia area, and was ready for a change. Part of my job was to promote good urban design and planning, and I knew that DVRPC "got it." A position in transit, bike and pedestrian planning opened up, and was the exact match with the work that I wanted to continue to do.
What's your favorite project?
We've just published "Modern Trolley Station Design Guide," a thrill to work on, as it required all the skills that drew me to landscape architecture in the first place: good planning for people and communities, spatial relationships, design affecting the built world, and working with a variety of stakeholders. The new design guidelines provide the design parameters for a number of station types that are possible within City of Philadelphia trolley corridors. Current trolley boarding requires passengers to walk into the street and step up several stairs, preventing those with physical limitations from riding trolleys, and making boarding difficult for people with baby carriages or packages. This kind of boarding really increases dwell times at stops. Modern trolley stations will allow for easier, faster and more comfortable boarding for all passengers. Most notably, it will open up the trolley network to a population that's not been able to use it to date.
If you were a transportation vehicle, what would you be?
A Modern Trolley, of course!
What's changed in landscape architecture?
There's been a much needed shift to accommodate all modes, not just cars, forcing us to think collectively about how everyone gets around.
What three words best describe you?
Authentic, intuitive, compassionate
Where is your favorite place in the region?
The Cynwyd Heritage Trail, because it accommodates old and new uses, demonstrates transformation, and enhances both livability and transportation. It also happens to be in my backyard, literally!
What's the best career advice you've ever received?
To be a generalist early on in your career. Having a specialty can be limiting, but being a generalist keeps it interesting and I'm always learning. Plus, certain skills like project management and facilitation are replicable anywhere.
What is something colleagues don't know about you?
I'm really kind of an open book. But they may not know that I started a mini fruit orchard in my backyard, growing Asian and European pears, peaches, sweet cherries, blueberries and raspberries.
Where would we find you after hours?
At soccer, basketball or lacrosse practice, depending on the season. But I'd rather be hanging out by our fire pit next to our backyard skating rink!