DVRPC News: August 2018
Volume 40, Issue 2 | August 2018
New Video on Long-Range Planning Debuts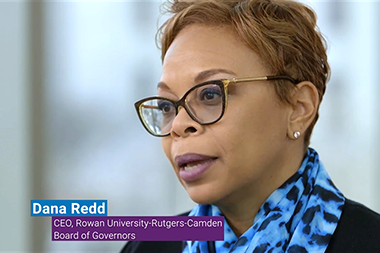 How can we prepare our region for a world that's always changing? DVRPC's board members, staff and partners talk about the importance of long-range, regional planning in our new video series for Connections 2045. They explain how making connections between transportation, land use, the environment, and the economy, and working as a region will help Greater Philadelphia continue to evolve and shape the future.
Featured in the video are Montgomery County Commissioner Valerie Arkoosh, MD, MPH; Camden County Freeholder Louis Cappelli, Jr., Esq.; Michael Carroll, Deputy Managing Director for Philadelphia's Office of Transportation and Infrastructure Systems; Olivia Glenn, previously with the New Jersey Conservation Foundation and the Circuit Coalition; Chester County Commissioner Michelle Kichline; Jeffrey Knueppel, SEPTA General Manager; Mayor Frank Moran of Camden City; Dana Redd, CEO of Rowan-Rutgers; PennDOT Secretary Leslie Richards; and DVRPC's Executive Director Barry Seymour.
Take a look and please tag @DVRPC if you share it on social media. Be sure to subscribe to DVRPC's new YouTube channel and keep an eye out for more Connections 2045 videos coming soon!
Join the Healthy Communities Task Force and the Regional Safety Task Force on 9/28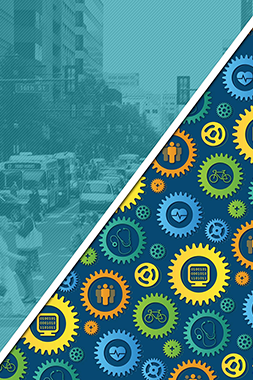 Two of DVRPC's task forces, the Healthy Communities Task Force and the Regional Safety Task Force, are joining together to explore the relationship between crashes, locations and health outcomes. September's meeting, Just Streets: The Intersection of Crashes, Equity, and Health, will discuss what planning, public health, and transportation professionals can do to support safer streets and healthier communities.
Marco Gorini, a Transportation Planner with DVRPC, will present on Crashes and Communities of Concern, a soon-to-be-released report that examines the connections between areas with high crash rates and areas with greater concentrations of low-income and minority populations.
The meeting will also include a panel of local practitioners and researchers working to reduce traffic fatalities and increase safe and healthy mobility options for all.
Register now and learn more about the confirmed panelists.
Explore the New Freight Centers of Greater Philadelphia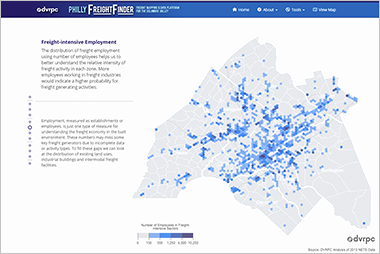 DVRPC recently released Freight Centers of Greater Philadelphia. The new planning tool identifies and categorizes key freight locations in the region. The tool further outlines the impact of freight on regional development and employment patterns by analyzing freight employment, identifying the location of distribution activity, and creating typologies of freight centers. This data helps DVRPC and regional partners better understand challenges and opportunities these important regional centers of economic activity create.
As demands for goods and just-in-time deliveries increase, freight centers are becoming more important, and using more land. The interactive tool can enhance professional planners and economic development professionals' knowledge about freight centers, illustrate the need for more transportation infrastructure, and potentially minimize conflict in areas surrounding freight centers.
This new tool is the latest addition to PhillyFreightFinder, a product of DVRPC's comprehensive freight planning program. Learn more about the freight planning program on DVRPC's website.
Get to Know Our Summer Interns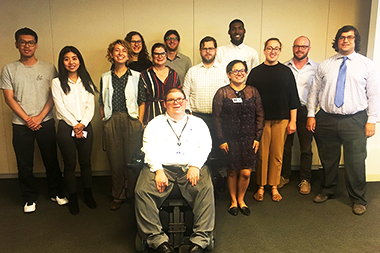 This summer, 14 interns worked alongside DVRPC staff across the Commission's different departments. After our Annual Management and Intern Luncheon in July, they sat down with Communications Intern Caroline Ibarra to answer a few questions about themselves and their experiences at DVRPC. Selected responses are below:
Which school/program are you currently or were you most recently enrolled in?
Ruochang Huang (Transportation Modeling Intern): I just graduated from the Master of City Planning program at UPenn.
Jalen Scott-Davis (Contracts Intern): I am a Finance and Economics major at Lincoln University of Pennsylvania.
Lei Xu (Modeling & Analysis Intern): I graduated from the University of Cincinnati with a Master's in Civil Engineering.
Caroline Ibarra (Communications Intern): I am currently studying Political Science and Communication at Villanova University.
What has been your favorite project or experience as a DVRPC intern?
Henry Felsman (Engagement Planning Intern): Developing the agency's Limited English Proficiency (LEP) Plan and looking into peer MPO best practices related to all aspects of public participation.
Rongzhi Mai (Transportation Planning Intern): Working on PhillyFreightFinder data improvements.
Heike Jacob (Safety Planning Intern): I've been working on Crashes and Communities of Concern since September and now it's nearly ready for publication. It's fairly rare as an intern to have the opportunity to work on a project from start to finish and it was great to have a hand in each step of the process... plus, environmental justice has always been an issue that I've been passionate about.
Eric Derer (Corridor Planning Intern): Learning about transportation planning through hands-on experience on the Pottstown region traffic analysis.
Kate Frangos (Strategies for Older Suburbs/Community Revitalization Intern): Getting to know the communities who participate in our Classic Towns program.
What is your favorite location or activity in the region?
Katie Lample (Transportation Planning/Urban Design Intern, formerly a Travel Monitoring Intern): All of the gardens! And farms! Visiting these has been a great way to explore Philly, meet neighbors, and understand the communities they are in (and play in the dirt).
Alex Baum (Transportation Planning Intern): Visiting Bryn Athyn on a rainy, overcast day - it felt like going back in time, or visiting an English village.
Brian Havard (Contracts Intern): Watching the Phillies at Citizens Bank Park.
Kevin Anderson (Long-Range Planning Intern): Anywhere new restaurants are opening.
Interested in joining us? Learn more about our internship program.
DVRPC Partners With Campbell's Healthy Communities at Road to Health Workshop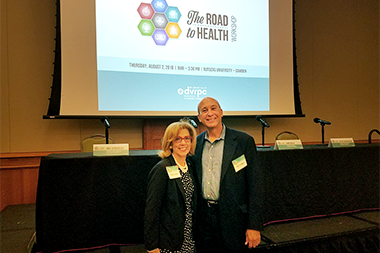 Earlier this month, over 60 attendees discussed the intersection between transportation and health at the Road to Health Workshop. Hosted by DVRPC and Campbell's Healthy Communities at Rutgers University-Camden, the workshop featured presentations on current healthy community initiatives in the city. The solutions-oriented afternoon featured breakout sessions in which small groups brainstormed solutions to current challenges. A panel of experts discussed how foundations evaluate potential projects.
DVRPC staff presented on healthy community planning work in Camden, including the Camden Health Element. This project is a high-level partnership between DVRPC and the City to promote health as a priority for comprehensive planning and future development. As part of the Camden Health Element, DVRPC staff collected and analyzed data on existing conditions that inform healthy community planning.
You can now view this project as an interactive storymap.
New Reports and Products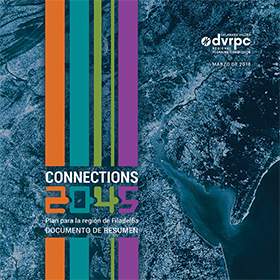 Several new products have been released in the past month. They include:
Connections 2045 Plan para la region de Filadelfia - Documento de Resumen
This report is the Spanish translated version of the Connections 2045 Long-Range Plan Summary Document. The infographic heavy summary document highlights the Plan, Connections 2045, key findings, principles, and actions.
Freight Trucks in the City of Chester Balancing Community and Business
The recommendations in this report were developed for the City of Chester to mitigate the effects of freight truck movement through the city, including compromised air quality in residential areas. Designated truck routes are proposed to facilitate the safe and efficient movement of goods to and from the city's industrial waterfront and central business district.
Transportation Conformity Demonstration Connections 2045 Long-Range Plan and FY 2019 Pennsylvania TIP
Transportation conformity is the process by which metropolitan planning organizations demonstrate that transportation projects included in a region's Long-Range Plan or Transportation Improvement Program do not cause new air quality violations. This transportation conformity demonstration shows that the Connections 2045 Long-Range Plan and FY 2019-2022 Pennsylvania TIP are following, or "conforming to," the State Implementation Plans to meet the National Ambient Air Quality Standards.
Upcoming LTAP Classes in PA and NJ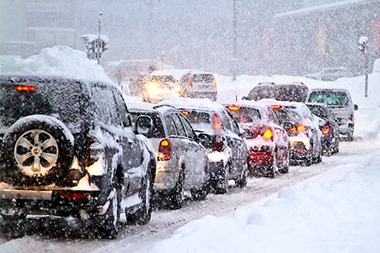 The Local Technical Assistance Program (LTAP) provides technical information and expertise to help municipal governments use transportation funds more effectively, improve road maintenance, and increase roadway safety.
Upcoming PennDOT classes in Pennsylvania include:
Salt and Snow Management
Phoenixville, PA
September 25, 2018 (8:00 AM – 3:00 PM)
Pavement Preventative Maintenance Class
Phoenixville, PA
September 25, 2018 (8:00 AM – 3:00 PM)
Visit PennDOT's LTAP website to view the course descriptions and register.
There are two upcoming New Jersey LTAP courses:
Work Zone Safety Awareness Workshop
Piscataway, NJ
September 6, 2018 (8:00 AM – 1:00 PM)
Highway Inspection Procedures for Federal-aid Projects
Piscataway, NJ
September 12, 2018 (8:30 AM – 12:30 AM)
Visit cait.rutgers.edu/cait/training for a list of all New Jersey workshops and to register.
Staff Profile – Ronald Joseph, DVRPC's First Associate Planner in the DVRPC Fellowship Program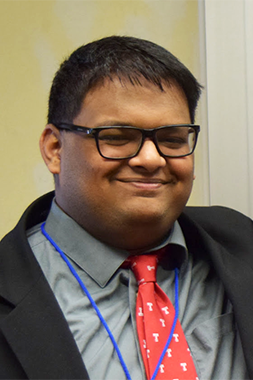 What did you want to be when growing up?
A lot of different things - a scientist, a detective and a writer, come to mind.
What was your first job?
In high school, I worked at the Bustleton Branch of the Free Library of Philadelphia as a Teen Leadership Assistant. I basically helped other kids with their homework and assisted with library events.
What was your major in college?
I was a political science major, because I'm interested in how government and politics work and shape the world we live in.
This is the first year of DVRPC's Fellowship Program, intended to help support the development of a pipeline of talented individuals from historically underrepresented communities into the urban and regional planning fields. The program provides a year-long, paid, full-time training program to a recent Philadelphia area college graduate, and promotes and supports that individual to gain skills, contacts, and experience to help them excel in their career. What drew you to the position?
I've lived in Philly since 2007, and in other metropolitan areas around Chicago, Houston and in India my whole life, and I'm very intrigued in how public policy and politics intersect and impact metropolitan issues like transit, housing, environmental justice and economic growth, to name a few. It's been invigorating to learn how DVRPC's planning approach works across the region. My mind is constantly engaged with the wide range of projects I've been assigned.
What are you working on?
I'm helping update the Transportation Improvement Program (TIP) evaluation criteria, such as how to score safety measures that reduce crashes; I'm helping develop the five-year update of the Comprehensive Economic Development Strategy (CEDS), including how to engage a wide variety of stakeholders; and I am also assigned to assist the Public Participation Task Force (PPTF) in the near future.
Do you know your future career plans?
I want to work for a couple of years, and then attend graduate school, in either public policy or urban planning.
Do you have a particular life philosophy?
I have a few. 1) Everyone needs to figure themselves out - if you can't, you're walking in the dark. And being open-minded is key to it. 2) Pay attention to something bigger than myself, whether it is a cause or loved ones. 3) Be good to other people. 4) When I look back and reflect on my life, do I feel satisfaction or regret on the whole from the choices I made and the way I have lived so far?
What three words best describe you?
Eclectic, pensive and tenacious.
What do you do in your spare time?
I hang out with friends and read a lot of nonfiction. I also like to indulge in my artistic interests, like writing poetry, exploring movies and standup comedy, and checking out new museums. Additionally I volunteer for causes—political and nonpolitical—that I care about, like UNICEF.
What's the last book you read?
A History of God by Karen Armstrong, which explores the 4,000-plus year old history and evolution of God, with a special emphasis on the Abrahamic religions of Judaism, Christianity and Islam.
If you could be King of the Delaware Valley for a day, what would you declare?
I'd mandate more affordable housing, enough to end homelessness– it's necessary and a human right.