DVRPC News: December 2017
Volume 39, Issue 6 | December 2017
FY19 Work Program is Available for Public Review and Comment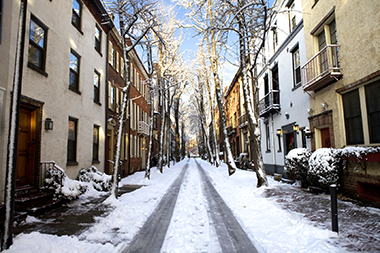 DVRPC opened a public comment period on December 7, 2017 for the Draft FY 2019 Planning Work Program. This document outlines the federally-funded planning projects to be performed by DVRPC in the nine-county region from July 1, 2018 to June 30, 2019. The Work Program is developed by the DVRPC Board and its planning partners, and reflects the region's short-range planning needs.
View the DVRPC Draft Work Program at www.dvrpc.org/WorkProgram. Hardcopies are available in the DVRPC Resource Center and in a number of regional libraries. Comments for this document must be received no later than 5:00 p.m. on January 8, 2018.
Brian Elms of Denver's Peak Academy to Keynote Breaking Ground 2018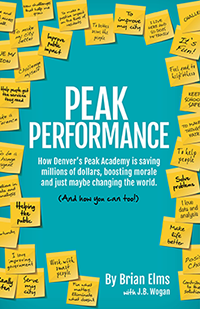 On March 22, 2018, DVRPC's Breaking Ground Conference will feature Brian Elms, Director of Denver's Peak Academy and author of Peak Performance: How Denver's Peak Academy is Saving Money, Boosting Morale and Just Maybe Changing the World (And How You Can, Too!).
Brian Elms is a process improvement expert with 15 years of experience working with government agencies, elected officials, and nonprofit organizations. Mr. Elms was integral in the creation of Denver's Peak Academy, a coaching program created for city employees to tackle small problems that deliver big results. Since 2011, Peak Academy has trained over 5,000 government officials and staff.
To view the program and register for the conference, visit www.dvrpc.org/BreakingGround. Early bird registration ends 2/21/2018!
Interested in sponsoring the conference? Details here. [0.1 MB pdf]
Interested in exhibiting in the Learning Lounge? Details here.
Study Shows Travel to Center City Is Increasing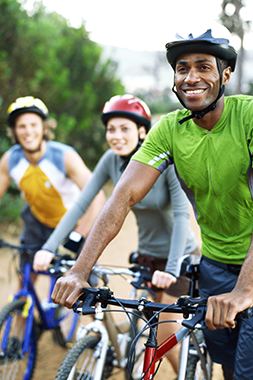 A new DVRPC report examines travel trends between 2000 and 2015 in the Philadelphia Central Business District (Center City). It includes auto, transit, bike, and pedestrian counts collected in 2015 and compared with similar data from 2000, 2005, and 2010. Trends show that travel to Center City is growing again after a decline during the Great Recession. On average, just over 2 million people traveled to and from Center City each weekday in 2015.
Other major findings in the report include continued strong growth in regional rail ridership, as well as an increase in vehicle traffic on several major roads due to a rebounding economy and the completion of construction projects. Also, although still a relatively small share of total trips, bicycle trips were the fastest growing mode of transportation between 2010 and 2015, increasing by 60 percent.
The data is used in several ways: to assess transportation trends in and out of Center City; to calibrate the DVRPC travel demand forecasting model; and to estimate vehicle miles traveled for air quality conformity analysis. A similar study was completed earlier this year for the entire nine-county DVRPC region. This report assessed trends in vehicle trips and transit passenger trips crossing selected screenlines across the region.
Join the Public Participation Task Force!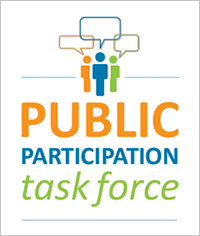 Want to engage in the regional planning and decision-making process? Apply to be a member of DVRPC's Public Participation Task Force (PPTF) today!
The mission of DVRPC's PPTF is to provide access to the regional planning process, discuss timely issues, assist the Commission in implementing public outreach strategies, and empower citizens to be a part of the planning process at various levels of government. For more details about the PPTF, visit www.dvrpc.org/Committees/PPTF.
To be considered for the 2018-19 term, please submit an application by January 8th, 2018. The application is online. If you have any questions, please contact Shoshana Akins, Public Participation Planner, at 215-238-2817 or sakins@dvrpc.org.
New DVRPC Products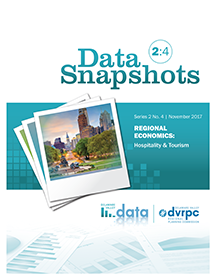 Hospitality and Tourism Data Snapshot: This report assesses the importance of hospitality and tourism in Greater Philadelphia's regional economy. It provides information on the overall impact of the industry on the region's economy, the locations and scale of the region's primary tourist destinations, and the number of employees working in hospitality and tourism. The Hospitality and Tourism Data Snapshot also serves as background research for upcoming DVRPC work on travel and tourism transportation needs.
Age-Friendly Communities Municipal Implementation Tool (MIT): Age-friendly communities are places where older adults can age actively, and engage with the social, economic, civic, and physical life of the community. This tool addresses how planners and policymakers can make cities, suburbs, counties, and rural communities better for aging. The Age-Friendly Communities Municipal Implementation Tool is part of a series of Municipal Implementation Tools (MITs) available to local governments and planning partners to assist in implementing the region's long-range plan, Connections 2045.
Population Estimates for 2010-2016, DVRPC's 28-County Extended Data Services Area: This regional data bulletin provides county- and sub-county-level population estimates as of July 2016, for the twenty eight counties located within DVRPC's extended data services area. Population estimates were released by the U.S Census Bureau in May 2017.
Focus 352: Planning Assistance Center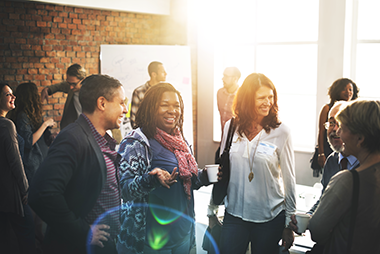 Got funding? DVRPC's Municipal Resource Guide helps you find funding resources
Is your municipality looking for funding for a plan or project? DVRPC's Municipal Resource Guide lists federal, state, regional, and local funding sources. Whether it's disaster mitigation or historic preservation, infrastructure or infill development, there is money out there for local governments. Search the online database at: www.dvrpc.org/asp/MCDResource or download a PDF copy: www.dvrpc.org/Products/16004.
Focus 352 is a new feature in the DVRPC newsletter that will highlight various resources for local governments.
DVRPC Honored by WTS Philadelphia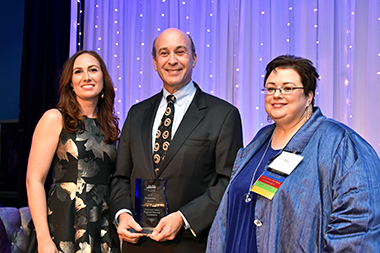 Last month, DVRPC was honored to receive the Philadelphia Award from the Women's Transportation Seminar (WTS) - Philadelphia Chapter. DVRPC was chosen for the award due to the regional impact of its work, and for the recent partnership with WTS Philadelphia for the Changing Lanes transportation conference held in October 2017. WTS Philadelphia's mission is to attract, sustain, connect, and advance women careers in the transportation industry.
Upcoming LTAP Courses in PA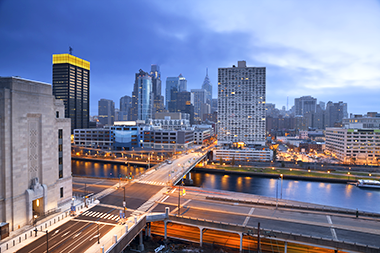 The Local Technical Assistance Program (LTAP) provides technical information and expertise to help municipal governments use transportation funds more effectively, improve road maintenance, and increase roadway safety. An upcoming class on January 18 in Montgomery County will focus on the understanding of intersection safety issues. Visit PennDOT's LTAP website to view course descriptions and to register.
Staff Profile: Tom McGovern, Comptroller, Director of Finance and Administration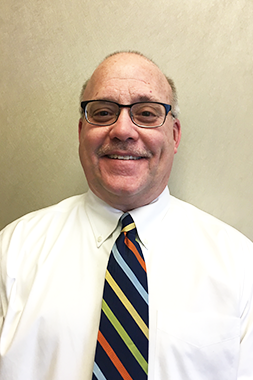 What did you want to be when you grew up?
A doctor, because that sounded like an interesting career that helped people. But I didn't have the aptitude in the sciences. I switched to accounting, which seemed like a good field to find a job in.
What was your first job?
I worked at Acme Supermarkets in a variety of positions: cart retriever, cashier, and in the produce department. Working in the produce department was the best job ever. I had responsibility for a specific part of the store and you got a lot of exercise moving the merchandise from the storeroom to the shelves.
You've been at DVRPC for 36 years - how did you start?
Toward the end of my MBA program, I was invited by the head of administration at the time, who I knew from Boy Scouts, to apply for what was called an "external auditor" position. That meant that I went around to all of our member governments and audited their records supporting the invoices that they sent to the Commission. The position was eliminated with the Single Audit Act, but I took on more and more responsibility and was promoted to Comptroller.
What's changed in accounting since you started?
Technology has changed the most – we had green ledger sheets, #2 pencils, and mainframe computer with punch cards and tape drives when I started. What hasn't changed? The output is only as good as the input – the need to check our work and be very careful is still there.
What is the most satisfying part of the job?
As accountants, we are running the fiscal side of the agency – it's like keeping a small business running.
What three words best describe you?
Consistent, responsible, stubborn.
If you could be King of the Delaware Valley for a day, what would you do?
I'd implement the recommendations of the best thinkers out there regarding policies that hold us back as a region.
What is something colleagues don't know about you?
I'm a hunter and a fisherman. Most think that I'm also a golfer, but the last time I played golf was at my bachelor party.
Best career advice you've ever received?
My father told me, "Give a day's work for a day's pay, and keep an eye on your boss's job!"
Last movie you saw?
Dunkirk
Do you have a fantasy career?
Professional golfer
Who would you most like to meet?
The legendary Arnold Palmer – he was the first to make golf popular, was a successful businessman, PA native, accomplished pilot, and he seemed like a down to earth guy.
You're retiring at the end of this year – where will we find you?
At our cabin in upstate Pennsylvania - hiking, hunting, fishing, and golfing.
After 36 years with DVRPC, what would you like to tell remaining staff?
If you're going to work at a place, give it your all, and hold yourself and your colleagues to high standards.