DVRPC News: May 2016
Volume 37, Issue 10 | May 2016
Help Shape Our Region's Future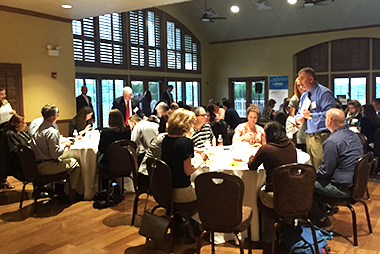 DVRPC is updating its Long-Range Plan, Connections. This important planning document is a federal requirement and enables the metro area to receive over a billion dollars of federal transportation funds every year.
As part of the long-range planning process, we are hosting a series of visioning workshops. Please help us imagine the possibilities, discuss uncertainties, and plan for Greater Philadelphia's future. Join us at the last of the visioning workshops in Philadelphia on May 24 to learn more and share your vision.
Philadelphia
WHYY Public Media Commons
150 N. 6th Street, Philadelphia, PA
May 24, 2016 (5:30 PM – 7:30 PM)
These workshops are free and open to the public. A light dinner will be served at each. For more details on the Connections2045 plan, click here and connect with us on social media @DVRPC / #MakingConnections.
New GIS Data Portal Makes It Easier Than Ever to Access Data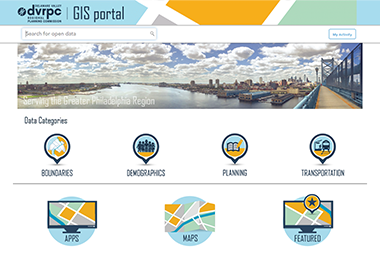 A new DVRPC GIS Data Portal provides public access to DVRPC's GIS data directly from the source using ESRI's user-friendly ArcGIS Open Data platform. The new webpage organizes data by topic: boundaries, demographics, planning, and transportation. With the click of a button, users can visualize and analyze any of the datasets and view attribute information. They can search, view, and download entire datasets (or a filtered subset) in a variety of data formats.
GIS is an important planning tool that supports state, regional, county, and local planning. GIS allows planners to view and query spatial data; perform advanced analysis to discover relationships, patterns, and trends; and effectively present information to decision-makers and the public.
Visit the new webpage, www.dvrpc.org/Mapping/Data, to learn more; or contact Will Stevens, Manager, Office of Geographic Information Systems, at 215-238-2835 or wstevens@dvrpc.org.
Ozone Season Begins!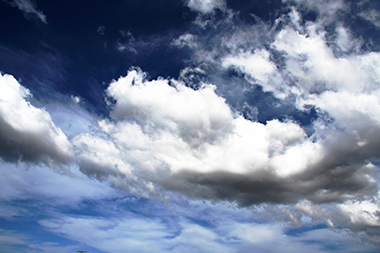 As warmer weather approaches, so does the onset of ground-level ozone. High levels of ozone pose health risks for everyone, and large segments of the population are considered especially sensitive to air pollution. Fortunately, ozone levels are monitored and the public can be alerted when levels become unhealthy. The Air Quality Partnership (AQP), a program of DVRPC, educates residents about the dangerous effects of ground-level ozone and provides air quality forecasts to the public.
Air Quality Awareness Week (May 2-6) marked the start of the ozone season, which runs through September. Currently, Greater Philadelphia does not meet the federal air quality standards for ground-level ozone. In the summer, sunlight and high temperatures "bake" pollutants emitted by motor vehicles, power plants, and other sources, to form high levels of ground-level ozone, commonly known as smog.
The AQP encourages actions to reduce air pollution, such as:
Take transit or rideshare.
Don't top off your gas tank. Spillage adds two tons of pollution to the air each day.
Refuel at the end of the day. Ozone levels are highest in mid- to late-afternoon.
Be sure to clean out your trunk, since an extra 100 pounds reduces gas mileage by up to 2% and wastes fuel.
Trip-link when possible. Combining errands with your daily commute will save time, money, and the environment.
Follow regular maintenance schedules for your car. A properly running vehicle emits less pollution and saves gas.

Check your owner's manual and properly inflate your tires. Properly inflated tires can improve your gas mileage up to 3.3%.
When changing your oil, use a manufacturer-recommended grade motor oil to improve fuel economy by 1-2%.
To view the daily forecast or sign up for air quality alerts, visit www.airqualitypartnership.org.
Local Organizations Honored with Air Quality Partnership Excellence Awards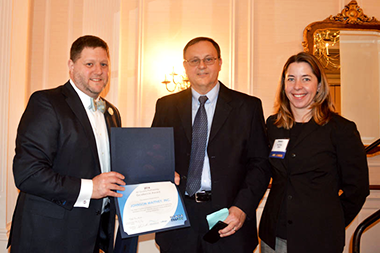 Timothy Phelps (Executive Director, TMA of Chester County) and Erin Burke (AQP) present the 2016 AQP award for a private organization to Robert Stajnrajh Kaizen (Johnson Matthey Inc.).
Photo Credit: TMACC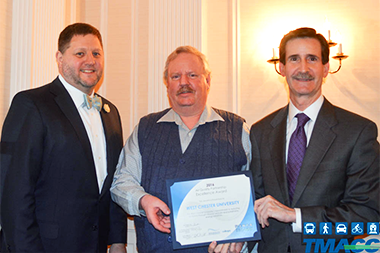 Timothy Phelps (Executive Director, TMA of Chester County) presents the 2016 AQP award for a public organization to Lawrence Krackov and Mark Mixner (West Chester University).
Photo Credit: TMACC
Each year, the Air Quality Partnership (AQP) recognizes private and public institutions that have made exceptional efforts to improve air quality in Greater Philadelphia. The recipients of the 2016 AQP Excellence Awards are Johnson Matthey (JM) in Devon, PA and West Chester University (WCU) in West Chester, PA.
JM is a world leader in emission control catalysts (catalytic converters), for automobiles, trucks, off-road vehicles, locomotives, and stationary source pollutant emitters. These catalysts help destroy harmful pollutants and minimize the emission of greenhouse gases like methane and nitrous oxide. JM's catalysts improve air quality not just in the Delaware Valley but across the U.S. and the world. In 2007, JM launched "Sustainability 2017," a global campaign with ambitious targets of halving the company's carbon intensity, halving resources consumed per unit of output, and achieving zero waste to landfill. JM has also helped raise public awareness about air quality through its advocacy for tougher emissions legislation and its sponsorship of local cycling events and running teams.
WCU invested in cutting emissions and pollution by expanding the campus's geothermal distribution system and adding to its fleet of vehicles powered by compressed natural gas (CNG). The geothermal heating and cooling system now serves more than 40% of WCU's North Campus building space and replaced a coal-fired boiler plant. The University's fleet of CNG powered vehicles is now at 28 and more are on order. In addition to these improvements, WCU has empowered its community to use greener modes of transportation by promoting carsharing and operating a free shuttle from campus to the Exton Regional Rail station.
DVRPC and the AQP congratulate JM and WCU for their outstanding leadership in improving air quality. As ozone season approaches, clean air programming like that at JM and WCU becomes even more critical for our region's health and wellbeing. Visit www.airqualitypartnership.org to learn more.
DVRPC Highlights Municipal Energy Management Best Practices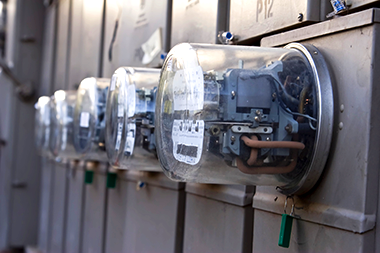 In 2013 and 2014, DVRPC worked with nine municipalities in Southeastern Pennsylvania to provide direct technical assistance to measure, analyze, and develop implementation strategies for energy management in municipal buildings. DVRPC, with funding from the U.S. Environmental Protection Agency, worked with West Chester-based Practical Energy Solutions to work directly with municipalities to prioritize energy management projects, conduct energy assessments, and incorporate energy management recommendations into municipal decision-making. Lessons learned from this on-the-ground work are now available.
The energy assessments conducted through the program can be found here. In addition to identifying concrete energy management solutions at each of the nine municipalities, the program also identified many lessons learned about energy management that are helpful for all municipalities. DVRPC's Municipal Energy Management Best Practices Guide illustrates the best practices and lessons learned as identified through the program.
Regional Cyclical Bike Count Program Summary Released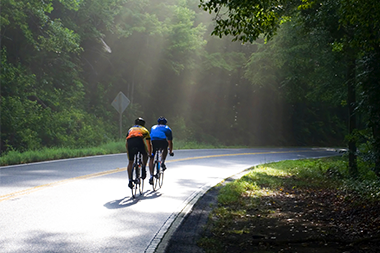 In 2014, DVRPC launched the cyclical bike count program to measure levels of bicycling across facility and land use types on an ongoing basis. The program deploys weeklong bicycle count equipment throughout the region. Cyclical count programs have been an important component of motorized traffic monitoring programs for decades. DVRPC's cyclical bicycle count program is the first non-motorized program established in the country and will provide vital data to understand where and how much bicycling is happening and how that changes over time. The nearly 150 count locations in this cycle reflect input from DVRPC's member governments, as well as from other planning partners. Future counting cycles will sample a subset of these same locations, with each location being counted every three years. The data collected through this program will factor into planning and modeling work at both regional and local levels, complementing information gleaned from other sources, such as the CyclePhilly smart phone application and DVRPC's permanent bicycle and pedestrian counters on regional trails.
DVRPC has processed and summarized the counts collected through this program between July 2014 and September 2015. These counts will serve as the "base saturation," against which future bike counts will be compared and analyzed. The summary document includes details on how counts were taken and normalized and how counts vary based on bicycle infrastructure in the nine-county region. To view all of the bicycle and pedestrian counts taken by DVRPC, go to www.dvrpc.org/webmaps/pedbikecounts. For a copy of the memo, contact Cassidy Boulan at cboulan@dvrpc.org or 215-238-2832.
DVRPC's Stacy Bartels Honored by PPTA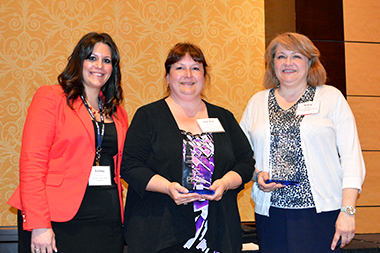 Stacy Bartels, DVRPC's Manager, Office of Marketing and Commuter Services, was honored as a "2015 Superstar of Transit" by the Pennsylvania Public Transportation Association (PPTA) at their Annual Meeting on April 19. The award was a "Distinguished Service Award for Community Service, Commuter Statewide Initiative." Also honored in this category were Lisa Kay Schweyer from the Southwestern Pennsylvania Commission (pictured, middle) and Terri Quici from Centre Area Transportation Authority (not present). The award was presented by Ashley Altemare from Mid-Mon Valley Transit Authority (pictured, left).
Staff Profile: Cassidy Boulan, Transportation Planner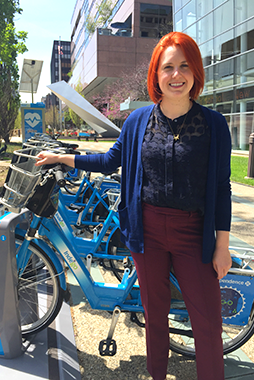 What drew you to the field of planning?
I grew up in the suburbs of Detroit, and during my senior year of high school, a teacher gave me "Suburban Nation – The Rise of Sprawl and the Decline of the American Dream" (a book advocating for an end to sprawl and abandoning auto-centric city design). The book talked about issues I had been thinking about and observing in Detroit, and it really resonated with me. So I went to college knowing that I wanted to be a planner and work on these issues, but would have to wait until a master's program to focus on that exclusively. For undergrad, I majored in Environmental Studies and Sociology at University of Michigan, with a concentration in urban planning. As part of my environmental studies program, I studied abroad at the University of Oxford in England, focusing on the history of human settlements in Britain. Returning to the U.S., I did AmeriCorps in Detroit, working for a community and economic development nonprofit. That work was challenging and progress felt very slow. But it turned out to be a formative experience that taught me that that was not the career direction where I wanted to head.
When that position was finished, I applied to graduate schools, and chose University of Pennsylvania's Masters of City Planning program. Coming from Detroit, I saw myself living in Philly – I liked Philly's walkability and gritty/hard-scrabble edge. Since my interest in planning is rooted in sustainability, focusing on how people can get around in a sustainable way made sense and I concentrated in transportation planning. Between my first and second year, I landed an internship with DVRPC in the Corridor Planning unit. After graduating, I got an internship with DVRPC's Office of Transit, Bicycle, and Pedestrian Planning, and when a full-time job opened up in 2011, I jumped at the chance to come on full-time.
What projects are you most excited about?
This year, I'm excited about the conceptual bike and pedestrian facility designs we're creating for the intersection of Washington Avenue and Columbus Boulevard, and for connecting the Ben Franklin Bridge and riverfront in Philadelphia.
Which of your projects has been most impactful?
I got to help design the "South Broad Sidepath," an off-road way to accommodate bicycles on Broad Street from Oregon Avenue to the Navy Yard. The City has applied for funding to move the project forward, which is pretty rewarding.
Do you work with groups outside the transportation planning world?
As a bike and pedestrian planner and advocate, I was invited to be on a working group headed by the Health Promotion Council and Drexel University, developing the Community Health Improvement Plan update for the City of Philadelphia's Health Department. I'm providing ideas on how to increase biking and walking in the city as a means to increase physical activity and reduce chronic diseases such as obesity and diabetes. Seeing planners and public health professionals come together to work on common goals is encouraging and I hope we can do more of it.
If you could wave a magic wand and make something happen, what would it be?
I would change people's attitudes toward parking and needing a car. Most of Philadelphia is so walkable and bike-friendly, with great transit options, but people still seem to value parking above all. Further, parking permits are cheap, which only fuels more demand. I'd like to see changes in parking policy.
What do you do in your free time?
I'm a planning nerd, so I like to walk around my neighborhood – the edge between Washington Square West and the Gayborhood. Everything I would ever need is here – coffee shops, parks, even an emergency room!