DVRPC News: July 2016
Volume 37, Issue 12 | July 2016
DVRPC Awards $1.8 Million for Revitalization Projects in PA and NJ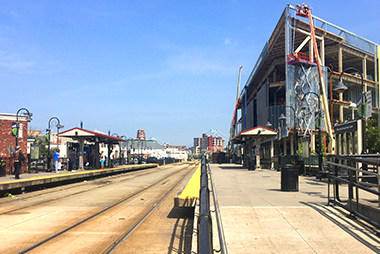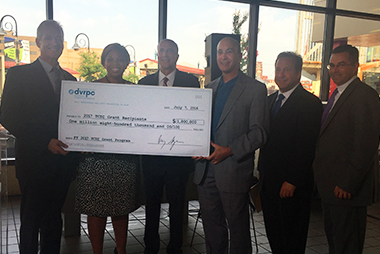 DVRPC has awarded $1.8 million to 26 communities in Greater Philadelphia through the Transportation and Community Development Initiative (TCDI) program. TCDI grants support planning for local development and redevelopment efforts. In Pennsylvania, municipalities received $1,200,000 and in New Jersey, municipalities received $600,000. Since 2002, the program has awarded $16 million in planning funds to over 230 different communities in our region – leveraging over $350 million in additional federal, state, local, and private funds.
On Thursday, July 7, DVRPC, along with officials from the City of Camden, Camden County, and the City of Philadelphia, held a news conference at Walter Rand Transportation Center in Camden to announce the grants. Speaking at the event were Barry Seymour of DVRPC, Camden Mayor Dana Redd, Camden County Freeholder Director Louis Cappelli, and Philadelphia City Councilman Mark Squilla.
For more information about TCDI and a list of projects, visit www.dvrpc.org/TCDI.
Over $1.2 Million Approved for Multi-Use Trail Projects in NJ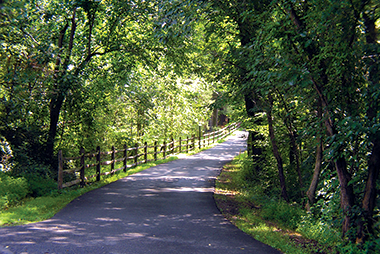 This June, the DVRPC Board approved $1,259,820 in Regional Trails Program grants to six projects in New Jersey. Recipients will use these funds to design, engineer, or construct multi-use trails. Together, these projects will help close gaps in the Circuit, Greater Philadelphia's 750-mile-long trail network, and will connect new communities and neighborhoods to the regional trail system. Funding support for these projects was provided by the William Penn Foundation.
The following projects received funding:
Trenton Wellness Loop (construction) – $195,000 award to D&R Greenways Land Trust
D&R Canal – Delaware River Heritage Trail Gap (design) – $110,000 award to D&R Greenways Land Trust
Rancocas Creek Greenway (design and engineering) – $300,000 award to Burlington County
Cooper River Trail, Pub Connector (design and engineering) – $37,820 award to Camden County
Gloucester Township Bike Path (design and engineering) – $217,000 award to Gloucester Township
Harrison Trail (design and engineering) – $400,000 award to Gloucester County
To learn more about the Regional Trails Program, please visit www.dvrpc.org/Trails/RegionalTrailsProgram.
All-Day Workshop on Integrating Health into Comprehensive Planning, August 2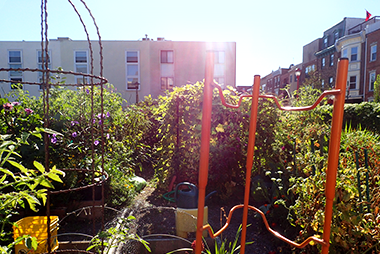 On August 2, 2016 from 9:00 AM to 4:00 PM, DVRPC's Healthy Communities Taskforce will host a hands-on workshop that will provide attendees with a better understanding of how to integrate health into their communities' planning processes. They will learn how to think about community health improvements at different scales, and how to evaluate the pros and cons of different policy approaches to the same health issue. Attendees will also examine best practices for community engagement and communication about healthy community planning for different types of stakeholders.
Breakfast and lunch will be provided. The cost is $65 and the course will offer 5 AICP CM credits. To learn more or to register, please visit dvrpc.ticketleap.com/health.
Data Journal: Rating the Region Reveals Disparities between Core Cities and Their Metros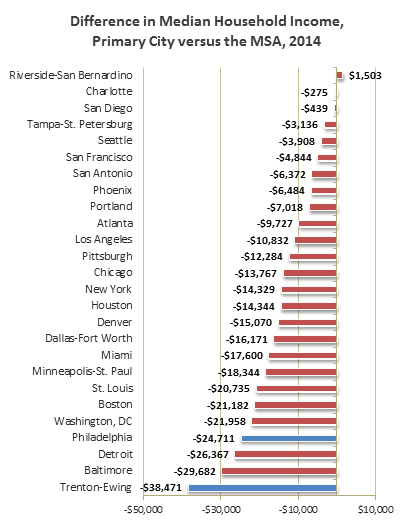 A new study by DVRPC, Rating the Region: Metro Indicators for Greater Philadelphia, analyzes how Greater Philadelphia compares on key indicators to other large metropolitan statistical areas (MSAs) in the U.S. Our region possesses many strengths including a diverse economy, relatively affordable housing, robust higher education opportunities, and more. However, our region faces formidable challenges as well, such as the disparity in education and income between our primary cities and our suburbs.
The figure on the right illustrates the difference between the median household income in each of the 26 MSAs studied and their primary cities. The median household income in the City of Philadelphia is almost $25,000 less than the MSA as a whole. In the Trenton-Ewing MSA, the difference between Trenton City and its MSA is over $38,000. These disparities rank among the starkest in the entire nation.
To see how Greater Philadelphia fared on other indicators and to access the full report, visit www.dvrpc.org/Products/16010.
The Data Journal is a new feature that highlights some of the Commission's most exciting research findings. Every month, the Data Journal will showcase a thought-provoking chart, map, or other graphic that illustrates DVRPC's recent work and illuminates an interesting facet of our region.
Two LTAP Courses to be Offered in August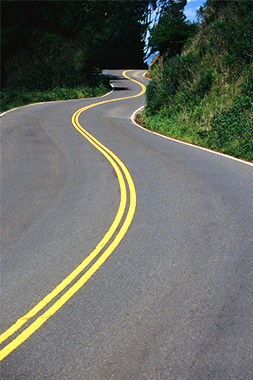 The PennDOT Local Technical Assistance Program (LTAP) provides technical information and expertise to help municipal governments use transportation funds more effectively, improve road maintenance, and increase roadway safety.
Drainage: The Key to Roads that Last (Chester County)
East Brandywine Township Building
1214 Horseshoe Pike, Downingtown, PA 19335
August 17, 2016 (8:00 AM – 2:00 PM)
This course covers the effects of water on roadways, emphasizes the problems caused by poor drainage, and explores ways to combat these issues. The course reviews basic roadway drainage systems. It offers a detailed presentation on industry-standard procedures for replacing cross pipes, and on regulatory policies and permit requirements. In addition, the importance of routine inspection of drainage system assets, especially in relationship to planning and Federal Aid reimbursement in the case of a disaster, will be discussed.
Traffic Safety Development Plan for Local Roads (Bucks County)
Perkasie Fire Company
100 N. 5th Street, Perkasie, PA 18944
August 25, 2016 (8:00 AM – 3:30 PM)
Participants will learn how to develop a Traffic Safety Development Plan (TSDP) for their community. Course content includes road safety basics and instruction on the process, tools, data, analysis, and effort necessary for development of a TSDP. This course also includes information on methods for improving safety, including identifying and implementing safety countermeasures as well as typical costs.
Stormwater Facility Operation and Maintenance (Montgomery County)
Delaware Valley Insurance Trust
719 Dresher Road, Horsham, PA 19044
August 31, 2016 (8:00 PM – 12:00 PM)
This course reviews Environmental Protection Agency (EPA), Pennsylvania Department of Environmental Protection (PADEP), and local regulations and requirements regarding stormwater runoff and its management. The course explains the storm runoff process, explores current regulatory requirements under National Pollutant Discharge Elimination System (NPDES) municipal storm sewer system (MS4) permits, identifies elements of sustainable stormwater management systems, and discusses the operation and maintenance of stormwater facilities.
To register for either of these courses, please visit www.dot7.state.pa.us/LTAP.
Staff Profile – Karen Cilurso, Manager of Community Revitalization
What drew you to the field of planning? I took an Urban Geography class my junior year at Kutztown, where I majored in Sociology. I found it so interesting I decided that's what I wanted to pursue as a career. I enrolled in Penn's Master of City and Regional Planning program right out of college, and my first job after grad school was with an engineering firm in New Jersey. My work there focused on site plan reviews, master plan updates, and redevelopment plans, but I think the most valuable lessons I got from those experiences were from working directly with local Planning and Zoning Hearing Boards and interacting with the public. I shared an office with Ed Fox, who became my mentor.
How did you come to DVRPC? I was doing a lot of very local planning and while that is obviously very important, studying for the AICP exam opened my eyes to a broader view of the field of planning that I wanted to pursue. I landed a job in DVRPC's Office of Project Implementation, but then shortly thereafter moved to what was then the Regional Planning Division, which was more in line with the broader approach I was seeking.
What projects are you most proud of? I have two. The first is the Transportation and Community Development Initiative, otherwise known as TCDI, which is a competitive program for municipalities to undertake planning projects that help implement the long-range plan at the local level. I got to help shape it when it was a brand new program in 2002, and now I manage the program for the agency. It's undergone a number of changes over the years, but what's remained constant is that it provides an important resource for communities to turn to for planning support, and it continues to strengthen our relationships with municipalities. It's also provided an incredible return on investment: we've provided $16 million in planning grants, which resulted in $350 million in public and private sector investments.
The other project I'm very proud of is our Classic Towns Program. This program uses marketing to attract people to live, work and visit about 21 of our mixed-use town centers in the region. Each town that qualifies buys-in to the program with a small amount of annual funding, and in return, we do both tailored and collective marketing for the towns, aimed at bringing more people in to live, work, shop, and dine. The Calendar of Events webpage is the most popular on the website, and the entire program increased promotional and community awareness in the towns by at least 50%. It's been incredibly successful, and there is no other program like it across the country.
What has changed in planning during your 16 years in the field? Technology. We can reach so many more people now through social media and websites, and engaging people in planning issues is increasingly more important and expected. With social media and other technology, we do more with less.
What do you do in your spare time? (Laughs) I spend any spare time I have with my kids, ages 2 and 4, and play golf whenever I can.
DVRPC Staff Member Wins Transportation Photography Contest

Kwan Hui, Senior Capital Program Coordinator, won the Pennsylvania State Transportation Commission's recent photo contest with her photograph of the Schuylkill River Trail. The image illustrates the diversity of the region's transportation system, capturing everything from the CSX Railroad tracks to 30th Street Station to the trail boardwalk over the river. Congratulations, Kwan!