DVRPC News: October 2010

Volume 32, Issue 1
October 2010
Board Members Identify Transportation and Funding Priorities
DVRPC's 24th Annual Board Retreat took place on September 23rd at the ACE Conference Center in Lafayette Hill. This year's theme was "Planning with Purpose: Funding the Region's Priorities," and it focused on the transportation needs facing our metropolitan area.
Toby Fauver, Deputy Secretary for Local Transportation at PennDOT, addressed the transportation funding gap. Pennsylvania's highways, bridges and transit system require $3.5 billion annually, and with the loss of Act 44 funding, many projects are in jeopardy (including 7,033 miles of poor roads and 5,592 structurally deficient bridges). Fauver stressed the need for dedicated funding and called on elected officials to resolve the issue. Following this discussion, DVRPC staff and state and local officials discussed priority regional transportation projects, and identified new and creative funding sources and techniques to advance those projects.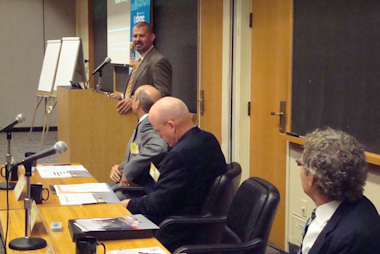 DVRPC to Host Special Public Meetings
DVRPC's Regional Citizens Committee (RCC) is hosting a series of special meetings this fall. The meetings will provide an opportunity for a continuing dialogue between the public and the Commission regarding the most important issues facing the region.
The first of these meetings will take place on Thursday, October 21, 2010 at 6:00 p.m. at Widener University's University Center. There, citizens, RCC members, and DVRPC staff will discuss environmental justice and the regional planning process. Another meeting about local food systems will be held on Wednesday, October 27 at 6:00 p.m. at the Collingswood Senior Community Center. If you are interested in attending one or both of these meetings, have questions, or wish to RSVP contact Jane Meconi, Public Involvement Manager, at 215-592-1800 or public_affairs@dvrpc.org.
FY2011 TIP for PA Approved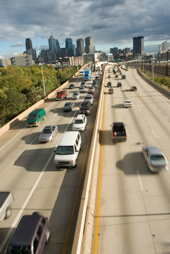 The DVRPC Board approved more than $3 billion in funding for major highway and public transit investments in the Greater Philadelphia area when they adopted the DVRPC FY2011 Transportation Improvement Program (TIP) for Pennsylvania for fiscal years 2011-2014.
The TIP lists all transportation projects that intend to use federal funds, along with all state-funded projects. The list is multimodal, and includes road, transit, bridge, signal, bicycle, pedestrian, and freight-related projects.
The FY2011-2014 TIP for the Pennsylvania portion of the DVRPC region contains almost 400 projects worth more than $3 billion (an average of $750 million per year). To view a copy of the final FY2011 TIP or to view PA or NJ TIP projects using Google Maps, visit www.dvrpc.org/TIP.
Shifting Gears Identifies Bicycling Priorities
Results from the Shifting Gears online survey and outreach process are now available. The program was started to better understand and prioritize bicycling issues in the region. It also works to better match the agency's resources to the needs of its member governments in regards to bicycling.
The survey found that recreational cyclists outnumber cyclists that bike to work, and an overwhelming number of cyclists prefer bicycle lanes or other marked bicycle facilities to unmarked roadways. By focusing more on prioritizing proposed bicycle facilities and responding to the needs of current cyclists (and future cyclists), a true network of bicycle facilities begins to take shape.
For more information, visit www.dvrpc.org/Transportation/Bicycle/.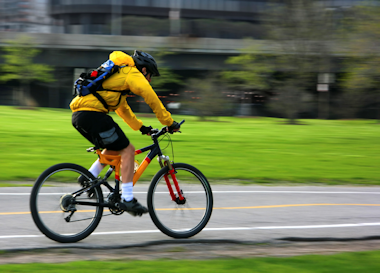 Classic Towns Trolley Tour A Success
This summer, DVRPC's Classic Towns of Greater Philadelphia program hosted a trolley tour through three Classic Towns: Bristol Borough, Merchantville Borough, and Moorestown Township. The tour allowed attendees to experience what makes these particular Classic Towns fantastic places to live, work, and play, while also highlighting the many assets found within each community.
Classic Towns of Greater Philadelphia promotes the region's first generation suburbs that surround our urban centers. More than one million people relocate within the Greater Philadelphia region every year; this program highlights these "classic" communities and helps residents re-discover the beauty and diversity of older towns. Visit www.classictowns.org for more information.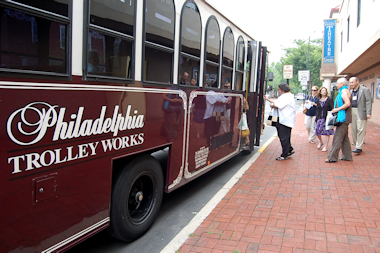 Online Ordering Now Available for TransitChek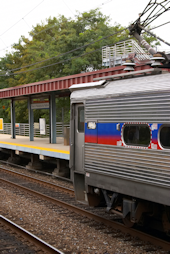 TransitChek is now offering online ordering! The commuter benefit program is easier to use than ever with its secure website and faster delivery of your order.
Orders may be placed at www.GetTransitChek.org (look for the tab, "Place Online Order"). Online ordering allows a company's TransitChek administrator to place orders via the web and pay by check or ACH. Products available online include: TransitChek Vouchers, PATCO Freedom Card loads, and Commuter Checks for Bicycling - a new product to take advantage of the Bicycle Commuter Benefit program, enacted in February 2009.
If you have any questions about TransitChek or online ordering, please contact the Office of Commuter Services at 215-592-1800.
DVRPC Traffic Count Mapping Application Now Available Online
DVRPC Traffic Counts for the nine-county region are now available online in a user-friendly mapping application.
Users can find data that represents the "Average Annual Daily Traffic (AADT)," or an estimate of all traffic during a 24-hour period at the location indicated. For more information, visit www.dvrpc.org/Traffic.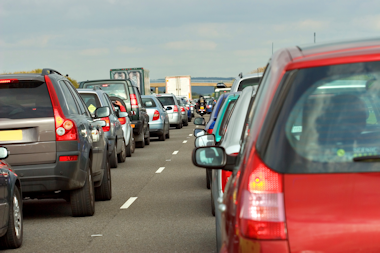 New Corridor Study Identifies Recommendations for NJ 73 North
The NJ 73 Corridor Study is now available. The study includes transportation and land use recommendations, geared to reducing congestion and improving mobility and safety on the corridor.
Improving the linkage between land use and transportation is essential for the future of the NJ 73 corridor in Burlington and Camden Counties. Inappropriate land uses coupled with inadequate transportation access can have negative impacts on the entire road network and quality-of-life for the residents, businesses, and users of the corridor. This study addresses land use and transportation impacts on the corridor and identifies improvement options.
The study recommends that communities in the study area ensure that their zoning ordinances and building codes protect against groundwater contamination. DVRPC staff looked at current circulation and mobility, and examined access, safety, public transportation, and bicycle and pedestrian infrastructure. Visit www.dvrpc.org/corridors/Route73North.htm for more information.
Preliminary Findings for US 30 Just Released
Preliminary findings of the US 30 Corridor Study are now available and ready for public input. Specific land use, transportation, and environmental recommendations include: encouraging growth in centers; exploring the potential for mixed-use transit oriented development; improving the physical appearance of the pedestrian environment; increasing access to rail stations and transit information; and improving stormwater management.
The US 30 Corridor Study was initiated by DVRPC to help coordinate transportation and land use planning across the municipalities within this important corridor. The US 30 corridor links a series of distinct and historic communities in West Philadelphia, Lower Merion, Haverford, and Radnor and is home to some of the region's most identifiable places.
Several public meetings are scheduled for October and November 2010, where the preliminary recommendations will be presented to the public and input solicited. For more information on the study and on meeting dates, visit www.dvrpc.org/corridors/US30.htm.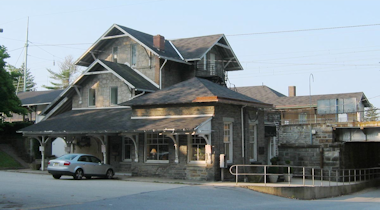 Eco-enterprises in Greater Philadelphia Now Available
One of the main goals of Connections, the region's long-range plan, is to build an energy-efficient economy. A new DVRPC report, Eco-enterprises in Greater Philadelphia, takes a close look at businesses and jobs that support energy-efficient and environmentally-benign products and services.
Eco-enterprises include businesses and professionals that have the potential to transform challenges in energy efficiency and ecological sustainability into a competitive economic advantage. The report also includes information about the importance of this emerging sector to the region's economy and discusses how eco-enterprises in Greater Philadelphia compare to other regions.
For more information, visit www.dvrpc.org/Economic/.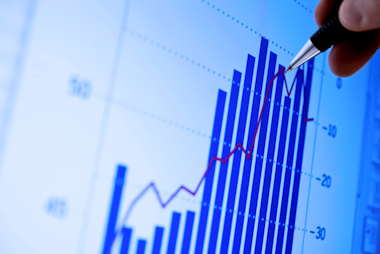 DVRPC Working on National Protocol for Greenhouse Gas Emissions Inventory
Rob Graff, Manager of DVRPC's Office of Energy and Climate Change Initiatives, has been appointed to a 14-member steering committee that will guide the development of a nationally-applicable protocol for community-scale greenhouse gas emissions inventories.
This effort has been organized by ICLEI-Local Governments for Sustainability, and includes a diversity of experts from local, county, and federal government, as well as academia and advocacy organizations. Mr. Graff will bring the perspective of regional planning organizations to the effort, drawing on his work leading DVRPC's Regional Greenhouse Gas Inventory work, as well as his participation in local and county efforts within the DVRPC region. The protocol is expected to be completed before the end of 2011.
For more information, contact Rob Graff, Manager, Office of Energy and Climate Change Initiatives, at 215-238-2826 or rgraff@dvrpc.org.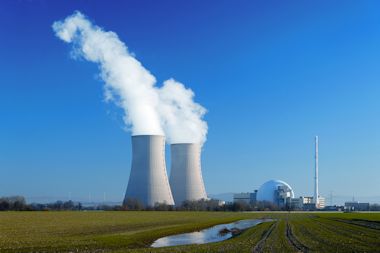 Impacts of Climate Change on Transportation Infrastructure Being Studied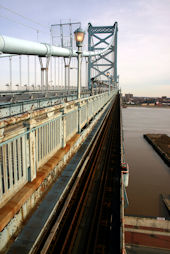 The Federal Highway Administration (FHWA) has developed a model for assessing the vulnerability of transportation infrastructure to the impacts of climate change, such as higher temperatures, changes in rainfall patterns, changes in extreme weather events and coastal storms, and sea-level rise. This project, a cooperative effort between NJDOT, NJTPA, SJTPO, NJ TRANSIT, and DVRPC, will pilot test that model with real world data from key transportation corridors in the State of New Jersey.
While this pilot project is likely to provide some insight into the vulnerability of this infrastructure to climate change, the primary purpose of this pilot project is to build capacity in all the agencies involved and to strengthen coordination of existing climate change adaptation efforts.
For more information on this project, contact Rob Graff, Manager, Office of Energy and Climate Change Initiatives, at 215-238-2826 or rgraff@dvrpc.org.
DVRPC Intern Presents Report at White House
A team of Penn Design graduate students, including DVRPC Intern Amy Bernknopf, recently visited the White House to present their plan for high-speed rail service in the Northeast Corridor.
The report outlines a bold new proposal for world-class high-speed rail, which will transform the economic geography of the whole Northeast Corridor. It also examines the benefits that such a system would offer in terms of mobility, economic growth, environmental sustainability, and social equity. It investigates the increased travel capacity the megaregion will need to enable its projected growth in jobs, population, and economic activity to be achieved by 2050. By creating two dedicated high-speed rail (HSR) tracks from Boston to Washington, the Northeast Corridor could achieve significant improvements in capacity, reliability, and travel times. Simultaneously addressing system-wide congestion and intercity connectivity, this new HSR network will sustain the Northeast's role as the country's premier economic and cultural driver.
To view the report visit http://studio.design.upenn.edu/hsr/node/81.