High Street Corridor Study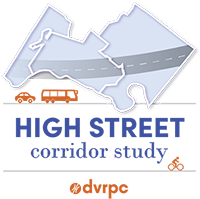 The High Street corridor is the Pottstown Area's primary small business commercial corridor and main street. Multimodal access, efficient traffic circulation, and beautification along this corridor are important to the livability and economic vitality of the Pottstown region.
The High Street Corridor Study will identify multimodal design improvements for High Street between the western boundary of West Pottsgrove Township (Quarry Road) and the eastern boundary of Lower Pottsgrove Township (Rupert Road).