Air Quality Partnership
The Air Quality Partnership needs your input on the air quality alert system! With your feedback, we will be able to improve outreach and education on a matter of crucial importance to public health. Please take five minutes to complete this survey: www.surveymk.com/s/AirQualitySurvey
The information you provide will be kept strictly confidential. Survey results will only be used to study the impact of the Partnership's activities.
Thank you for your participation in this important research and please share this with your family and friends! The survey will be open through the end of ozone season in September.
The Air Quality Partnership is a coalition of private companies, government agencies and non-profit organizations dedicated to raising awareness of air quality in the Delaware Valley and promoting actions that people and organizations can take to reduce air pollution and protect public health.
Through the Air Quality Action program, the Partnership disseminates air quality forecasts and advisories to notify the public and media when ozone or fine particle pollution levels reach unhealthy levels. The advisories offer suggestions to protect personal health and actions to take to reduce air pollution.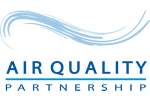 Visit the Air Quality Partnership Website
The Partnership raises awareness of air quality issues through paid and donated advertising, sponsorship of community events and through our partners' outreach to their employees, clients and stakeholders. The Air Quality Partnership is a program of the Delaware Valley Regional Planning Commission.