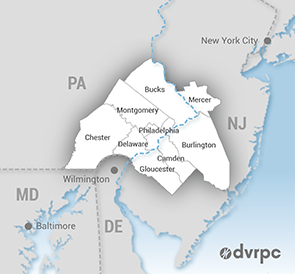 Serving the Greater Philadelphia region for more than 50 years, DVRPC convenes the widest array of partners across a nine-county, two state region to increase mobility choices, protect and preserve natural resources, and create healthy communities that foster greater opportunities for all. City, county and state representatives work together to address key issues, including transportation, land use, environmental protection, economic development, and equity.
DVRPC was formed by an Interstate Compact through legislation passed by the Pennsylvania Legislature in 1965, as reenacted and amended in 1967, and by the New Jersey Legislature in a series of conforming acts passed between 1966 and 1974. DVRPC has prepared a summary, Key Provisions of the Delaware Valley Urban Area Compact [0.1 MB pdf]. A copy of the Pennsylvania legislation, Act 43 of 1967 [3.0 MB pdf], is also provided.
DVRPC provides services to member governments and others through planning analysis, data collection, and mapping services. Aerial photographs, maps and a variety of publications are available to the public and private sector.
---
DVRPC serves as the regional planning agency for the nine-county, bi-state, Greater Philadelphia area, providing guidance and assistance to build a sustainable and livable region.
The Fiscal Year Planning Work Program for the Delaware Valley Regional Planning Commission incorporates the planning programs and support activities of DVRPC and its member governments within the nine-county DVRPC region.
DVRPC keeps media apprised of our ongoing efforts to improve mobility, the environment and quality of life in Greater Philadelphia.
Fulltime, part-time and internship opportunities are posted on a continual basis.
In 2015, DVRPC marked its 50th Anniversary, celebrating 50 years of planning for the Greater Philadelphia region. Learn more about DVRPC's past, present, and future by viewing our timeline, reviewing materials from our conference Breaking Ground and our celebratory Anniversary Dinner, and engaging with us as we envision the region's future through the The Long-Range Plan.
Information on DVRPC's Public Records Policy, Website Accessibility Policy, External Link Policy, Digital Data Disclaimer, and Title VI Statement.