The Connections 2045 Plan conducts a robust needs assessment for maintaining all existing road, bridge, and transit infrastructure. It also includes desired transportation investments to improve operational efficiency of existing facilities, and to expand roadway, transit, and bike and pedestrian infrastructure. The sum of all these needs is also known as the region's Vision Plan.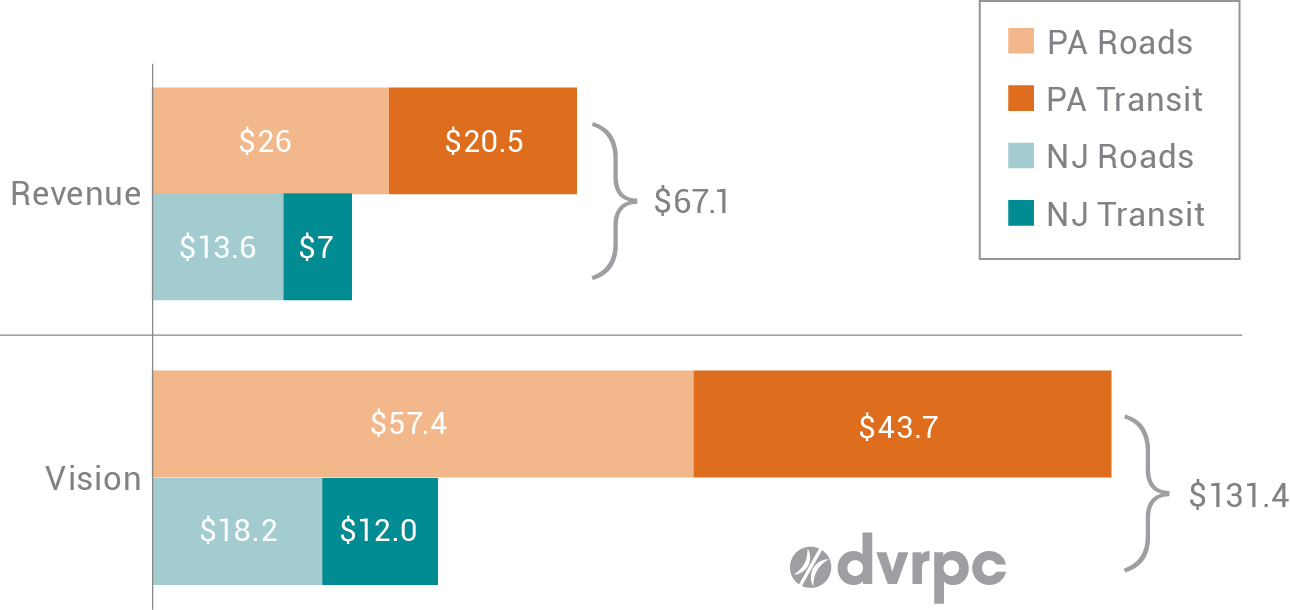 Federal requirements mandate that the Long-Range Plan be fiscally constrained and only include projects that can be funded with reasonably anticipated revenue sources. Due to the gap between future needs and anticipated funding, not all identified projects in the Vision Plan are able to be included in the fiscally constrained financial plan. The financial plan allocates revenue to different categories, and there are separate budgets for the Pennsylvania and New Jersey portions of the DVRPC region. These categories serve as placeholders for funding projects over the life of the Plan. The Connections 2045 Major Regional Project webmap accounts for changes to project scope, timing, cost, and inclusion in the fiscally-constrained plan as part of the Plan Amendment.
Public Comment Period
A public comment period is being held from May 26, 2020 to June 29, 2020 to accept infput on draft amended transportation amendments. The Amendment document can be found here. This version of the webmap contains projects with draft changes per this amendment, to compare with existing project costs and status see the Board-adopted webmap from December 2017: www.dvrpc.org/webmaps/MRP2045. Physical copies of the Connections 2045 Amendment are not available due to the COVID-19 related closures.The comment period will be advertised by legal notices in area newspapers, on the DVRPC web page, and via email to over 11,000 recipients on DVRPC's distribution list. As part of the comment period a public information session will be held on June 17 from 4 to 6 pm via webinar. Comments may be submitted at the June 17 meeting, online on the DVRPC Long-Range Plan web page under Connections 2045 Amendment section or by: Email: lrp@dvrpc.org Mail: Public Comments c/o DVRPC Office of Communications and Engagement 190 N. Independence Mall West, 8th Fl. Philadelphia, PA 19106-1520 Fax: 215-592-9125 Questions and comments must be submitted in writing. If you need assistance in providing a written comment, please contact the DVRPC Office of Communications and Engagement at 215-238-2929 or public_affairs@dvrpc.org. DVRPC must receive comments for the Draft LRP Amendment by 5:00 PM (local time) on June 29, 2020. Comments received via mail must be postmarked by June 29, 2020. Responses will not be provided unless comments are submitted in writing during the public comment period. Submitted comments will be present to the DVRPC Board, and all comments and responses will be available at www.dvrpc.org/longrangeplan.