DVRPC News: July 2013

Volume 35, Issue 1
July 2013
DVRPC Board Adopts the Connections 2040 Long-Range Plan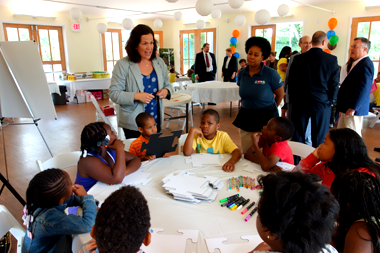 As the region's metropolitan planning organization (MPO), DVRPC is tasked with the development of a plan that ensures that the region's transportation system is sound, its environment is healthy, and its potential for intelligent growth is realized. Connections 2040: Plan for Greater Philadelphia, DVRPC's official long-range plan, does just that and was adopted by the Board this month.
Connections identifies four key principles to guide planning decisions over the next 27 years. They are:
Manage Growth and Protect the Environment;
Create Livable Communities;
Build the Economy; and
Establish a Modern Multimodal Transportation System.
Challenges in achieving these principles, such as a gap in needed transportation funding, are acknowledged in the Plan and complement the strategies to form a realistic, multifaceted vision for Greater Philadelphia's future.
The final product represents the culmination of input from DVRPC staff, elected officials, stakeholders, and the public over the last four years. To celebrate the Plan's adoption and honor everyone who contributed, DVRPC hosted a public celebration in Franklin Square, one of William Penn's original city parks, on July 25. Board members kicked off the event by signing a commemorative resolution. William Penn joined the festivities himself in his role as Philadelphia's first planner. Guests were able to view information on the long-range plan, and enjoy the summer day with soft pretzels and Philadelphia-themed mini golf games. Those children attending, who will play an integral part in carrying out the future vision of the region, learned about the four principles through an art project and enjoyed carousel rides.
To learn more about DVRPC's long-range plan and view the published document, visit www.dvrpc.org/LongRangePlan.
To learn more about the challenges and opportunities that the region is facing and to give your input on future investment, visit www.dvrpc.org/WhichWayNow.
$1.7 Billion Approved for Highway and Transit Projects in New Jersey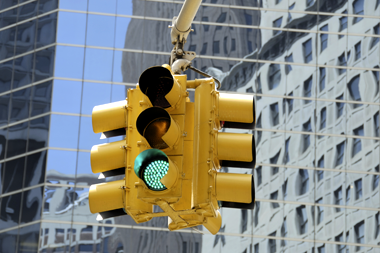 The DVRPC Board has approved $1.7 billion in funding for major highway and public transit investments in Burlington, Camden, Gloucester, and Mercer counties with the adoption of the DVRPC FY2014 Transportation Improvement Program (TIP) for New Jersey. The TIP lists all transportation projects that are federally and state funded, as well as those that are regionally significant. Each of these projects must be drawn from the long-range plan and serve to implement its goals. The list is multi-modal, and includes 130 highway, transit, bicycle, pedestrian, and freight-related projects for fiscal years 2014-2017 worth $1.7 billion (an average of $437 million per year). The total is comprised of almost $904 million for highway system projects and $843 million for transit projects implemented by NJTRANSIT and the Delaware River Port Authority/Port Authority Transit Corporation (DRPA/PATCO).
The highway program of the TIP includes $251 million to be allocated over the next four fiscal years toward the massive, phased, "Direct Connect" interchange project, as well as $56 million for the continuation of the "Missing Moves" Bellmawr project. Both projects aim to improve safety and reduce traffic congestion in Camden County. Direct Connect will eliminate dangerous merging and weaving movements on I-295 caused by the vehicles entering from NJ 42 and I-76. Missing Moves will construct on-and off-ramps to better connect NJ 42 to I-295. Together, these two projects constitute the second largest highway project in NJDOT's history, after the Pulaski Skyway rehabilitation.
Other projects in the highway program of the FY2014 TIP include bridge rehabilitation or replacement, local county and municipal aid, emergency service patrol, and bicycle and pedestrian streetscape improvements, such as the Gloucester County Multi-Purpose Trail Extension that will link Rowan University, the Glassboro Arts District, and transit facilities.
The transit program of the FY2014 TIP provides funding to start the early phase of NJTRANSIT's Bus Rapid Transit (BRT) service from Camden and Gloucester counties to Camden and Philadelphia. This 23-mile line will offer benefits of a light rail system, as well as faster and more efficient service than an ordinary bus line. In addition to NJ TRANSIT's $783 million program, funding for transit includes $60 million over the next four years to pay for portions of various DRPA projects.
In addition to the TIP, the DVRPC Board also adopted the Transportation Conformity Finding for the Commission's Connections 2040 Long-Range Plan and for the FY2013 Pennsylvania and FY2014 New Jersey TIPs. Transportation Conformity is the process that ensures plans and programs receiving federal aid are consistent with the region's air quality goals.
To view a copy of the TIP or current TIP projects, visit www.dvrpc.org/TIP.
Use of RIMIS Program at Recent Regional Events a Success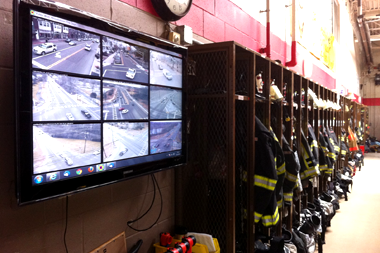 Moorestown Fire Department
DVRPC's Regional Integrated Multi-Modal Information Sharing (RIMIS) software system was applied at large cultural events for the first time this summer and proved to be successful.
RIMIS is a web-based information exchange network connecting traffic operation centers, 9-1-1 call centers, and local emergency response teams. These organizations are able to view the state of the region's transportation system through detailed databases, maps with situational information, and real-time traffic videos. They can then quickly and concisely share the traffic status and take action to manage highway incidents and reduce traffic congestion.
During this year's US Open Golf Championship, the US Golf Association (USGA) partnered with the Haverford Police Department to install RIMIS in their joint operations center. Officials used the access to PennDOT's closed-circuit television (CCTV) cameras to effectively coordinate the shuttles carrying spectators to and from the action on the links. RIMIS proved even more essential to the event's success as abundant rain compelled the crowds to return to their vehicles.
Elsewhere, RIMIS was used by the FBI in their security efforts during Philadelphia's Independence Day festivities to monitor the transportation system around the Benjamin Franklin Parkway. It was also used by police escorts in South Jersey to monitor the locations of a motorcycle run's participants on NJDOT and Burlington County CCTV cameras.
DVRPC has provided access to RIMIS at approximately 70 entities throughout the region, including local police and fire houses. The program is well suited for a variety of agencies because of unique functions such as its "video wall" and its customizability.
For more information, or to learn how your agency can use RIMIS, please contact Laurie Matkowski, Manager, Office of Transportation Operations Management, at (215) 238–2853 or lmatkowski@dvrpc.org.
Do you know if your air is safe to breathe?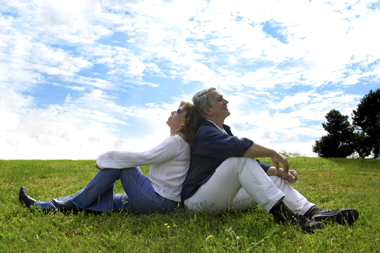 The Air Quality Partnership, a program of DVRPC, needs your input on the air quality alert system. With your feedback, we will be able to improve outreach and education on a matter of crucial importance to public health.
Please take five minutes to complete this survey:
www.surveymk.com/s/AirQualitySurvey
The information you provide will be kept strictly confidential. Survey results will only be used to study the impact of the Partnership's activities.
Thank you for your participation in this important research and please share this with your family and friends! The survey will be open through the end of ozone season in September.
The Air Quality Partnership is a coalition of over 350 public and private organizations from Delaware, New Jersey, and Pennsylvania that work collaboratively to educate the public about ways to improve the region's air quality. On days when air quality is forecast to be unhealthy, the Partnership declares an Air Quality Action Day and asks the public to take voluntary actions to protect their health and reduce pollution levels. For more information about ozone, particle pollution, and the Air Quality Partnership, visit www.airqualitypartnership.org.
New Ways to Save on Your Commute and Travels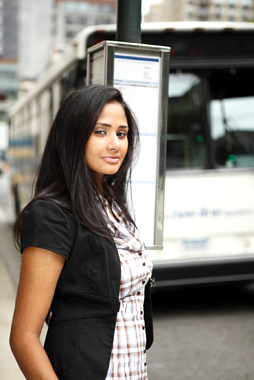 Commuters using RideECO can now save more money on car sharing, and Enterprise CarShare clients can save money on transit, thanks to new discounts RideECO and Enterprise CarShare (ECS) are offering exclusively to their members. The two programs offer sustainable, cost-saving ways to commute to work and travel around town.
DVRPC's RideECO program allows employers and commuters to save by putting pre-tax dollars toward fares on public transportation. Commuters can save up to $900/year and employers save money by reducing FICA taxes, which can be more than $200 per year, per participant.
Enterprise CarShare, previously PhillyCarShare, has nearly 200 "pods" offering newer, fuel-efficient and hybrid cars in and around center city Philadelphia. Employers who offer RideECO to encourage transit use may be interested in carshare for employees who don't have a personal car at work, to use to travel to meetings and other business-related activities that are not accessible by transit.
Here are some of the deals available:
RideECO will offer free shipping and handling for one year ($180 value) for Enterprise CarShare corporate clients that enroll in the program.
RideECO will waive the setup fee for Enterprise CarShare clients that enroll in RideECO Select ($250-$750 savings, depending on participation levels).
Enterprise CarShare will waive the standard application and membership fees and offer a $50 driving credit to RideECO clients that sign up for an ECS corporate account. To redeem, contact Heather Nawoj at heather.k.nawoj@enterprisecarshare.com or 215-220-2031.
Individual employees who work for a company that offers RideECO will receive a waived application fee ($25 value) and a $35 driving credit upon approval of their application. To redeem this special offer, simply sign up online here.
ECS rates can be found at: www.enterprisecarshare.com/philadelphia-rates.
See www.rideeco.org for more information about RideECO.
Keeping Seniors Safe on the Road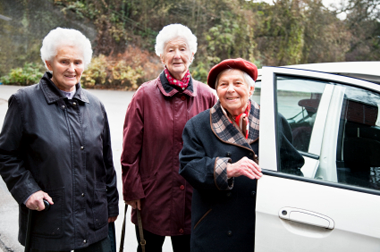 In order to sustain safe senior mobility, we need to recognize that although many older drivers are still capable, the impact of aging has negative effects on the safe driving abilities of some seniors. It is important for us to address the range of mobility alternatives, in addition to the driver safety issues of seniors.
A recent Regional Safety Task Force (RSTF) meeting focused on sustaining safe senior mobility and the programs that are available to seniors in the Delaware Valley. AAA Mid Atlantic offers programs that test driving skills, educate seniors and all drivers about medications that can have an adverse effect on driving, and even adjust a car to meet a person's physical needs. The New Jersey Motor Vehicle Commission's "Behind the Wheels" program discusses topics like sharing the road and pedestrian safety. PennDOT is also developing a brochure on mobility alternatives for seniors.
For more details, a summary of the RSTF meeting is available here [0.2 MB pdf].
County Crash Data Now Available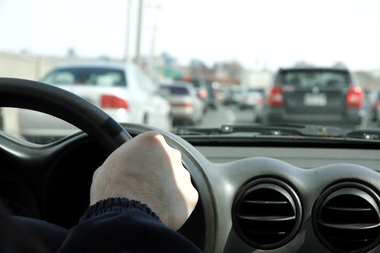 DVRPC has released a series of county Crash Data Bulletins, which feature an analysis of road safety and crash trends across the nine counties and each of their municipalities in the Delaware Valley region. The bulletins highlight crash data and trends gathered in 2011, and are intended to raise awareness of traffic crashes and promote DVRPC safety programs that will work towards improving safety.
While DVRPC promotes policies and programs for improving road safety, drivers can make many efforts themselves to avoid crashes, such as:
Avoid distractions like loud music, cell phones, and food
Always buckle up
Never drive while intoxicated—Alcohol impairment was a contributing factor in 28 percent of the Delaware Valley region's traffic fatalities
To view the county Crash Data Bulletins, click here and search for "title" and "crash data bulletin."
County and municipal crash data is also available in an interactive webmap.
Thank You to Our Sponsors

DVRPC had the privilege of serving as the local host for the National Association of Regional Councils' (NARC's) 47th Annual Conference and Exhibition, which was held June 23 – 26 at the Sheraton Society Hill Hotel, Philadelphia. The ability to attract timely speakers, show our guests the best of Philadelphia, and make the conference a success was due in large part to our sponsors, who generously contributed to the cause. Please view these agencies and organizations here.