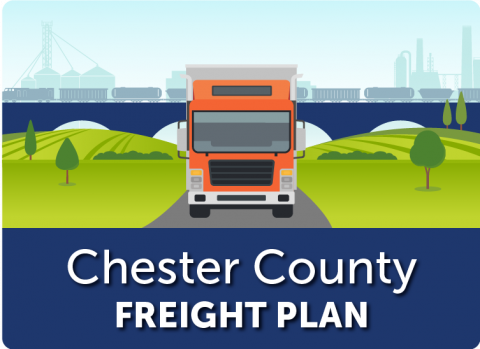 The Chester County Planning Commission's Landscapes3 Comprehensive Plan outlines a clear vision for the future of the Chester County framed around six goal areas: Preserve, Protect, Appreciate, Live, Prosper, and Connect. The Chester County Freight Plan grows out of a recommendation from the Connect goal and will seek to advance objectives within the Prosper and Connect goal areas of the plan. This county freight plan will be conducted in two phases. Phase I of the plan will focus on establishing the county's freight profile by defining the key freight industries, infrastructure, activity, and trends. This work will help identify issues and key tasks to be taken as a part of Phase II and the development of a county freight action plan.
Freight Input and Needs Identification
The Delaware Valley Regional Planning Commission (DVRPC) solicited input about freight activity in Chester County and the concerns of those who drive, bike, or walk and share the roadway with trucks or trains. Using an interactive web map, issues and comments were collected from November 2021 through January 2022. This input will be critical for establishing priorities and developing strategies to address freight activity in the county as a part of this plan. Thank you to those who helped to identify concerns to inform the development of a Freight Action Plan for Chester County.
Project Scope
Phase I (July 2020 – June 2021)
Steering committee formation
Targeted industry outreach
County freight profile development
Identify issues and objectives for a county freight action plan
Report documenting Phase I findings and objectives for Phase II
Phase II (July 2021 – June 2022)
Refine objectives for the county freight action plan
Industry and public outreach
Documentation of strategies
Final freight plan may include:

Freight performance metrics
Truck route network designation
Strategies to support urban freight issues in downtown areas
Policy recommendations for the advancement of key industry sectors