DVRPC News: January 2021
Volume 42, Issue 7 | January 2021
Work Program Public Comment Period Ends January 11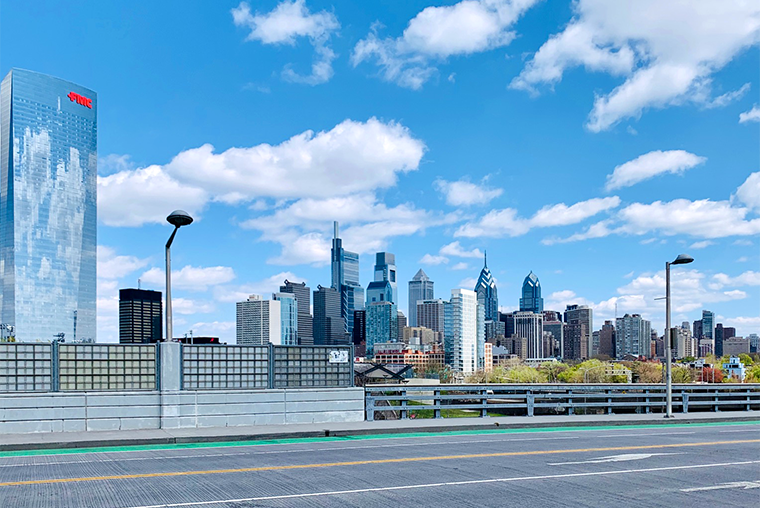 Photo by Karin Morris, DVRPC
DVRPC's 30+ day public comment period for the Draft Fiscal Year (FY) 2022 Unified Planning Work Program will close at 5:00 p.m. on January 11, 2021. This document outlines all of the federally funded planning projects for the nine-county region from July 1, 2021 to June 30, 2022. The Work Program is developed annually by the DVRPC Board with its planning partners to reflect the region's short-range planning needs.
The public notice, with information about submitting a comment, is posted on DVRPC's website. To see what we're currently working on, and to view the Draft Work Program, visit www.dvrpc.org/WorkProgram. A limited number of hardcopies of the document are available upon request by emailing public_affairs@dvrpc.org. It can be translated into an alternative format or language, if requested.
DVRPC is Seeking Ideas That Provide Better Access to More Travel Options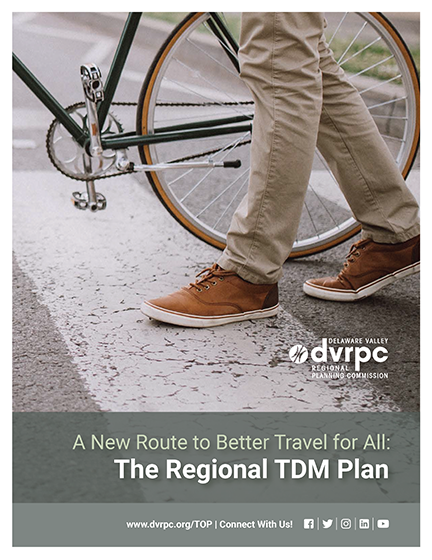 Imagine a region of connected communities, where residents and workers don't necessarily need cars and have the freedom to choose from multiple reliable, affordable, safe, and well-connected transportation options. How do we make that vision into a reality?
DVRPC is excited to announce the Travel Options Program (TOP). We are seeking creative and practical ideas that will reduce the number of single occupancy vehicles on the region's roadways — otherwise known as Transportation Demand Management (TDM). The new program will fund several ideas that respond to the goals, outcomes, and strategies established in A New Route to Better Travel for All: The Regional TDM Plan [1.1 MB pdf].
Want to learn more? Visit the TOP webpage and attend the TOP Information Session on January 14, 2021 from 10-11 a.m. To submit an idea, fill out a short and easy expression of interest form. All forms must be submitted no later than Friday, January 22, 2021 at 5:00 p.m. If your idea is selected, you will be asked to submit a longer proposal with more details, including a timeline and a budget, by March 19, 2021 at 5:00 p.m.
Learn About the Health Element DVRPC Created for the City of Camden's Master Plan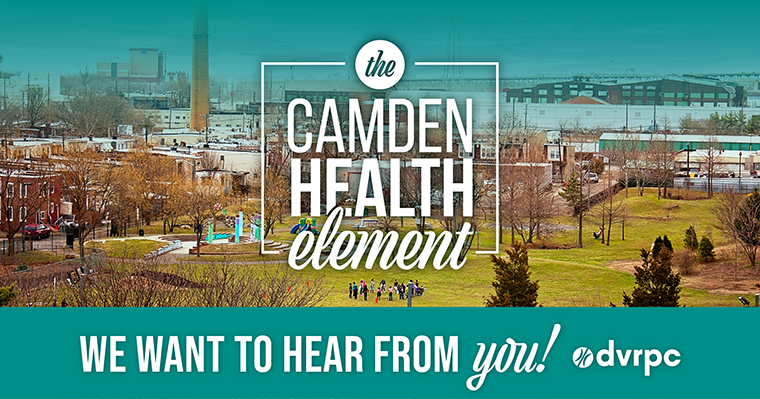 DVRPC recently drafted the Camden Health Element, to potentially be adopted by the City as part of the City of Camden's Master Plan, and is now seeking comments. With the Health Element, the City of Camden is embracing the opportunity to incorporate community health and well-being into the city's Master Plan, and ultimately into the policies, programs, and spaces that make up the City.
The Camden Health Element establishes a strong policy framework and provides goals, strategies, and actions to address how land use, development, services, and programs may support greater overall health, social equity, and environmental justice within Camden.
The Draft Camden Health Element will be available online for review, beginning on January 11. There will be a public information session on February 1, 2021 from 7 to 8:30 p.m. Please register in advance.
The Draft Camden Health Element will be reviewed by the City of Camden Planning Board at its regularly scheduled February 11, 2021 meeting, and adopted at another regularly scheduled Planning Board meeting in the near future.
New Data: See Which Municipalities are Implementing Smart Growth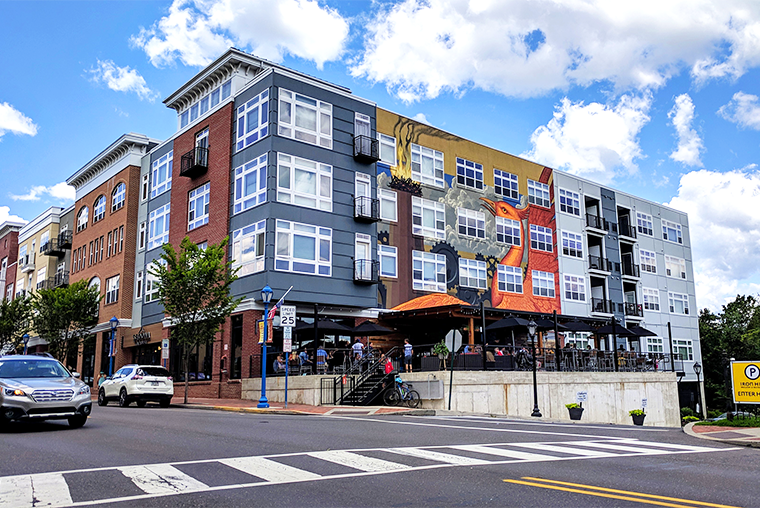 Photo by Andrew Svekla, DVRPC
DVRPC has updated the
Municipal Adoption of Smart Growth Tools
map series with new 2020 data. Users can see which municipalities in Greater Philadelphia are using land use regulation and other tools to advance the smart growth goals of the
Connections Long-Range Plan
.
Since 2013 (when the data was last updated), the region has experienced the greatest increases in adoption of ordinances and policies allowing alternative energy, accessory dwelling units, shared parking, and Complete Streets. Also new to the series are maps showing which counties and municipalities have adopted bicycle and pedestrian plans.
Please contact Andrew Svekla at asvekla@dvrpc.org if a municipality or county should be added or removed from one of the maps. Additional resources for local governments, including case studies and sample ordinances, are available in the Municipal Implementation Toolbox.
Author Richard Rothstein Discusses History of Segregation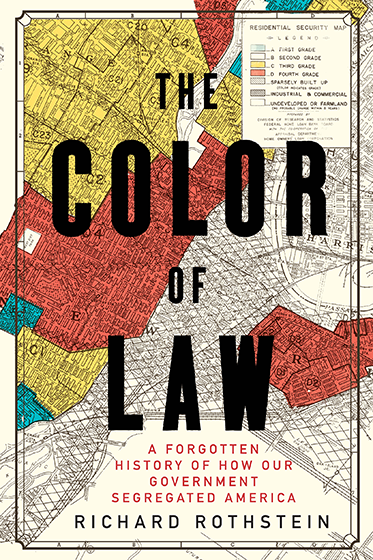 On behalf of the DVRPC Board, Executive Director Barry Seymour invited historian Richard Rothstein, author of The Color of Law: A Forgotten History of How Our Government Segregated America, to make a public presentation about segregation and systemic racism. Mr. Rothstein argued that once we understand that the racial makeup of our communities has been created and maintained by governmental law and policy at all levels, only then can we design remedies. Over 600 people attended the free webinar.
The event was held as part of DVRPC's annual Board Retreat on December 9th. Following the public talk, Mr. Rothstein joined a "local response" panel facilitated by DVRPC's Director of Planning, Patty Elkis. Panelists included: Andrew Levecchia, Director of Planning in Camden County; Eleanor Sharpe, Executive Director of the Philadelphia City Planning Commission; and Evan Stone, Executive Director of the Bucks County Planning Commission.
Learn more about Mr. Rothstein's book here.
Region's First In-Street Bicycle Counters are Installed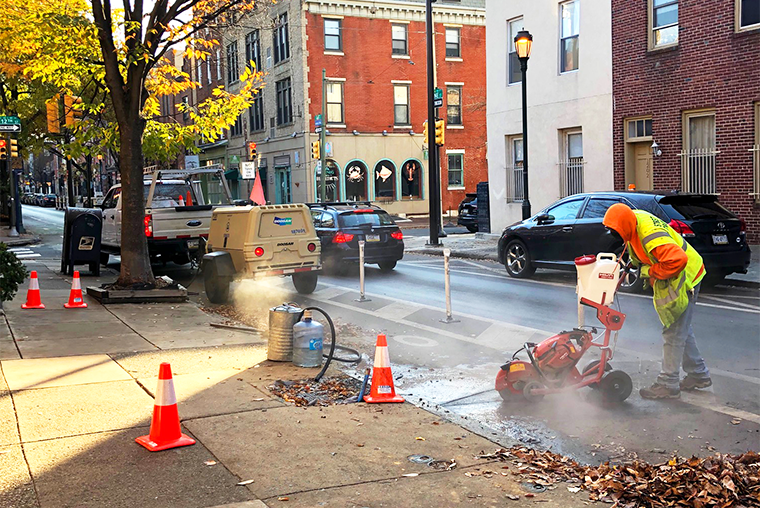 Photo by Cassidy Boulan, DVRPC
In-street permanent bicycle counters have been installed in the bike lanes on Spruce and Pine streets, near 12th Street in Philadelphia. Unlike the other permanent counters on our region's trails, these in-street counters are the first of their kind in a bike lane on a city street.
Gathering data on bicycle counts helps planners monitor seasonal and time-of-day trends, particularly on high-use corridors like Spruce and Pine streets. With those counts in hand, City officials can make decisions about traffic flow and infrastructure improvements.
There has been an increase in bike ridership due to COVID-19 as more Philadelphians seek ways to safely travel and recreate while practicing social distancing. The bicycle counters were installed in partnership with DVRPC, Philadelphia Streets Department and the Office of Transportation, Infrastructure & Sustainability (OTIS). View the data on DVRPC's Permanent Bicycle Counting webpage.
DVRPC's ExPo Program Brings Temporary Protected Bike Lanes to Narberth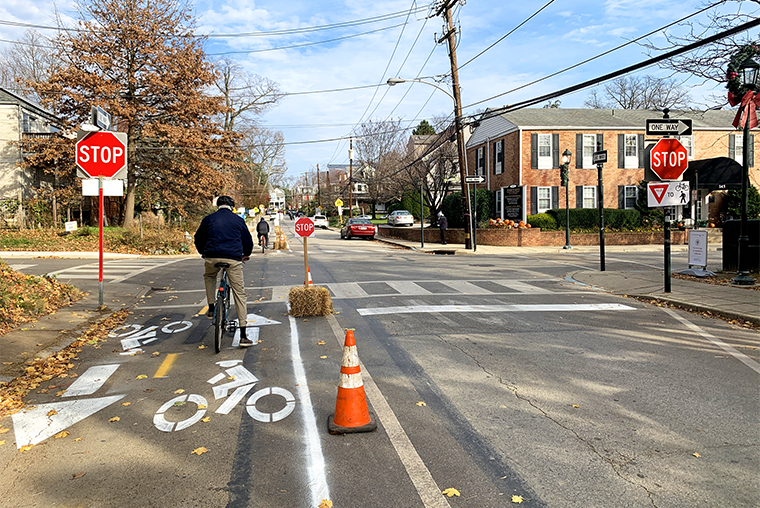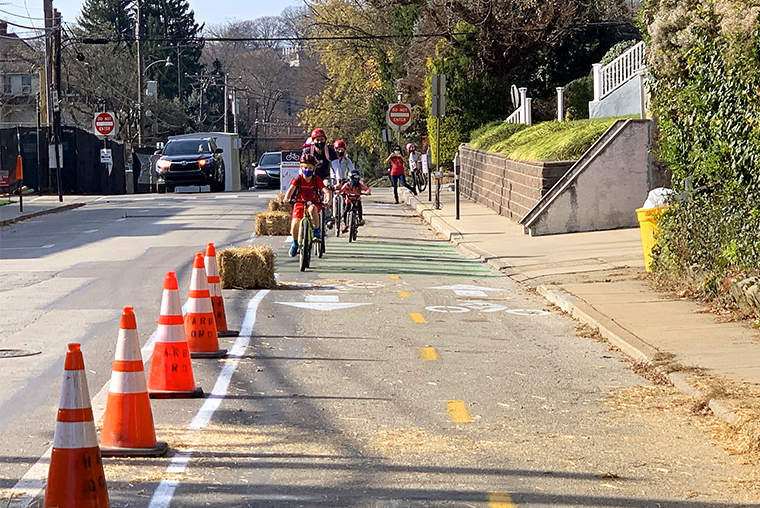 Photos by Betsy Mastaglio, DVRPC
DVRPC partnered with Narberth Borough and the Narberth Cycling Club to build a protected bike lane on Windsor Avenue as a 10-day pilot project. It demonstrated features of "complete streets" design (i.e. streets that accommodate all users and improve mobility), and ran from November 20 through November 30.
The pilot included installation of a two-way protected bike lane along Windsor Avenue, temporary removal of a left-turn lane at Narberth Avenue, and enhanced signage and pavement markings to remind drivers to yield to people walking and biking at intersections. The demonstration provided an opportunity to collect relevant data and community feedback with minimal cost and use of Borough resources. The pilot is the first step toward implementation of the bicycle network goals in Narberth's Comprehensive Plan. Feedback and data from the pilot will help guide bicycle infrastructure priorities and possibly future pilots and projects in Narberth.
The Narberth project is a part of DVRPC's new program, ExPo: Experimental Pop-Ups Program. If you are interested in bringing a similar pilot project to your community, please contact Betsy Mastaglio at bmastaglio@dvrpc.org.
Three DVRPC Staff Recognized for Their Contributions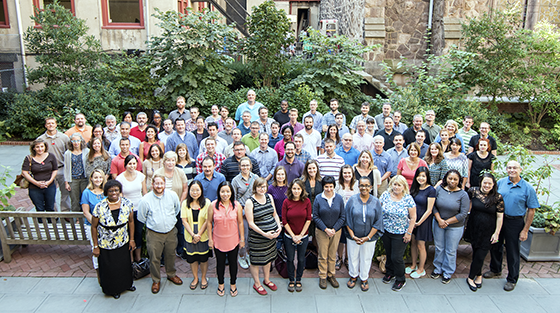 DVRPC's Staff Recognition Awards program helps staff members celebrate one another and recognize the positive impact coworkers make - at DVRPC, in the region, or otherwise - by nominating each other for an award. Executive management reviews nominations and selects several individuals who have gone above and beyond, while embodying one of DVRPC's shared values. The following staff were recognized in December 2020:
Staff Accountant Anthony Gordon was recognized for professionalism, thoroughness, clear communication, and exceeding expectations, and for making accounting easy for DVRPC staff.
Spencer Gober, a Planner in the Office of Economic and Community Development, was recognized for adapting DVRPC work to address relevant issues through innovative content, and for flexibility, enthusiasm, and good communication skills, particularly with the "Five P's That Aren't Pandemic" campaign.
Shoshana Akins, Senior Public Participation Planner, was honored for respecting others' differences, offering patience and grace to others, passion for equity in planning and DVRPC, and fresh energy and leadership, particularly with the Public Participation Task Force, the Long-Range Plan workshops, and on the Inclusion, Diversity, Equity, and Allyship Committee.
Staff Profile: Najah Jackson, Executive Office Coordinator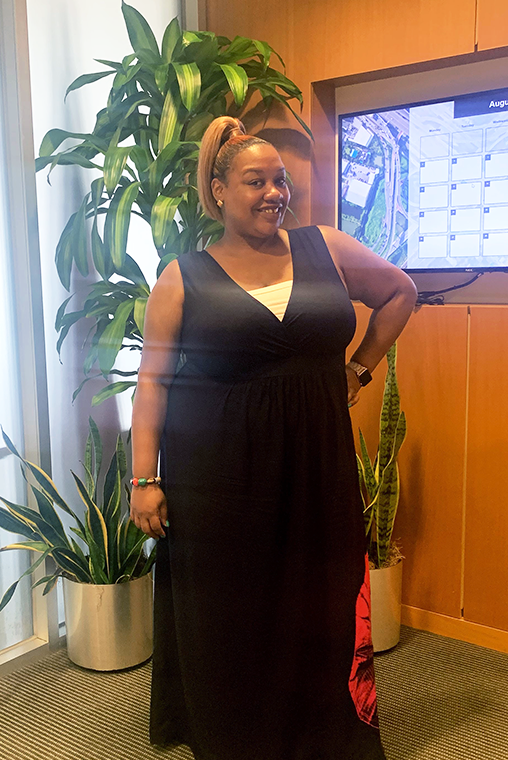 What did you want to be growing up?
A disc jockey. I love to sing and see people dance, and to get parties started. I never did get to be a DJ, but I am the playlist person for family events!
Where did you grow up?
I am the daughter of a military mom, so we moved around a lot. I have lived on bases in Goose Creek, South Carolina; Pensacola, Florida; Wales, England; and Sicily, Italy. But I have family roots in Philadelphia.
What was it like growing up abroad?
At age 9, my mom was stationed in Wales, England. I was the only Black girl at school, and it was hard - I had to deal with racism, coupled with the community protesting having a U.S. base there. It was so bad that my mom sent me back to Philly to live with my grandma for a while. Later, in high school, my mom was stationed in Sicily, about two hours from Palermo. My favorite memory is being on the basketball and track & field teams, and the travel in Europe we did for competitions. Since we were living in a somewhat remote spot and it took a long time to get places, we had to leave for our long bus trips right after school on Wednesday. Nobody minded the short school week! Looking back, I feel very grateful for those travel experiences.
What did you study in college?
I wanted to attend an HBCU, and started out at Tuskegee University in Alabama, because they gave me a nice scholarship. I thought my major would be Accounting, until I encountered macro and micro economics! After junior year, I ran into money issues and returned to Philly, completing an Associate Degree in Computer Science.
How did you end up at DVRPC?
I started out with a publishing company but was laid off during the Great Recession. Then I had my son, and stayed home to care for him as a baby. I went back to work as Executive Assistant/Office Manager at a nonprofit supporting women and refugees with health, homeownership, legal and other life issues. It was important and good work, but not a good place to work - too chaotic with extremely high turnover. When I landed the job with DVRPC, I felt very blessed.
What are your job responsibilities?
My job responsibilities have evolved since I came on board four years ago. I began assisting with executive office administrative needs, especially with the Board and RTC. More recently, I've been working with the Office of Communications and Engagement to identify the best customer relationship management (CRM) software for our needs. This year, I started assisting with compilation of the work program document. I enjoy being part of the team that puts this important document together, that describes all the work that DVRPC will do in the following fiscal year. Working on this has given me an opportunity to read all the scopes of work and better understand the tremendous breadth and depth of work that the commission conducts.
What three words best describe you?
Extrovert, encouraging, and straightforward
Do you have a life philosophy?
Faith without works is dead. In other words, you have to work to achieve what you believe in, or it won't happen.
We are all living through a pandemic and stay at home orders. Have you taken on any new obsessions to get by?
I have two: First, I've taken a liking to apple/ginger/pear flavored sparkling soda - I think I've gone through over 50 bottles already! And second, my son and I like to watch National Geographic animal shows. The last one was about the 15 most dangerous dogs.
When we can get back to normal, what are you most looking forward to?
Being able to get together in person again. I've lost some people from COVID, and hate that we cannot even attend a funeral in person and help comfort the grief with hugs.
If you could be Queen of the Delaware Valley for a day, what would you declare?
There'd be a more diverse workforce - people of different backgrounds working together - and this will lead to greater understanding.