DVRPC News: September 2020
Volume 42, Issue 3 | September 2020
NJDOT's Transportation Alternatives Set-Aside Grant Program is Open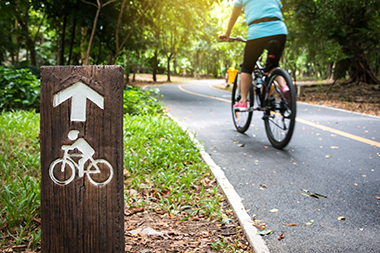 DVRPC is helping the NJDOT Local Aid Resource Center open a funding round for the Transportation Alternatives Set-Aside (TA Set-Aside) program. This competitive program provides federal funds for community-based 'non-traditional' forms of surface transportation such as walking and biking.
New this year, is an equity component to the TA Set-Aside Program. Projects in eligible communities will receive technical assistance with the grant application, as well as additional points during the scoring process.
For more information on the TA Set-Aside program and to schedule a One-on-One Pre-Application meeting, please visit the NJDOT Local Aid Resource Center grant program's website. Applications for this program are due by November 24, 2020 and must be submitted online.
September is National Bike Month
September 2020 is designated National Bike Month by the League of American Bicyclists. Across Greater Philadelphia, advocates and organizations will celebrate Bike Month and Bike-to-Work Week on September 21-27. DVRPC encourages you to replace a car trip with a bicycle, if possible.
At DVRPC, every month is bike month. We view the bicycle as a mode of transportation in addition to a great form of recreation. We support local bicycle planning efforts through data collection, planning projects, and identification of best practices that may be appropriate for Greater Philadelphia.
COVID-19 has changed the way we travel in the region, and more people than ever are bicycling. Check out how travel has changed over the past six months. Read how we're helping to connect essential workers with donated bicycles through the Greater PHL Bike Match program. See DVRPC's Bicycle Planning webpage for the latest data and planning tools, including our bicycle and pedestrian counting programs, the Bicycle Level of Traffic Stress Analysis, the Bike-Friendly Resurfacing Program, and more.
Follow @DVRPC on social media and check out the Commission's newsroom throughout September for virtual events, resources, data, and interesting facts about bicycling in our region.
Youth-Run Grant Program Promotes a Healthy Camden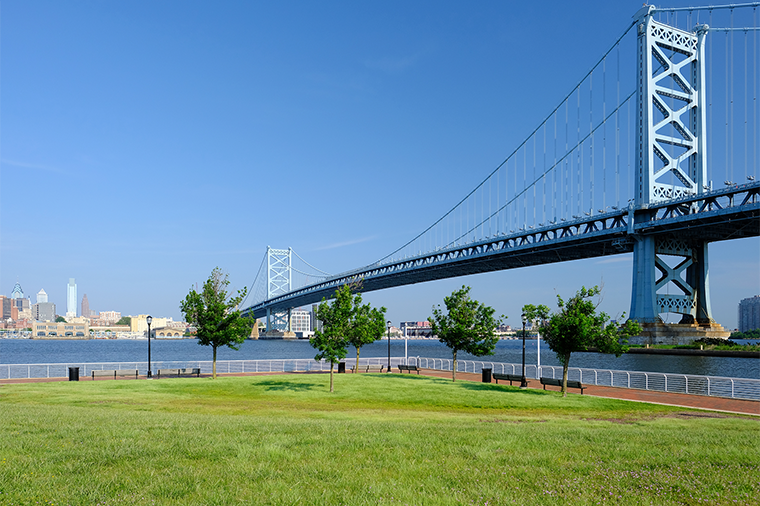 With funding from Campbell's Healthy Communities initiative, DVRPC worked with several nonprofits to help members of the Camden Youth Advisory Council to make five grants for projects that can directly impact their communities.
Members of the Camden Youth Advisory Council were tasked with creating a "mini-grant" program, seeking grant proposals that would support healthier communities and promote a positive view of Camden. They worked closely with staff from DVRPC, the Food Bank of South Jersey, and The Food Trust - all members of the Campbell's Healthy Communities initiative - to develop the program, review eight proposals, and select five projects that are each receiving $4,000 in grant funding. Youth members identified goals for the mini-grant program based on DVRPC's ongoing work in Camden City as well as their lived experiences in their neighborhoods.
The selected initiatives include addressing food access/food insecurity needs, employing youth for a summer camp and community food stand, and organizing community events including a mural painting, tree planting event, farmer's market, and more. See the press release for details about the selected projects and nonprofits. For more information about DVRPC's healthy communities planning efforts, visit www.dvrpc.org/Health.
DVRPC Releases SEPTA Transit-Oriented Development Policy Research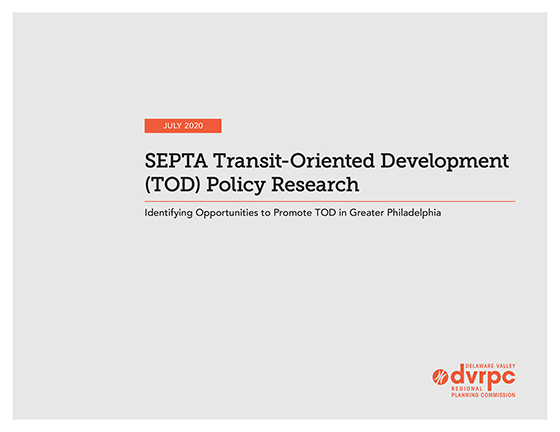 DVRPC completed a new policy report with SEPTA that identifies strategies the agency can use to support Transit-Oriented Development (TOD). TOD is compact, mixed-use development within easy walk of a transit station.
In recent years, transit agencies have come to view agency support for TOD as a promising strategy to address declining ridership levels and an opportunity for revenue generation. The report is designed to serve as a resource that can help SEPTA and its local partners strengthen the connections between transit, land use planning, and development decisions.
Read the report: www.dvrpc.org/Products/18031.
DVRPC Speaks on Panel about Air Quality's Impact on the Health of Latinos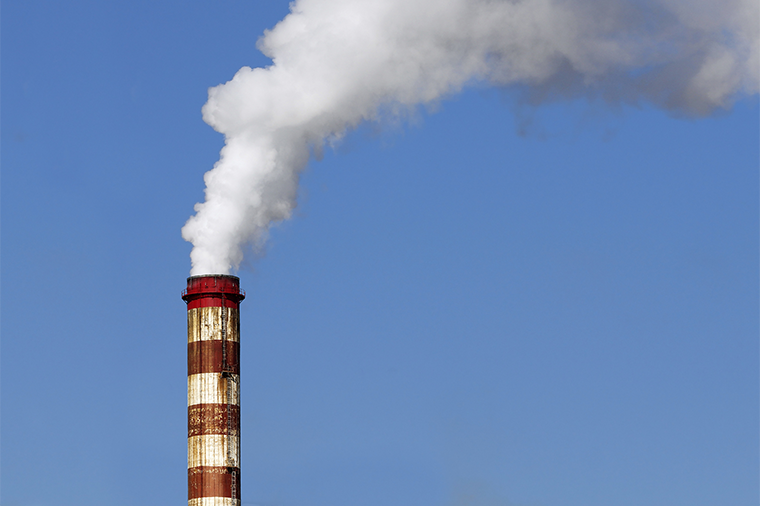 A recent online panel hosted by the region's LatinX media outlet, AL DÍA News, included DVRPC's Air Quality Program Manager, Sean Greene. It discussed the impact of air quality within Greater Philadelphia's Latinx communities. Other speakers included, Dr. Marilyn Howarth Director for Community Engagement at the Center of Excellence in Environmental Toxicology at the University of Pennsylvania and Judith Emmons, Director of Primary Care at the Congreso Health Center.
In the region, some of the highest measurements of pollutants come from areas with high Latinx populations. The discussion covered factors that contribute to bad air quality and the negative health impacts it can cause, including asthma and lung cancer. The speakers shared recommendations to increase awareness about health issues caused by poor air quality and stressed the need to communicate this information in culturally competent Spanish language materials. DVRPC partners with many community organizations to share ways to improve air quality and report the region's daily measurements through the Air Quality Partnership.
Listen to the discussion and read more.
Get to Know Our Summer Interns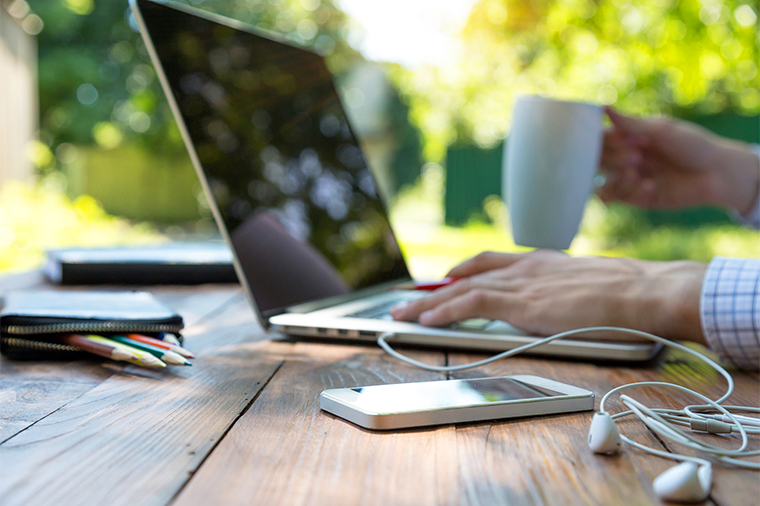 This summer, ten interns worked alongside DVRPC staff across the Commission's different departments. Due to the coronavirus pandemic, Communications Intern, Yaslyn Lora, virtually interviewed them to learn about their experiences at DVRPC this summer. Selected responses are below:
Which school/program are you currently or were you most recently enrolled in?
Keri Klinges: I'm currently enrolled in Temple's Professional Science Master's in Geographic Information Systems. I received my Bachelor's degree in Geology from Temple in 2019.
Christopher Miller: I am a rising senior at Lehigh University, pursuing a Bachelor of Business and Economics with majors in marketing and management.
John Saylor: University of Pennsylvania School of Law.
Anne Nygard: I'm currently enrolled in Temple University's Masters in City and Regional Planning.
Why did you apply for an internship at DVRPC?
Al-Jalili Gault: I applied for an internship with DVRPC's Office of Energy and Climate Change Initiatives (OECCI) because I have a passion for climate resilience. I want to see all local governments have climate-friendly practices and policies, and working at DVRPC would allow me to help create that vision.
Erin Curry: I wanted to investigate planning as a possible career path, and I knew the best way to find out if I was really interested was to experience it for myself! I became especially interested in transportation planning after spending a semester in Copenhagen and completing an internship for the Bicycle Coalition of Greater Philadelphia.
What has been your favorite project or experience as a DVRPC intern?
Lauren Seachrist: My favorite project as a DVRPC intern was working with Anthony, Bill, and Van to perform risk assessments of member governments. My favorite part of the project was learning how to locate and analyze member government audit reports.
Mark Morley: Working on Bordentown's Safe Routes to Transit program was really rewarding, I learned a ton and got to refine some design skills.
Jiehao Zhu: I am working on a traffic data analysis task to find how it changed after people stayed at home. I have developed a web viewer for it and hope it could be utilized for different projects.
What is the most important thing you have learned from interning at the DVRPC?
Mark Morley: Regional planning requires a lot of cooperation and compromise from many different stakeholders. This is difficult, but so necessary!
Keri Klinges: One of the most important things I've learned from my internship with DVRPC is that often you have to let the data guide your analysis, even if that means changing your initial research questions or expectations. As an organization that prides itself on data-driven planning solutions, it's been really inspiring to work with people at DVRPC who are so willing to adapt in order to provide the most accurate information to the communities it serves.
John Saylor: Getting an inside look at the metropolitan planning process and how MPOs are working to promote equity and environmental justice.
What is your favorite location or activity in the region?
Yaslyn Lora: I enjoy walking around Chinatown and discovering my next go to restaurant. There are so many to choose from which can be overwhelming but it is so thrilling!
Al-Jalili Gualt: I love biking along the Bala Cynwyd Heritage Trail.
Lauren Seachrist: My favorite location in the region is Cherry Street Pier. Lots of local artists, encouragement of different cultures with excellent resources, and delicious dark chocolate ice cream. It is a very underappreciated gem of Philadelphia.
What does "working remotely" actually look like for you?
Erin Curry: Until recently, I was living in Philadelphia with a couple of my friends from Temple and working out of my bedroom with a very long commute of two feet from my bed to my desk. I've now moved back home to Pittsburgh, and work from the kitchen table while being closely supervised by my family's Weimaraner, Tobin.
Christopher Miller: Having my cat, Butterscotch, interrupt many virtual meetings in pursuit of attention and treats.
Anne Nygard: Mostly trying to keep the dog from barking during Zoom calls!
How do you engage in conversations about racial and social justice issues?
Jiehao Zhu: As an international student from China, 2020 has been a very tough period of time for me. Although I feel overwhelmed by the local and global news sometimes, I try to share my feelings with my colleagues at DVRPC and appreciate the understanding. Planners are always taught to plan for social equity and I am on the way to equip myself with caring, tolerance and humbleness.
Al-Jalil Gault: When engaging in conversations about racial and social justice, I have to remind myself that everyone has a different understanding and relationship to race, power, and privilege. I also have to remind myself that I can't make assumptions about how far along someone is in their journey in debunking internalized racism, sexism, homophobia, xenophobia, or other -isms/phobias. I can't even assume that everyone has even begun that journey (it's a hard one to start). Beginning conversations with this reminder to myself allows me to be calm and kind while conversing on these tough subjects. Additionally, I have to remind myself of the popular saying "racism isn't the shark; it's the water". I believe this saying reminds us that these social ills are not the results of action from one person, or even a group/collection of people. No "cancelling" of a person or group of people will save us, but the transformation of all systems must occur in order for justice to be restored.
Want to be an intern at DVRPC? There are opportunities right now in various departments. Apply here: www.dvrpc.org/HumanResources/Internships.
Upcoming Online LTAP Classes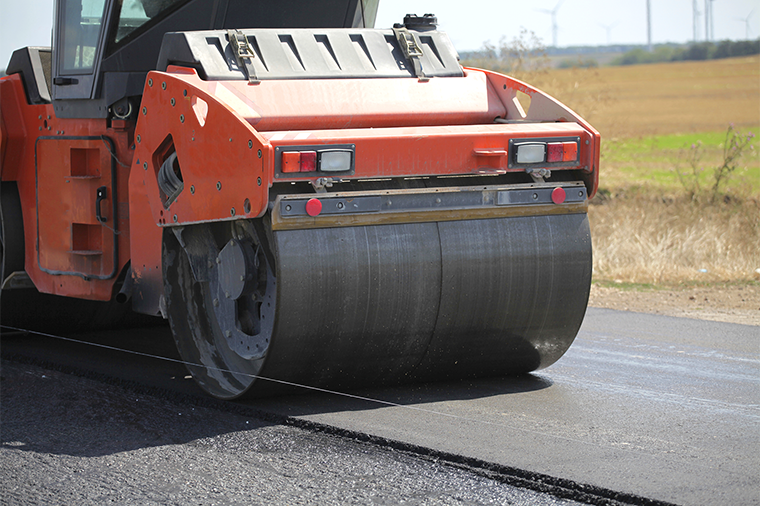 The Local Technical Assistance Program (LTAP) provides technical information and expertise to help municipal governments use transportation funds more effectively, improve road maintenance, and increase roadway safety. Classes are held by Pennsylvania and New Jersey LTAP programs, but are open to any municipality.
Upcoming online classes:
Virtual Principles of Paving
September 15-16, 2020 (8:30 am – 12:00 pm)
Virtual Work Zone (Temporary) Traffic Control
Monday, September 21, 2020 (8:00 am – 12:00 pm)
Grant Management for Federal-aid Projects
September 23, 2020 (9:00 am – 12:00 pm)
Virtual Equipment and Worker Safety Class
September 29, 2020 (8:00 am – 12:00 pm)
Visit Rutgers Center for Advanced Infrastructure and Transportation to see the 2020 schedule of LTAP courses in New Jersey.
Visit PennDOT's LTAP website to view the course descriptions and register. For any questions, contact Linda McNeffer at lmcneffer@dvrpc.org or 215-238-2872.