DVRPC News: February 2020
Volume 41, Issue 8 | February 2020
FY 2021 Planning Work Program Adopted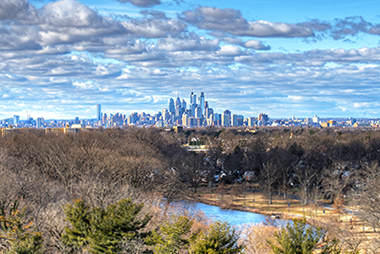 DVRPC's Board adopted the Fiscal Year (FY) 2021 Planning Work Program during its January meeting. The document is developed annually by the DVRPC Board with its planning partners, and determines planning projects and mandated activities that DVRPC staff will undertake to meet the region's changing transportation and planning needs, implement the Long-Range Plan's vision, and identify potential capital projects for inclusion on future Transportation Improvement Programs.
The Work Program outlines projects to be carried out from July 1, 2020 to June 30, 2021. New programs for 2021 include Data Visualization and Communication, Web Development and Database Management, and Regional Travel Demand Management.
Learn more about the Planning Work Program.
$1.8 Million Available through Transportation and Community Development Initiative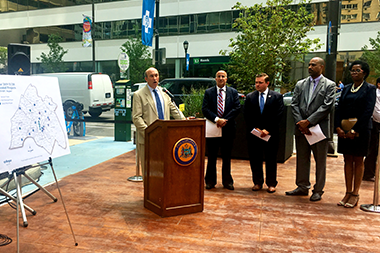 DVRPC's Transportation and Community Development Initiative (TCDI) is a competitive grant program that supports planning efforts for the development and redevelopment of local communities and the regional transportation system. The program also funds smart growth initiatives that implement DVRPC's Long-Range plan, Connections 2045.
DVRPC is accepting applications for the TCDI program until February 21, 2020. The program is available to all municipal and county governments, as well as transit agencies within the Greater Philadelphia region, that attended a January 14 info session. Up to $1,800,000 may be available for this round of TCDI grants: $1,200,000 in Pennsylvania and $600,000 in New Jersey.
The application, guidelines, requirements, and previously awarded projects are found on the TCDI webpage.
DVRPC Staff Present at Transportation Research Board Annual Meeting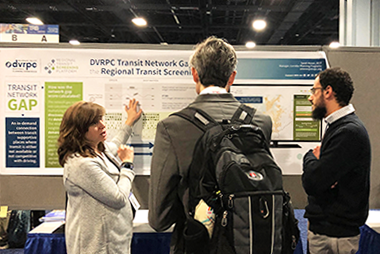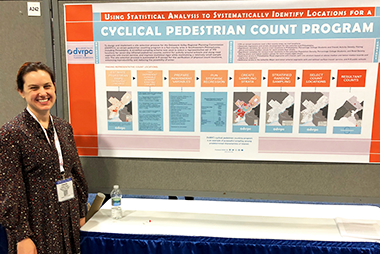 The Transportation Research Board (TRB) Annual Meeting held in Washington D.C. brings thousands of transportation practitioners, researchers, and public officials from around the world to discuss innovative transportation solutions. Each year, a number of DVRPC staff members present on important topics or recent projects.
This year, Sarah Moran presented a session and poster on the Regional Transit Screening Platform, an online tool that sheds light on transit needs and opportunities in Greater Philadelphia. Sarah is the Manager of Corridor Planning Programs at DVRPC. Staff member Cassidy Boulan, a Senior Transportation Planner in the Office of Transit, Bicycle, and Pedestrian Planning presented a poster about DVRPC's Cyclical Pedestrian Counting Program.
DVRPC Municipal Data Navigator Updated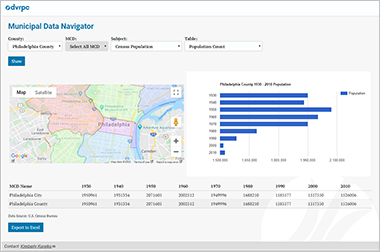 The Municipal Data Navigator was updated with recently released U.S. Census Bureau data. Included in the update are: American Community Survey (ACS) 2014-2018 five-year estimates, 2000-2018 population estimates, and 2018 building permits.
The Data Navigator is a convenient online tool that allows users to search for Census information by county, or down to the local level by municipality. It includes population estimates, housing data, income, crash data, and more. It also includes DVRPC's 2045 forecasts for population and employment. The data can also be downloaded from the interface.
New Product: SEPTA Bus Stop Design Guidelines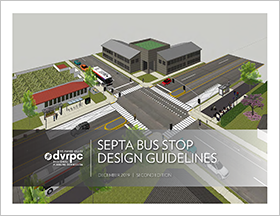 What is a high-quality bus stop? It is one that connects neighborhoods and communities, and provides a safe, efficient, and cost-effective transportation service. The SEPTA Bus Stop Design Guidelines offer municipalities in the SEPTA service area, local developers, and local partners standards for improving, creating, or relocating stop locations to enhance passengers' experience with SEPTA's transportation network.
This report highlights stop locations along with steps to creating a new bus stop. Accessible pedestrian paths, loading areas, and waiting areas are crucial elements in the design and operation of surface transit stops. The document helps identify the best locations for a stop, provides dimensions for in-street and curbside design, discusses stop features that provide convenience and comfortability to passengers, and offers case studies that illustrate the ways in which the document's design standards can be applied in various development contexts, from urban to suburban.
Upcoming LTAP Classes in PA and NJ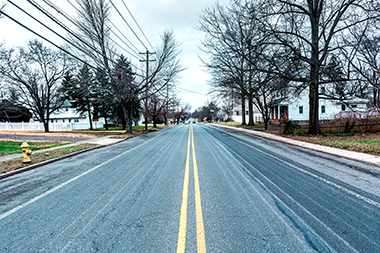 The Local Technical Assistance Program (LTAP) provides technical information and expertise to help municipal governments use transportation funds more effectively, improve road maintenance, and increase roadway safety.
Upcoming PennDOT classes in Pennsylvania include:
Traffic Signs Basics
Huntingdon Valley, PA
March 10, 2020 (8:00 AM – 12:00 PM)
Stormwater Facility Operation and Maintenance
West Grove, PA
April 02, 2020 (8:00 AM – 12:00 PM)
Visit PennDOT's LTAP website to view the course descriptions and register. For any questions, contact Linda McNeffer at lmcneffer@dvrpc.org or 215-238-2872.
Visit Rutgers Center for Advanced Infrastructure and Transportation to see the 2020 schedule of LTAP courses in New Jersey.
Staff Profile: Renee Wise, Manager, Administrative Services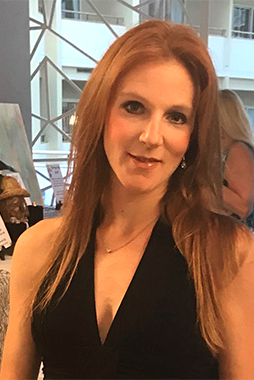 What did you want to be growing up?
An ambassador to another country. I saw myself involved in politics.
What was your first job?
A tennis instructor at age 14. I started figure skating at age three and loved it, but realized that unless I was headed for the Olympics, there was nowhere to go with it. At 14 I came to terms with my skill level, and, since I was also playing a lot of tennis, decided to take that more seriously and stopped skating.
What did you study in college?
Law and justice, thinking I would go on to law school – my father and brothers are lawyers, so it runs in the family. But I decided against it, and instead started working in administrative and writing jobs at the National Organization for Disability, Network World, and the American College of Physicians (ACP).
How did you end up at DVRPC?
I was at night school at Rutgers working toward a Master of Public Administration while I worked at ACP, and, although I liked my job there, I didn't see room for growth. Then I saw the posting at DVRPC for an administrator in the Executive Director's office, and I thought working in the public sector was a better fit. I came on board full time in 2013.
What are your responsibilities?
I do a lot of different administrative things, but basically I corral a lot of info from a lot of people, keep it all organized, confirm it's accurate and formatted consistently, and ensure it goes out to the right audience, by the right deadline.
What is your favorite part of work?
Becoming a manager. I really like interacting closely with my staff, supporting their career development, and mentoring them.
Which three words best describe you?
Introverted, active, and introspective
What are some things colleagues don't know about you?
I've been a vegan for 24 years, because I'm not comfortable eating animals. Also, my two brothers live in France.
Do you have a work or life philosophy?
A couple – always try and improve, both personally and professionally; try to embrace change, even when hard, it's the only way to grow; and, take ownership of your actions.
Is there someone you'd most like to meet?
My grandmother Ruth, who died before I was born. She was super active in women's and civil rights. I was named after her, using her first initial. Renee means rebirth in French.
If you could be queen for a day, what would you declare?
That people talk more. Right now, it seems that everyone is on their smartphones all the time. I'd like to see people be kinder, friendlier, and more open with one another.
Do you have a fantasy career?
To have a Ph.D in political science and be a college professor.
What's the last book you read?
Loving Kindness by Anne Roiphe. It's about a woman and her lost soul daughter who goes off to live in a yeshiva in Israel.
Are you a cat or dog person?
I'm an everything person – pigs, groundhogs, I love them all. We had a pet raccoon when I was a kid.
Where would we find you after hours?
Doing hot yoga or playing tennis. Or both.