DVRPC News: April 2020
Volume 41, Issue 10 | April 2020
DVRPC's Response to COVID-19
Based on COVID-19 public health recommendations and stay at home orders from both New Jersey and Pennsylvania governors, DVRPC staff are working from home until further notice. Staff are working together to minimize disruptions to work, while prioritizing the health and safety of all. Most staff remain available via email, phone, and virtual meetings. Visit DVRPC's employee directory for contact information.
DVRPC's public meetings are postponed or offered virtually until May. Please check DVRPC's calendar to access agendas and links to join the virtual meetings. As always, the DVRPC website offers a wealth of data, products, and planning resources, including the new Tracking Progress indicators dashboard, that you can access anywhere and anytime. You can also connect with us on social media @DVRPC.
Thank you for your understanding as we maneuver in this uncharted territory ways that are safest for staff and all residents in the region.
Funding Opportunity for Projects in NJ that Improve Air Quality and Reduce Congestion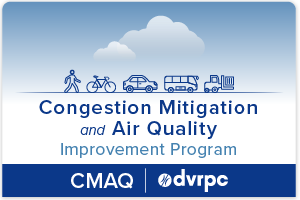 DVRPC has opened a Congestion Mitigation and Air Quality Improvement (CMAQ) Competitive Program for New Jersey. $5 million is available for new projects over federal fiscal years 2022 to 2024 in Burlington, Camden, Gloucester, and Mercer counties that will improve air quality and/or reduce traffic congestion. $1 million of the total amount is dedicated to construction-ready Circuit trail projects. Examples of eligible projects include but are not limited to pedestrian and bicycle projects, transit improvement programs, congestion reduction and traffic flow improvements, and funding of transportation demand management programs.
All public agencies or nonprofit entities, including municipalities, Transportation Management Associations (TMAs), and transportation system operators are eligible to apply.
To learn more, visit www.dvrpc.org/CMAQ. Applications are due 5:00 PM (EST) on May 29, 2020.
Tracking Progress Indicators Dashboard
DVRPC's new interactive dashboard -- Tracking Progress -- helps gauge the region's progress toward Long-Range Plan goals to expand the economy, sustain the environment, develop livable communities, create an integrated multimodal transportation network, and advance equity and foster diversity.
The regional indicators are used to better understand where the region is at a given time period, identify successful programs, align DVRPC's planning and implementation activities, and inform regional strategies.
Recent Publication and Products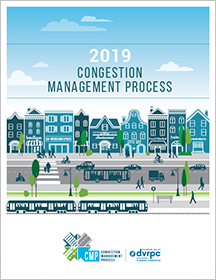 2019 Congestion Management Process (CMP)
The CMP identifies and prioritizes congested locations on the regional transportation network, evaluates potential causes, develops transportation strategies to mitigate congestion, and helps to identify the effectiveness of implemented strategies to improve mobility across DVRPC's region. Congestion can limit access to jobs, housing, educational opportunities, health services, and other amenities. This report is important to identify multimodal strategies in the region to minimize congestion and enhance the ability of people and goods to reach their destinations.
Federal regulations require that CMPs be implemented as an ongoing part of the metropolitan planning process. It is developed with significant input and guidance from the CMP Advisory Committee made up of planning partners throughout the region. The CMP furthers the growth management goals identified in the Long-Range Plan by recommending congestion management strategies at locations that align with current and future land uses. It provides medium-term planning to strengthen the connection between the Long-Range Plan and the Transportation Improvement Program. For more information, see the CMP webmap.
Assessing Openness To Biking To Transit At Three Regional Rail Stations In Delaware County
DVRPC studied transit riders' bicycle usage and openness to biking at three Regional Rail Stations in order to enhance intermodal trips to Regional Rail in Delaware County. To fully understand bike users' habits and preferences in-person surveys were conducted to identify and prioritize improvements that can be made to increase bike-to-transit trips. This survey builds on SEPTA's ongoing work that aims to improve the rate of biking to transit, provide bike facilities at stations, and accommodate more bikes on transit.
Staff Profile: Bill Laidlaw, Accounting Manager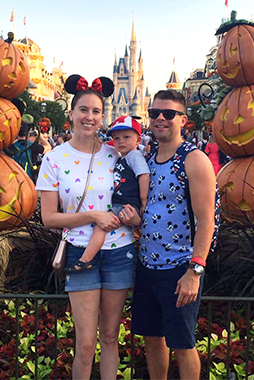 What did you want to be growing up?
An astronaut with NASA. But I have bad eyes and realized early on that wasn't going to work out. Instead, I decided to follow in my mom's footsteps and pursue a business path, focusing on numbers and budgets.
What was your first job?
A cashier at the local Rite Aid. My second job was a cashier with Burlington Coat Factory. I liked working with money!
What did you study in college?
I got my degree from Penn State in Accounting.
How did you end up at DVRPC?
Senior year I saw an ad for an accountant at DVRPC, looked up urban planning and thought it sounded like an interesting place to work. I interviewed and landed the job right out of college.
What are your responsibilities?
Cash management. I make sure the money flows where it's supposed to, and invested where it can be. I monitor non-labor expenses, and prepare our financial report for our annual audit, which consistently has "no findings", a good thing in auditing. I respond to staff needs, and I keep our Comptroller, Van, apprised of things. I also am responsible for obtaining reimbursement from our government and private partners for DVRPC staff and pass-through projects.
What's your favorite part of the job?
I like the variety. At this point in my career, I've been here 12 years, and I've been able to see how all the funding, budgeting, and money related processes work. I like understanding the big picture of how it all flows and getting to do a bunch of different things, rather than being pigeon-holed.
Do you have a work philosophy?
I always try to help out, knowing that my accounting assistance is important to support what staff is trying to accomplish in the planning world.
Which three words best describe you?
Dependable, hard-working, passionate
Is there a famous person you'd like to meet?
Carson Wentz, I'm a big Eagles fan.
What's the last book you read?
A book of short stories by Stephen King. He's my favorite author.
Are you a dog or cat person?
Dog person. I grew up with dogs, and we have a boxer named Harry.
Is there something about you that colleagues don't know or might not expect?
Not really, my colleagues know me pretty well, and what you see is what you get.
Where would we find you after hours?
At home playing with my son, working out, playing sports, or going out to eat.