DVRPC News: October 2019
Volume 41, Issue 4 | October 2019
Board Approves $1.679 Billion in Transportation Projects for Southern New Jersey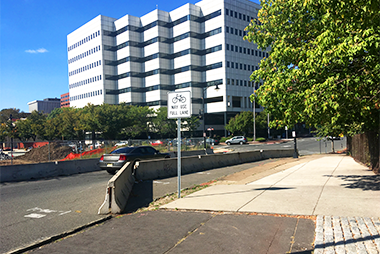 Photo by Kwan Hui, DVRPC
The DVRPC Board adopted the FY2020 Transportation Improvement Program for New Jersey (NJ TIP) at its September 26th meeting. The TIP is the agreed-upon list of priority transportation projects for Burlington, Camden, Gloucester, and Mercer counties, including the cities of Camden and Trenton.
The NJ TIP includes 123 projects over the first four years (FY20-FY23) that are worth $1.679 billion. This is an average of about $420 million per year. Funding totals $1.079 billion for projects addressing the highway system and $600 million for the transit system.
Example projects include:
Camden-Glassboro Light Rail Line (DB #T302);
Reopening of PATCO's Franklin Square Station (DB #DR1801);
Operation and Safety Improvements (DB #12307) to Route 38, South Church Street to Fellowship Road; and
Bridge deck and/or superstructure replacements of Route 76/676 Bridges and Pavement (DB #11326) and Route 76, Bridges over Route 130 (DB #11326A) in Camden City and Gloucester City.
To view or search projects by county or type, visit www.dvrpc.org/TIP.
DVRPC Board Retreat Kicks-Off 2050 Long-Range Plan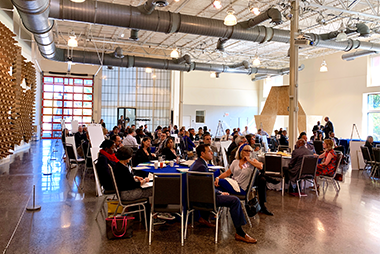 The 2019 Board Retreat was held on September 26 at the Grounds for Sculpture in Hamilton Township, Mercer County, New Jersey. Following the regular Board meeting, Board members, member government staff, and planning partners participated in small group discussions to kick-off the update of the 2050 Long-Range Plan. Under current US Department of Transportation guidelines, metropolitan planning organizations are required to update their long-range plans every four years.
Participants discussed current values and concerns for the region, alternative scenarios, and goals for the future. DVRPC staff presented four vastly different alternative scenarios that were developed by the Futures Group. This workshop was a first step in preparing public outreach for the Long-Range Plan for 2050. Starting next year, DVRPC will host events and workshops to seek input from members of the public and partners.
NEW Municipal Implementation Toolbox for the Connections 2045 Long-Range Plan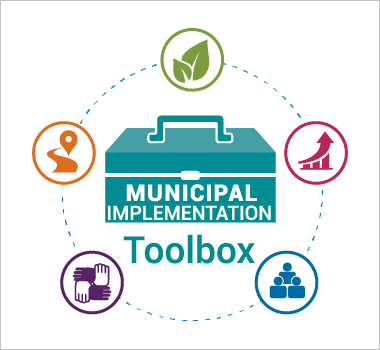 DVRPC's newest online resource, the Connections 2045 Municipal Implementation Toolbox, is now available. DVRPC designed this online resource to assist municipal efforts to protect, preserve and grow communities in the region, all of which help to implement the goals of Connections 2045, the region's Long-Range Plan. Implementation of the plan—and much of our collective future—is based on how the region's 352 municipalities use their home-rule authority to influence land use, provide public services, protect natural and historic resources, and, ultimately, create the places we call home.
The Toolbox contains resources, case studies, and model/sample ordinances for more than 80 measures that municipalities can use to implement the five Core Principles of the Plan. Visit the toolbox to learn more.
The Sun is Setting on DVRPC's Classic Towns of Greater Philadelphia Marketing Program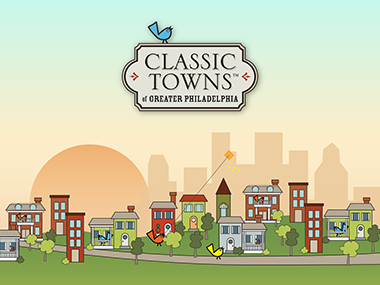 After eleven years of supporting the region's older suburbs and urban neighborhoods, the Classic Towns marketing program is retiring. Classic Towns used strategic messaging and branding about the benefits of smart growth, transit-oriented development, and walkability to promote these communities as places to live, work, and visit.
Over the life of the Classic Towns campaign, 30 different communities participated, 27 events were held for the communities, and four different contests were held, including the #iloveclassictowns photo contest. The cornerstone of the program, www.classictowns.org, garnered over one million pageviews.
To bid a final farewell to the Classic Towns participants, DVRPC hosted a luncheon where each of the communities received a plaque for their continuing participation and support. The following communities were honored: Cheltenham, Collingswood, Glassboro, Haddon Heights, Kennett Square, Lansdale, Lansdowne, Malvern, Manayunk, Media, Merchantville, Moorestown, Oxford, Phoenixville, Roxborough, Souderton and Telford, West Chester, and Woodbury.
Highlights about the Classic Towns program are available here: www.dvrpc.org/ClassicTowns
Safety Task Force Hosts Meeting on Safe Teen Mobility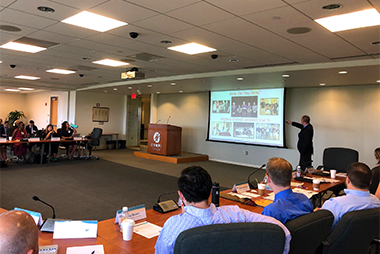 On September 12, the Regional Safety Task Force (RSTF) brought together a panel of experts on safe teen mobility. Dr. Allison Curry from CHOP, Center for Injury Prevention, presented on her research into young driver behavior through a traffic safety data warehouse linking various state data sources in New Jersey. Stephen Noll from Bucks County Transportation Management Association discussed the TMA's annual high school seatbelt challenge, and Wendy Berk from the Brain Injury Alliance presented on the UGotBrains high school peer-to-peer program focused on young driver safety.
After the presentations, the attendees broke into groups to brainstorm creative solutions for young driver safety. The groups analyzed the issue based on education, engineering/technology, regulation, and policy frames, and discussed best strategies for safer teen mobility.
Learn more about the Regional Safety Task Force.
Understanding Brownfield Redevelopment and Resources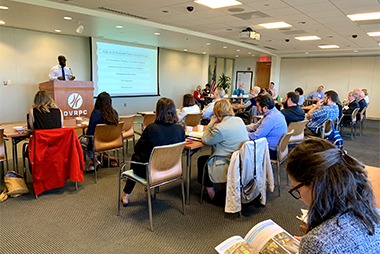 On September 20, DVRPC hosted the Brownfield Basics Workshop in cooperation with U.S. EPA, Region III and the New Jersey Institute of Technology (NJIT). The event was for municipalities and nonprofits interested in redeveloping brownfields. Speakers included representatives from the U.S. EPA Region III office, the Pennsylvania Department of Environmental Protection (PA DEP), the Pennsylvania Department of Community and Economic Development (PA DCED), NJIT, DVRPC, and a private consultant AMO Environmental Decisions. Panelists presented information about upcoming grant programs and financial resources available to local governments to assist in their redevelopment efforts.
Resources can be found on DVRPC's Brownfield webpage.
Upcoming LTAP Classes in PA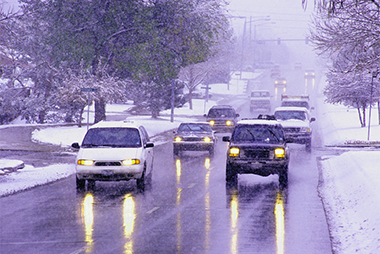 The Local Technical Assistance Program (LTAP) provides technical information and expertise to help municipal governments use transportation funds more effectively, improve road maintenance, and increase roadway safety.
Upcoming PennDOT classes in Pennsylvania include:
Salt and Snow Management
Horsham, PA
October 8, 2019 (8:00 AM – 3:00 PM)
Risk Management
Horsham, PA
October 9, 2019 (8:00 AM – 12:00 PM)
Visit PennDOT's LTAP website to view the course descriptions and register. For any questions, contact Linda McNeffer at lmcneffer@dvrpc.org or 215-238-2872.