DVRPC News: July 2019
Volume 41, Issue 1 | July 2019
DVRPC Board Elects New Officers for Fiscal Year 2020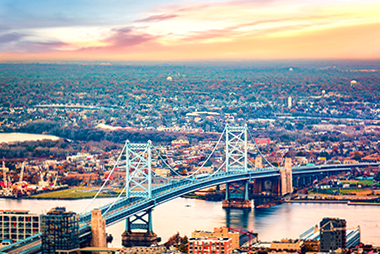 At the June DVRPC Board Meeting, new Board Officers were elected for Fiscal Year 2020.
DVRPC's Board Officers include:
Chair - Sean Thompson is the Director of the Office of Local Planning Services within New Jersey's Department of Community Affairs. He has been a DVRPC Board Member since 2015.
Vice Chair - Councilman Mark Squilla represents Philadelphia City Council's First District, and has served in that role since 2012.
Secretary - Leslie Floyd is the Planning Director of Mercer County Planning Division.
Treasurer - Gina Burritt is a Public Outreach Specialist at A.D. Marble and was appointed by Governor Tom Wolf to the DVRPC Board.
DVRPC welcomes the new Board Officers and looks forward to their leadership and guidance in the upcoming fiscal year.
New Work Program for Fiscal Year 2020 is Now Online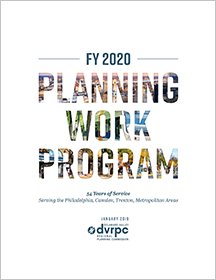 The Fiscal Year 2020 Unified Planning Work Program for DVRPC incorporates planning programs and support activities within the nine-county DVRPC region for the period July 1, 2019 through June 30, 2020. The Work Program is developed annually by the DVRPC Board with its planning partners to reflect the region's short-range planning needs. It also includes direction and guidance from the federal FAST (Fixing America's Surface Transportation) Act and the Clean Air Act Amendments (CAAA).
The planning activities identified in the Work Program allow DVRPC to address a variety of issues in the region. Some of the key issues for the Commission in FY 2020 include providing for the safety, and resiliency of the region's transportation infrastructure and protecting air, land, and water resources. This year's Work Program will continue to support programs that integrate transportation, land use, the environment, economic development, and social equity.
Access the Fiscal Year 2020 Work Program.
Joint Meeting Brings Together Safety and Automated Vehicle Experts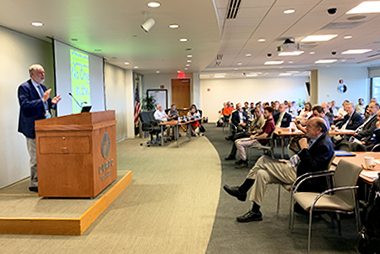 In June, DVRPC held a joint meeting with the Futures Group and Regional Safety Task Force (RSTF). The meeting titled 'Merge Ahead' brought together six experts to discuss automated vehicle (AV) technology and how it impacts Vision Zero, the goal of zero traffic fatalities. The keynote presentation by Sam Schwartz, PE, former NYC Traffic Commissioner and Chief Engineer for NYCDOT, discussed future challenges and opportunities with AV technology, drawing from his new book No One at the Wheel.
A panel was moderated by RSTF Board Co-Chair, Kelley Yemen, from the City of Philadelphia's Office of Transportation, Infrastructure, and Sustainability. Panelists included Dr. Megan Ryerson from the University of Pennsylvania, Roger Cohen from the Pennsylvania Department of Transportation, Sarah Clark Stuart from the Bicycle Coalition of Greater Philadelphia, and Steve Buckley from WSP. The panelists explored what a future with AVs might look like and the challenges and opportunities they present for enhancing safety. Panelists also evaluated different regulations needed to create equitable access to AV technology and integrate AVs into the region's current infrastructure and traffic flow.
After the panel, audience members broke into groups and discussed scenarios on how AV technology could present itself in the future. Key takeaways included environmental concerns, the need to educate the public on AV technology, and the importance of collaboration across all levels of government.
Learn more about the Futures Group and Regional Safety Task Force.
CHAD Students Participate in DVRPC Design Charrette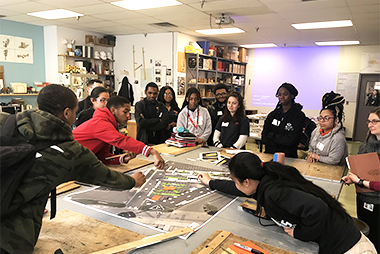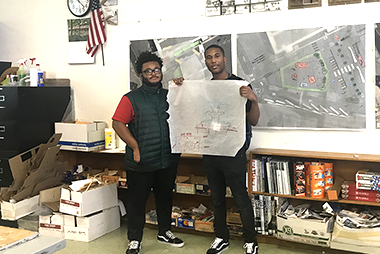 This spring, DVRPC staff worked with students from the Charter High School for Architecture and Design on a project to design a transportation center near the South Philadelphia IKEA, one of the same sites DVRPC used in a recent transportation center project in partnership with SEPTA.
Over the course of six weeks, students learned about transportation planning, placemaking, and site design and participated in a design charrette. Teams of students worked with staff mentors to design their own versions of the real-life transit project, incorporating best practices in transportation planning, while also developing new ideas for how to make the transportation center a fun and engaging place to wait for the bus. The students then presented their final transportation center designs to staff from DVRPC and SEPTA.
DVRPC Develops Concepts for South Philly Transportation Center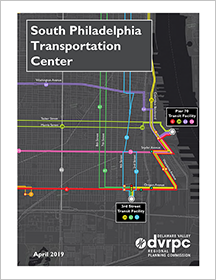 Have you ever wondered where buses go to layover or turn around during their route? DVRPC recently identified three potential locations for a new SEPTA transit facility in South Philadelphia.
Transportation centers are locations where passengers can transfer, operators can rest, and buses can layover. Currently, there is no SEPTA-owned or controlled property where the vehicles can layover in areas of South Philadelphia. This study identified where (and how) a new layover facility could enhance SEPTA bus operations in this busy service area. Locations included (1) an underused parking lot at the Columbus Commons shopping center, owned by IKEA; (2) an underused surface parking lot off of Pier 70 Boulevard; and (3) a cul-de-sac on South 3rd Street, one block south of Oregon Avenue.
See the full report to learn more.
DVRPC Hosts Game of Extremes with Bucks and Montgomery Counties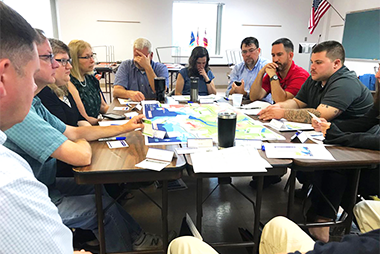 DVRPC's Office of Energy and Climate Change Initiatives teamed up with Bucks and Montgomery counties to bring hazard mitigation training and the USDN's Game of Extremes to their counties' residents.
In the Game of Extremes, real-world examples were used and teams decided how to combat extreme weather conditions in the region. Teams evaluated the benefits and costs of each action, while balancing priorities and interests. The exercise helped participants understand strategies and tactics that protect the public and public assets from changing climate conditions.
After the game, representatives from the Federal Emergency Management Agency (FEMA) and the respective counties spoke about their own hazard mitigation plan.
Learn more about the Office of Energy and Climate Change and the USDN's Game of Extremes.
Upcoming LTAP Classes in PA and NJ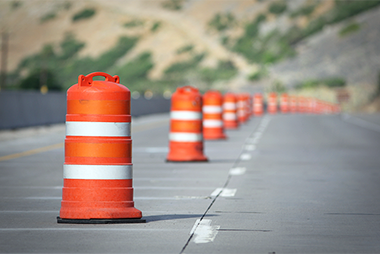 The Local Technical Assistance Program (LTAP) provides technical information and expertise to help municipal governments use transportation funds more effectively, improve road maintenance, and increase roadway safety.
Upcoming PennDOT classes in Pennsylvania include:
Pavement Markings: Applications and Maintenance
Thorndale, PA
July 18, 2019 (8:00 AM – 12:00 PM)
Visit PennDOT's LTAP website to view the course descriptions and register. For any questions, contact Linda McNeffer at lmcneffer@dvrpc.org or 215-238-2872.
There are two upcoming New Jersey LTAP courses:
NJLTAP – Traffic Calming
Piscataway, NJ
July 9, 2019 (8:30 AM – 3:30 PM)
NJLTAP – Work Zone Safety Awareness for Municipal and County Public Works and Public Utilities Personnel
Ewing, NJ
July 12, 2019 (8:00 AM – 12:00 PM)
Visit Rutgers' CAIT website for a list of all New Jersey workshops and to register.
Staff Profile: Karen Whitaker, Transportation Planner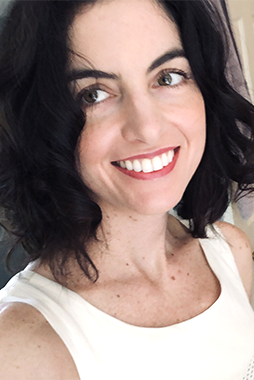 What did you want to be when growing up?
A pastry chef. Starting out as a little 7 year old kid I used to spend hours preparing elaborate themed menus – for example, I burned the paper's edges for my rustic menu – and then I would cook the dishes for my parents. As a young adult I did intern for several years as a pastry cook.
Then what happened?
I was considering going to culinary school, but went to NYU instead and studied sociology and business. Being in college made me realize that I had many more interests, and that I preferred an office environment over a kitchen.
How did you get into planning?
While at NYU I worked simultaneously in a showroom for product design, which piqued my interest in design. I took an architecture class at Parsons/The New School as well as urban studies and design classes as part of my sociology degree. I'm originally from Italy and pursued my master's degree from Politecnico di Milano, and was deciding between interior design or urban planning, and opted for planning because I wanted to have a bigger impact.
Where in Italy are you from?
I was born in Milan, but my mother is from Sardinia, where I have spent the most time and have friends and family. My dad is from Ireland, but he met my mom and moved to Italy. My family moved to the Philly suburbs when I was a child, so I also have roots here.
Where did you work after finishing school in Milan?
My first planning job was in Panama City, Florida, where I worked as a land use planner. I moved to the Philly area to be closer to family, and worked for Delaware County Planning Department.
How did you end up at DVRPC?
I saw the corridor planning work and public presentation for a specific DVRPC study in Delaware County, and I was really impressed by the technical analysis. I thought that working as a corridor planner at DVRPC sounded really cool. Then I saw an opening in the Office of Corridor Planning and landed the job about two years ago.
What three words best describe you?
Creative, serious, worldly
What is something colleagues don't know about you?
Though I am very shy about it, I absolutely love to dance. I practiced ballet, tap, jazz, and hip-hop for 15 years. I also know merengue, cha-cha, cuarteto, and Sardinian folkloric dance.
If you could be Queen of the Delaware Valley, what would you declare?
That households are only allowed one car, and everyone has to carpool!
What's the last book you read?
"Born a Crime" by Trevor Noah. It's a memoir about his experiences being of mixed race in apartheid South Africa.
How do you see the future of the region?
There are a lot of changes taking place now. I see a lot more people out enjoying nightlife in the city, which is great. In the future, I see a more robust transit system as more and more people are tired of sitting in traffic. I also see more gentrification in the city's neighborhoods.
Where would we find you after hours?
Running on the Radnor or Chester Valley trail.
Do you have a work or life philosophy?
Make time for others, even when you feel like you don't have the time.