DVRPC News: December 2019
Volume 41, Issue 6 | December 2019
PATCO Franklin Square Station Awarded USDOT Grant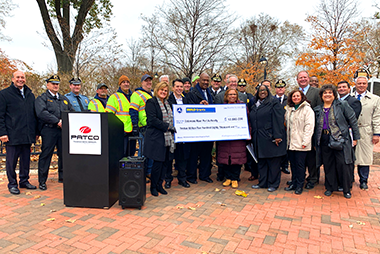 The Delaware River Port Authority (DRPA) will receive a $12.5 million grant from the U.S. Department of Transportation (USDOT) for its PATCO Franklin Square Station Reopening Project. The grant is through the Better Utilizing Investment to Leverage Development (BUILD) program, which provides opportunities for USDOT to invest in projects that have a significant regional impact. The announcement was made at a press conference on November 18, 2019.
The project is included in the Draft FY2020 Transportation Improvement Program for New Jersey (NJTIP), with a total cost of $30 million. A new headhouse building will be constructed where the previous one was located at the corner of 7th and Race streets, and it will be compliant with the Americans with Disabilities Act, expanding access for more riders. For more information, see www.RidePATCO.org/projects.
DVRPC Work Program Public Comment Period Begins December 5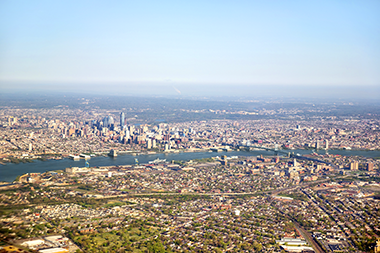 DVRPC will hold a 30+ day public comment period from December 5, 2019 to January 7, 2020 for the Draft Fiscal Year (FY) 2021 Planning Work Program. This document outlines all of the federally funded planning projects for the nine-county region from July 1, 2020 to June 30, 2021. The Work Program is developed annually by the DVRPC Board with its planning partners to reflect the region's short-range planning needs.
Electronic versions of these two documents will be available on the DVRPC website by 5 p.m. on December 5. Hardcopies will also be available in the DVRPC Resource Center and in a number of regional libraries. For information about submitting a comment, and to view the public notice visit, www.dvrpc.org/GetInvolved/PublicNotices.
New Tool: Regional Transit Screening Platform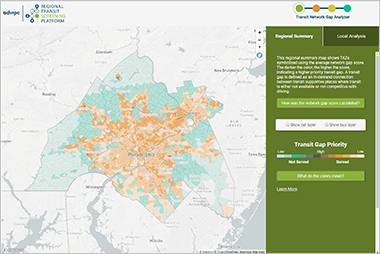 DVRPC's Office of Transit, Bicycle, and Pedestrian Planning created the Regional Transit Screening Platform, a set of screening tools that illustrate public transit needs and opportunities in the DVRPC region. The online platform provides information about regional transit through four tools: the transit gap network, surface transit reliability, higher frequency scenarios, and wheelchair accessibility. The transit gap network analyzer evaluates the theoretical demand for transit and can be used to find areas that have the potential to support transit improvements or expansions. The surface transit reliability tool shows the areas with reliability issues that are likely to impact the most passengers. The higher frequency scenarios tool presents a regional travel demand model scenario where all transit frequency is doubled. The wheelchair accessibility tool shows areas throughout the region that are reachable via rail by wheelchair users by analyzing which stations are currently or in the process of becoming wheelchair access.
SEPTA, NJ Transit and counties in the region are already using the Regional Transit Screening Platform, which can be used to generate and evaluate ideas for service, operational, enforcement, and capital improvements that could be considered for further study. The tool is available here.
DVRPC Hosts Climate Adaptation Forum on Philadelphia's Resiliency Initiatives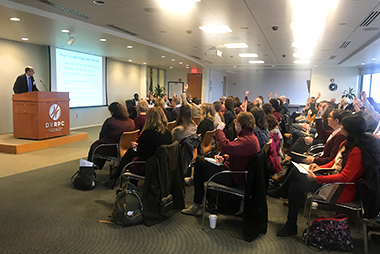 DVRPC's Climate Adaptation Forum met on November 18th to discuss climate change resilience initiatives in Philadelphia. Over the past decade, the City of Philadelphia has steadily expanded its efforts to understand, prepare for, and adapt to the impacts of climate change. This event brought together a panel of experts from multiple departments within the City of Philadelphia to speak about their recent efforts to operationalize resiliency through outreach, plans, and projects, with an emphasis on how collaboration and education are needed to move past the status quo and effect meaningful change.
Learn more about DVRPC's climate change and resiliency efforts.
DVRPC Partners With FitCityPHL for Effects of Neighborhood Change on Health Event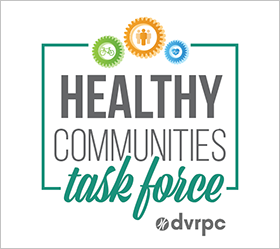 The joint meeting with DVRPC's Healthy Communities Task Force and FitCityPHL explored the relationship between neighborhood change and health.
Presentations included Anne Fadullon, the Director of Planning and Development with the City of Philadelphia, on the state of residential development in Philadelphia and Dr. Sungwoo Lim, Director of Research and Evaluation with the New York City Department of Health and Mental Hygiene, on the health impacts of gentrification in New York City.
After the presentations, a panel of local practitioners and researchers working across a variety of sectors addressed issues around neighborhood change and health outcomes.
Learn more about the Healthy Communities Task Force.
Recent Publications and Products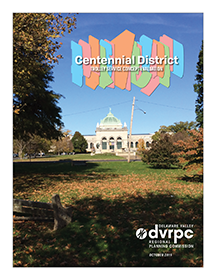 Centennial District Trolley Service Concept Evaluation: This report explored expanding SEPTA trolley service to the Centennial District, in West Fairmount Park. Using ridership forecasts from DVRPC's regional travel model, DVRPC staff found minimal potential for new weekday riders on a Centennial District trolley, but considerable capital expense compared to bus service.
Growing Greater Philadelphia: Comprehensive Economic Development Strategy: This report is an update to Greater Philadelphia's regional Comprehensive Economic Development Strategy (CEDS). The report includes background demographic, economic, and land use data; identifies regional strengths, weaknesses, opportunities, and threats; discusses economic resiliency; identifies regional economic development goals, objectives, and strategies; and identifies potential performance measures that will be tracked in future years to measure progress made toward achieving the regional goals.
Join Our Team!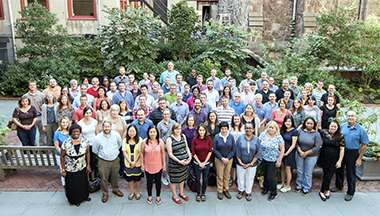 Check out current job and internship opportunities on the DVRPC website. Of several full-time positions to note is a Project Implementation Engineer -- a position that will help the region's local governments and nonprofits build The Circuit, among other bike/ped projects.
Several paid internships for both undergraduate and graduate students are available for Spring 2020. Job descriptions are posted for several offices, including accounting, communications, marketing, and transportation modeling.
We believe DVRPC is a great place to work, learn, and create a career, and we aspire to create a work culture based on these shared values. DVRPC also offers a comprehensive benefits package, including medical, prescription, and dental insurance to all Regular Full-Time employees, their spouses, and their children.
Upcoming LTAP Classes in PA and NJ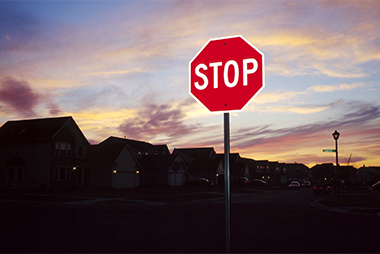 The Local Technical Assistance Program (LTAP) provides technical information and expertise to help municipal governments use transportation funds more effectively, improve road maintenance, and increase roadway safety.
An upcoming PennDOT class in Pennsylvania includes:
Stop Signs and Intersection Traffic Control
Gilbertsville, PA
December 18, 2019 (8:00 AM – 12:00 PM)
Visit PennDOT's LTAP website to view the course descriptions and register. For any questions, contact Linda McNeffer at lmcneffer@dvrpc.org or 215-238-2872.
There is one upcoming New Jersey LTAP course:
NJLTAP – Slide-in Bridge Construction
Ewing, NJ
December 6, 2019 (8:30 AM – 12:30 PM)
Visit Rutgers' CAIT website for a list of all New Jersey workshops and to register.