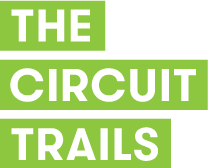 The Circuit is Greater Philadelphia's multi–use trail network connecting people to jobs, communities, parks, and waterways. Governments, non-profits, and foundations have collaborated to complete over 300 miles of the envisioned 750-mile regional network. More miles are added to the network each year. Learn more at CircuitTrails.org and connect with The Circuit Trails on Facebook , Twitter and Instagram to find out what is happening #onthecircuit.
El Circuito es el sistema de senderos de uso múltiple de la Gran Filadelfia conectando a la gente con trabajos, comunidades, parques, y ríos. Gobiernos, organizaciones sin fines de lucro y fundaciones han colaborado para completar más de 300 millas de la concebida red regional de 750 millas. Cada año se agregan más millas a la red. Aprenda más en CircuitTrails.org y conectese a The Circuit Trails en Facebook, Twitter y Instagram para enterarse de lo que anda pasando #enelcircuito.
---
This web page is a public resource of general information. The Delaware Valley Regional Planning Commission (DVRPC) makes no warranty, representation, or guarantee as to the content, sequence, accuracy, timeliness, or completeness of any of the spatial data or database information provided herein. DVRPC and partner state, local, and other agencies shall assume no liability for errors, omissions, or inaccuracies in the information provided regardless of how caused; or any decision made or action taken or not taken by any person relying on any information or data furnished within.
Esta página web es un recurso público de información general. La Comisión de Planificación Regional del Valle Delaware (DVRPC) no expresa ninguna garantía, representación, o promesa con respecto al contenido, secuencia, precisión, actualización o completud de cualquiera de los datos espaciales o información de base de datos suministrados aquí. DVRPC y sus asociadas agencias estatales, locales, y otros socios no asumirán responsabilidad ninguna por errores, omisiones, o inexactitudes presentes en la información providenciada, independientemente de cómo se produjeron; o, por cualquiera decisión hecha o acción tomada o no tomada por cualquier persona que dependa de cualquier información o dato suministrado aquí
.