DVRPC News: May 2017
Volume 38, Issue 9 | May 2017
Learn About the Economic Impact of Tourism on June 27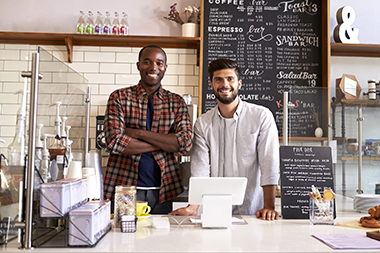 Please join us on Tuesday, June 27 for a Regional Community and Economic Development Forum on the economic impact of tourism on Greater Philadelphia. DVRPC staff will highlight a recent analysis, including information on annual visitation, hospitality and tourism-related employment, and the industry's overall economic impact. Attendees will hear from Jake Buganski, Acting Executive Director of the New Jersey Division of Travel and Tourism, who will speak about the state of tourism in New Jersey. Paul Bencivengo, Vice President of Visit Bucks County, will discuss the impact of tourism on Bucks County. Finally, Devon Perry, Executive Director of Visit South Jersey, will speak about food and wine tourism in southern New Jersey.
To register, please visit DVRPC's Ticketleap page. AICP CM credits are pending.
DVRPC Evaluates Top Transit Stations for TOD in Greater Philadelphia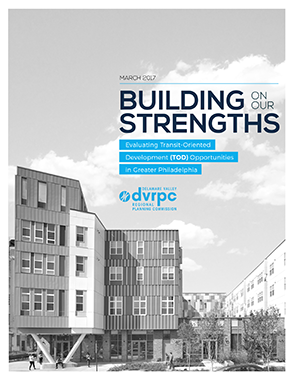 Building vibrant neighborhoods around transit requires collaborative planning to coordinate physical improvements, development regulations, and urban design. With this in mind, DVRPC has evaluated a variety of demographic, physical, and market characteristics to identify transit stations across the region where transit-oriented development (TOD) has the greatest chance to succeed. This information can be used by planners, developers, and other decision makers to direct growth and investment to rail stations.
To view Building on our Strengths, visit our website. Results of this analysis can also be viewed on a companion website and interactive map created for this study: www.dvrpc.org/webmaps/TOD.
Five Organizations Take Big Steps to Improve Air Quality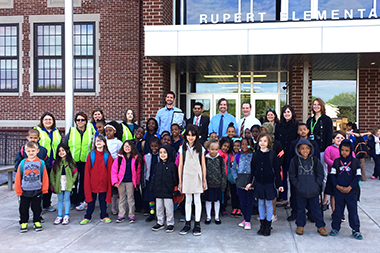 More than 50 students participate in Pottstown School District's walking school bus.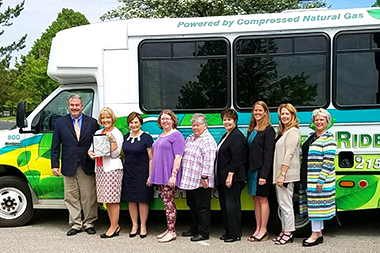 TransNet provides mobility alternatives to residents in and around Montgomery County.
As warmer weather approaches, so does the onset of ground-level ozone. High levels of ozone pose health risks for everyone, and large segments of the population are considered especially sensitive to air pollution. Fortunately, ozone levels are being monitored and the public can be alerted when levels become unhealthy. The Air Quality Partnership (AQP) educates residents about the dangerous effects of ground-level ozone and provides air quality forecasts to the public. The ozone season runs from May through September.
To celebrate local initiatives and best practices to reduce air pollution, five organizations in the Greater Philadelphia region received 2017 Air Quality Partnership Excellence Awards. They are:
The College of New Jersey (TCNJ), Ewing, NJ
South Jersey Port Corporation (SJPC), Camden, NJ
Pottstown School District, Pottstown, PA
Suburban Transportation Network (TransNet), Blue Bell, PA
The University of Pennsylvania (Penn), Philadelphia, PA
Visit AQP's newly redesigned website to learn more about what these organizations are doing and sign up for free air quality alerts. Daily forecasts and helpful tips are also available on the website or by calling 1-800-872-7261.
LED lighting upgrade will save 35 municipalities $1.4 million annually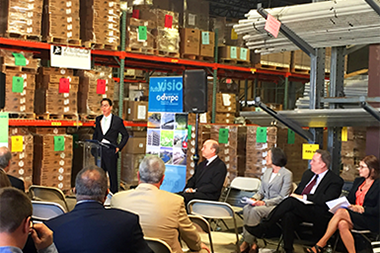 Thirty-five municipalities in southeastern Pennsylvania are upgrading to LED streetlights thanks to the Regional Streetlight Procurement Program. DVRPC partnered with the Pennsylvania Sustainable Energy Finance Program (PennSEF), offered by the Pennsylvania Treasury Department, and the Foundation for Renewable Energy and Environment to provide resources, technical assistance, and finance to help each participating municipality transition to LED street lighting and other outdoor lighting.
Lighting costs typically account for 60-70% of a local government's energy budget. The project upgrades more than 26,000 streetlights, exterior lights, and traffic signals. The 35 municipalities will achieve annual reductions of 10.6 million kilowatt hours; 5,500 metric tons of CO2 emissions; and $1.4 million in annual energy and operating costs.
Barry Seymour, DVRPC Executive Director, made the announcement of the successful joint procurement program at a press conference on May 1, 2017 at WESCO Distribution, Inc. in Eagleville, PA. Speaking at the event were Hon. Joe Torsella, PA State Treasurer; Hon. Valerie Arkoosh, MD, MPH, Chair of the Montgomery County Board of Commissioners and DVRPC Board; Stephanie Teoli Kuhls, Township Manager, Middletown Township, Bucks County; and Dr. John Byrne, Chairman and President of the Foundation for Renewable Energy and Environment.
Installation is underway and expected to be completed by the end of 2017. To learn more, visit DVRPC's Newsroom. Visit Flickr for photos from the event.
Data Journal: Schuylkill River Trail Logs over 198,000 Counts in April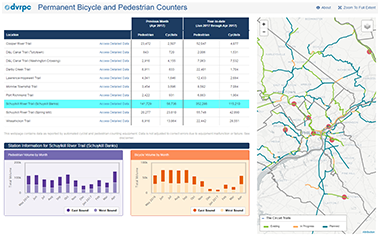 The permanent bicycle and pedestrian counter on the Schuylkill River Trail (at Schuylkill Banks) logged over 198,000 counts in April 2017. Use of the Schuylkill Banks increased 18% in comparison to a similar period last year. DVRPC maintains 15 permanent counters on Circuit Trails across the region. The counters record use by direction and mode (bicycling or walking) continuously throughout the year. To view up-to-date data, visit www.dvrpc.org/webmaps/PermBikePed.
New Reports and Products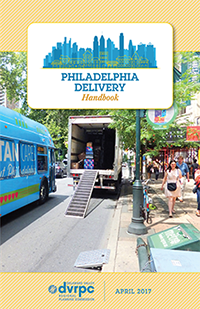 Several new products have been released in the past month. They include:
Upcoming LTAP Courses in PA and NJ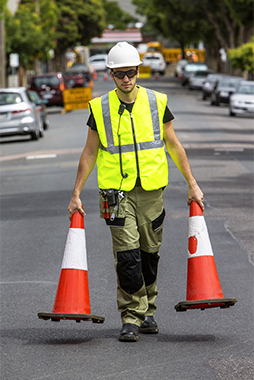 The Local Technical Assistance Program (LTAP) provides technical information and expertise to help municipal governments use transportation funds more effectively, improve road maintenance, and increase roadway safety.
Upcoming PennDOT classes in Pennsylvania include:
Managing Utility Cuts
Chester County
June 1, 2017
Roadside Safety Features
Chester County
June 8, 2017
Traffic Calming
Delaware County
June 23, 2017
Asphalt Roads Common Maintenance Problems
Montgomery County
June 28, 2017
Visit PennDOT's LTAP website to view the course descriptions and register.
There are several New Jersey LTAP courses at Camden County Public Works in Lindenwold, New Jersey in summer 2017. Topics include police work zone safety, roadside vegetation control, work zone safety awareness, highway inspection procedures, and more. Visit cait.rutgers.edu/cait/training for a list of all New Jersey workshops and to register.
DVRPC Staff Honored for their Leadership and Service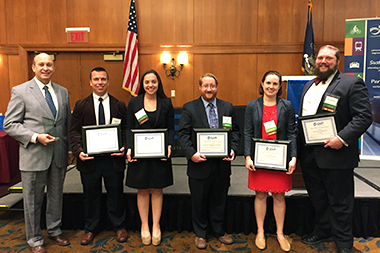 Top TDM Professionals under 40 from DVRPC.
Photo courtesy of GVF.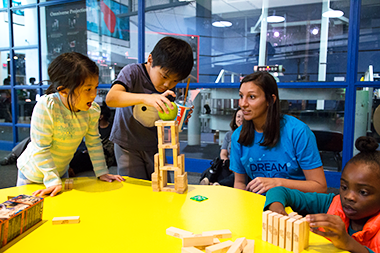 Katrina Lawrence works with local schoolchildren.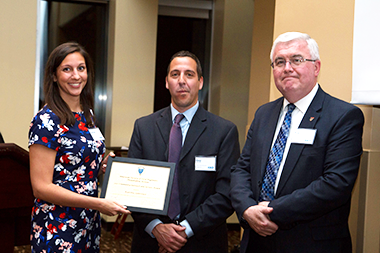 Katrina Lawrence receives award at ASCE event.
DVRPC received the 2017 Public Sector Leadership Award from Greater Valley Forge TMA (GVF) for improving transportation and infrastructure in the region. The award was presented to Executive Director Barry Seymour at GVF's Annual Meeting on May 8, 2017. GVF also named the Top TDM Professionals under 40 – twenty individuals who have made a positive impact in the transportation industry. Included in the group were DVRPC staff Amy Bernknopf, Cassidy Boulan, Paul Carafides, Shawn Megill Legendre, and Richard Murphy. For more information about the event and GVF, visit its
website
.
Katrina Lawrence, EIT, was awarded the 2017 Community Outreach and Service Award by the Philadelphia Section of the American Society of Civil Engineers. Ms. Lawrence serves as the K-12 Outreach Co-Chair and coordinates events in which civil engineers teach students about the field, their jobs, and engineering in general. A recent event was a showing of the IMAX movie "Dream Big" at the Franklin Institute for 350 students across Greater Philadelphia.
Staff Profile: Melissa Andrews, Environmental Planner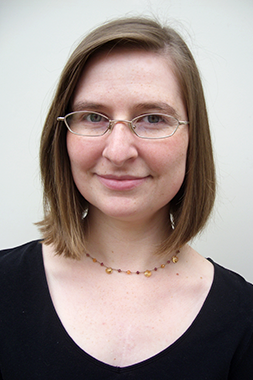 What did you want to be when you grew up?
I wanted to be a marine biologist because I loved fish, and had a tank full of them. However, none survived except for the giant catfish. I continued on the biology theme for a while with interests in becoming a scientist or doctor.
When did you become interested in planning?
It wasn't until college exposure during my "Urban Culture and Society" class that I changed course. I found the multi-disciplinary approach of urban studies more compelling than my science classes, so I ended up majoring in "Growth and Structure of Cities." I still did not intend to be a planner but to be an architect. Out of college, I worked for an architecture firm in Philly for three years as their Sustainability Coordinator. But over time, I realized that I preferred working at a broader scale than individual projects for single clients. I wanted to work at the neighborhood, city, and regional scales. I enrolled in the City and Regional Planning program at Penn, with a concentration on land use and environmental planning.
How did you end up at DVRPC?
After Penn I worked at the Manayunk Development Corporation on their Destination Schuylkill River program, which involved outreach and event planning around recreational activities on the Schuylkill. I knew of DVRPC from my graduate studio class that worked with DVRPC staff on strategies to reduce the region's greenhouse gas emissions by 80% by 2050. When I saw the job posting for an environmental planner, I thought it would be a good fit for my interests, and it was – I'm now coming up on my two-year anniversary.
What challenges do you see the region facing?
From working directly with municipalities on the NJ Coastal Communities Resiliency Program, I see sea level rise and flooding impacts of climate change causing significant natural, recreational, and economic hardships for places that are losing land and assets to inundation.
What three words best describe you?
Detail-oriented, empathetic, and witty
What TV shows are you watching?
I just finished the first season of "The Crown," a period piece about Queen Elizabeth II's ascendency to the throne and the conflicts she experienced between being a wife, mother, sister, and daughter, and having the duties of a queen.
Describe a memorable excursion you took within the region.
Last summer my partner Jonathan and I took a day off during the week and went blueberry picking in Burlington County. It was quiet and breezy, and there were so many berries to pick that we went home and froze a bunch. We are still taking them out of the freezer and enjoying them – it's like a little bit of summer before summer!
What do your Sunday mornings look like?
I like to take a run from my home in Mt. Airy to the Wissahickon Park, then come back for a nice brunch of fruit salad and blueberry pancakes. Then Jonathan and I typically work on some house project in our 110-year-old rowhouse and visit with friends.
If you could be Queen of Greater Philadelphia for a day, what would you declare?
I would have no conflict in declaring that everyone must go outside to their local park and experience nature. That way, people would appreciate what we have and be better prepared to address the environmental challenges ahead.