DVRPC News: September 2016
Volume 38, Issue 2 | September 2016
Explore the Future Forces or Share Your Vision to Win a Fitbit Alta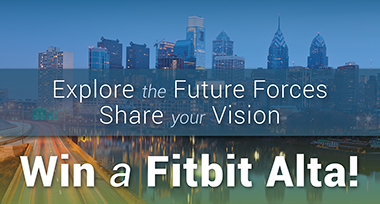 DVRPC planners are working on the region's new long-range plan, Connections2045, and we need your help! Enter our #MakingConnections giveaway by viewing the Future Forces slideshow and taking the survey, or by sharing your vision for Greater Philadelphia's future on social media, and you could win a Fitbit Alta.
You can enter the giveaway by exploring the Future Forces—emerging social, political, economic, environmental, and technological trends that will drive change in our region. To access the slideshow and survey, please visit www.dvrpc.org/Connections2045/FutureForces. Participants who complete the survey and enter an email address will get a chance to win the Fitbit.
You also can enter the contest by sharing your own vision for Greater Philadelphia's future. It could be anything from an idea for a specific transportation project to an aspiration for the kind of community you want to live in. Simply post your vision in images or words on Facebook, Twitter, or Instagram using the hashtag #MakingConnections and make sure to tag @DVRPC.
Whether you choose to complete the Future Forces survey or to tell us your vision for the region, your valuable feedback will inform the next phases of the long-range planning process.
Learn more about Connections2045 and upcoming opportunities to get involved at www.dvrpc.org/Connections2045. For the giveaway rules, click here [0.1 MB pdf].
Building on our Strengths: Investing in Greater Philadelphia's Centers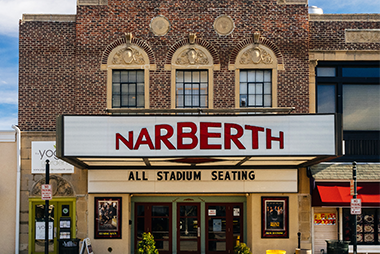 Paul Reitano Photography
Join DVRPC at the Chemical Heritage Foundation on Friday, November 4th for a half-day workshop exploring a cornerstone of Greater Philadelphia's Long-Range Plan – Investing in Centers.
Centers are the existing communities across our nine-county region that offer established infrastructure and employment/residential bases. Participants will learn how organizing development around Centers can make the region more sustainable, livable, and economically competitive.
The event will begin with the Development Opportunities Marketplace, where private sector residential and commercial developers and investors can meet municipal officials and economic development professionals to learn about available sites within the region. Next, a panel consisting of local officials and developers will discuss the important role that transit is playing in new development throughout Greater Philadelphia. The event will conclude with an interactive activity to identify challenges to investing in Centers and propose possible solutions.
The program will include breakfast and lunch, and will offer AICP certified planners 2.5 CM credits. Registration ends on November 2. More details and tickets are available at dvrpc.ticketleap.com/centers.
New Jersey Transportation Alternatives Program (NJ TAP) Application Period Opens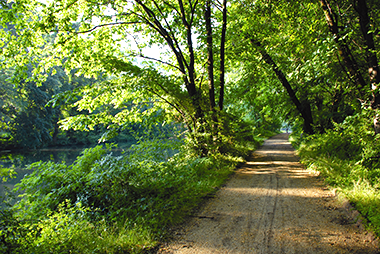 The New Jersey Department of Transportation (NJDOT), in partnership with DVRPC, the North Jersey Transportation Planning Authority (NJTPA), and the South Jersey Transportation Planning Organization (SJTPO), is now accepting applications for Transportation Alternatives Program (TAP) funds. TAP supports community-based "non-traditional" projects designed to strengthen the cultural, aesthetic, and environmental aspects of the nation's intermodal system.
Eligible projects include the construction of bicycle or pedestrian facilities, conversion of abandoned railways to trails, mitigation of the environmental impacts of motorized vehicles, rehabilitation of historic transit facilities, and more. Local governments, regional transportation authorities, transit agencies, natural resource or public land agencies, schools, school districts, local education agencies, and tribal governments may compete for TAP funds.
The application period will close on November 10, 2016. For more information, please visit www.dvrpc.org/TAP/NJ.
New Municipal Technical Assistance Program: Safe Routes to Transit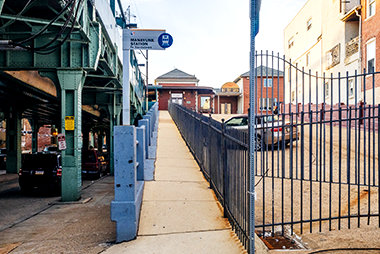 Paul Reitano Photography
You already know the problems your constituents encounter when they try to walk or bike to the train station. But developing solutions and identifying funding to design or construct those solutions can be intimidating. DVRPC's Safe Routes to Transit (SRTT) program can help identify potential improvements in your community, navigate the complex funding process, and bridge the gap between idea and implementation.
SRTT is a new program offering technical planning assistance to counties and municipalities as they develop projects that enhance bicycle and pedestrian access to rail stations. DVRPC will help counties or municipalities shape and/or perform planning-level design on these projects in order to strengthen applications to competitive funding sources.
The Commission invites counties and municipalities within the region to submit an online application identifying weaknesses in the transportation network that impede pedestrian and bicycle access to train stations. DVRPC will evaluate and select candidate stations based on these submissions and on the project sponsor's demonstrated commitment to pursue final design and construction immediately following DVRPC's study.
To learn more about SRTT and to access the application, please visit www.dvrpc.org/SafeRoutesToTransit.
Data Journal: 30-Year Population Forecasts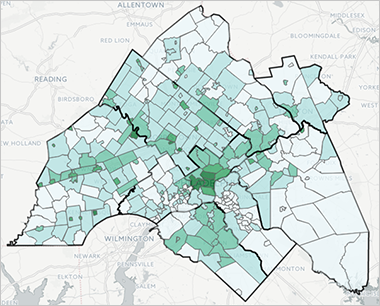 DVRPC has created a new web tool, County and Municipal-Level Population Forecasts, 2015 – 2045, which allows users to explore changes in population that are expected in the region over the next three decades. As part of DVRPC's federally mandated planning activities, the Commission must maintain forecasts out to the horizon year of the regional long-range plan. On July 28 DVRPC's Board formally adopted new population forecasts in preparation for Connections2045, the region's new long-range plan scheduled to be released in the summer of 2017.
The web tool presents forecasts based upon newly-published 2015 population estimates from the U.S. Census Bureau. Users can view the data in many different ways, such as by expected total 2045 population or by the percent population change over the 30-year period, on the municipal or county levels. The map to the right, for instance, presents the data as the absolute change in population per square mile, which permits comparisons between municipalities of larger or smaller geographic areas.
To access the web tool, find out more about population forecasting, and see how DVRPC expects population to change where you live, go to www.dvrpc.org/webmaps/PopForecast.
The Data Journal highlights some of the Commission's most exciting research findings. Every month, the Data Journal showcases a thought-provoking chart, map, or other graphic that illustrates DVRPC's recent work and illuminates an interesting facet of our region.
LTAP Courses in October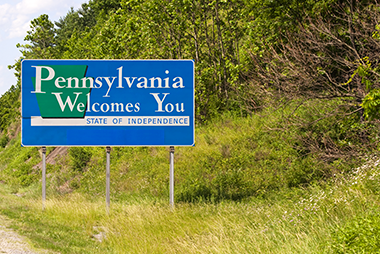 Salt and Snow Management (Montgomery County and Chester County)
Limerick Township
646 W. Ridge Pike, Limerick PA 19468
October 5, 2016 (8:00AM – 3:00PM)
West Bradford Township
1385 Campus Drive, Downingtown, PA 19335
October 25, 2016 (8:00AM – 3:00PM)
This course covers all aspects of winter maintenance operations. Topics include planning and organizing, public relations, material usage and application rates, equipment types/calibration, various operational procedures, CDL regulations, and safety and environmental awareness. Also covered are the latest techniques in pre-wetting materials and anti-icing procedures for a more effective and economical operations.
Equipment and Worker Safety (Montgomery County)
Whitpain Township Municipal Building
960 Wentz Road, Blue Bell, PA 19422
October 11, 2016 (8:00AM – 12:00PM)
This course provides a basic understanding of common safety factors and practices associated with public works road maintenance operations. It provides an overview of why accidents happen and how to protect personnel through the use of personal protective equipment. The program emphasizes workplace awareness of chemical safety, environmental hazards, and vehicle and equipment safety issues.
Roadside Vegetation Control (Bucks County)
Langhorne Manor Borough Hall
618 Hulmeville Avenue, Langhorne, PA 19047
October 11, 2016 (8:00AM – 3:00PM)
This course provides the knowledge needed to establish an effective roadside vegetation control program. It is based on the concept of an Integrated Vegetation Management philosophy, utilizing manual, mechanical, and chemical control methods to manage roadside vegetation. The course reviews laws and regulations regarding required applicator certification. This course has been approved by the PA. Department of Agriculture for Continuing Education Unit credits for those who have received pesticide applicator certification. Certified applicators can receive three core credits and six credits in each of the following categories: 10, 14, 18, 23, upon successful completion of this course.
To register for courses, please visit www.dot7.state.pa.us/LTAP.