DVRPC News: December 2016
Volume 38, Issue 5 | December 2016
DVRPC Board Retreat Highlights the Mid-Atlantic Megaregion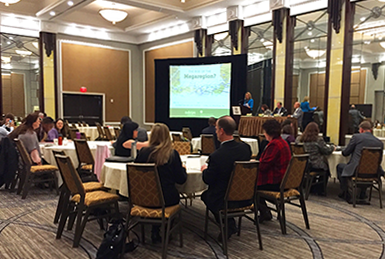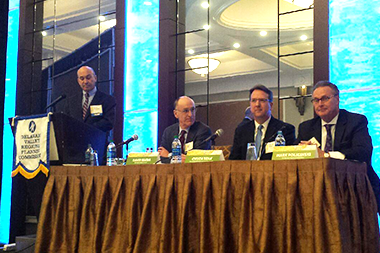 This year's Annual Board Retreat was part of a two-day conference with FHWA on the topic of megaregions. On December 6, 2016, FHWA led a discussion on freight coordination, the AMTRAK Northeast Corridor, I-95 Corridor Coalition, and connected/autonomous vehicles. The day kicked off with PennDOT Secretary Leslie Richards and Martin Knopp, FHWA Director of Field Services East. The program and discussions were facilitated by Dr. Catherine Ross, Director for Quality Growth and Regional Development at the Georgia Institute of Technology.
On December 7, DVRPC honed in on Greater Philadelphia and its advantageous position within both the Mid-Atlantic and Northeast megaregions. The day began with the DVRPC Board Chair, Montgomery County Commissioner Valerie Arkoosh, M.D. providing the welcome, and DVRPC Executive Director Barry Seymour providing an overview of DVRPC's activities over the past year. Dr. Ross delivered a keynote address about the importance of coordinating across borders. A morning panel on Greater Philadelphia's role in the megaregion featured Renee Sigel, Pennsylvania Division Administrator at FHWA; Mary K. Murphy, Executive Director, New Jersey Transportation Planning Authority; and Rebecca Reyes-Alicea, Northeast Corridor Joint Program Advisor, Federal Railroad Administration. Attendees then heard from executive directors from other multi-state metropolitan planning organizations (MPOs) including David Warm from the Mid-America Regional Council (Kansas and Missouri), Chuck Bean from the Metropolitan Washington Council of Governments (Washington DC, Virginia, and Maryland), and Mark Policinski from the OKI Regional Council of Governments (Ohio, Kentucky, and Indiana).
To see the full conference agenda, visit www.dvrpc.org/Megaregion.
Connections 2045 Strategy Workshop Held at Cira Centre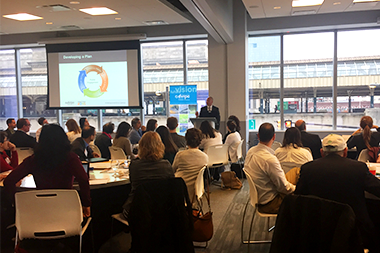 This fall, DVRPC held a follow-up to its visioning workshops. At the November 15, 2016 workshop, staff unveiled an aspirational vision for Greater Philadelphia based on equity, diversity, resiliency, accessibility, mobility, and health; and facilitated conversations with stakeholders to identify strategies the region can take now to reach a more prosperous, sustainable, and healthy future.
Insights from this workshop will inform the next phases of the long-range planning process. The update to Greater Philadelphia's long-range comprehensive plan, Connections, is scheduled to be adopted in the summer of 2017.
If you didn't have a chance to attend the strategies workshop, you can still share your ideas by participating in this simple survey. You can learn more about Connections 2045 and upcoming opportunities to get involved at www.dvrpc.org/Connections2045.
DVRPC Staff Presenting at TRB's 2017 Annual Meeting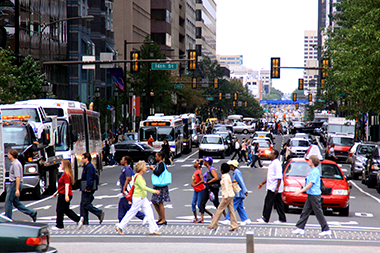 The Transportation Research Board, a part of the National Academies of Science, holds its annual meeting each year in January in Washington, DC. The conference brings thousands of transportation practitioners, researchers, and public officials from around the world to discuss innovative transportation solutions. Several DVRPC staff members have leadership positions within TRB, presiding over committees of content experts. And each year, a number of DVRPC staff members present on important topics or recent projects. This year's presentations include:
Scott Brady, Manager of Travel Monitoring, will lead a session on quality issues related to collecting data for nonmotorized transportation.
Laurie Matkowski, Manager of Transportation Operations Management, will participate in a session on Traffic Incident Management and technology's role in managing incidents, such as accidents on busy corridors.
Carrie Sauer, Intern in the Office of Transit, Bicycle, and Pedestrian Planning, will present a paper on curbless streets in urban contexts.
Greg Krykewycz, Associate Director of Transportation, will moderate a workshop on neighborhood greenways as bikeways.
Cassidy Boulan, Senior Transportation Planner, will present research about identifying opportunities for neighborhood greenways.
Alison Hastings, Manager of Communications and Engagement, will share the agency's experience integrating public health issues into planning.
Ted Dahlburg, Manager of Freight and Aviation Planning, will lead the Urban Freight Transportation Committee's annual meeting.
Thom Stead, Transportation Planner, will highlight DVRPC's Equity Through Access project in a poster session on "fresh ideas."
Data Journal: Bicycle Counts Record 12% Increase
DVRPC's bicycle counting stations along the Schuylkill River Trail recorded a 12-14% increase during the SEPTA strike this fall. Trail counters, located on Circuit Trails throughout the region, record use by direction and by mode (walking/bicycling) continuously throughout the course of a year. Visit www.dvrpc.org/Traffic for up-to-date vehicle, bicycle, and pedestrian traffic counts.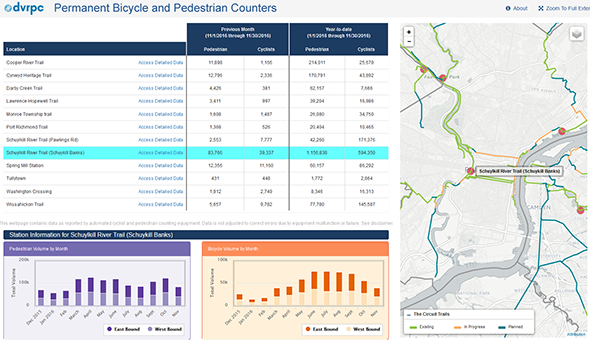 Staff Profile: Scott Brady, Manager, Office of Travel Monitoring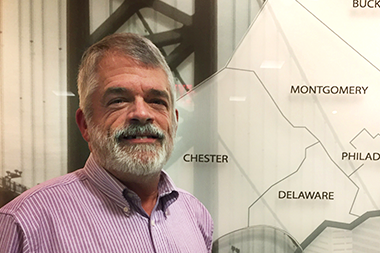 Where did you grow up, and what did you want to be when you "grew up?"
I was raised in Hawaii, near Kailua Beach, where President Obama vacations. Growing up, I was interested in designing public places where people gathered and interacted, like public plazas and train stations. When I was nine years old, I wrote a letter to the editor of the Honolulu newspaper in support of the rail transit system. Now, almost 50 years later, they are finally building it!
How did you get into planning?
I was a bio major at St. Martin's University in Washington State, which wasn't what I necessarily would have picked, but it allowed me to keep my job as a lab assistant. However, St. Martin's was too expensive and I left after two years, spending the next few years paying off college debt. During that time, I hung out with planners that worked for Metro Transit, the transit agency for the Seattle area, who suggested planning as a career. So I went back to school at University of Washington, this time double majoring in history and urban planning, and followed up with two Masters degrees: a Master of City Planning and Master in Science and Technology (MST), under Vukan Vuchic, at the University of Pennsylvania. They don't offer that degree anymore; I was the last student to receive an MST from Penn.
How did you end up at DVRPC?
A professor at Penn connected me with DVRPC, and I started out doing travel forecasting for the first half of my career. Then, about 15 years ago, the position leading the travel monitoring group opened. The group's work had never evolved – they collected vehicle classifications, traffic counts, and turning movements. Originally I had no interest, but after brainstorming with colleague Dr. Joseph Hacker, we came up with lots of ideas on enhancing the data collected. Essentially, I found my passion increasing the way data is collected – through Bluetooth readers and videos, and expanding the types of data collected – which now includes travel time and speed, origins and destinations, and our relatively new counts of bicyclists and pedestrians.
What are you most proud of?
The bike and pedestrian counts that we now do. This didn't happen overnight, but involved collaboration among a lot of people, new technology, and the development of new standards on how to collect good data and make sense of the numbers. My proudest achievement is the development of those standards, which require a seven-day count period because bike and pedestrian activity is weather dependent. The seven-day bike/ped count standard is now written in the Federal Highway Administration's Traffic Monitoring Guide.
What career advice would you give your younger self?
Be open to new possibilities. Don't despair if you cannot envision the future five years from now, because opportunities will present themselves. This is what happened for me!
What words best describe you?
Passionate (about work) and data geek.
What is your favorite place in the region?
Avondale, Chester County. I used to go out foraging for chanterelles in the Washington forests, which was both relaxing and energizing and my kind of fun. I can't do that here, but I do like to go to Avondale and chit chat with the mushroom growers, which brings back those memories.
If you could be King of Greater Philadelphia for a day, what would you do?
I'd rid people of their fears, mistrusts, and biases, and bring everyone together.