DVRPC News: December 2015

Volume 37, Issue 5
December 2015
Celebrate DVRPC's Five Decades of Plans, Programs, and Partnerships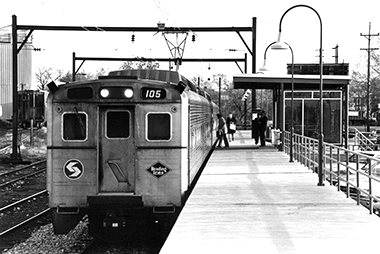 Our 50th Anniversary Celebration is almost here! Join DVRPC on the evening of December 9th at the Hilton Philadelphia at Penn's Landing for a festive dinner and reception commemorating 50 years of regional planning in Greater Philadelphia. The program will feature leaders from each of our nine counties discussing the most important transportation projects and land use planning programs that have shaped their communities while continuing to create regional impact. Tickets are $95 each and available at www.dvrpc.org/50/Dinner/.
Thanks to our sponsors who are making the 50th Anniversary Celebration possible (as of November 23):
Gold-level: Brandywine Realty Trust, Camden County, Greater Philadelphia Chamber of Commerce, Urban Engineers, and WSP/Parsons Brinckerhoff
Silver-level: AECOM, Dewberry, Econsult Solutions, eXude, Inc., Gannett Fleming, Jacobs, Lansdale Warehouse Co., Inc., Manko, Gold, Katcher & Fox, McCormick Taylor, McMahon Associates, PECO, Pennoni Associates, RBA Group, Temple University Department of Geography and Urban Studies, Temple University Department of City and Regional Planning, Tim Haahs, Traffic Planning and Design, Inc., Wallace Roberts and Todd, and Whitman, Requardt & Associates, LLP
Bronze-level: Advantage Engineering Associates, Arcadia Land, Center City District, Commuter Benefit Solutions, GVF, JMT, Maser Consulting, Raymond, Coleman Heinold & Norman, LLP, Saul Ewing LLP, Science Center, SEPTA, Taylor Wiseman & Taylor, and The Food Trust
Table Sponsors: Bucks County and LF Driscoll
Join the Public Participation Taskforce (PPTF)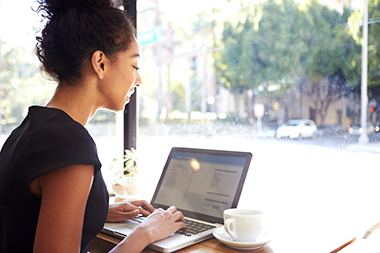 The mission of DVRPC's PPTF is to provide ongoing access to the regional planning and decision-making process, to review timely issues, to serve as a conduit for DVRPC information to organizations and communities across the region, and to assist the Commission in implementing public outreach strategies. And now through December 31st, DVRPC is accepting applications from the Delaware Valley region for new members!
Selected members will be notified by January 31, 2016 and will serve a two-year term, renewable for a second term.
Interested citizens are invited to attend the next PPTF meeting on the evening of December 3 starting with dinner at 5:30 PM, during which guest speakers from PlanPhilly, SJ Urbanists, and Philadelphia's Citizens Planning Institute will discuss the importance and role of civic engagement in the planning process. If you have any questions, please contact Shoshana Akins, Public Participation Planner, at 215-238-2817 or sakins@dvrpc.org.
Pennsylvania Transportation Alternatives Program Accepting Funding Applications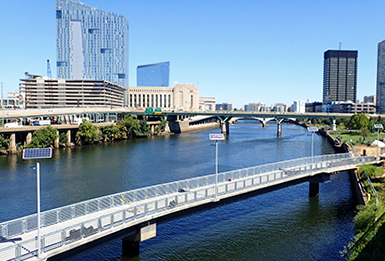 The Pennsylvania Department of Transportation (PennDOT) is currently accepting applications for Transportation Alternatives Program (TAP) funds. The application period will end at 4:00 PM on January 8, 2016. Eligible competitors for TAP funds include local governments, regional transportation authorities, transit agencies, natural resource or public land agencies, schools, school districts, local education agencies, and tribal governments.
TAP supports projects that design, plan, build, or improve transportation alternatives. Such projects include the construction of bicycle or pedestrian facilities, conversion of abandoned railways to trails, mitigation of the environmental impacts of motorized vehicles, rehabilitation of historic transit facilities, and more. Approximately $7.5 million in TAP funds will be awarded in southeastern Pennsylvania and a minimum of $9 million will be available statewide.
Eligibility and application forms, as well as state and regional program policy guidance documents, are available at www.dvrpc.org/TAP/PA.htm. Specific questions about the program may be directed to Joe Banks at jbanks@dvrpc.org.
Upcoming LTAP Courses for Municipalities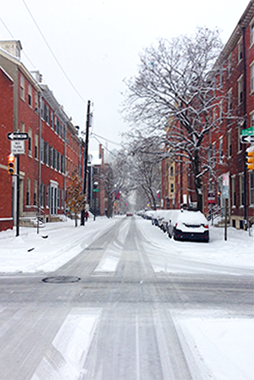 The PennDOT Local Technical Assistance Program (LTAP) provides workshops on technical information and proven technologies dealing with roadway maintenance and safety methods to meet the growing demands on municipal governments. Details about December's LTAP classes are listed below:
Pavement Markings: Applications and Maintenance
(Chester County)
East Brandywine Township Building
Downingtown, PA
December 4, 2015 (8:00 AM – 12:00 PM)
Winter Maintenance
(Chester County)
East Brandywine Township Building
Downingtown, PA
December 9, 2015 (8:00 AM – 3:00 PM)
To register, please visit www.dot7.state.pa.us/LTAP.
DVRPC to Host APA Economic Development Webinar and Grant Writing Workshop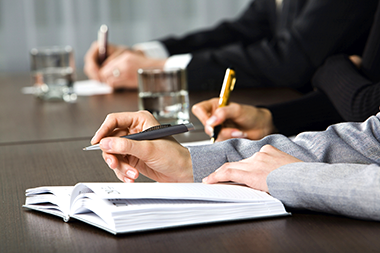 DVRPC will screen an APA webinar exploring the role and reputation of economic development planning in the post-Great Recession economy at the Chester County Planning Commission on December 2. The free event provides 1.5 CM credits for AICP members. See dvrpc.ticketleap.com/planning-economic-development-and-the-new-normal for more details and registration.
On January 20, 2016, DVRPC will host a one-day, comprehensive grant writing workshop to help participants craft stronger and more appealing proposals for their government agency, nonprofit organization, or community development corporation. Led by Pat Richter of PR Quickhelp Nonprofit Consulting, the workshop will pinpoint the most common grant writing mistakes, identify what information should be included in each section of a proposal, and spotlight strategies that concisely attract funders' attention. The event will be held at DVRPC's offices in Philadelphia. For further information or to purchase tickets please visit dvrpc.ticketleap.com/grants.
FHWA Every Day Counts Webinars, December 9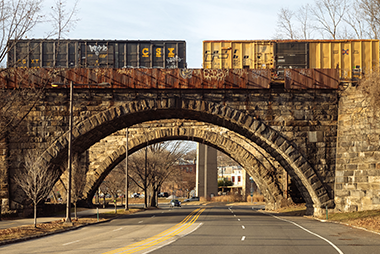 Paul Reitano Photography
If you are working on a federally funded highway or transit project, or may want to do so in the future, FHWA and the state DOTs are offering a webinar that will help you! All Local Public Agencies (LPAs), LPA leaders and managers, and any other interested attendees are invited to join the
FHWA Every Day Counts webinar
on
Wednesday, December 9
that will discuss
Stakeholder Partnering in Locally Administered Federal Aid Projects
from
2:00-4:00 PM
. There are two locations in our region:
West Whiteland Township Municipal Building
101 Commerce Drive, Room 201 (Main Meeting Room)
Exton, PA 19341
Sign up for the West Whiteland webinar here.
Burlington County Department of Public Works
1900 Briggs Rd, Main Conference Room
Mt Laurel, NJ 08054
Sign up for the Burlington County webinar here.
We hope that you will join us!
Classic Towns Program Welcomes Quakertown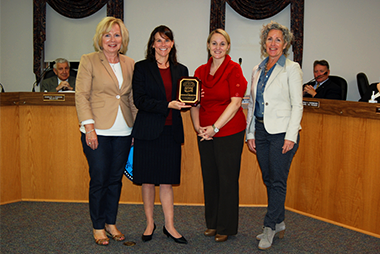 Karen Cilurso, Community Revitalization Manager, DVRPC, presented a plaque at the November 4 Quakertown Borough Council meeting. Pictured: Quakertown Alive! Executive Director Naomi Naylor, Borough Councilwoman Lisa Gaier, Karen Cilurso, and Upper Bucks Chamber of Commerce Executive Director Tara King. Photo by Michele Buono.
DVRPC welcomed Quakertown, Pennsylvania into its Classic Towns of Greater Philadelphia program this month. Quakertown is a tight-knit community of 9,000 residents, complete with its own farmer's market, affordable housing, high-quality schools, low taxes, borough-owned utilities, and an in-town community hospital, as well as 144 acres of diverse parkland connecting major regional nature trails.
Known as the "heart of Upper Bucks County," Quakertown has a rich history dating back to its settlement in the early 18th century. The town was a stopover for stagecoaches and commercial traffic between Allentown and Philadelphia, and the North Pennsylvania Railroad was responsible for much of its population growth. In 1777, the Liberty Bell was hidden in Quakertown behind Liberty Hall, on its way to Allentown during the American Revolution so it would not be found. Also, the house of Richard Moore, a local potter, is said to have been the most important stop of the Underground Railroad in Bucks County.
DVRPC staff presented a plaque at the November 4th Quakertown Borough Council meeting to officially welcome the Borough into the program. Classic Towns is a DVRPC initiative designed to promote the region's unique communities in both the city and suburbs. To view Quakertown's Classic Towns webpage, visit www.classictowns.org/quakertown.
DVRPC Releases New Studies on City Branch and Race Street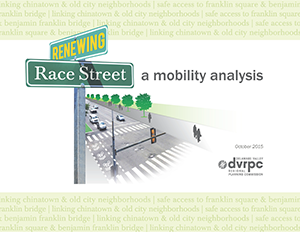 DVRPC has issued two new publications. First, Renewing Race Street: A Mobility Analysis evaluated the proposed design which seeks to revitalize Race Street between 9th and 5th Streets. Changes suggested by the design include limiting the road to a maximum of three lanes, reducing crosswalk length at intersections, installing protected bicycle and pedestrian amenities, and adding landscaping. The study concluded that the design would expand access for walkers, drivers, and bikers; improve connections between surrounding neighborhoods and amenities; beautify an area highly frequented by tourists; and improve safety with minimal impact to traffic flow. A full copy of the report can be accessed at www.dvrpc.org/asp/pubs/publicationabstract.asp?pub_id=15029.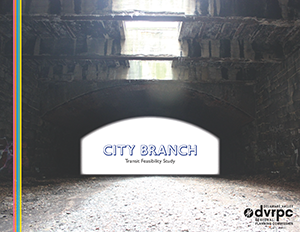 The City Branch Transit Feasibility Study assessed the practicability of several proposed transit uses for the City Branch, a SEPTA-owned unused rail corridor near the Benjamin Franklin Parkway. The study explored three main concepts under consideration: Cultural Corridor (a bus route serving cultural and tourist destinations), Express Bus Service (the rerouting of several existing SEPTA bus routes using the right-of-way), and Transit + Trail (the combination of a busway and mixed-use trail). The report found that the three proposals would create redundancies with existing services and furthermore that none could be achieved cost-effectively. Therefore, the study recommends against implementing any of these proposals at this time. Instead, it suggests investigating other potential reroutes for the 32 and 48 buses, preserving and enhancing the PHLASH service, expanding street-level bicycle facilities, producing a long-term City Branch master plan, identifying interim uses for the right-of-way, and creating a system-wide right-of-way preservation guide. The study can be downloaded at www.dvrpc.org/asp/pubs/publicationabstract.asp?pub_id=14020.
Planners Collaborate at Mid-Atlantic Regional Planning Roundtable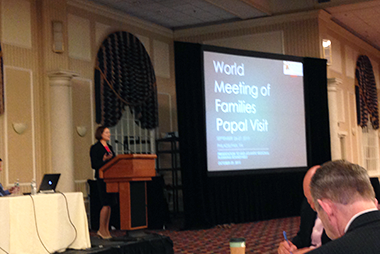 On October 29, over 120 planners from MPOs in the mid-Atlantic area convened in Wilmington, Delaware for the 8th Mid-Atlantic Regional Planning Roundtable. Through a series of forums, the group addresses the urgent need to work collaboratively to solve present and future transportation challenges. Looking beyond individual planning regions, the group fosters communication and coordination between MPOs on transportation issues. The most recent roundtable focused on mobility, sustainability, and economic competitiveness. Presenting from DVRPC were Laurie Matkowski, Manager, Office of Transportation Operations Management, who spoke about the interagency coordination that was done for the Papal visit; and Ted Dahlburg, Manager, Office of Freight and Aviation Planning, who spoke about freight centers. Barry Seymour, DVRPC Executive Director, and John Ward, DVRPC Deputy Executive Director, each moderated additional sessions.
Presentations have been posted on WILMAPCO's website at www.wilmapco.org/mid-atlantic.
Staff Profile – Ted Dahlburg, Manager, Office of Freight and Aviation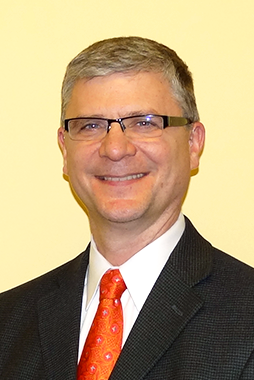 You have a nickname as Mr. Goods Movement. How did that come to be?
My grandfather was a ship captain of freighters on the Great Lakes, and my father had a summer job as a crew member when he was in college – so you could say goods movement is in my blood! In 1991, with the passage of the federal ISTEA legislation mandating MPOs to more systematically address freight, DVRPC established a freight planning program and I jumped on board and never left.
You must have had some interesting experiences interacting with the freight world – can you share some of them?
In the mid-1990s, I accompanied a container of coffee beans traveling from Brazil to Montreal via the Delaware Valley. It was a true multi-modal experience: the coffee beans and I traveled up the Delaware River on a ship (the Sea Wolf), and then we got off at the port onto a drayage truck that took us to the Canadian Pacific rail yard. The train was headed to Montreal, but literally dropped me off near my home in King of Prussia. Of course, this was pre-9/11, before the new security measures that are now in place.
Another trip commemorated the completion of double-stacked rail clearance all the way across Pennsylvania to Philadelphia. I got to travel on a special business train (with incredible on-board dining!) that featured a press conference with Governor Casey in Harrisburg. In addition to these trips, I also arrange tours of ports, manufacturing sites, and rail yards for our member governments with terrific support from the members of the DVRPC freight advisory committee. I am always seeking to raise awareness of goods movement and am very fortunate to work with many supportive and talented DVRPC staff members.
What's new in freight?
Now we are focusing on the last-mile connections and how to integrate freight with complete streets, neighborhoods, transit-oriented development, and how to be a good neighbor. While we need to address freight delivery issues at the very local level, we also stress that freight is an economic driver. With more manufacturing likely to take place locally (given growth in 3-D printing technology and preferences for locally grown and made items) these products will still have to be delivered.
What about aviation – why does DVRPC do aviation planning?
The Delaware Valley has 20 commercial, general aviation, and reliever airports (and one heliport), and these are important to the region's economy and they connect us to the world. DVRPC's regional perspective and its integrated approach to planning makes us a natural to conduct aviation planning for the region.
What is something most people don't know about you?
I have a twin brother, Andy, who lives in Hawaii, and as much as I love the Delaware Valley, I am really jealous of him! Also, after college, I took a 5-month backpacking trip on land (mostly buses and trains) from Philadelphia to Brazil.