DVRPC News: September 2012

Volume 34, Issue 3
September 2012
Employment Forecast to Increase by Almost 11% by the Year 2040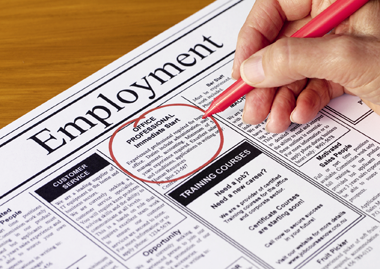 Employment in the Greater Philadelphia region is expected to increase by almost 11% between 2010 and 2040, according to DVRPC forecasts. The region's five southeastern Pennsylvania counties are expected to gain almost 236,000 additional jobs over the thirty-year period, while the four New Jersey counties will see an increase of almost 83,000 jobs. Much of the growth will be concentrated in the suburbs. Counties forecast to experience the greatest absolute increases in jobs include Chester and Montgomery counties in Pennsylvania, and Gloucester and Burlington counties in New Jersey. The DVRPC Board approved the 2040 employment forecasts at its September meeting.
To view the forecasts by county and municipality using an interactive web-mapping tool, visit www.dvrpc.org/webmaps/empforecasts.
Learn About Placemaking in Latino Communities on October 11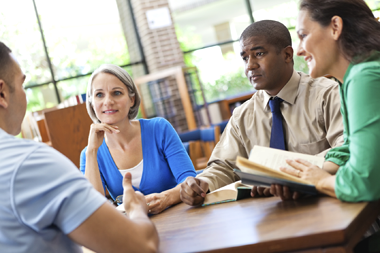 DVRPC is hosting a free event entitled "Placemaking in Latino Communities" on October 11 at 12 noon. Leonardo Vazquez, AICP/PP, will discuss planning and placemaking issues facing Latino communities in the Philadelphia, New Jersey, and New York metropolitan areas, as well as preview his new book, Diálogos: Placemaking in Latino Communities. Copies of the book will be available for purchase at the event; the author will sign all purchased books. Lunch will be available.
Leonardo Vazquez is a founder and director of Arts Build Communities at Rutgers, the State University of New Jersey. He is a community and local economic development planner with expertise in cultural competency, leadership development, and strategic communications. Diálogos: Placemaking in Latino Communities is written for readers seeking to learn about, plan, and engage with Latino communities. The book will help readers better understand the conflicts and challenges inherent in placemaking, and provide effective and sustainable choices for practice in an increasingly multi-ethnic world.
For more information, visit www.dvrpc.org/email/2012-09_Placemaking.htm. Please RSVP to Jane Meconi, DVRPC Public Involvement Manager, by Monday, October 8. Ms. Meconi can be reached at 215-592-1800 or public_affairs@dvrpc.org. 1.5 AICP CM credits have been approved for this event.
Listening Session to Focus on Camden County Bicycling and Trails on October 25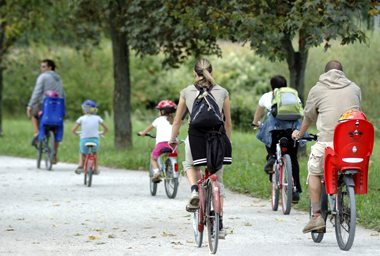 DVRPC is holding a listening session to discuss the Camden County Bicycle and Multi-Use Trails Master Plan at Camden County Boathouse in Pennsauken, New Jersey, on Thursday, October 25 at 6:00 p.m. This meeting is part of a continuing series of listening sessions held throughout the region to inform citizens about DVRPC plans, programs, and public participation activities. These meetings are intended to provide an opportunity for a continuing dialogue between the public and DVRPC regarding the most important issues facing the region.
The Camden County Bicycling & Multi-Use Trails Master Plan will guide the implementation of multi-use trails and on-road bicycle facilities in Camden County. The project will connect county residents to greenways and trails, as well as enhance opportunities to walk or bike to schools, parks, shops, and employment centers.
For more information on the Master Plan, visit www.dvrpc.org/camcobiketrails/#/update. To RSVP for the October 25 listening session, please contact Jane Meconi at 215-592-1800 or public_affairs@dvrpc.org.
Household Travel Survey Video Now Available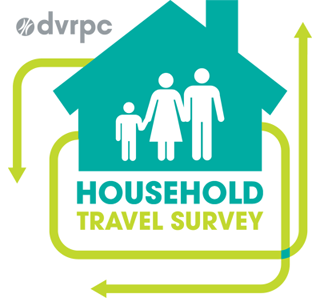 Earlier this month, DVRPC launched a year-long, region-wide travel survey to collect data about the daily travel behavior of residents in Southern New Jersey and Southeastern Pennsylvania. Results of the survey will determine how to improve roads, reduce traffic congestion, enhance walking and bicycle paths, and upgrade public transportation.
To help citizens and stakeholders learn more about the Household Travel Survey and to increase participation in this effort, DVRPC has created a two-minute video. To watch the video and learn more about the survey, visit www.dvrpc.org/TravelSurvey.
DVRPC Participates in Park(ing) Day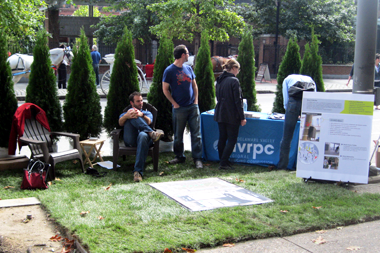 On September 21, DVRPC, along with over 50 businesses, nonprofits, designers, and citizens transformed parking spaces around Philadelphia into temporary public parks. DVRPC's park featured a large "magnetized" aerial map, with magnets shaped like cars, pedestrians, bicyclists, and more. Children were encouraged to sit around the map and drive/walk or fly magnets around the park. In addition, bicycle and pedestrian counters were set up to get a count of how many people passed by the park that day, and park visitors were invited to make guesses on the final counts – with the closest guess winning a small prize. Staff was on-hand to describe what the counters do and how DVRPC uses the data.
An annual event, Park(ing) Day celebrated parks and other public spaces in cities across the country, and raised awareness of the need for more pedestrian-friendly spaces in our urban areas. To learn more, visit www.parkingdayphila.org.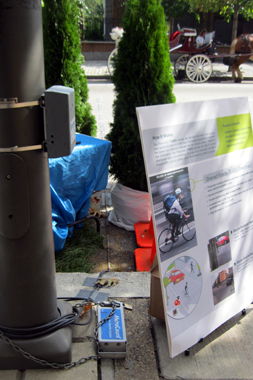 Air Quality Partnership Recaps 2012 Ozone Season and Provides Tips for This Fall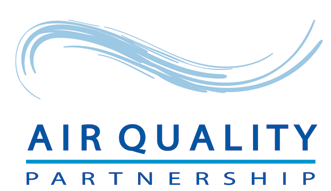 During the 2012 ozone season (May through September), the Delaware Valley experienced 19 Air Quality Action Days, down from 22 days in 2011. Air Quality Action Days are announced when air pollution (ground-level ozone or fine particle pollution) is forecast to be at unhealthy levels, or when the Air Quality Index reaches Code Orange or Code Red levels.
Although the ozone season has come to an end, there are still air pollution concerns throughout the fall and winter. Particle pollution is the term for tiny drops of liquid or small bits of dust, metals, or other materials (smaller than 2.5 microns in size) that float in the air. Some particles, such as soot or smoke, are large enough to see. Other particles are so small that they can only be seen with an electron microscope. Particle pollution comes from a variety of natural and manmade sources, such as cars, power plants, and forest fires.
Wood burning stoves can be a contributor to particle pollution in our region. The U.S. Environmental Protection Agency is sponsoring a new program, Burn Wise, which emphasizes the importance of burning the right wood, the right way, in the right wood-burning appliance to protect your home, health, and the air we breathe. For tips on burning wood, visit www.epa.gov/burnwise.
To learn more about air pollution, visit www.airqualitypartnership.org.
DVRPC Encourages Simple Steps to Prepare for Emergencies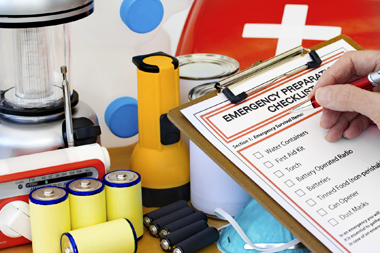 The Federal Emergency Management Agency's Ready Campaign is encouraging Americans to take simple steps to prepare for emergencies as part of National Preparedness Month in September. To raise awareness, DVRPC is offering a few tips to help residents of the Delaware Valley region prepare for and respond to natural and manmade disasters:
Be informed. Know the hazards and risks in your area and learn what you need to do to prepare for them.
Make a family emergency plan. Sit down with your family and establish a plan for how you would communicate with and find your loved ones in the event of a disaster.
Make an emergency supply kit. Food, water, and first-aid kits are essential supplies in the event of an emergency. Keep kits at home and in your car, especially in winter months when icy roads and snowstorms can leave motorists stranded.
Get involved. Be an advocate and educator for safety and emergency preparedness in your community.
For additional information on emergency preparedness, visit Ready.gov or the Spanish-language site Listo.gov.
Through its Safety and Security Program, DVRPC works to enhance communication efforts and prepare the transportation system to deal with natural and manmade emergencies. For more information about this program and future meetings, visit www.dvrpc.org/transportation/safety.