DVRPC News: June 2011

Volume 32, Issue 8
June 2011
Public Meeting on June 29 for Draft DVRPC FY 2012-2015 New Jersey TIP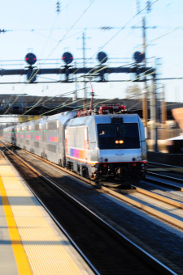 Please join us for a public meeting and information session on the Draft FY 2012 TIP for NJ and the Draft Transportation Conformity finding between 4:00 and 6:00 p.m. on Wednesday, June 29, 2011 at the Cherry Hill Library, 1100 Kings Highway North, Cherry Hill, NJ.
DVRPC has opened a public comment period for the Draft Fiscal Year (FY) 2012-2015 Transportation Improvement Program for New Jersey (TIP), and the Draft Transportation Conformity finding of the Draft FY 2012 New Jersey TIP and the FY 2011 Pennsylvania TIP. The public comment period for the draft New Jersey TIP will close at 5:00 p.m., July 5, 2011. The public comment period for the draft Transportation Conformity finding will close at 5:00 p.m., July 20, 2011.
The TIP is the regionally agreed-upon list of priority transportation projects, as required by federal law. Transportation conformity is the process that ensures that plans and programs receiving federal aid are consistent with the region's air quality goals.
There is a new DVRPC public comment web tool that can be used to electronically submit public comments on the Draft 2012 TIP or TIP projects, or review or map the program and individual projects in an interactive way at www.dvrpc.org/TIP. Click here for more information.
DVRPC to Fund $2.2 Million in Local Planning Projects and Improvements through TCDI Grant Program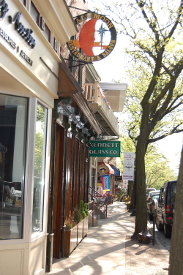 First-generation suburbs, older boroughs, and city neighborhoods in Greater Philadelphia will have an opportunity to improve their communities through a Transportation and Community Development Initiative (TCDI) grant.
TCDI grants assist in reversing the trends of disinvestment and decline in many of the region's core cities and first generation suburbs. A total of $2.2 million in grants will be available, including $1.2 million for communities in Pennsylvania and $1 million for communities in New Jersey.
To be considered for a TCDI grant, all application requirements must be completed in their entirety and returned to DVRPC by 5:00 p.m. on September 1, 2011. Prior to submitting a completed TCDI application, applicants must attend at least one informational pre-application meeting.
Complete application information and pre-application meeting dates are available at www.dvrpc.org/tcdi.
DVRPC Launches Online Environmental Justice Analysis Tool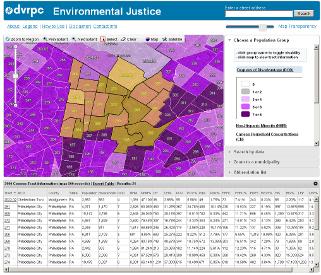 As the Metropolitan Planning Organization (MPO) for the Greater Philadelphia region, DVRPC's plans, programs, and policies are guided by Title VI and Environmental Justice (EJ) statutes, which ensure non-discrimination in the transportation decision-making process. As part of DVRPC's work in meeting these requirements, a methodology was created, and refined in subsequent years, to identify populations that may be impacted by transportation and regional planning decisions. Each population group identified may also have specific planning-related challenges to address. Since 2001, DVRPC staff have utilized this technical assessment in a variety of plans and programs undertaken by the Commission.
DVRPC has recently launched an online interactive tool to make this information available as a resource not just to DVRPC staff, but to the entire nine-county DVRPC region. The online map viewer allows users to view and identify EJ sensitive areas within the DVRPC region. Users can search by population group (DVRPC currently analyzes eight groups: minority, non-minority Hispanic, elderly (over 75), poverty level, carless households, female head of household with child, physically disabled, and Limited English Proficiency); municipality; or by census tract. The data currently used is from the 2000 Census, but will be updated as 2010 Census data is released.
To use the online EJ analysis tool, and for more information about EJ and Title VI, visit: /GetInvolved/TitleVI/.
Bicycle Issues Defined in Greater Philadelphia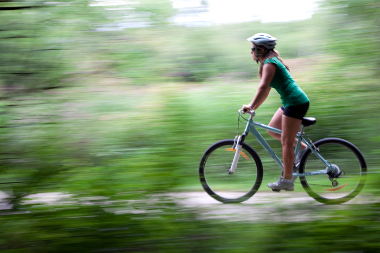 Planners and bicycling advocates have a much clearer idea of the region's bicycling needs, thanks to a new study by the Delaware Valley Regional Planning Commission (DVRPC). Titled Shifting Gears: Regional Bicycle Outreach and Priority Setting, the study defines regional bicycling issues, which will help better match agency resources to the bicycling needs across the region.
As a first step, DVRPC took an inventory of regionally relevant bicycle, trail, and open space plans, as well as other regionally or locally significant information. In addition, meetings were held with regional stakeholders, and an online public survey provided input on specific locations that should be considered for bicycle enhancements.
As a result of this outreach, the Commission determined top priority bicycle locations for each of the nine counties in the Delaware Valley region. Locations were also prioritized based on volume of bicycle-related crashes, proximity to local attractors, and location relative to other bicycle facilities.
To view the full report, click here.
Streetscape Improvement Project Revitalizes North 5th Street in Philadelphia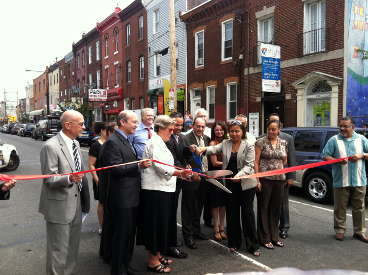 A unique streetscape improvement, funded in part by the Hometown Streets Program, has transformed North 5th Street in Philadelphia. The project, El Centro de Oro, strengthens the commercial corridor and cultural center, and helps build an identity as a regional attraction for Philadelphia's growing Latino community. Improvements included new street lighting, coloring and patterns in the sidewalk, and 48 metal ornamental palm trees. DVRPC staff served as project manager for the contract, coordinating between PennDOT and the community. A ribbon-cutting event, hosted by the Hispanic Association of Contractors and Enterprises (HACE), was held on June 20, 2011.