DVRPC News: December 2011

Volume 33, Issue 6
December 2011
DVRPC Awards $1.2 Million for Revitalization Projects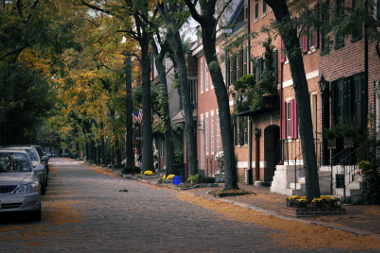 The Delaware Valley Regional Planning Commission (DVRPC) has awarded $1.2 million to 24 municipalities in southeastern Pennsylvania through the Transportation and Community Development Initiative (TCDI) program. TCDI grants support planning for local development and redevelopment efforts.
TCDI creates more livable neighborhoods in the region's core cities and first generation suburbs. The grants support local planning projects that will lead to more residential, employment, or retail opportunities; improve the overall character and quality-of-life within these communities to retain business and residents; enhance and use the existing transportation infrastructure capacity in these areas to reduce demands on the transportation network; and reduce congestion and improve the transportation system's efficiency.
For more information, visit www.dvrpc.org/TCDI.
FY 2013 Work Program Available for Public Comment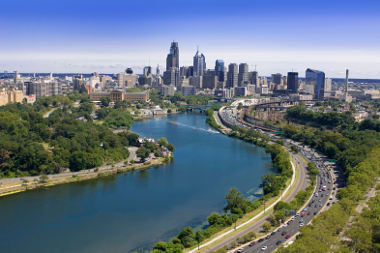 DVRPC has opened a public comment period for the Draft FY 2013 Planning Work Program. This document outlines all of the federally funded planning projects slated for the nine-county region from July 1, 2012 to June 30, 2013. The listing includes DVRPC projects, as well as projects planned by member governments and transit organizations. The Work Program is developed annually by the DVRPC Board with its planning partners to reflect the region's short-range planning needs.
Copies of the Work Program are available on DVRPC's website at www.dvrpc.org/WorkProgram; in the DVRPC library, located at 190 North Independence Mall West, Philadelphia; or by contacting John Griffies, DVRPC Contracts Manager, at 215-238-2925 or jgriffies@dvrpc.org. Comments regarding the Work Program should be addressed to John Griffies at the above address and should be received no later than 5:00 p.m. on January 13, 2012. DVRPC fully complies with Title VI of the Civil Rights Act of 1964 and related statutes and regulations in all programs and activities.
DVRPC Board Votes to Replace Regional Citizens Committee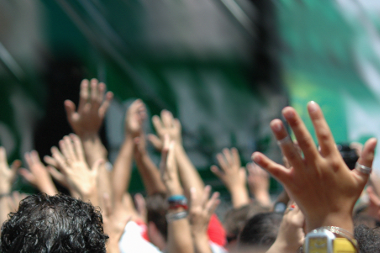 The DVRPC Board voted at its October meeting to replace the Commission's long-standing Regional Citizens Committee (RCC) with a Public Participation Task Force that will be comprised of nine appointees, one from each of the region's counties, as well as 12-15 citizens-at-large, who will be selected through an application process. The RCC had been in existence for more than 30 years.
Because of its self-selecting nature, the RCC's ability to encompass the diversity needed to meet federal mandates was limited. The newly proposed structure of the task force will work to ensure geographic, cultural, and ethnic diversity, while engaging citizens directly in public outreach efforts and timely issues.
Staff anticipates that Board appointments will take place in late January; an application will be available in February for citizens-at-large; selection will take place in March; orientation sessions for new members will be scheduled for April; and the first meeting of the new task force will take place no later than June, 2012.
Whether DVRPC is engaged with an RCC or a Public Participation Task Force, this segment represents just one phase of a much larger public participation program that includes the Environmental Justice Work Group, the Regional Student Forum, regional listening sessions, targeted project outreach, and an online commenting feature for Board action items.
For more information visit www.dvrpc.org/GetInvolved.
Commuters on Public Transit to Benefit from Prepaid MasterCard® Card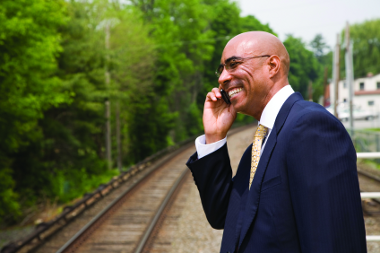 TransitChek Select users now have the option to receive a personalized TransitChek Prepaid MasterCard® Card to use as an alternative to paper vouchers. The Delaware Valley TransitChek Prepaid MasterCard card enables employees to add funds to their account through their employer-sponsored benefit program, as well as view their balance and transaction history. The cards can be reloaded each month, up to the federal allowance.
The Delaware Valley TransitChek Prepaid MasterCard card can be used to purchase fares for commuting on regional transit services, including: SEPTA, PATCO, New Jersey Transit, DART First State, Amtrak, and VPSI Vanpool, as well as transit agencies that serve central Pennsylvania. This card can be used at transit agencies or designated transit retail centers where only transit passes, transit tickets, fare cards, and vanpool passes are sold.
For more information, contact Erin Burke, Senior Marketing Associate and Operations Manager, TransitChek Program, at 215-238-2855 or eburke@dvrpc.org; or visit www.transitchekselect.com.
Air Quality Awareness Flag Program Available to South Jersey Schools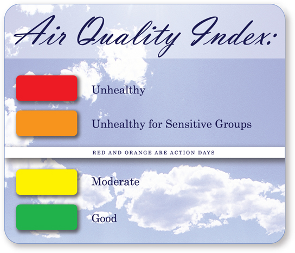 DVRPC has partnered with the New Jersey Department of Environmental Protection to offer schools in Burlington, Camden, Gloucester, Mercer, and Ocean counties an Air Quality Awareness Flag Program toolkit at no cost.
The toolkit contains a set of four 3'x5' colored flags that correspond to the colors of the Air Quality Index. Schools can display the flag for the AQI of the day to raise student awareness of air quality. The toolkit also includes educational materials, information on protecting student health when air quality is poor, as well as draft newsletter articles and policies.
The AQP has a limited number of AQI flag toolkits available. If you would like information about participating in the program, please contact Sean Greene, Senior Transportation Planner, at 215-238-2860 or sgreene@dvrpc.org. For more information about the Air Quality Partnership, visit www.airqualitypartnership.org.
First Responders Use RIMIS Technology to Monitor Transportation System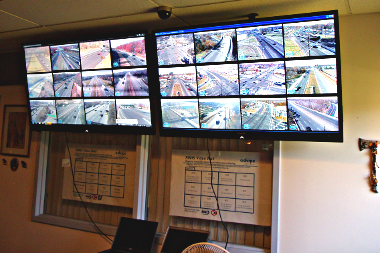 Currently, Greater Philadelphia is the only region in the country using a new technology to monitor its transportation system, in which information is shared with 911 offices and others down to the municipal level. The Regional Integrated Multi-Modal Information Sharing (RIMIS) project allows first responders, transportation agencies, local officials, and others to share timely and clear notifications with other agencies. They are able to get the "big picture" of the region's transportation system through detailed databases, maps with situational information, and real-time traffic videos.
So far, 30 entities are using the system and DVRPC continues to roll out the RIMIS program in areas of the region not currently being served. For more information, contact Stan Platt, Manager, Office of Transportation Operations Management, at 215-238-2851 or splatt@dvrpc.org; or visit www.dvrpc.org/Transportation/TSMO/RIMIS/.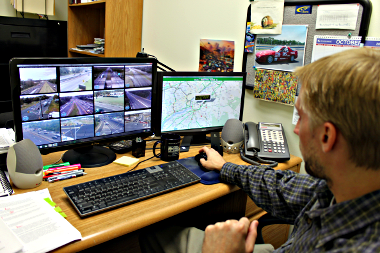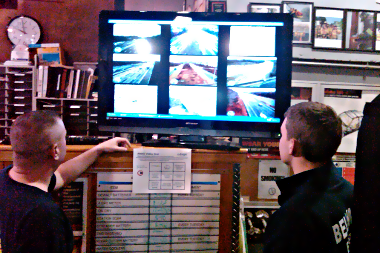 Workshop on Stewarding Natural Resources Draws Crowd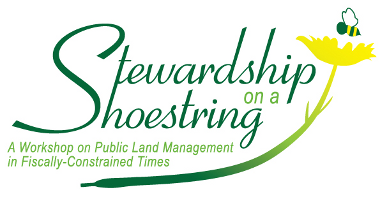 On Wednesday, November 30, 50 community leaders, municipal and county staff, and environmental professionals participated in Stewardship on a Shoestring, a workshop on managing public land during difficult financial times, held at the Camden County Boat House. It was co-hosted by DVRPC and the Natural Lands Trust. Camden County Freeholder-Director and DVRPC Board Chair Louis Cappelli joined DVRPC Executive Director Barry Seymour, and Natural Lands Trust President Molly Morrison, in welcoming the group.
Highlights of the day included presentations by innovative governments and nonprofits who are working with limited resources to sustainably manage the region's protected open spaces and public lands. Some speakers discussed the on-the-ground details of sustainable land management practices, such as planting a street median, a meadow, or a stormwater basin with native grasses, which require less mowing and public works maintenance, provides habitat for birds and beneficial insects, and can mitigate flooding. Other speakers discussed the importance of engaging volunteers in cleaning up natural spaces or maintaining trails.
For information on future events, visit www.natlands.org or www.dvrpc.org.