Regional Integrated Multi-Modal Information Sharing (RIMIS) Project
Regional Integrated Multi-Modal Information Sharing (RIMIS) Project is a web based information exchange network connecting highway operation centers, transit control centers, and 911 call centers in the Delaware Valley. These organizations are able to view the state of the region's transportations system through detailed databases, maps with situational information, and real-time traffic videos. RIMIS will enable agencies to receive messages about incidents, construction and maintenance activity, and special events that impact highways and transit. RIMIS is also designed to act as a dynamic warehouse for incident data, entered by the user. This data collection provides an invaluable source of real time and archived information for transportation planners and first responders.
The overall motivation for RIMIS is to foster better communications and information-sharing between the many agencies in the region. RIMIS's objectives include:
Enable agencies to provide timely and clear notifications and information to other agencies.
Enable agencies to act on timely and clear incident notifications and information about the transportation system.
Increase the knowledge of the transportation "big picture."
Improve the interpretation of transportation information through utilization of common formats and protocols used by the "source" agencies.
Development of RIMIS
A RIMIS Subcommittee of the Transportation Operations Task Force, composed of core regional agencies, was established to actively guide RIMIS' development and operation. It includes representatives from the Delaware River Port Authority (DRPA), Delaware Valley Regional Planning Commission (DVRPC), New Jersey Department of Transportation (NJDOT), Pennsylvania Department of Transportation (PennDOT), the City of Philadelphia, SEPTA, Pennsylvania Turnpike Commission (PTC), Southeastern Pennsylvania Transportation Authority (SEPTA), and Federal Highway Administration (FHWA).
RIMIS was developed using a systems engineering approach, as per federal ITS requirements. This multi-step process involved the following activities:
RIMIS Concept of Operations - This document describes RIMIS' vision. It documents the current situation and the justification for RIMIS, including desired features for the proposed system.
RIMIS Functional Requirements - High level functional requirements, or specifications, were developed based on the Concept of Operations. This highly technical document lists specifications and places them in the larger operational context.
Request for Information (RFI) - An RFI was issued to ascertain the status of existing center-to-center software packages, and to determine how well they fulfilled RIMIS' Functional Requirements. Six software packages were demonstrated to the RIMIS Subcommittee.
Using RIMIS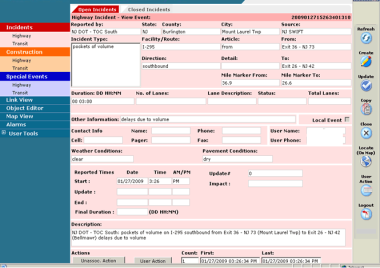 At the core of RIMIS are databases listing current and planned activity in the region. There are separate events data entry pages for highway incidents, transit incidents, and planned events. For a typical incident or event, a traffic operations center operator will input, via pull-down menus, the incident location, type of incident, its impact on traffic, and the anticipated duration of the incident. The information then forms an event message displayed in an events list and concurrently populated on an events map. The following screen shots are from a system that NJDOT is currently using and may be similar to what RIMIS looks like.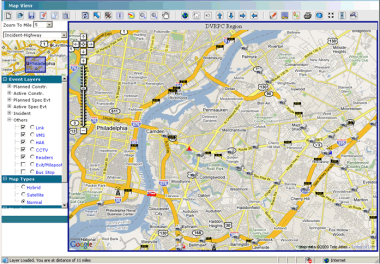 Most RIMIS users will monitor the transportation system via the events map that displays all events in the region. Event types are show by means of different icons, for example cones for maintenance or construction activity or cars for highway crashes. By clicking an icon, detailed information about the event is displayed. CCTV cameras, variable message signs, and traffic flow detectors can also be displayed on the map. By selecting one of the items, the operator can view real-time video, live variable message sign messages, and traffic flow information. Similar types of information are available for transit.