Incident Management Resources
Provided below is a collection of resources, documents and important links to provide additional incident management information.
The resources are organized into three categories:
Regional - DVRPC, New Jersey and Pennsylvania plans;
National - Selected incident management policies and guidelines; and
Other - Pertinent tools, information and website links from various incident management sources.
Regional
The document provides incident responders with uniform operational guidelines to ensure safe operations on the following limited access highway in Camden and Gloucester Counties: NJ 42, NJ 55, I-676, I-76, and I-295. These guidelines were formulated based on input from representatives of the New Jersey Southern Area First Responders (NJ SAFR) Incident Management Task Force (IMTF), previously known as the NJ Route 42/55, I-76/676/295 IMTF. This document is intended to be used by incident responders as a guideline for decision-making, and can be modified as necessary to address existing conditions. This is the third version, or second revision, of the 2005 NJ Route 42/55, I-76/676/295 IMTF Policy and Procedures Manual. Guidelines set forth in this document are consistent with the State of New Jersey Highway Incident Traffic Safety Guidelines for Emergency Responders, which was endorsed by the New Jersey Attorney General in 2010. It is not intended to be a textbook, nor a substitute for training, technical knowledge, experience, or effective judgment.
The purpose of this document is to provide incident responders in the Philadelphia, Pennsylvania region with uniform operational guidelines for safe operations at the scene of a highway incident. It is intended that this document serve as a guideline for decision-making and can be modified by the incident responders as necessary to address existing conditions. The area covered by this document is generally associated with the limited access highways in Montgomery County, Pennsylvania along I-76, I-476, PA 309, and US 422.
On Wednesday, May 6th, 2009, DVRPC hosted the workshop, Developing an Incident Management Task Force: Keys to Succeed. The objective of this workshop is to provide a framework for agencies to organize and conduct future incident management efforts and evolve these efforts into ongoing programs. The workshop provided a series of lessons learned from DVRPC's own experiences in managing our Incident Management Task Forces and presentations from both national and local incident management perspectives.
A CD ROM Tool Box was also provided to participants and includes a series of ready-to-use documents that can be utilized by leading agencies to manage future incident management meetings: examples of products created from DVRPC's incident management efforts, video and national resource documents that can be used as incident management background information.
[0.4 MB .pdf]

In Pennsylvania, the responsibility for evacuating persons from an area at risk is given to the political subdivisions through their elected officials. This guide is intended to assist agencies with the planning and implementation of an evacuation by serving as a tool for emergency managers charged with assessing how best to protect citizens in the path of a threat.
National
[0.2 MB .pdf]

The National Unified Goal (NUG) for Traffic Incident Management is a unified national policy developed by major national organizations representing traffic incident responders, under the leadership of the National Traffic Incident Management Coalition (NTIMC). The NUG encourages state and local transportation and public safety agencies to adopt unified, multi-disciplinary policies, procedures and practices that will dramatically improve the way traffic incidents are managed on U.S. roadways.
[10.5 MB .pdf]

The U.S. Fire Administration and U.S. Department of Transportation developed this report working in partnership with the International Fire Service Training Association. This report provides technical guidance and training programs in traffic management for fire and emergency service providers.
[3.8 MB .pdf]

The National Incident Management System provides a systematic, proactive approach to guide departments and agencies at all levels of government, nongovernmental organizations, and the private sector to work seamlessly to prevent, protect against, respond to, recover from, and mitigate the effects of incidents, regardless of cause, size, location, or complexity, in order to reduce the loss of life and property and harm to the environment. NIMS provides the template for the management of incidents.
[2.1 MB .pdf]

The Federal Highway Administration (FHWA) has released a report on the Incident Command System (ICS) which is the systematic tool for the command, control, and coordination of an emergency response. The purpose of this Simplified Guide is to introduce the ICS to stakeholders who may be called upon to provide specific expertise, assistance, or material during highway incidents but who may be largely unfamiliar with ICS organization and operations. These stakeholders include transportation agencies and companies involved in towing and recovery, as well as elected officials and government agency managers at all levels.
[3.2 MB .pdf]

The FHWA released a report that identifies and summarizes the information needs of public and private incident responders. It describes how information is obtained and shared during an event in order to best support safe, quick response. Additionally this document addresses technical and institutional barriers to information exchange as well as methods devised to overcome these barriers. This report presents key research showcasing the advantages of data sharing between multiple agencies. Selected best practices for information sharing are presented.
[3.6 MB .pdf]

The FHWA released a report that discusses various aspects of traffic control for incidents with the focus on the traffic control roles and responsibilities of the responders as well as the safety of the responders and the motoring public. The roles/responsibilities of the various categories of responders are addressed. Available traffic control devices are discussed and there is also focus on the affects on traffic control created by the dynamic nature of incident clearance. The document also highlights some "best practices" to enhance traffic control implementation.
[2.0 MB .pdf]

The FHWA has released a report that explores Quick Clearance Law implementation efforts by preparing states to respond to questions regarding the necessity of Quick Clearance legislation, and identifying examples from previous legislation that serve to both support and challenge successful incident management operations.
[3.6 MB .pdf]

The Federal Highway Administration (FHWA) has released a report that addresses the special needs and concerns when managing traffic incidents within a work zone. It focuses on incident management as a strategy to be considered in the transportation operations component of the transportation management plans (TMP). The contractor's role in dealing with incidents within the work zone is addressed as well as the description of processes, procedures, and practices related to the detection, response, and clearance of incidents. Common work zone incident management strategies are described.
[5.2 MB .pdf]

This handbook provides an overview of the Full-Function Service Patrol and describes desired program characteristics from the viewpoint of an agency that is responsible for funding, managing, and operating the services. Presented guidelines and rules of thumb illustrate operational characteristics, sponsorship, level of service, number of vehicles needed, vehicle types and equipment, patrol frequency, operator and manager training, and services provided.
[7.2 MB]

Although, the necessity of a multi-disciplinary approach has been well-recognized, this same multi-disciplinary approach has not been as widely extended to the area of resource management. The FHWA released a primer that identifies and explores opportunities for improvement in resource management by considering the most efficient and effective use of resources across all responding agencies. It describes potential cost-sharing strategies that would allow these efficiencies to be realized.
[4.8 MB]

Hazardous materials spills provide unique challenges to traffic incident clearance. The mitigation and clean-up of hazardous spills can be a major source of delay in clearing traffic incidents. This document deals with the protocol and necessary knowledge required by transportation operations personnel, and first responders when dealing with hazardous materials spills on the roadway, especially vehicle fluids.
[20.8 MB .pdf]

The focus of this primer is no-notice events. These no-notice incidents occur for many reasons, such as forest fires, major storms, chemical spills, or terrorist acts. Their common denominator is that they occur with little or no warning, which presents unique challenges for the safe and secure movement of people and goods. This primer is directed toward transportation officials, first responders, and emergency managers who will plan and execute evacuation efforts.
Other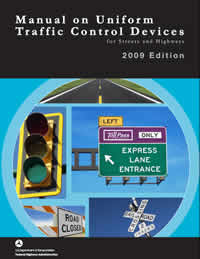 The MUTCD contains standards for traffic control devices that regulate, warn, and guide road users along the highways and byways in all 50 States. Traffic control devices are important because they optimize traffic performance, promote uniformity nationwide, and help improve safety by reducing the number and severity of traffic crashes.
Chapter 6I - Control of Traffic Through Traffic Incident Management Areas defines traffic control procedures for minor, intermediate, and major traffic incidents.
[36.0 MB .pdf]

A roadmap for developing a Traffic Incident Management Program, providing policy makers and practitioners in traffic incident management with handy and ready-to-use tools to assist them in providing more effective traffic incident management practices in general, but with primary emphasis on quick clearance. The I-95 Corridor Coalition has also developed an I-95 CC Quick Clearance Toolkit Website that includes links to material and videos designed to help jurisdictions initiate or improve quick clearance programs.
[21.9 MB .pdf]

Law enforcement communications with towing and recovery operators describing an incident and the vehicles involved can insure quick and efficient clearing of these scenes and less disruption to traffic flow. In an effort to standardize communications, the TRAA created the vehicle identification card to help remove the possibility of a tow truck operator coming to the scene with inappropriate equipment.
Important Links