Draft FY2015 TIP for Pennsylvania
The Draft DVRPC FY2015 TIP (FY2015-2018) for the Pennsylvania portion of the region was adopted with Recommended Changes as the priority program of transportation projects by the DVRPC Board on July 24, 2014, following a 30+ day public comment period which ended on June 30, 2014. This TIP was developed in cooperation with PennDOT, SEPTA, Pottstown Area Rapid Transit (PART), DRPA/PATCO, and DVRPC's member cities and counties (see the Public Notice). The Draft TIP, along with the public comments, agency responses, and list of Recommended Changes, were presented to the DVRPC Board for adoption on July 24, 2014.When also approved by the FHWA and FTA, the DVRPC FY2015 TIP for Pennsylvania will become effective and posted on the DVRPC website on October 1, 2014.
The 30+ day public comment period from May 30, 2014 to June 30, 2014 was conducted jointly with PennDOT, SEPTA, PART, DRPA/PATCO. It allowed the public an opportunity to review and comment on the program prior to it being presented to the DVRPC Board for adoption. DVRPC also solicited public comment on the Draft Transportation Conformity Finding as well as an amendment to the Connections 2040 long range plan from June 16, 2014 to July 18, 2014.
Comments are no longer being accepted on the Draft DVRPC FY2015 TIP for PA. Responses to written comments are available on the DVRPC website via the TIP Comment/Search/Map Tool as well as by clicking on the following links: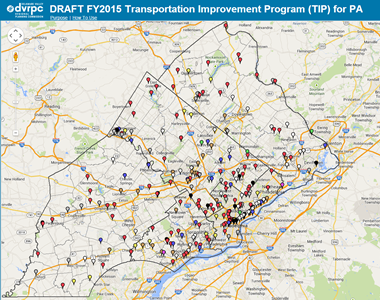 TIP projects can be searched, mapped, and displayed interactively here
Documents are in PDF format. Get the free Adobe Acrobat Reader.
FY2015 TIP for PA - DETAILED INFORMATION
TIP Document Text, Indexes, and Explanatory Information
Program Lists
Program Maps
TIP Appendices