Greater Philadelphia Food System Study
A food system is a set of interconnected activities or sectors that grow, manufacture, transport, sell, prepare, and dispose of food from the farm to the plate to the garbage can or compost pile. Greater Philadelphia is comprised of many community food systems, but is also served by a regional food system, and fits within a global food system.
The Greater Philadelphia Food System Study, published in 2010, was undertaken to better understand the complicated regional food system that feeds Greater Philadelphia. DVRPC's food system study focuses on the agricultural resources, distribution infrastructure, regional economy, and stakeholders acting within the regional foodshed.
DVRPC's planning area consists of nine counties- Bucks, Chester, Delaware, Montgomery, and Philadelphia counties in southeastern Pennsylvania; and Burlington, Camden, Gloucester, and Mercer counties in southern New Jersey. For the purposes of this study, DVRPC's nine-county planning area constitutes the population base, while a 100-mile "foodshed," consisting of 70 counties in five states (Delaware, Maryland, New Jersey, New York, and Pennsylvania), make up the theoretical production area of Greater Philadelphia's regional food system.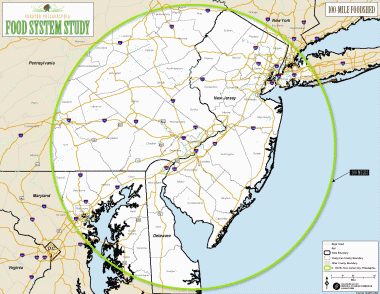 This study is organized into five parts:
Part 1: Agricultural Resources
This chapter looks at the characteristics of the 100-mile foodshed's agricultural industry, which is the supply side of the regional food system.
Part 2: Food Distribution
The transport of food from a producer to a consumer is a critical part of the food system. Tracing specific routes and modes of food transport from points of production, processing, storage, and retail sales is challenging. This chapter creates a general picture of how food travels through the country and to Greater Philadelphia. DVRPC utilized data compiled by the Federal Highway Administration (FHWA) to create a Greater Philadelphia Food Freight Analysis Framework (Food FAF), which identifies the region's largest trading partners, its competitive advantages, and its exports.
Part 3: The Food Economy
This chapter explores both the metropolitan area's demand for food and the food economy's sectors, including food and beverage manufacturing, food wholesaling, food retailers, and food services, among others.
Part 4: Food System Stakeholder Analysis
DVRPC understood a stakeholder analysis to understand "who is doing what where?" within the Greater Philadelphia Food System. By surveying many different people, DVRPC learned about the food system's complex issues; collected information about other projects, reports, programs, and efforts; identified key actors to interview in person; and detected gaps in research, support services, programs, and nonprofit activities.
Part 5: Findings
This chapter ties all the components of the food system together. Findings touch on issues related to development and land use, cheap food and unhealthy food, capacity and competition, consolidation in the food economy, scaling up local food, and legislating and planning for change.
DVRPC built on the Greater Philadelphia Food System Study's findings to create a regional food system plan, entitled Eating Here: Greater Philadelphia's Food System Plan which will identify shared values and goals, key indicators, and recommendations for a more sustainable regional food system.
Food System Study publications