DVRPC News: May 2020
Volume 41, Issue 11 | May 2020
DVRPC COVID-19 Municipal Survey Results in Series of Webinars
DVRPC is committed to supporting local governments and partner agencies to weather this pandemic storm and plan for the future. A survey was conducted to help gauge how municipal governments are responding to COVID-19 and areas where DVRPC may provide assistance.
Of the 82 respondents, many municipalities are able to continue holding public meetings and to keep most operations functioning. Promising COVID-19 best practices include designating parking spaces for curbside pick-up and providing online park and recreation activities for residents. Respondents were primarily worried about declining tax revenue, small business closures and the health and safety of residents and employees.
Based on the responses, the Commission will be hosting COVID-19 related webinars:
Adapting Streets for Safe Outdoor Social Distancing
Date: Friday, May 15, 2020
Time: 2:00-3:00 pm
Best Practices for Facilitating Remote Meetings
Date: Tuesday, May 19, 2020
Time: 2:00-3:00 pm
Bike Sharing, Bike Libraries, and Bike Matching
Date: Friday, May 22, 2020
Time: 1:00-2:00 pm
Tips for Successful Telework
Date: Tuesday, May 26, 2020
Time: 11:00 am-12:30 pm
Registration for the upcoming webinars, full survey results, and links to helpful COVID-19 resources can be found at www.dvrpc.org/COVID19resources.
Clean Air = Healthy Lungs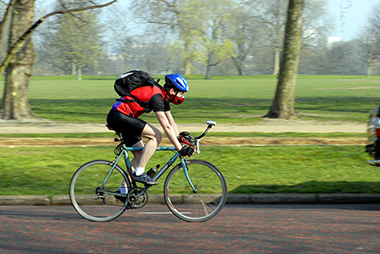 During the current COVID-19 public health crisis, lung health is more important than ever. Ground-level ozone damages healthy lungs, makes people more susceptible to lung infections, and makes it even harder for people with lung disease to breathe. The good news is that preventing air pollution is a positive step that everyone can take to help protect your community's health.
National Air Quality Awareness Week is May 4-8, 2020. It marks the beginning of the "ozone" season, when the Greater Philadelphia region typically begins to experience poor air quality from high levels of ground-level ozone.
To reduce air pollution, rethink how you travel. When stay-at-home orders are lifted, continue to telework, or walk or bike to your destination, if possible. Limit and combine essential trips to save time, money, and the environment. To get more tips, see the daily air quality forecast, and sign up for alerts, visit www.AirQualityPartnership.org.
CMAQ Application Deadline Extended to August 21, 2020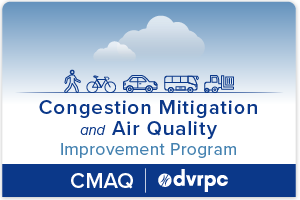 DVRPC has extended the application deadline for the FY2020 Competitive Congestion Mitigation and Air Quality Improvement Program (CMAQ) for New Jersey to 5:00 PM (EST) on Friday, August 21, 2020. The CMAQ program is a funding opportunity for transportation projects in NJ counties that will improve air quality and/or reduce traffic congestion. $5 million is available for CMAQ-eligible projects to be federally authorized between October 2021 and August 2024. Examples of eligible projects include pedestrian and bicycle projects, transit improvement programs, congestion reduction and traffic flow improvements, and more. A special allocation of $1 million of this program is targeted to support construction-ready trail projects along the Circuit network.
To learn more, visit www.dvrpc.org/CMAQ.
New Product: Story Map on the Coastal Effects of Climate Change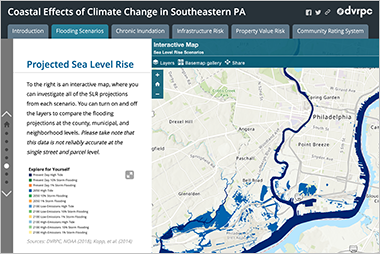 It is well-known that climate change is expected to increase flooding - but this flooding is not just happening along our oceans' shorelines. DVRPC has published a new story map, Coastal Effects of Climate Change in Southeastern PA, to show the areas along the tidal Delaware River that may be flooded from storms and sea level rise, and the risks this flooding may pose to communities along the river. Several flood scenarios are included in the map, incorporating sea level rise and storm surge or chronic inundation, which is a more frequent nuisance flood level.
Rising water levels will harm infrastructure assets and affect property values in the region. See what could be affected in your community using the Infrastructure Risk or Property Value Risk tabs in the story map. There are also tools to protect against further risk. The story map examines FEMA's Community Rating System, an incentive program that awards municipalities points for using flood protection measures while also allowing flood insurance-holding property owners to save money on their flood insurance premiums. The story map shows potential savings in municipalities for different levels of participation in the Community Rating System.
Five P's That Aren't Pandemic: Strategies for Retail Districts During COVID-19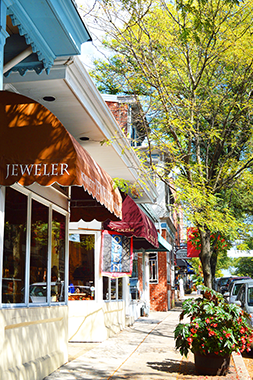 Photo by Christina Arlt
In response to the needs of our region's small businesses, DVRPC is introducing
"Five P's" that aren't Pandemic.
This is our way of sharing resources and strategies for Greater Philadelphia's retail districts during the COVID-19 pandemic.
Pursue funding from one or more of the many local, county, state, and federal programs aimed at helping small businesses weather the economic impacts of COVID-19.
Pivot from your current business model and start manufacturing or selling goods, services, and products that are needed during the pandemic.
Pitch ideas on digital platforms to generate interest in and connect you with funding for future product lines or services.
Promote your brand online via social media, and maintain a webpage for your business in order to generate revenue via e-commerce.
Plan by developing a strategy to get your business through the current crisis, but also for how it will recover once society and the economy return to a new normal.
Follow our Twitter, Facebook, LinkedIn, and Instagram for strategies and resources for each of the five P's!
RideECO Acquired by Edenred Commuter Benefits™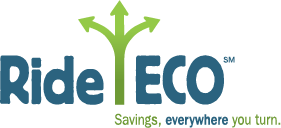 The region's original commuter benefit program, RideECO, is now part of the Edenred Commuter BenefitsTM program. On March 31, the RideECO program was acquired by Edenred.
DVRPC has administered the RideECO program for the past 29 years. It allows employers and commuters to save by putting pre-tax dollars toward fares on public transportation and vanpools. Currently, hundreds of employers and thousands of employees participate in RideECO.
Edenred has been a long-time partner on the RideECO program, handling the order fulfillment functions for employers, and distribution functions for RideECO Select participants. Edenred also operates its own commuter benefit program with many of the same options RideECO offers, and more. DVRPC believes this is an opportune time to provide more options for our customers and fold the regional RideECO program into a broader program with a national scope.
This transition will take place over the next few months. Employers and commuters who are using RideECO will have a seamless transition to the new order and customer service platforms. Read the full press release at DVRPC's newsroom. Learn more about RideECO and Edenred Commuter Benefits at www.RideECO.org and www.commuterbenefits.com.
Staff Profile: Tom Edinger, Manager, Congestion Management Programs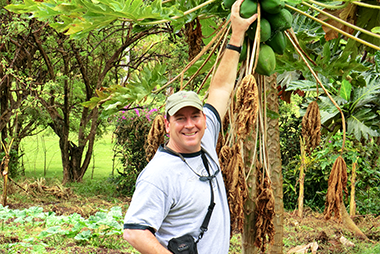 What did you want to be growing up?
I had thoughts of becoming a professional volleyball player, but knew my limitations, and at least wanted to be part of a team or part of a movement that worked on solving problems dealing with sustainability.
What was your first job?
My first job out of college, after majoring in business administration with a concentration in management information systems, was as a programming analyst for American Management Systems. One of my first clients was AARP, and I worked on a project to set up a new membership information process system.
How did you end up in planning?
I worked in management information systems for 6-7 years, including a majority of the time in Long Beach and Santa Monica, CA, which was really nice. Then I decided that I wanted to apply my skills to the built environment, and enrolled in the City and Regional Planning program at The Ohio State University. After getting my Masters, I worked for a consulting firm in Kansas City, MO, at the Lehigh Valley and the Tri-County (Harrisburg area) planning commissions, and for a private firm in Limerick Township. My projects focused on GIS, transportation, property management applications, zoning, land use, and the environment. After working at various public and private sector places and different levels of geography, I realized that I like the regional level best – it's not too in the weeds, and it's the perfect level to be impactful.
How did you end up at DVRPC?
Realizing I liked the regional level of planning, I was pleased to be offered the job with DVRPC in 2017, responsible for conducting the congestion management program.
What are your responsibilities?
We identify and prioritize congested roadways, analyze the causes of congestion, and develop strategies and projects to mitigate the traffic. We always look at multimodal approaches, including transit, biking, walking, and travel demand management. As a last resort, sometimes building additional capacity is the only way.
What's different these days?
With COVID-19 and the stay-in-place orders, traffic patterns have changed dramatically. Using connected vehicle and other GPS data, we're able to quantify how traffic volumes are down and speeds are up across the region. We're creating a dashboard that can look at any day or week and compare it to other days or weeks. It'll be interesting to see the ramifications of COVID-19 related to travel in the future – to what degree will people continue to work remotely, will people want to live in urban, dense areas, and will they feel comfortable taking transit?
Which three words best describe you?
Team-player, focused, approachable
What book are you currently reading?
"A Clearing in the Distance," a biography of Frederick Law Olmstead
Is there something about you that colleagues don't know or might not expect?
I used to play a lot of volleyball, but have slowed down a bit due to a hip injury. Also, I was President of our Condo Association, constantly managing neighbors' disputes – I was happy when my term was up!
Where would we find you after hours?
Teaching Geospatial Analytics at Temple University and Environmental Science Intro to GIS at Moravian College.
That's not after hours, still sounds like work. What do you do to relax?
Walk, bike, kayak, and garden. I'm looking forward to cultivating tomatoes, beans, and peppers this summer.